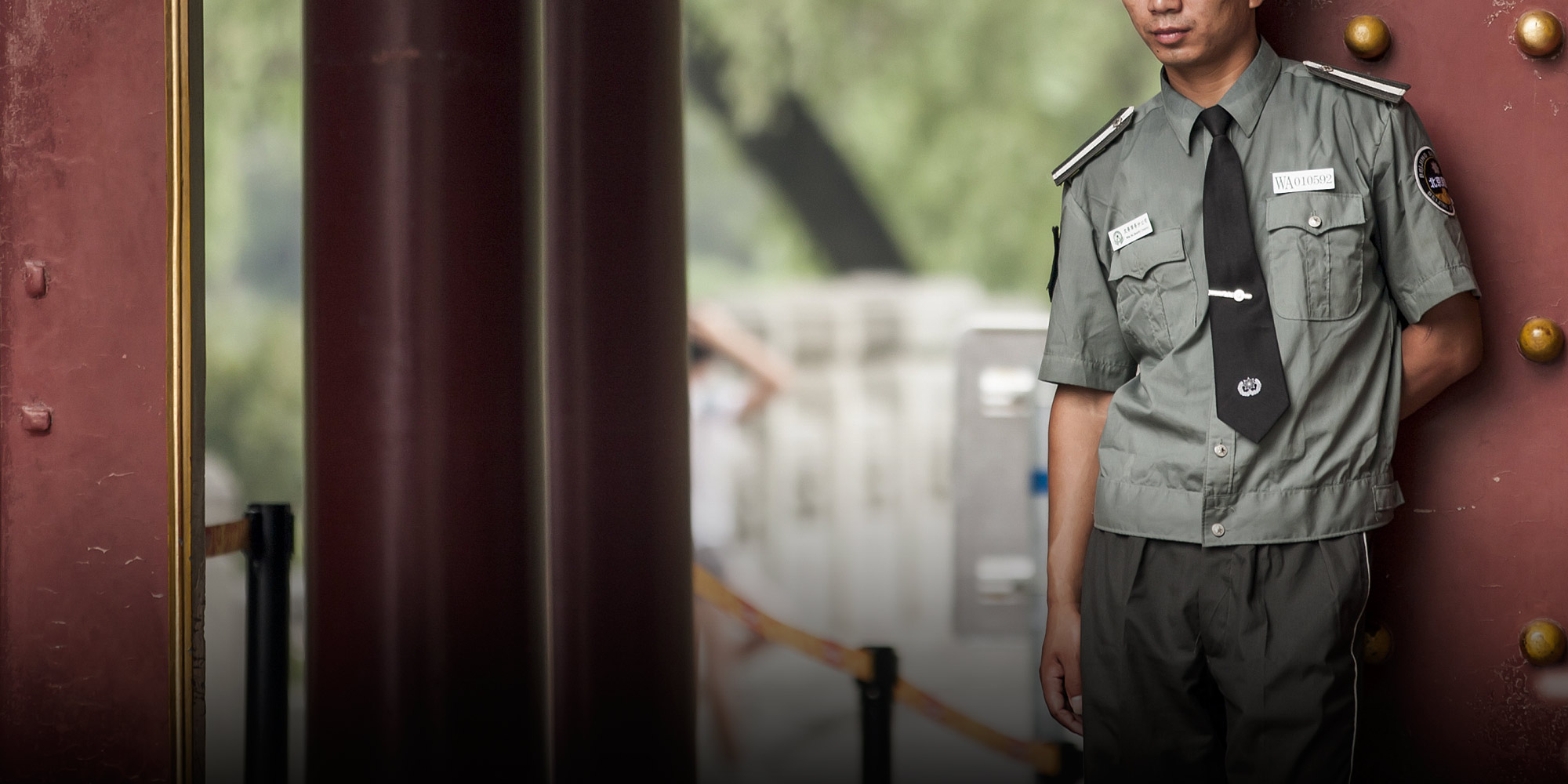 FEATURES
Future a Question of Degree for Peking University Security Guard
Campus job puts law program, self-esteem within reach.
BEIJING — It's almost midnight, and Liu Zheng has just finished his shift as a campus security guard at the prestigious Peking University. Dressed in a casual white tracksuit, he looks more like a schoolboy than someone entrusted with protecting people and property at China's top university.
Liu, 24, took the security staff job with a clear purpose in mind: winning a coveted spot in the university's master's degree law program. And while working on campus doesn't entail any direct privileges — such as cheaper tuition — his security job gives him the stable income, time to study, and access to an inspiring learning environment that he believes will allow him to achieve his higher education dreams.
Born into a poor family in rural Hengshui, in northern China's Hebei province, Liu already holds a bachelor's degree in automobile service engineering from a science and technology university in the provincial capital of Shijiazhuang. But the prospect of spending his career covered in grease in an auto repair shop held little appeal, so Liu headed to Beijing to pursue his dream of studying at Peking University, landing a job in security there in 2015.
"If I were from the city, I wouldn't have come here to be a security guard," he says. "But when you're from the countryside, you've got no choice."
For Liu, a quality education offers the promise of a better life. He hopes that by securing a place in the Peking University graduate program, he will gain greater control over his destiny and give his self-esteem a much-needed boost in the process. "Studying offers a shortcut," he says.
It hasn't been a smooth journey: Liu sat the eligibility exam for the graduate program — a version of the gaokao, China's grueling university entrance exam, for non-students — two years in a row but failed both times. Still, he says he's determined to press ahead.
Liu is not the only Peking University security guard who has dreams of becoming a student there, but other such guards are "few and far between," he says. According to a 2013 report by Party-affiliated newspaper China Youth Daily, more than 500 of Peking University's former security guards went on to pursue higher education — either at the university or elsewhere — in the previous two decades.
One such student was Zhang Juncheng, who in 1995 enrolled in the law program at Peking University, where he previously worked as a security guard. With only a middle school education, Zhang qualified for the program by scoring well on the adult gaokao.
But following Zhang's success, only a handful of individuals like him have managed to enter graduate programs by passing the gaokao. Instead, most successful applicants from among the security staff at the university already had bachelor's degrees or diplomas from vocational schools.
Campus guards with a penchant for academia remain the exception rather than the rule. Most are like Yang Chen, a high school graduate who has no interest in higher education. On a recent rainy day, as he wades through puddles in his patrol area in a black raincoat with matching umbrella, Yang lists a variety of activities he prefers to studying: watching TV, playing sports, shopping.
Yang, who is originally from northern China's Shanxi province, finds the job dull and poorly paid. Including a base salary of 2,600 yuan (around $385) a month, overtime fees, and performance bonuses, employees only make a little over 3,000 yuan a month. There's a high turnover rate among campus security guards: More than half leave the job within a year. Yang says he will only stick around for 12 months at the most.
Liu is aware that with his educational background, he could easily secure a position that pays more than his current salary — but he has chosen to stick with his low-paying job out of "motivation" to pursue his studies. He says he isn't jealous when he hears stories of former classmates who have moved to Beijing and now earn more than 10,000 yuan a month, or a roommate who switched to a job in real estate and now earns 280,000 yuan a year.
Liu says that the more he studies, the less materialistic he becomes. He is not seduced by the prospect of a career "selling houses or insurance." Rather, he believes that the prestige of a master's degree from Peking University will open doors for him, potentially changing the course of his entire life.
Liu often works nights so he can study more during the day. In the last two years, he has spent between six and eight hours a day studying, virtually every day. Still, he believes he failed the exam in past years due to a lack of focus, as he often couldn't resist the temptation to check out campus events or lectures unrelated to his test preparations.
Feelings of inadequacy have plagued Liu his entire life, he says, including the more than two years he has spent working on the Peking University campus. He self-deprecatingly describes himself as the "jolly fat one" — a carefree type who gets on well with everyone, but who doesn't have like-minded friends in whom he can confide.
Although Liu has actively participated in university activities, joining the campus choral club and showing off his traditional Chinese yo-yo skills at a university Spring Festival gathering, he cannot help but feel insecure when he hangs out with his friends from the school. When he audits classes on Chinese cultural studies — a subject in which he is particularly interested — he doesn't dare to engage in discussion with the professor after class, as he feels he is "unqualified."
"I feel like I'm not their equal," he says, comparing himself to Peking University students. Not having access to the library, paying an extra 15 percent service charge in the school cafeteria — restrictions like these constantly remind Liu that he is a security guard, an outsider.
Liu longs to be like the girl from his hometown who attended a lesser-known university for her undergraduate degree but later earned a master's at Peking University and is now practically the pride and joy of the village. He says his acceptance into Peking University would undoubtedly bring honor to his family.
In the meantime, he can't ask his parents for money to support his academic dreams. In his first year of work on the Peking University campus, Liu saved 20,000 yuan, all of which he sent to his family back in Hebei — he is an only child, and his family's livelihood almost completely depends on their 1-acre vineyard.
Liu will sit the entrance exam for the third time in September, and he's determined to persist until the day he gets accepted. No matter how hard it is to get into Peking University, Liu doesn't believe he'll fail to achieve his goal in the end. "I couldn't possibly be that unfortunate," he says.
Translator: Lewis Wright; editors: Ni Dandan and Colum Murphy.
A Chinese version of this article first appeared in Sixth Tone's sister publication, The Paper.
(Header image: A security guard stands at an entrance to Peking University in Beijing, July 5, 2012. Zhan Min/VCG)