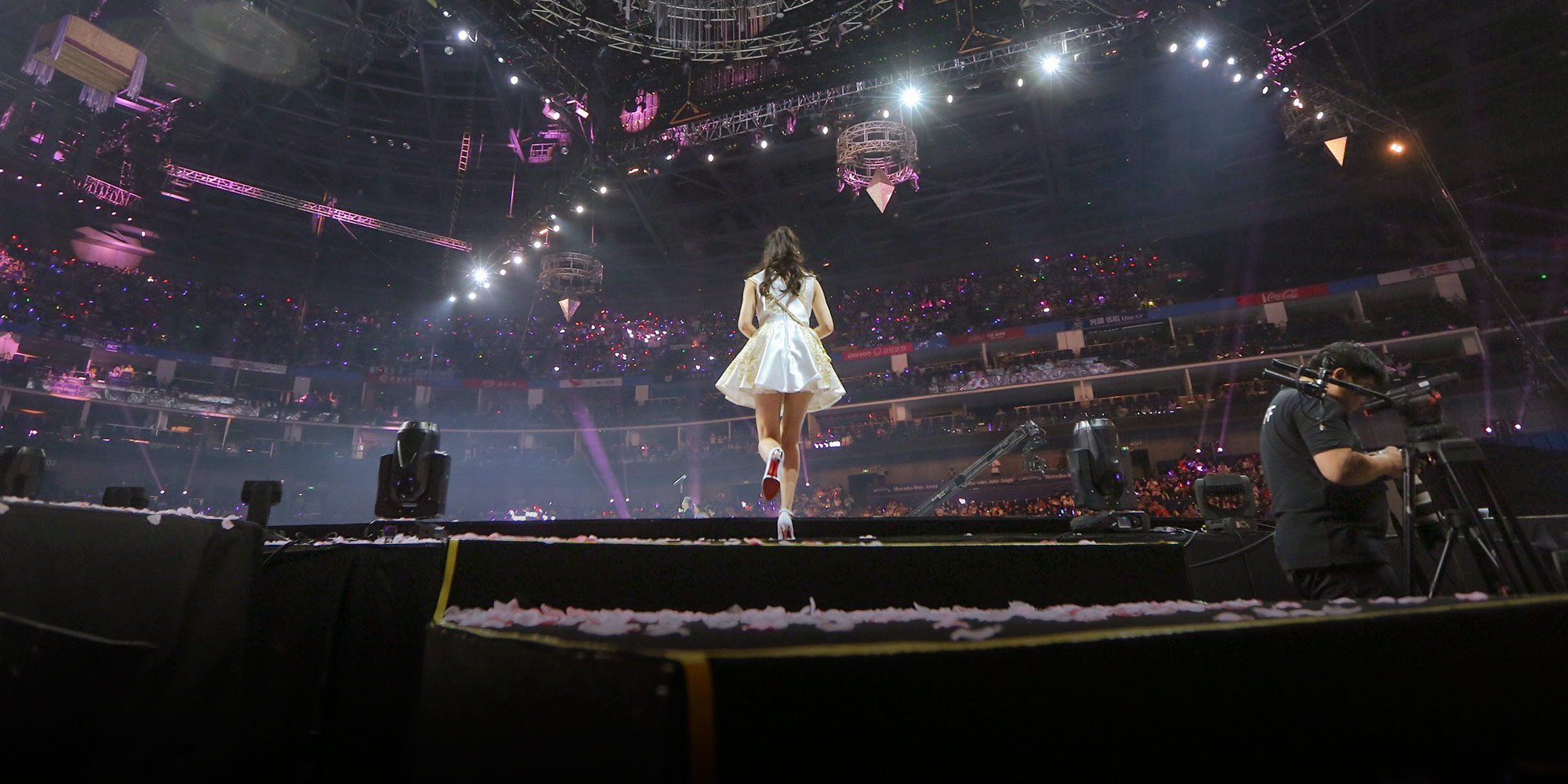 FEATURES
Shooting Stars: Capturing the Human Side of China's Pop Idols
Over the past decade, photojournalist Chen Zhongqiu has witnessed the changing tides in the world of female pop idols.
ZHEJIANG, East China — Over a decade ago, when Chen Zhongqiu spent his evenings poring over magazine articles about pop stars, he could hardly have imagined that he would end up photographing the annual elections of China's best-known female idol group, SNH48, which concluded on Saturday.
As a high school student in eastern China's Jiangsu province, Chen was infatuated with Zhou Bichang, who came in second in the 2005 season of China's hit singing talent show "Super Girl." In a café in Hangzhou, where he now works as a photojournalist, 28-year-old Chen recalls how his affection for Zhou got him through the most stressful period in his life: the year leading up to the gaokao, China's college entrance exam.
Chen's adulation stayed with him through university and persists today. The night before his college thesis defense in 2010, he borrowed a telephoto lens from his supervisor at the newspaper where he was interning and flew from Jiangsu to the southern city of Guangzhou to attend his first-ever concert headlined by Zhou.
The quality of the photos that Chen took that evening earned him a following among fellow fans when he posted them to an online forum, marking the beginning of Chen's ambition to document the changing tides of China's pop idol generation through photography. For several years, he continued photographing Zhou at concerts from a seat in the audience, until in 2015, he was selected by the singer's agent to be the official photographer for the concert tour marking the 10th anniversary of Zhou's debut.
It was a precious opportunity — not only for an ardent fan like himself, but for any photojournalist, as securing permission from entertainment agencies to photograph their high-profile clients can be an exhausting and drawn-out process. But Chen was after more than publicity shots; he offered to take picture-perfect stage performance photos in return for the chance to capture more candid images of his idol offstage.
"I barely communicated with her," Chen recalls, explaining that he didn't want to disturb the reality he was attempting to document. "I tried to jump out of the mindset of a fan and watch her calmly from the perspective of a bystander."
Something of a perfectionist, Chen was not fully satisfied with the outcome and felt he did not have enough time with Zhou. Nonetheless, the photo series documenting one of China's biggest celebrities 10 years after she shot to stardom overnight enjoyed significant success and the favor of many fellow fans. "I'm going to share this again. My eyes are filling with tears as I look at them," one fan wrote online referring to the pictures in the series, titled "This Is the Real Me." First published in the Hangzhou newspaper where Chen works and later circulated widely online, the project cemented Chen as one of China's foremost pop idol photographers. It also secured him a commission to photograph an entirely different form of idol: China's most popular girl group, SNH48.
An undisguised copy of Japan's AKB48, Shanghai-based SNH48 has legions of devoted fans around the country who pay money to vote on the members of the 48-strong lineup, chosen from a rotating cast of several hundred. With their pubescent aesthetic, sometimes-suggestive dance routines, and a business model that involves followers paying for face-to-face interactions, such groups have been criticized as pandering to the sexual fantasies of their overwhelmingly male fans. Chen is aware of this criticism but says that Chinese companies are trying to distance themselves from such an approach.
The highly manufactured world of China's die-cast female idol groups was new territory for Chen, who was commissioned by online portal Tencent News to cover the lead-up to the annual elections that took place last weekend at Shanghai's Mercedes-Benz Arena. "They all look the same to me," he says of the candidates, adding that he spent two months studying the group's lineup and conducting background research.
"I wonder why so many children think of debuting as an idol as a profession nowadays," says Chen. Contestants on shows like "Super Girl" often have musical training, while those fighting for a spot in SNH48 rarely do — singing ability is generally cultivated once the individual has joined the group on the merit of qualities like good looks, personality, and dancing skills. "Most of them are still in middle school," Chen says, "waiting in long lines for auditions accompanied by their parents."
One element that has not changed over the past decade, says Chen, is the nature — and volume — of fans who shower pop idols with their unrequited love. Referred to as otaku, a Japanese loanword describing men who stay at home glued to their computers, SNH48's mostly male fans rehearse their own chants and gestures to unleash at events like Saturday's election in support of their favorite candidates.
It's the kind of intense devotion that Chen can relate to — and has strived to demystify with his work. At his first Zhou Bichang concert seven years ago, he brandished a green glow stick, identifying him as a devout follower. Each "Super Girl" contestant's fan group had its own theme color, and every group was instrumental in galvanizing interest in their idol, lobbying for votes during the televised contests.
Today's female idol fandom is just as proactive, only to a more systematic extent. Fans, for example, can fork out money in exchange for a variety of interactions with SNH48's members, from holding their hands during a meet and greet to taking photos together.
During Saturday's election, around 270 members of the wider SNH48 family were whittled down to 66, 18 more than the usual 48 to account for booming interest in auditions — though the group is unlikely to change its name given the strength of the established brand. The company behind SNH48 — Shanghai Star48 Culture & Media Co. Ltd. — established spin-off groups in the cities of Guangzhou, Beijing, and Shenyang, selection for which took place at Saturday's annual election.
One popular SNH48 contestant fighting for fans' votes last week was Li Zhao, a 20-year-old who happened to be sitting the gaokao for the third time when Chen began photographing the group. Li gave up on her first gaokao to prioritize her commitment to SNH48, which she joined as a trainee in 2015; in her second attempt, she did not score highly enough to enroll in college. Images of her preparing for this year's notoriously difficult exam dominated her appearances in Chen's series. The normality of her experience resonated with the photographer, who wanted to depict the human face of SNH48 to counter the carefully manufactured image usually presented in the group's publicity materials.
Li triumphed in Saturday's election, placing 38th and thus securing a spot in SNH48's core membership. But importantly for Chen, ever focused on the uncelebrated aspects of celebrity, Li's third attempt at the gaokao was also a success. This year, she will enroll at Shanghai University, juggling her performance studies with the rigorous schedule of an SNH48 star.
"Li Zhao is one of those little stars," Chen says. "But she, too, studies. She, too, takes the gaokao, working hard for her own future."
Contributions: Ding Yining; editor: Owen Churchill.
(Header image: Second-place SNH48 member Li Yitong walks onto the stage during the group's recent annual election in Shanghai, July 29, 2017. Chen Zhongqiu for Sixth Tone)