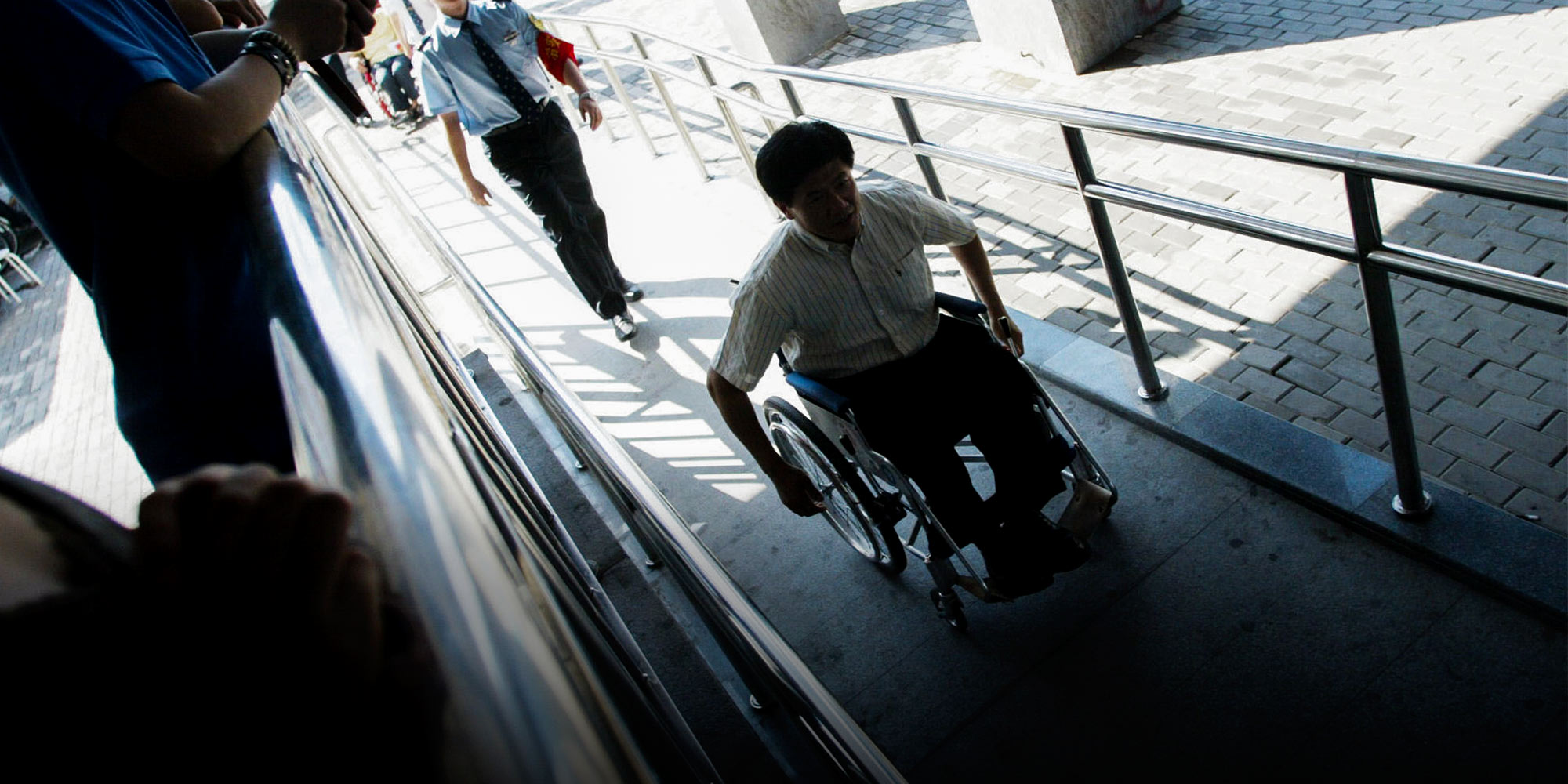 NEWS
Siri, Show Me What's Disability-Friendly in China
Chinese people with disabilities petition online map developer to highlight barrier-free facilities.
More than 300 people with disabilities have co-signed a letter asking the developers of one of China's most widely used online maps to mark the locations of ramps, elevators, platform lifts, and other tools that make navigating cities less daunting, as even when such "barrier-free facilities" exist, they are often difficult to find.
Though China has legal provisions for protecting the rights of people with disabilities, compliance is often lax. Outside of tourist hot spots and crowded public facilities, accessible toilets are scarce, and sometimes the only way to cross multi-lane roads is to climb a flight of stairs to an elevated pedestrian walkway. Tactile sidewalks for the visually impaired are becoming more prevalent in cities, but so are shared bikes that get in the way if parked improperly.
People with disabilities often find themselves stuck in frustrating situations, knowing that a place has accessibility features but not being able to find them. When venturing outside of familiar environments, their only option may be to rely on the "street view" feature of online maps to plan out in advance where to go and how to get there.
"For us disabled people, in most cases, what we need is not necessarily the shortest route or the quickest," read the letter, seen by Sixth Tone and signed by 337 people with disabilities. "What we need is a map that can help us find accessible facilities that make it easier for us to get around and avoid inconvenient places."
The author of the letter, 23-year-old Guo Zicheng, told Sixth Tone that he hopes his idea will raise awareness among not only websites and tech companies, but also society at large, of just how important barrier-free facilities are to people with disabilities. Guo, who has cerebral palsy, a disability that affects speech and muscle coordination, uses a walking stick to get around. "A step up of just a few centimeters is so easy for ordinary people to manage by simply lifting their legs, but for a disabled person in a wheelchair, it might as well be a cliff," he said.
Guo said the letter was mailed to Alibaba-backed map developer Gaode on Wednesday, but a public relations staff member at Gaode who refused to give her name told Sixth Tone on Thursday that the company had not yet received the letter. She added, however, that Gaode would be willing to develop a function to display barrier-free facilities if their customers asked for it, though doing so would take time. In China, Gaode is the default map provider for Apple devices.
Since July 2012, when China passed the "Regulation on the Construction of Barrier-Free Environments," governments have been pouring money into building accessible facilities. And in 2015, the China Disabled Persons' Federation partnered with e-commerce giant Alibaba to produce a non-GPS-enabled map showing 30,000 disability-friendly locations and services, including day cares and offices providing legal aid.
The same year, more than 1,500 local governments began adding barrier-free facilities while also helping more than 147,000 disabled people from low-income families renovate their homes to equip them with accessibility features. Today, even smartphone makers and mobile app developers are starting to pay attention, consulting members of the disabled community to make sure their needs aren't overlooked.
According to 2012 figures from the country's Disabled Persons' Federation, China has an estimated 80 million people with disabilities. Zhang Hua, director of a Hangzhou-based group that advocates for more barrier-free facilities and a wheelchair user himself, told Sixth Tone that more accessibility would benefit not just the disabled, but other groups as well. "Pregnant women, the elderly, mothers with strollers, and even people carrying heavy loads can also use these facilities," he said. "Regular people don't realize their importance until they accidentally break a leg and end up in a wheelchair."
Contributions: David Paulk; editor: David Paulk.
(Header image: A man in a wheelchair uses an accessible ramp in Beijing, Sept. 10, 2008. VCG)