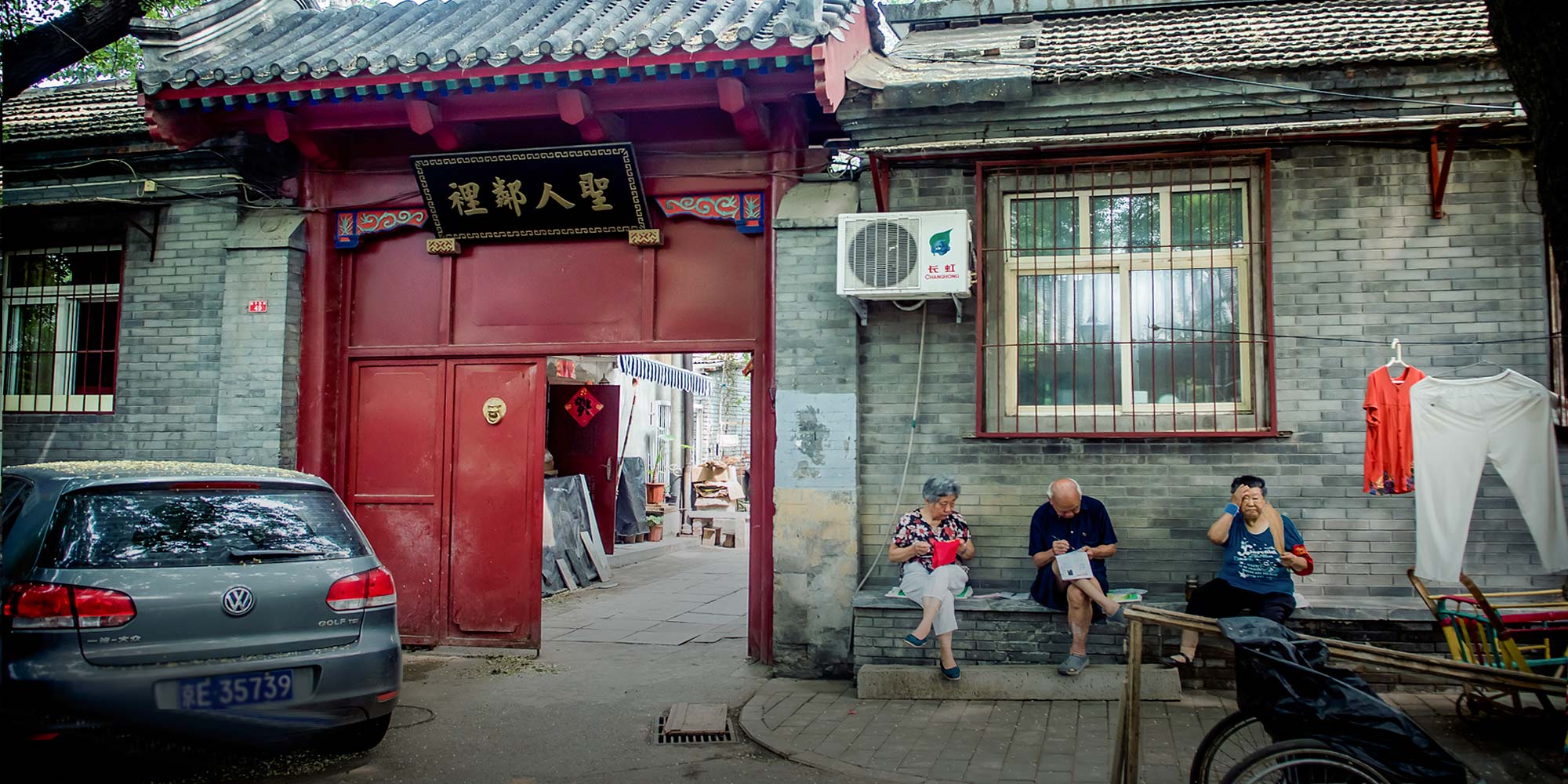 FEATURES
A Fatal Hutong Fight, a Plea of Innocence, and a Prison Sentence
How a rooftop quarrel between neighbors ended with one man dead and a Dutch citizen sentenced to four and a half years in a Chinese jail.
BEIJING — Depending on who you ask, the death of Lu Zhicheng was either an unfortunate fall or a murder.
At around 11 p.m. on May 6, 2015, Lu went out to his rooftop terrace, where he kept plants and pigeons. The 58-year-old retiree had been drinking. It was a cool evening. His neighbors, a Dutch-French expat couple, heard Lu loudly and repeatedly clearing his throat outside their bedroom window. There had been many complaints over and back about noise late at night, and the Dutch man, 45-year-old Harm Fitié, thought Lu was provoking them.
Fitié wanted a cigarette. Fearing a fight, he grabbed a knife from his kitchen — he would later admit to police — and met Lu on the roof.
What happened next was, in any case, a catastrophic culmination of small annoyances between Lu and his foreign neighbors. They didn't fully understand each other's languages or cultures but lived in close quarters in Beijing's old city center — and they didn't get along.
Lu's and Fitié's houses shared a terrace on the roof of an adjacent single-story building. There, the two men got into an argument that turned physical — though the knife wasn't used. Eventually, Lu fell into the alley below and was fatally injured. According to his relatives, Lu said, "The foreigner hit me" before he died. Fitié said Lu fell on his own. There were no witnesses.
On Friday, the Beijing High People's Court found Fitié guilty of negligent homicide and sentenced him to four and a half years in prison, overturning the 12-year sentence issued by a lower court a year earlier. Diane Vandesmet, Fitié's longtime girlfriend, tells Sixth Tone that she has mixed feelings about the verdict. "I hoped for less, but it's better than 12 years," she says.
Fitié's lawyer, Wang Fu, had hoped Fitié would be set free. He tells Sixth Tone that he's disappointed with the result but respects the verdict, adding that it is "in accordance with the law."
But Lu Ming, Lu's son, believes his father was murdered. The family wanted "a life for a life," the younger Lu tells Sixth Tone. "At the beginning, we expressed our view to the judge that if [Fitié] were sentenced to death, we wouldn't want a penny of compensation." Yet he's resigned to the most recent verdict. "It is what it is. At least it's a result," he says.
Fitié's journey through the Chinese legal system has been a vexatious one. His side claims he was not allowed to see a lawyer for three weeks after his arrest, and that important evidence went missing. During his two-year stay in detention, he was not allowed books, a Chinese dictionary, or visits from Vandesmet or his family. After the verdict was issued on Friday, Fitié was permitted to see his father, who had flown in from the Netherlands, for the first time since his arrest. "You're defenseless in front of a system that you don't really understand," Vandesmet says of the legal process.
Fitié came to China in 2005 and later began working for Feed Innovation Services, a Dutch consultancy for the food industry. He met Vandesmet, now 32, in 2012 at a language school where they both took Chinese lessons. She was working for state broadcaster China Central Television as an anchor on its French-language channel.
Despite China's size and increasing importance in the global economy, international migrants are a relative rarity. Just 0.07 percent of China's residents — still some 978,000 people — are foreigners, according to 2015 figures from the United Nations. That proportion is lower than in most Western countries (10 to 15 percent), developed Asian countries (2 to 3 percent), and similarly populous India (1 percent). Integrating into Chinese society is a steep challenge, even for the expatriates who master one of the nation's notoriously difficult languages. Only 7,300 foreigners received a Chinese "green card" between 2004 and 2014.
In 2014, Vandesmet saw an advertisement on WeChat, a popular messaging app, for an apartment on Guozijian Street in downtown Beijing. Neighborhoods like these — known as hutong — are full of charming low-rise houses, sometimes centuries old and popular with expatriates looking for an authentically Chinese atmosphere.
Though close to Beijing landmarks like the Confucius Temple, Guozijian Street is quiet, lined with leafy pagoda trees that provide welcome shelter in the summer. Behind two red wooden doors lies 24 Guozijian Street: a cluster of one- and two-story buildings straddling a narrow courtyard.
Vandesmet particularly adored the small terrace on the rooftop opposite their bedroom, separated from Lu's terrace by a short barrier and surrounded in most places by a low railing. "It was cute. I imagined that it would be nice to eat outside during good weather," she recalls. Fitié and Vandesmet didn't pay much attention to warnings from the previous tenants, a British-American couple, that "the neighbor was a bit strange." They moved in during August 2014.
Of the five households surrounding the courtyard, the Lu family had lived there the longest. Now retired, Lu used to work for a state-owned shipping company, which assigned the house to him in the 1980s. His 6,000-yuan (around $900) pension was the family's main source of income.
Fitié and Vandesmet's relationship with their neighbors was fine at first. Shortly after the couple moved in, Lu gifted Fitié with a few Chairman Mao badges, and Fitié would offer cigarettes to Lu whenever he came to the rooftop to water his plants or feed his pigeons.
Another longtime resident, 79-year-old Jiang Huanmei, tells Sixth Tone that he, too, got along well with the foreigners. "Sometimes we gave them dumplings and buns that we made ourselves, and they also gave us some cold dish made of lettuce," he says, referring to salad, an unfamiliar novelty to him. "I just ate it for fun." The retired pedicab driver and his wife have lived there since 1992.
Céline Lamée, a 36-year-old Dutch graphic designer who lived next door to Fitié and Vandesmet, remembers that she and her Chinese neighbors would greet each other in the morning and chat about the weather. Lamée also saved plastic bottles for Jiang's wife, who would sell them.
However, minor clashes occurred in the courtyard as time went by. In the summer, the foreign couple used the roof terrace more often. "[Vandesmet] sunbathed on the terrace in a bikini and shorts; my husband couldn't stand that," Lu's 61-year-old widow, Zhao Xiaoyan, tells Sixth Tone.
Lu had a penchant for drinking, says Lamée, who sometimes saw him begin the day with a small bottle of liquor. "He would get unreasonable," she adds. Once, when she was talking to Vandesmet in the courtyard in the late afternoon, Lu shouted at them and spat on the ground.
The biggest source of discontent was noise, which carried through the thin walls of the hutong houses. Zhao and her husband were annoyed when their neighbors invited friends over. "The foreigners like to drink and chat at home," she says. "Sometimes their gatherings last until 1 or 2 o'clock, but we go to bed at 11 or 12."
None of the Chinese residents at 24 Guozijian Street spoke English, and neither Fitié nor Vandesmet spoke fluent Chinese, though Fitié had been trying to learn the language on and off for years. "He kept on studying and dropping [it]," Vandesmet says. "In the end, he always had to start almost at the beginner level."
Cultural differences and language barriers exacerbated issues between the Chinese and foreign neighbors, but keeping the peace proved difficult even among the Chinese residents.
"Lu had a quick temper," Jiang says. "His health wasn't very good, and he drank and smoked, so he would get annoyed whenever something was out of the ordinary." Jiang recalls a squabble over a noise problem some years ago, in which Lu reduced a pregnant neighbor to tears and later offered two packs of Double Happiness cigarettes in apology.
On the afternoon of April 29, 2015, a week before Lu's fatal fall, Zhao stopped a fight between her husband and Fitié that she says was the most serious conflict up to that point. In a video Vandesmet recorded during the quarrel, Lu says to his wife in anger, "I want to call [Fitié and Vandesmet's landlord] Zhang Xiaoyu and demand that they leave." Zhao yells back, "You have your own living habits; other people have theirs!"
On May 2, the landlord's husband invited Lu and Zhao for dinner, and the two couples chatted about the noise problem. "We discussed two solutions: Either the foreigners leave, or the landlord builds a wall in the middle of the rooftop," Zhao says. Lu and the landlord tussled over who would pick up the check for dinner, a sign that the talk went well.
But before a single brick was laid, tensions flared up again.
On Wednesday, May 6, the day of Lu's death, Fitié came home around 9 p.m. and went to bed early. Vandesmet was chatting downstairs with two friends. At around 11, Vandesmet went to smoke at the entrance to the house and saw Lu up on the roof, looking down at her while clearing his throat. According to his testimony, Fitié was awoken by the sound, opened the window, and said, "Sleep; quiet" to Lu in Chinese. He then decided he wanted a cigarette, grabbed a knife out of fear that Lu might hurt him, and went outside.
When Fitié got to the rooftop, he later testified, Lu was standing there and making a throat-clearing sound. Fitié tried to placate him in Chinese, but Lu became angry and cursed Fitié's girlfriend. Fitié said he made a hand gesture imitating a gun to suggest that the conversation was over, when Lu stepped over the short barrier that divided the terraces and jumped at his neighbor. Fitié said in his testimony that they had a physical encounter, during which he defended himself but did not use the knife or beat Lu. But when Lu stepped back, said Fitié, he stumbled over the railing and fell.
Nobody else saw what happened, but everyone remembers what followed.
Hearing the commotion, Zhao said she quickly ran upstairs, saw Fitié with a "strange" expression on his face, and went back downstairs to find her husband lying on the ground, unconscious. Vandesmet and her friends heard Lu fall, followed moments later by Fitié running downstairs, yelling, "The neighbor fell from the terrace!" Meanwhile, Jiang and his wife were watching TV when they heard Zhao yelling, "Beaten to death!" Jiang said he rushed outside and saw Fitié giving Lu mouth-to-mouth resuscitation.
An ambulance took Lu to the hospital, where he died the next morning from brain injuries and blood loss.
On July 29, 2016, the Beijing No. 2 Intermediate People's Court sentenced Fitié to 12 years in prison for intentionally causing injury and ordered him to pay 65,638 yuan in compensation to Lu's family. The court decided that Fitié had caused his neighbor's fall, based on testimony from Lu's relatives and the autopsy and police report that said Lu broke his nose before he hit the pavement. "The terrace where the case occurred is small, and the railings are low," the court's verdict reads. "The defendant, Harm Fitié, is an adult with normal cognitive ability and should have foreseen the dangers of engaging in a physical conflict on the terrace."
Fitié was so shocked when the verdict was read that he could barely speak, recalls Vandesmet, who was in the courtroom. "You have to appeal!" she remembers shouting.
Following Fitié's conviction, his lawyer and family, as well as an attorney who looked at the case on behalf of the Dutch government, pointed to irregularities in the police investigation and said the trial was not conducted fairly. Fitié had repeatedly been interrogated by police without a lawyer present — which is legal in China — and only his lawyer and embassy employees had been allowed to visit him. In August 2016, Vandesmet left China, unable to tolerate staying in the country alone.
Vandesmet believes that Fitié is innocent and questions the testimonies from Lu's son and brother, who initially said Lu remained unconscious — and unable to speak — until he died. Only a week after the incident, she says, did they tell police that Lu had said, "The foreigner hit me." According to Fitié's lawyer, Wang, Lu's slippers that may have provided footprint evidence went missing after the police photographed them.
Wang argued that Lu broke his nose not because Fitié hit him, but because he may have smashed into an air-conditioning unit during his fall. The autopsy found alcohol in Lu's blood, a detail that the first court did not take into consideration in its verdict. The second court, however, did mention Lu's intoxication in the verdict's conclusion.
Lu's son calls Vandesmet's accusations "groundless." After his father died, he quit his job and moved back into his parents' house to work on the case, which he is unwilling to discuss in much detail with Sixth Tone. Whenever his mother, Zhao, starts talking about the legal proceedings, he interrupts her.
Vandesmet found it a struggle to deal with the Chinese legal system. Each time a hearing was announced, she and Fitié's relatives had to scramble to apply for visas and arrange flights back to China. It was difficult to find a suitable lawyer, and they ultimately regretted their choice of attorney for the first trial. Vandesmet started an online campaign called "Fair Trial For Harm," asking for donations and posting updates on the case.
After Fitié appealed his 12-year prison sentence, the appellate judge suggested to Fitié's lawyer that paying extra compensation to Lu's family could help lower his sentence. Fitié's family were reluctant to pay compensation for a crime they believed never happened, but they ultimately agreed to pay Lu's relatives 500,000 yuan. In return, Lu's family signed a pardon letter requesting that the court give Fitié a lighter punishment on appeal.
The High People's Court found Fitié guilty of negligent homicide, a lesser crime than the previous conviction of intentionally causing injury.
Misunderstandings have persisted in the wake of the appeal verdict. The court wrote in its decision: "The behavior of Harm Fitié, shouting 'He has fallen!' after the neighbor fell and immediately going down to give him emergency treatment, could indirectly indicate that Fitié's attitude toward the victim's fall was that of negligence." The Dutch audience present at the judgment took the court translator's phrasing to mean that Fitié's attempt at resuscitating Lu was considered a sign of guilt — a misunderstanding that was also initially reported by Dutch media. Fitié's lawyer, Wang, explains that the term "negligence" instead means Fitié's response was that of a person who did not intend for Lu to fall.
Three months after Lu's death, the landlord brought prospective tenants, also foreigners, to look at Fitié and Vandesmet's old apartment. Zhao, Lu's widow who used to get along with her expat neighbors relatively well, yelled at them. "This thing is not finished yet!" she screamed, chopping knife in hand. The apartment stands empty to this day.
Fitié is set to be released in November 2019. The decision by the lower court that he would be deported after completing his sentence was overturned in the appeal. Fitié told embassy employees that he would like to stay in China after his release. But Vandesmet has no plans to return. "In China, everything is great if it goes well," she says. "You have much more job opportunities; it's more interesting; you get to discover many things. But if something goes bad, it can go really, really bad."
Editor: Kevin Schoenmakers.
(Header image: Local elderly sit along Guozijian Street in Beijing, July 22, 2015. Hu Hao/VCG)