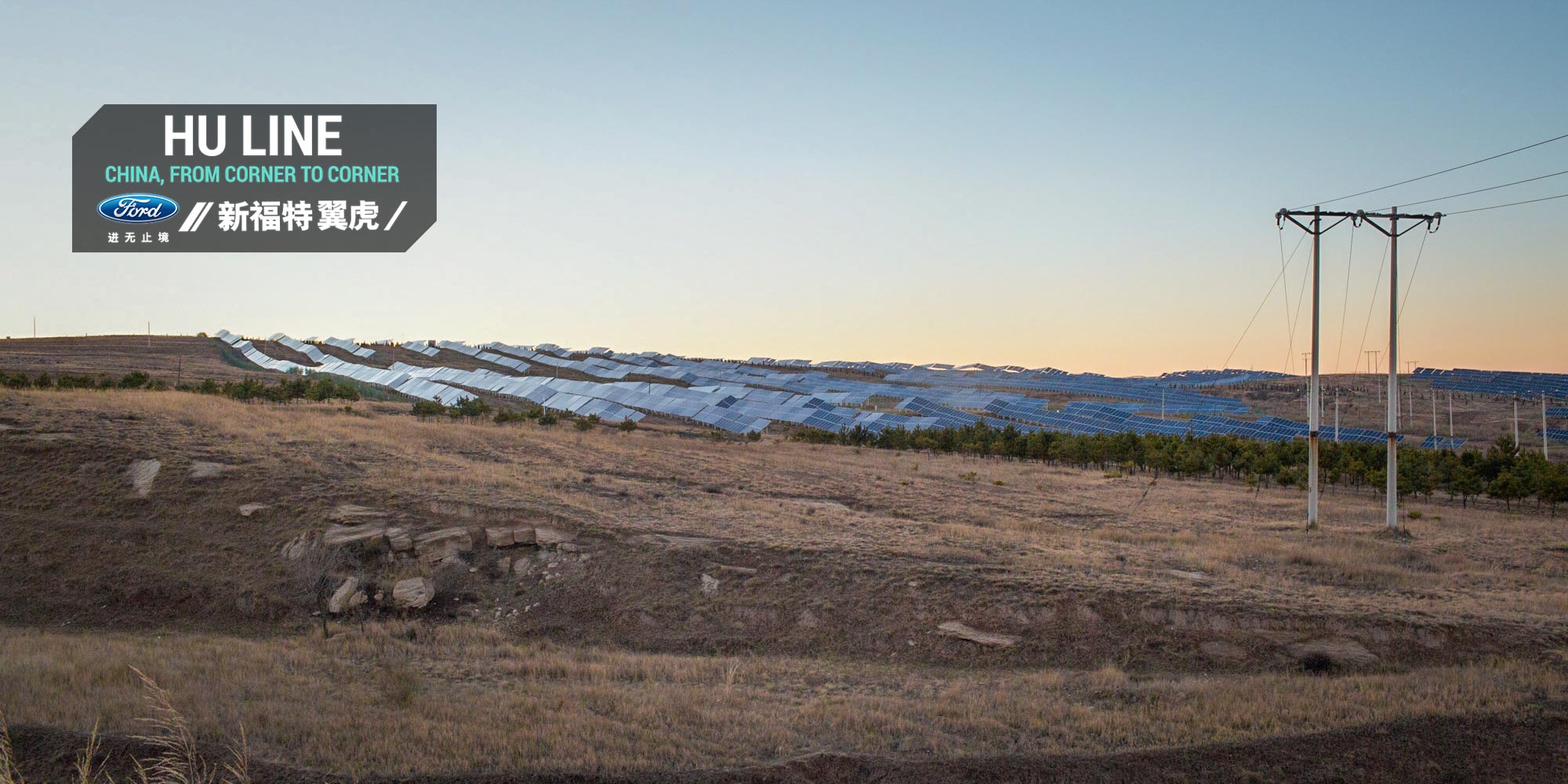 FEATURES
Powering China With Darkness and Light
Datong, China's capital of coal, shifts to harvesting sunlight.
This article is part of a series that explores life along the Hu Line, an imaginary diagonal line across China that has vast demographic, environmental, and political significance.
SHANXI, North China — Roughly 300 kilometers west of Beijing, the city of Datong sits just south of the Great Wall — centuries of fortifications built to defend what was then China from what was not. Even now that the fearful frontier has become a tame provincial border, city names reveal the boundary between Shanxi and Inner Mongolia: Datong and Shuozhou on one side, Hohhot, Ulanqab, and Ordos on the other.
Eras, too, converge here: A national highway divides the ancient Yungang Grottoes from coal mines and massive, gleaming solar power plants. The colossal Buddhas of the 1,500-year-old grottoes appear serene as they witness human struggle across the ages.
Datong, a city of 3.3 million according to the 2010 census, also straddles the Hu Line, a hypothetical line drawn through China that divides the more affluent and densely populated eastern part of the country from the expansive and ethnically diverse west. While industries from manufacturing to information services have developed rapidly in the east, agriculture and mining still drive the economy west of the Hu Line.
Known as China's capital of coal, Datong was once the largest coal production and export base in the country. Miners used to build their houses directly above the mines, but the ground sank into the vast hollows beneath, and cracks bloomed along the walls as the land subsided. In 2007, the Datong Coal Mine Group Co. Ltd. — known as Tongmei in Chinese — took over management of the 1,600-square-meter subsidence area and resettled 300,000 coal miners and their families to Heng'an New District, a new residential community.
Nowadays, coal production is in decline. The state has capped output to cut overcapacity, reduce air pollution, and achieve ambitious carbon emissions targets. By 2020, China wants renewable energy to make up 15 percent of its primary energy sources. Automation has also reduced opportunities for low-skilled mine workers.
Some see a future for Datong in solar power generation. In 2016, China became the world's largest producer of photovoltaic power, surpassing Germany. Others are pushing to regenerate the area as a major tourist destination, restoring the former capital city to its rightful place in the country's cultural history. Most hope to shake off Datong's recent reputation as a heavily polluted industrial town, where the only job opportunities are underground.
Below the Surface
Opposite the Yungang Grottoes, mornings at the Jinhuagong coal mine begin with the same mantra. Facing a wall covered with taped-up family photos, 52-year-old Ma Zhibin and his fellow miners recite the safety pledge before they head into the mines, up to 400 meters underground.
"For my own health and safety, as well as my family's happiness, I will strive to complete my job, follow the rules, and operate according to the standards," they recite. "I will never forget to keep myself and others safe from harm."
Mining still claims hundreds of lives every year in China, though the death toll has fallen substantially in the last decade as safety measures have improved.
Digging was once the most dangerous job in mining. In the 1980s, Ma worked in drilling and blasting, sometimes clearing 30 meters of tunnels in a day. Although that process is now mechanized, miners are still sent underground to dig and transport the coal up to the surface.
Once they descend underground via a small mine shaft elevator, the miners — all men — become no more than muscle and flesh, squeezed between hunks of rock. Workers cluster together in conversation, some cracking bawdy jokes while others dive into serious topics. With no bathrooms available, the men relieve themselves in any safe spot they can find.
At lunch, soot-faced miners emerge to soak up the sun and enjoy a smoke. They take a sip of baijiu, a potent Chinese grain liquor, to prepare for the chill of the next descent.
There are 7,000 employees at Jinhuagong and more than 30,000 people in the residential area, including workers' family members. Every afternoon, elderly residents gather outdoors to gossip and sunbathe. Some roll up in wheelchairs, having lost legs to accidents underground.
Faced with government pressure to reduce production, in 2016, Tongmei requested that each coal mine decrease output significantly. The Jinhuagong mine used to produce 5 million tons of coal each year, but annual output is now capped at 3.3 million tons. All of Tongmei's mines now close on weekends and holidays, easing up on workers' hours but also reducing their pay. Nowadays, Ma earns only 7,000 yuan (around $1,000) per month, whereas he could make up to 9,000 yuan with overtime in the heyday of coal.
Several of Tongmei's mines have closed entirely, affecting more than 11,000 workers, and three more are scheduled to shutter this year. Under China's 13th Five-Year Plan, Tongmei expects to shut down 13 mines by 2020, reducing annual output by 12.25 million tons.
Mines are easy to close, but finding opportunities for masses of jobless miners proves more difficult. As a state enterprise with a more traditional, family-oriented structure, Tongmei shoulders the responsibility for reaccommodating its staff. Some are transferred to work at power plants or different divisions within the company, while others take early retirement.
The surplus workforce is compounded by Tongmei's commitment to employing any of its workers' children who have a related university degree. Mining graduates from across northeastern China flock to Datong because it's one of the few places that still offers work in the industry.
Even with Tongmei's employment guarantee, many children of miners look to greener, cleaner pastures. Ma's son works in Shanghai as a computer programmer. "I don't oppose his decision," Ma says. Though it seems far off, everyone knows there will come a day when there is no coal left to mine.
Catching the Light
Sunlight is the ancestor of coal. Hundreds of millions of years ago, the sun nourished vegetation that — once buried, compressed, and carbonized — transformed into coal. Now, humans hope to utilize the power of the sun directly.
Shang Wuqiang has seen both sides of Datong's transition from fossil fuels to renewable energy. He gestures at the ground beneath his feet, which is riddled with pits indicating subsidence. "I was underneath this before, and now I'm on top," he says.
More than a decade ago, Shang worked underground in the coal mines. Now, he is the general manager of Tongmei's renewable energy subsidiary, Datong New Energy, directing a solar power project in Datong's Jiajiagou Village, Zuoyun County, that will eventually produce hundreds of megawatts of renewable energy.
Though it covers hundreds of hectares, the Jiajiagou project's output is only a drop in the ocean, making up less than 1 percent of Tongmei's 11,510 megawatts of installed capacity.
Large-scale photovoltaic power generation often comes under attack due to the sheer scale of land it occupies. Yet the technology could prove a perfect fit for Datong, where mining has destroyed the groundwater reserves and rendered the land unworkable for agriculture, construction, and most industries. With flat terrain, ample sunlight, and little rain, Datong is also suitable in terms of climate.
More importantly, Datong may be better positioned to generate electricity than less populated and less industrialized regions farther west of the Hu Line, such as the deserts of Inner Mongolia. As wind and solar power generation expand in China, much energy is wasted due to transmission loss and grid incapacity. According to environmental NGO Greenpeace, curtailment — when renewable energy doesn't make it to the grid in the first place — cost China's solar industry more than $1 billion in 2016, in part due to problems transmitting power across provincial borders.
Yet even with its relative proximity to demand, Datong's solar-powered dreams still face significant challenges.
For one, sunlight lacks stability. While coal can be mined whenever workers are willing and machinery is available, the sun is fickle. As Dong Guofei, an employee at the Jiajiagou solar power project, puts it, "We profit when the gods are in a favorable mood."
Engineers and workers constantly battle the sunlight's intermittency. Jiajiagou is home to 10 megawatts' worth of photovoltaic modules that move to follow the sun. Their efficiency is 15 percent higher than that of the stationary modules that make up the rest of the project, but they also fail more often. In addition to carrying out regular cleaning and maintenance, workers also contend with construction issues — a result of the project being rushed to meet a deadline for national renewable energy subsidies.
Like in the mines, the staff at the solar power station are almost all men. But in lieu of the camaraderie that forms in close quarters underground, the crisp light above sees a dozen or so employees tasked with managing 333 hectares of solar facilities. Most of the day is spent staring at signals on a screen. "Working with photovoltaics, you have to deal with loneliness," Dong says.
Workers jump at the chance to fix on-site issues as a means of breaking the tedium. But walking around the expansive site is also exhausting. It took three months for Dong to complete a required inspection of each module. "On days when the workload was heavier, I would get home and just pass out," he says.
Beneath the Buddha
Solar power generation has a more minimal impact on the natural environment than mining, and wild birds or rabbits can often be seen darting through the mountains around the Jiajiagou site. As more and more mines close, air pollution has decreased, improving the quality of life in the area.
Yet solar power cannot fully fill the role that mining has played in the region's job creation. "A coal mine has 2,000 or 3,000 workers, while my power station only needs a dozen," Shang says. He imagines a future where drones and infrared cameras can monitor the site, reducing the human workforce even further.
Unemployment could become a major issue for the region in the future. To promote tourism, Datong is attempting to harness its mining heritage alongside its historical glory.
The Jinhuagong coal mine opened to the tourism industry years ago, leveraging the prominence of the massive Yungang Grottoes Buddha to draw tourists to its Jinhuagong National Mine Park. Visitors could climb to the park's observation deck and see the Buddha right before their eyes, but they would still need binoculars to spot the coal mine.
In the park, sightseers could take an underground tour into a disused mine shaft or visit a mining museum to see specimens from layers of history: coal, dinosaur eggs, and rocks from various ages. Soon, the coal industry, too, could become just another fossil, displayed behind glass, buried beneath time.
Translator: Kat Tse; contributions: Qian Jinghua; editors: Qian Jinghua and Fu Danni.
Over the coming weeks, Sixth Tone will publish stories, videos, photo galleries, and social media posts that chronicle our road trip across China along the Hu Line, as well as an interactive multimedia platform in the fall.
(Header image: A view of the solar panels near the Jinhuagong coal mine in Datong, Shanxi province, Nov. 7, 2016. Zhou Pinglang/Sixth Tone)