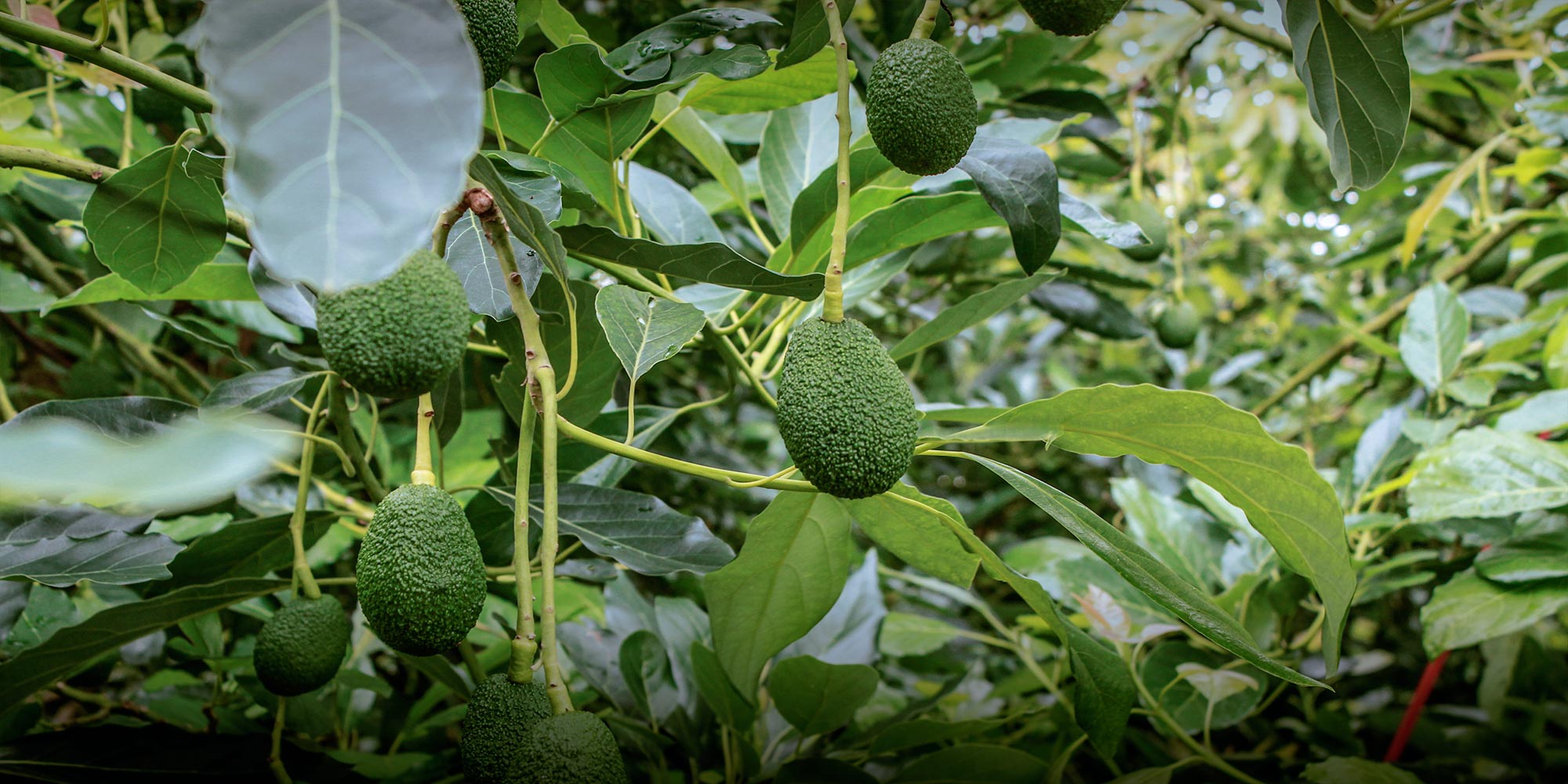 FEATURES
Avocado Advocates Want China to Grow Its Own
Hitherto imported fruit's growing popularity is inspiring entrepreneurs to attempt large-scale domestic production, despite lack of awareness among farmers.
GUANGXI, South China — To describe Xiong Guanshui's orchard as modest would be an understatement. His avocado plantation, nestled among eucalyptus trees on a steep hillside 100 kilometers north of Nanning City, comprises just a dozen small trees.
But the 55-year-old businessman has big plans. Enthused by rising demand for the creamy fruit among an increasingly health-conscious middle class, Xiong plans to build an avocado empire — complete with a 1,333-hectare plantation and an avocado oil refinery — within the next two years.
Avocados, for centuries unheard of in China, are being purchased at record rates by middle-class consumers. To date, the market has been dominated by imports from countries such as Mexico and Chile. But that may soon change, with businesspeople like Xiong looking to launch large-scale avocado operations to grow the fruit within Chinese borders.
"The avocado market is big for local businesses," He Guoxiang, professor emeritus of tropical agriculture at Guangxi Vocational and Technical College, told Sixth Tone. With more than four decades' experience researching the fruit, He is optimistic about the prospect of domestically farmed avocados. "We've got almost everything here in China: weather, grafting techniques, and a history of successful cultivation," he said.
That history refers to trial planting of high-yielding varieties such as the Hass avocado in China's southern provinces during the 1980s. Though the planting efforts were successful, local people largely rejected the fruit due to its lack of flavor and high cost. "Back then, when people still had trouble having a full meal sometimes, they would prefer fruits with strong flavors like sweet and sour and wouldn't think about eating healthily," said He. "Regardless of how nutritious it was, the market was not ready for the avocado."
But three decades later, demand for the fruit has soared. According to data collected by the United Nations International Trade Statistics Database, China imported more than 25,000 tons of avocados last year. In 2012, that figure was just 153 tons.
Clément Mougenot of market research firm Daxue Consulting attributes the fruit's rapid rise in popularity to increasing demand for health foods in developed cities. Mougenot told Sixth Tone that many key opinion leaders in China — such as TV stars and fitness trainers — are publishing avocado-related content, adding that the fruit's association with Western lifestyles has also galvanized interest.
Against this backdrop, He believes it is just a matter of time before China starts producing large quantities of domestic avocados. "Now," he said, "we just need some adventurous, risk-taking entrepreneurs."
Nanning businessman Xiong hopes to be one of them. A logistics professional by trade, Xiong had his first taste of avocado in Thailand late last year during a business trip; he was unimpressed by the dull flavor, but that only fueled his curiosity about why the Thai were paying so much for the fruit. After conducting some research into the many uses of avocados, he quickly became aware of the blossoming demand for the fruit in his own country.
"The fruit is now a common staple in supermarkets in big cities, but many people from second- and third-tier cities still have never heard of it," Xiong told Sixth Tone from behind the wheel of his car on the way to his orchard from Nanning, where he lives with his family. "Once these people realize the health benefits of avocado and start to consume it, the market potential will be unimaginable."
Soon after he returned from Thailand, Xiong began seeking land on which to grow avocados. On the advice of local horticulturists, he decided to build his plantation in the mountains next to a reservoir in Xianhu Town.
With three bulldozers at the ready to clear land for an avocado tree terrace, Xiong is now waiting for the local government to green-light his expansion plan, the details of which he submitted to Xianhu government officials in June. Not only does he need the government's permission to begin work on the land, but he is also relying on officials to help educate local landowners about the economic benefits of avocado growth so they agree to lease their land to him.
Xiong's avocado dream may have germinated at just the right time. Xianhu officials are seeking a replacement for the eucalyptus trees — tall evergreen trees with straight, white trunks used for timber — that populate much of the region's terrain, according to Deputy Mayor Huang Qingkang. Local agriculture experts have raised concerns that the dead eucalyptus leaves are stimulating algae growth when they fall into the reservoir. The theory has no strong evidence to back it up, but it has nonetheless found an enthusiastic audience among government officials, who are eager to boost the local economy by introducing a new cash crop.
Whether farmers will share officials' interest in the fruit remains to be seen — particularly because knowledge of avocados in the rural region is unsurprisingly low. "Farmers are only willing to rent their land if they know for sure the business is profitable," Deputy Mayor Huang told Sixth Tone during a recent visit to Xiong's orchard, organized by Xiong to persuade officials of the benefits that avocado growing would bring to the region. Yet Huang had never even heard of the fruit — a sign that lack of awareness about avocados is not limited to farmers.
Getting local farmers on board isn't just a matter of gaining permission to use their land: Xiong eventually hopes to employ them to work his plantation. But first, he will have to persuade them that the trees, which take three to four years to bear fruit, will return a profit.
An initiative in neighboring Yunnan province's Menglian County may give hope to avocado entrepreneurs like Xiong seeking government support. Around 1,300 kilometers west of Xiong's orchard, near China's border with Myanmar, the Menglian County government is digging deep to encourage local avocado cultivation, working with the private sector to turn the county into the "avocado capital of Asia."
In conjunction with avocado cultivation firm Puer Lüyin Biology Company, the government is turning to the fruit as a means of poverty alleviation for farmers. The project, beginning in 2015 and projected to cost 318 million yuan (over $47 million), will establish a nursery producing 5 million grafted plants a year, a 666-hectare plantation, and an avocado oil refinery.
"Not many people are in the business now, but we are optimistic about the market," Puer Lüyin's chairwoman, Qi Jie, told Sixth Tone, citing the modest success the project has achieved so far. The plantation harvested its first 300 tons of fruit this year — not nearly enough to meet the market's insatiable demand. "Retailers, supermarkets, and hotels all came to us to order fruit even before it had ripened," she said.
Tropical agriculture expert He believes that compared with imported avocados, homegrown varieties tend to have better flavor, as imported fruit must be harvested before it is ripe so it will survive 30 or so days on a container ship. On top of that, reduced transportation costs mean domestically cultivated avocados can be sold cheaper.
But Mougenot of Daxue Consulting has reservations about the market potential of homegrown avocados, simply because the fruit's appeal for many is rooted in its exoticism. "Because the avocado has always been marketed as an imported product, market prospects for locally grown avocados sold to consumers may not look too bright in the near future," he said.
Xiong, on the other hand, exhibits unbridled enthusiasm when asked about the outlook for homegrown avocados, citing multiple ways to monetize the fruit. "Even if the demand for fresh avocado goes down in 10 to 20 years, I can still make money by selling avocado oil," he said. "There is no risk to growing avocados."
Editor: Owen Churchill.
(Header image: An avocado plant in Nanning, Guangxi Zhuang Autonomous Region, March 9, 2017. Chen Na/Sixth Tone)