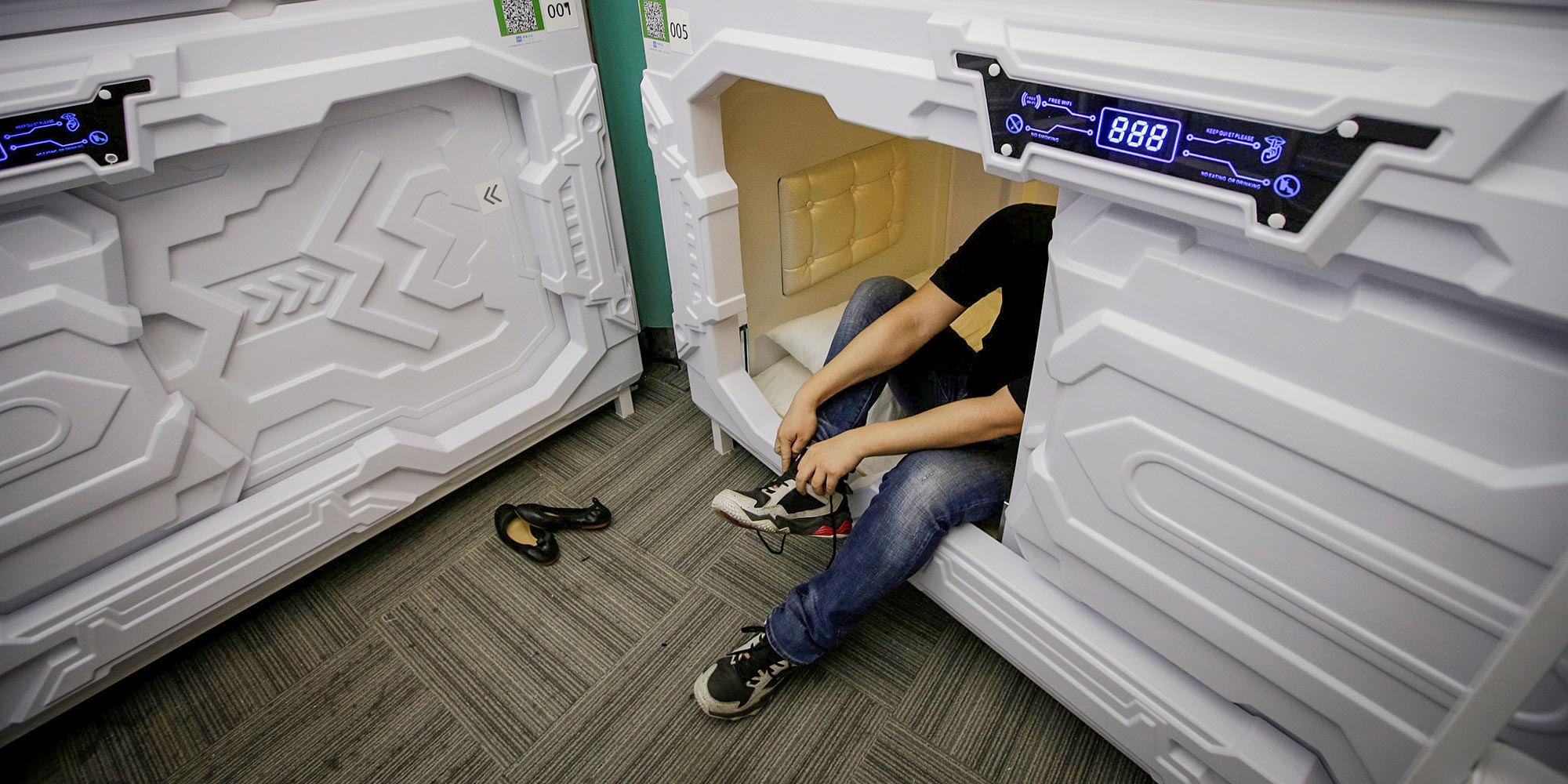 NEWS
Authorities Give Shared Napping Pods Rude Awakening
Latest addition to China's ever-expanding sharing economy suspends business due to lack of licenses.
A company aiming to hop aboard China's sharing economy bandwagon by offering public napping pods seems to be short-lived, as local governments are shutting down the business over safety concerns.
One month after installing napping pods in office buildings in 18 cities across the country, Beijing-based Xiangshui Space has temporarily shut down its business because it has not yet acquired the necessary licenses from local fire departments, company CEO Dai Jiangong told Sixth Tone.
State news agency China News Service first reported on Saturday that local police in Beijing closed six sleeping units in the Zhongguancun area, a prominent tech hub. Although Dai denied his business was being shut down by the Beijing government, he said the media exposure had drawn greater scrutiny from authorities all over the country.
On Monday, the Shanghai public security bureau ordered Xiangshui Space to cease operations in the city — prompting the company to proactively do the same in other cities as well, Dai said.
Following in the tire tracks of cars and bikes, battery packs and umbrellas, napping pods are the latest player to enter China's burgeoning sharing economy. Based on a similar concept in Japan, Xiangshui Space aims to offer relaxation stations for office workers in some of China's most crowded cities. Customers enter a glass enclosure and scan a QR code to unlock one of the refrigerator-sized capsules, which come equipped with adjustable lighting, free Wi-Fi, power outlets, and a fan. Disposable blankets, sheets, and wet wipes are available in a basket next to the pods. Rental fees vary depending on the time of day: During peak hours — 11 a.m. to 2 p.m. — the rate is 10 yuan ($1.50) for the first half hour and then 0.3 yuan per minute afterward.
To be a legally run business, Xiangshui Space has to meet a slew of industry standards. "For example, the shared bunk has to ensure that the customer will not be exposed to infectious diseases," said Zhu Wei, a communications law professor at the China University of Political Science and Law in Beijing. "The personal safety of those who go in for a rest must also be considered — what if their shoes or other belongings are stolen?"
Although Dai admitted that there are "still some flaws" with his products, he said that "a lot of people have misunderstood our business concept." He stressed that Xiangshui Space's napping pods are different from capsule hotels because they only provide short-time accommodation for people who simply need a power nap in the afternoon.
However, Professor Zhu disagreed with Dai's assessment that the products constitute innovation. "Shared capsules just incorporated some new technologies like Alipay into their core business model," he said, adding that the concept is essentially just a variation on the conventional hotel.
Xiangshui Space is currently communicating with local governments about how they should define their business model and what rules should reasonably be imposed, Dai said. "We hope that after complying with all requirements, we can reopen again."
Additional reporting: Qian Zhecheng; editor: David Paulk.

(Header image: An IT worker takes off his shoes before entering a Xiangshui Space napping pod during his lunch break in Beijing, July 11, 2017. Jason Lee/Reuters/VCG)