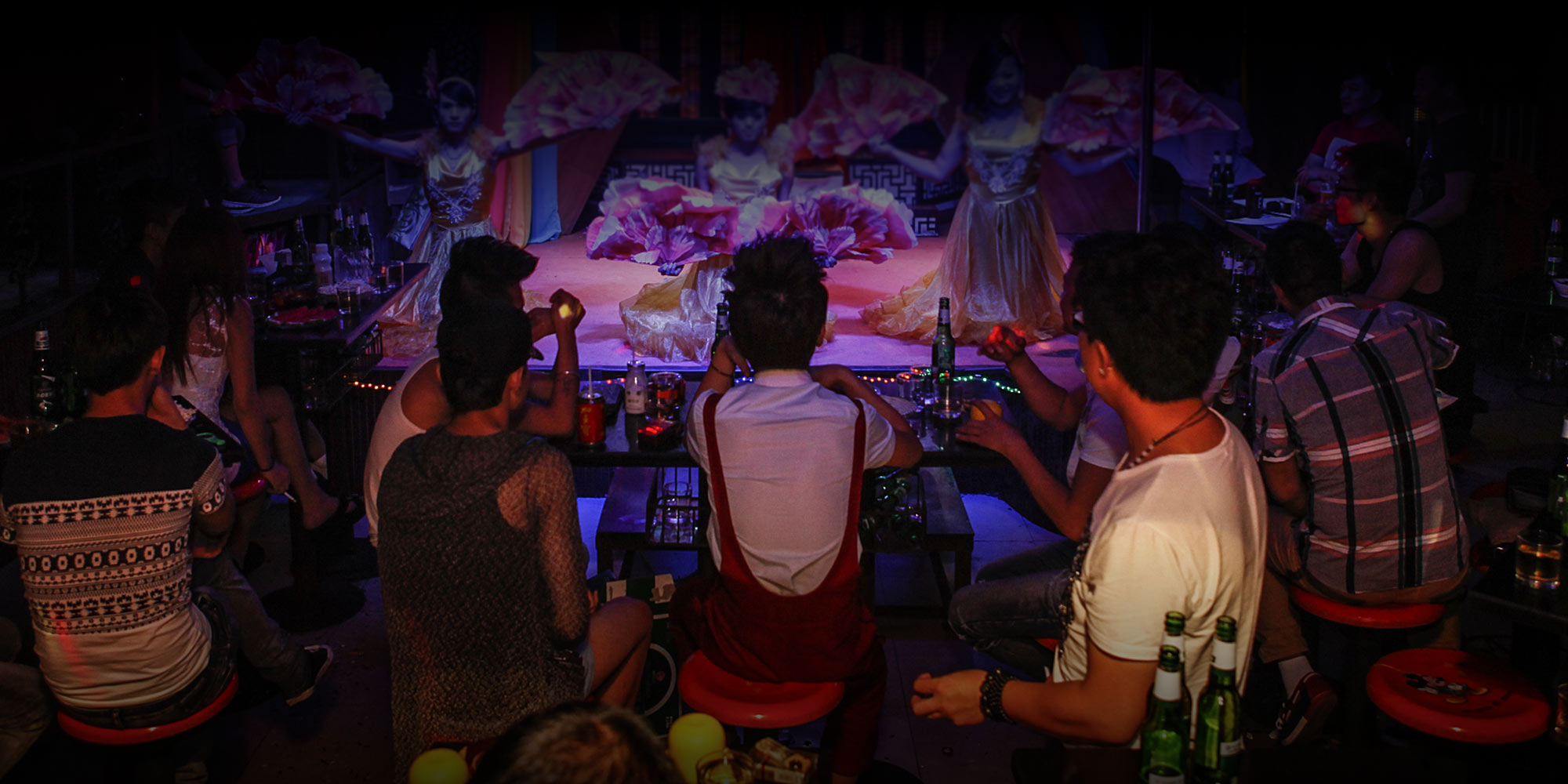 VOICES & OPINION
Shanghai's Gay Bars: Here and Queer for 20 Years
The city's ever more diverse LGBT establishments are testament to the perseverance of China's gay community.
The history of gay bars in Shanghai spans a little over 20 years. As a member of the first wave of Chinese people to frequent gay bars, I have witnessed their evolution. These many years of patronage form a special chapter in my life.
It was around 1995 that Shanghai's gay male population began to "migrate" from parks and public restrooms across the city toward bars and clubs. Before then, places where men could meet like-minded "comrades" — a slang term for gay people — included a little garden on the west side of Jiangxi Middle Road in central Shanghai's Huangpu District, as well as the roadside newspaper gallery on nearby Nanjing East Road. Even earlier than that, people would meet near what is now the Fairmont Peace Hotel on the city's riverside promenade, the Bund. Later in our lives, we would come to recognize these spaces as "cruising areas" — in Chinese, yuchang, or "fishing holes."
In the summer of 1995, a mysterious-looking bar opened in a house temporarily thrown up on Xingguo Road in neighboring Xuhui District. Aside from a handful of women whom the bar owner invited as "beards" — customers whose presence concealed the fact that it was a gay bar — the overwhelming majority of its patrons were men. As the days went by, the bar gradually attracted an increasing number of overseas patrons, and we all referred to the place by its English name, Eddy's, after the owner's then-boyfriend. This was perhaps the first gay bar in mainland China.
Around this time, a group of relatively well-to-do gay men became more receptive to the idea of meeting partners in private establishments, as opposed to public cruising spots. This change in mentality among gay Chinese men, combined with the encouragement of queer expats living in Shanghai, ensured that the bar was able to operate without any financial difficulties. However, despite its success, Eddy's was frequently displaced: After opening, the bar moved six times in roughly as many years.
One can attribute this constant switching of venues to two factors. First, at that time, homosexuality was commonly frowned upon in Chinese society. Upon learning that their property was being used as a gay bar, many landlords would send tenants and patrons packing regardless of whether or not the lease had expired. The second reason was that as an increasing number of rival gay bars opened their doors, proprietors would move elsewhere as soon as their businesses began to stagnate.
In 1997, the Chinese government abolished the crime of "hooliganism," whose loose definition included homosexual activity. Later, in 2001, the Chinese Society of Psychiatry removed homosexuality from its list of psychiatric disorders. These developments, which are generally viewed as symbolic of the decriminalization and destigmatization of homosexuality in China, coincided with a shift in Shanghainese attitudes toward different sexual orientations.
In 2002, Eddy's found a stable location where it would continue to serve the gay community for the next 14 years: Huaihai Middle Road, Shanghai's premier shopping street. Afterward, it no longer suffered any further random inspections. Its owners were not been dragged down to the police station for questioning, and authorities did not demand that it shut down. This reflects changes in the environment in which gay bars and gay men themselves previously struggled to survive.
Even though I have frequented gay bars ever since they first arrived on the mainland, I don't recall any particularly unpleasant experiences with homophobia. I do, however, recall an amusing run-in with the local authorities. One evening in 1998, the owner of a recently opened gay bar and its patrons, myself included, were taken to the local police station. It was only upon arriving at the station that I learned that the bar didn't have a license to operate. All patrons were asked about their identities and what they were doing at the establishment.
I remember that after my interrogation was complete, I stood to one side as I waited for a handsome guy I had hit it off with that evening. This led one of the police officers to glance over at me and say, "Oh, he must be your… y'know," by which he clearly meant my boyfriend. "I'll try to finish his interrogation a bit sooner, then." To this day, I still remember that rotund, bespectacled police officer and his utter loss for words.
However, my friend Andy, a co-owner of a gay bar founded in the early 2000s, once told me of a less fortunate encounter. A group of loyal patrons at the popular bar Asia Blue had put together a set of informal skits reflecting some of the more amusing aspects of gay life. After a while, Andy decided that their impromptu performances needed polishing, and he therefore wrote the outline of a script.
Then one evening, police showed up at the bar for a random inspection. On the way to the station, Andy began to freak out about the content of the script. Panicking, he crumpled the script up and swallowed it whole. Today, Andy still punctuates this account with hearty chuckles. Fortunately, owners of gay bars no longer find themselves in these kinds of awkward predicaments.
Beginning at the turn of the century, a constellation of gay bars opened across Shanghai. Virtually every bar has its moments of glory, but the vast majority of them end up going bust amid cutthroat competition. One such bar, Home, introduced a new form of entertainment to Shanghai's gay scene: dancing. Shanghai's gay bars began to evolve into clubs, adding live DJ sets, dance floors, and themed events.
At the same time, it became gradually easier for Chinese people to travel abroad. Gay Shanghainese who traveled to Southeast Asia or to Western nations discovered that Shanghai's gay nightlife had begun to rival that of other world-class cities. Themed parties organized by gay clubs in Shanghai continue to attract not only the mainland's "comrades," but also party animals from Hong Kong, Taiwan, Southeast Asia, and even further afield.
Undeniably, China's gay clubs have gradually developed their own culture, a fusion of Eastern and Western aesthetics. They have completely transformed from simple hookup spots to establishments where sexual minorities revel in their differences.
In 2016, Shanghai's original gay bar, Eddy's, shut down, as did the Icon Club, whose queer dance parties on the weekend were once the local LGBT community's most popular event. This was a source of sadness for me. I believe financial difficulties contributed to their demise: In the short space of a few years, the price of real estate in Shanghai has soared, while employment policies have become more and more rigid. This has inevitably put gay bars — whose profits were meager to begin with — in a precarious situation.
Meanwhile, following a shift in attitudes and the advent of gay hookup apps such as Blued and Aloha, LGBT people no longer need to rely on traditional gay bars as a means of meeting like-minded people. These days, gay bars are a merely a part of our nightlife. Consequently, these places must develop unique identities and keep up with the times in order to maintain a stable clientele.
Compared with the intense rivalry of previous years, today's gay bars tend to complement each other, inspiring growth. As China's economy continues to develop at a dizzying pace, queer nightlife in Shanghai has begun catering to increasingly sophisticated tastes. The city's LGBT community has greater spending power than they used to, and their demands are increasingly diverse. At the same time, the city's gay bars have started catering to different niches in an attempt to remain competitive. From large, booming clubs to quiet speakeasies, all kinds of gay bars and clubs now have a chance to succeed in Shanghai. To a certain extent, Shanghai has even developed its own gay district near the Jiao Tong University subway station.
People often say that China's queer comrades live under the burden of societal pressures and discrimination. While this is true, I want to emphasize that in the more than 20 years since Shanghai's first gay bar opened its doors, I have personally witnessed the admirable perseverance of China's LGBT community. As this city grows, we continue to grow, too. China's gay bars have blossomed from homogenous, underground entities into diversified, stable institutions; like LGBT issues in Chinese society more generally, gay bars have become more visible on our streets. This not only reflects a stronger sense of self-acceptance among the LGBT community, but also demonstrates a greater degree of tolerance of LGBT people by Chinese society at large.
Translator: Lewis Wright; editors: Lu Hua and Matthew Walsh.
Correction: After Eddy's opened on Huaihai Middle Road, it was not targeted by the authorities. Some establishments popular among the gay community, however, have been shut down due to illegal activity.
(Header image: An internal view of a gay bar in Zhengzhou, Henan province, Aug. 31, 2013. Luo Hao/VCG)