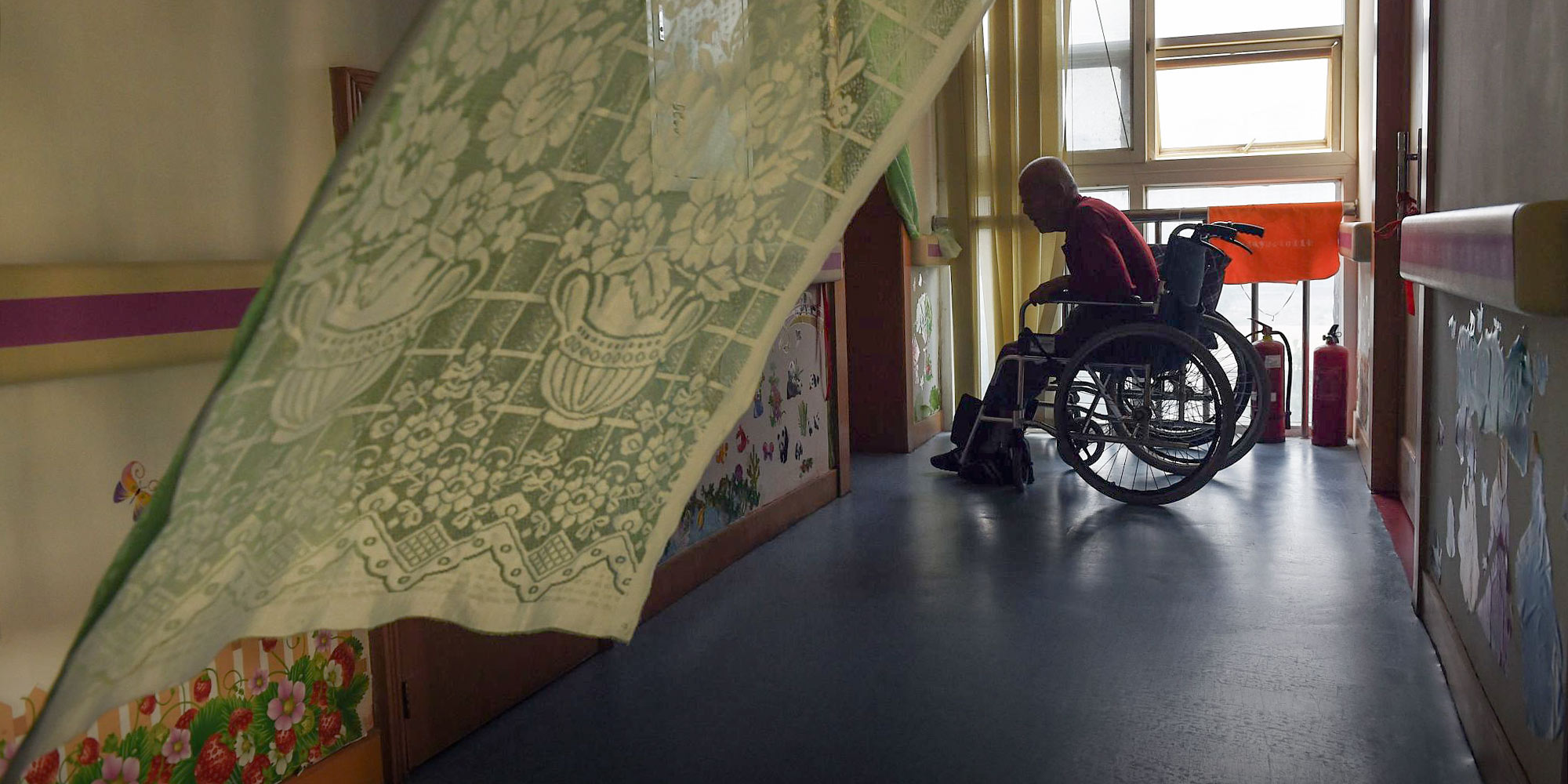 FEATURES
How the One-Child Policy Heightens China's Aging Crisis
As a generation of Chinese reach old age, their only children shoulder the burden of care alone.
Zhou Lin's mother has dementia, but she never forgets her bag. In it are cards with contact information and an explanation of her condition, a simple phone with only Zhou's number saved, and a GPS tracker. It's high-tech solutions like these — Zhou also had the elderly woman's house equipped with cameras and a device that sends an alert to her smartphone whenever the front door opens — that make taking care of her ailing, 85-year-old mother all on her own a little more bearable.
Three years ago, Zhou's mother was diagnosed with late-stage Alzheimer's.
In the spring of 2015, Zhou's mother began to lose control over her emotions. She would make wild accusations, verbally abuse her family members, and throw any object in reach at those around her. "She would even bite me and spit on me," Zhou says, adding that this period of her life was a "living hell."
Zhou herself turns 60 this year and is an only child. When her mother received the diagnosis, Zhou's husband wasn't in good health either, and her son was living abroad. "All I could do was soldier on by myself," she says. While visiting her mother in the hospital, Zhou noticed other families with five or six adult children taking turns caring for their elderly parents. Meanwhile, she was forced to spend all day and night by her mother's side, leaving her both physically and mentally exhausted. Zhou has been taking sleeping pills for the past two years.
China's one-child policy was introduced in 1979 after roughly a decade of efforts to convince people to have fewer children. People who were in their 20s then — 38 years ago — are now nearing retirement age. By the end of 2015, 16.1 percent of China's population, or more than 222 million people, were over the age of 60.
Zhou herself heeded the government's call for more rigorous family planning and had just one child, a son, in 1982. Her experience taking care of her mother makes Zhou fearful of what he will have to endure if she herself falls ill someday. "If I end up with senile dementia, I want to be put in a nursing home — no question about it," she says.
But China doesn't have nearly enough nursing homes to handle demand, and attempts to open new facilities have encountered all sorts of obstacles, from uncooperative authorities to superstitious neighbors. As a result, many only children will have to shoulder the burden by themselves when the current generation of elderly become dependent on them for care. Daughters may feel the effects even more heavily than sons: A recent study showed that Chinese women taken on more than twice as much unpaid care work than their husbands.
In June 2016, the Ministry of Human Resources and Social Security issued guidelines for a pilot project in 15 cities to test the feasibility of reimbursing families for long-term elderly care. The project provides a sort of insurance that pays for nurses to visit elderly individuals.
Zhang Naizi, director of Shanghai Jiao Tong University's Research Institute for Elderly Long-Term Care, believes that such measures are the key to solving the challenges only children face when it comes to caring for their elderly parents. According to Zhang, the issue of old-age care in China can be summed up with the "90-7-3 model" — that is, 90 percent of elderly people can take care of themselves, 7 percent need home-based care services, and the remaining 3 percent are incapacitated or senile and therefore require institutional care.
"The main issues with home-based care services are who pays for them and how much they cost," says Zhang. "In the end, it all comes down to money, and reimbursement for long-term care services may be the answer."
In a 2015 government survey of 10,000 elderly people in 10 Chinese cities, nearly 90 percent of respondents said it was necessary to set up home-based care services. Those who had the greatest need for these services included the survey's oldest participants, those with no children to look after them, and the incapacitated elderly.
"If the country can develop a good elderly care system, that will be the only hope for those born in the '80s and '90s," Zhou says. Her 35-year-old son, Zhou Yi, is less worried. He still feels as though his parents are quite young and hasn't seriously considered how he will take care of them in their old age. "As long as they're healthy, I feel relaxed," he says. But for some members of his generation, taking care of their parents is not such a far-off possibility.
At the end of 2015, He Qian's mother had a stroke. A few months later, a second stroke caused her to fall and break her right ankle. Half a year later, she was confined to her bed.
It's difficult for He to help care for her mother because her parents, both in their 60s, live in Kunming — the capital of southwestern China's Yunnan province — whereas she lives some 2,000 kilometers away in Shanghai. Her father provides daily care for his wife, and He requests leave from work once a month to fly home.
When her mother first fell ill, He, 38, visited all the nursing homes in Kunming but wasn't satisfied with what she saw. Instead, she decided to pay 4,000 yuan ($590) a month for a caretaker to come to her parents' home. But her mother doesn't like having a stranger around the house, nor does she take well to being bossed around. In one year, the family changed caretakers six times.
Elderly people like He's mother who have lost the ability to function independently are said to be "incapacitated." China's National Committee on Aging predicts that the number of incapacitated elderly living in China will reach 42 million by 2020.
If her mother's condition further deteriorates, He fears that her father won't be able to handle the physical and mental pressures of caring for her every day from morning to evening. At times, He says, she wonders if this wouldn't all be much easier if she had a brother or sister to share the burden.
Although He's parents could have had a second child after she was born in 1979 — as the one-child policy was not enforced as strictly back then — they ultimately agreed to have only one. "Our generation, the parents of China's first wave of only children, are a remarkable group of people," He's father says. "We responded to the call of the nation by choosing to only have one child. It must be said that at the time, this was a necessary and — we felt — meaningful duty."
Besides, He's father adds, having more children does not guarantee a better situation. "If one's children are thoughtless or disappointing, then things won't be any easier no matter how many you have," he says.
While He has considered asking her parents to come live in Shanghai and has even researched many of the city's elderly care facilities, she recognizes that the logistics would be complicated. Her mother's rehabilitation therapy involves numerous expenses, and submitting these expenses to the government for reimbursement would be tough because He's parents would still be registered in Kunming. More importantly, her father is used to life in Yunnan and draws heavily on his network of friends there for support.
In her 20s, He somewhat resented her parents for not having more children. Although she felt she had received more attention from her parents as an only child compared with her peers who have siblings, she also felt that her independence came at a much greater price. Now in her 30s, she is more understanding. She feels that going home to live under the "command" of her parents if they eventually need more hands-on care is not the burden that people make it out to be. "Things are clearer in my mind now: I am definitely willing to go back home," she says.
Since He's mother fell ill, the roles in her family have changed dramatically. "I've become the father of the family: I'm the one who makes decisions. My father has become the mother, going from being looked after to looking after my mother. And my mother has become the child of the family," she sighs.
Translator: Lewis Wright; editors: Kevin Schoenmakers and Fan Yiying.
A Chinese version of this article first appeared in Sixth Tone's sister publication, The Paper.
(Header image: An elderly man sits in a wheelchair at a private nursing home in Beijing, July 1, 2014. Greg Baker/VCG)