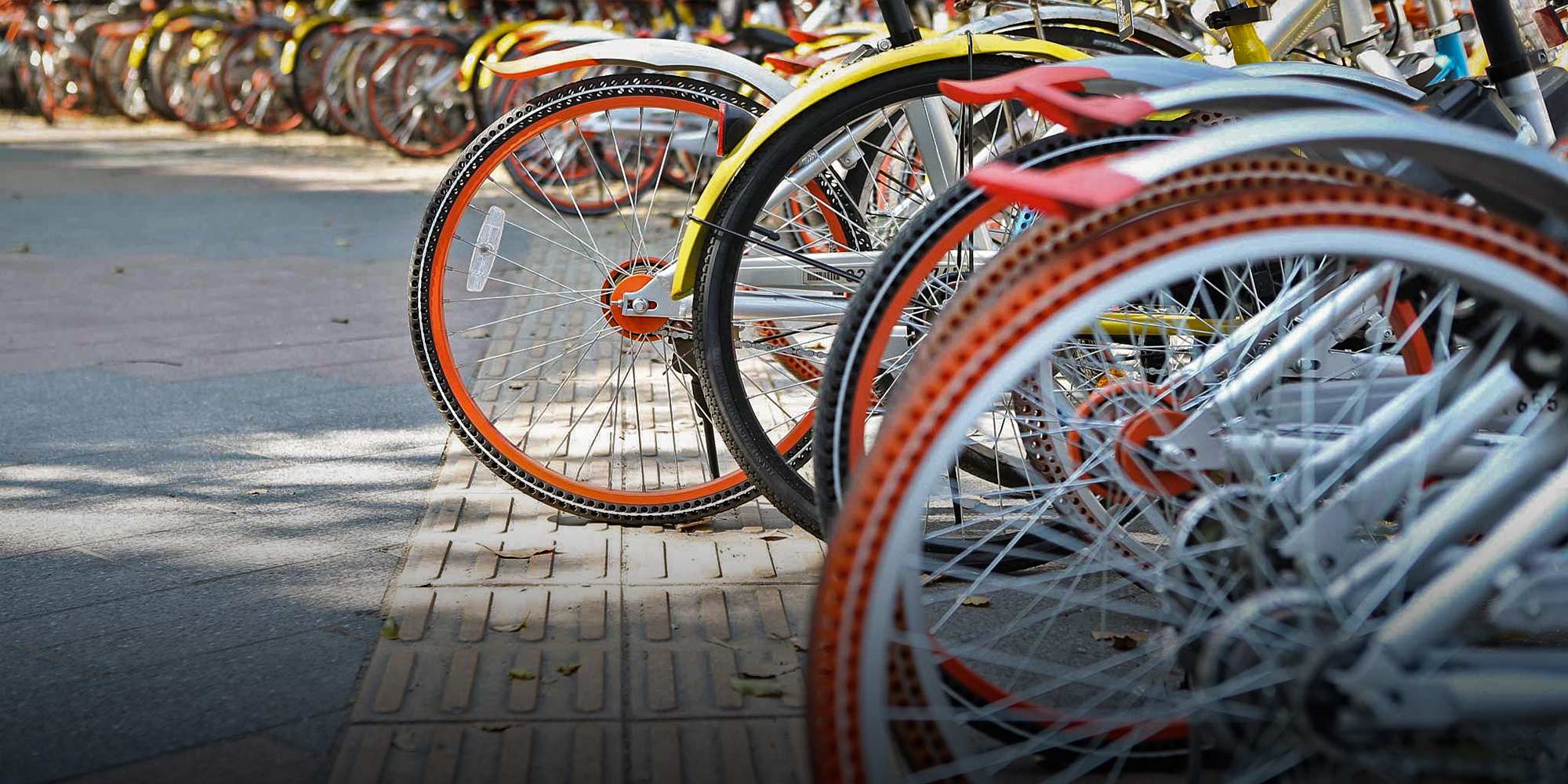 NEWS
Visually Impaired Say Shared Bikes Obstruct Sidewalks
Essay argues Mobike did not deserve social enterprise award nomination.
A visually impaired man has slammed Chinese bike-sharing companies and their customers because illegally parked bicycles often block the tactile sidewalk pathways blind people use to navigate cities.
In a personal essay, the author, who identifies himself as Ah Caijun, said he decided to speak up after recently tripping on a poorly parked shared bicycle outside a subway station and bloodying his leg. "The parked bicycles occupy the blind pathways, making it very difficult for the visually impaired to walk," he wrote.
Bike-sharing companies, led by industry leaders Mobike and Ofo, have changed the way many Chinese urbanites commute. Last month, Mobike was a finalist for the China Social Enterprise Award for its innovative business model and approach to solving social problems.
But Ah Caijun said the company doesn't deserve that recognition. "The fact that it has eased commuting for people can't be ignored," he wrote. "But while solving this problem, it has also created a number of other social issues." Mobike was not immediately available for comment on Friday.
The popularity of bike-sharing has led to a flood of startups into the industry. All these companies vie for consumer attention by placing as many bikes as possible in cities around China, congesting pavements in the progress. Shanghai and Beijing have both announced regulations for the young industry, and the central government warned in April that bad biking behavior could damage citizens' social credit ratings.
But shared bikes outside the boundaries of designated parking areas are still common. Ren Zhenghao, a braille teacher in Shanghai who is visually impaired, told Sixth Tone that he has run into trouble with them, and that they can be a nuisance for people with disabilities. "I have had my cane caught in the spokes, and bumped into them while walking on the tactile pavement," he said. "[The companies] should educate their users to not park the bikes on pathways for the blind, and they should have policies to punish those who violate the rules."
Zhao Peng, a Tianjin-based doctor specializing in rehabilitation for the disabled, said the attitudes of the companies and their customers reflect how unaccommodating society can be when it comes to providing an equal space for people with disabilities.
"People with vision and hearing loss tend to stick to a set route that they're accustomed to every day," Zhao said. "If shared bikes are in their way, it will not only make it inconvenient for people with disabilities, but likely also hurt them."
Additional reporting: Wang Yiwei and Qian Zhecheng; editor: Kevin Schoenmakers.
(Header image: Shared bikes are parked along a tactile sidewalk near a subway station in Shanghai, April 28, 2017. Wang Yadong/VCG)