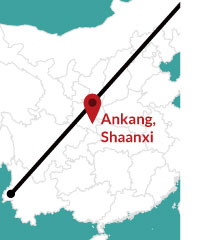 This article is part of a series that explores life along the Hu Line, an imaginary diagonal line across China that has vast demographic, environmental, and political significance.

SHAANXI, Northwest China — Huai Shengtang's apartment in newly rebuilt Qiyan Village stands vacant amid cheerless rows of identical high-rises, clustered together in freshly upturned dirt. The 60-year-old doesn't know how to use the modern gas stove, so his sons bought him an electric hot plate to make him feel more comfortable. Still, he refuses to spend more than the occasional night there to check on the place. By morning, he's on his way back to the mountains, where his original village was devastated by a landslide seven years ago.
The Qiyan villagers are among the 2.8 million people relocated by the Shaanxi provincial government in 2011 under a mass migration plan to resettle both victims of natural disasters and families living in poverty. The central government's poverty alleviation efforts intend to relocate 10 million people by the end of the 13th Five-Year Plan in 2020, with Shaanxi and four other provinces expected to move more than a million people each.
But in many places, the actual number of residents relocated has failed to meet the government's projections. The relocation subsidies often don't cover the cost of a home in the designated new settlements, and without land, elderly subsistence farmers like Huai have no means of supporting themselves. As a result, newly built towns and villages each designed for hundreds of relocated households remain largely empty, home to only a few families.
The former Qiyan site is situated at the southernmost point of the towering Qinling Mountains, historically known as the great boundary that separates northern and southern China. The old village sits at the juncture of the Qinling Mountains and the Hu Line, an imaginary diagonal demarcation dividing China's dense, more developed east from its expansive, sparsely populated west.
In July 2010, a rainstorm in Qiyan set off a landslide that took 29 lives. The boulders that spanned the bottom of the valley in the wake of the disaster have since been obscured by weeds. Crumbling earthen houses lie in ruins. Yet the village has not been completely abandoned: The bleating of lambs sounds from the hillside, and several mountain goats suddenly appear with their owner, Huai, not far behind. Another glance toward the valley below reveals small vegetable plots dotting the main road. Elderly villagers with their backs hunched materialize with baskets, ready to harvest their crops.
While the old village winds up the mountainside from the valley, Qiyan New Village sits on an open piece of land in the valley, just a few kilometers from the original site, allowing rainwater to easily run into the nearby river. But the villagers' fear of floodwaters is far from their only worry.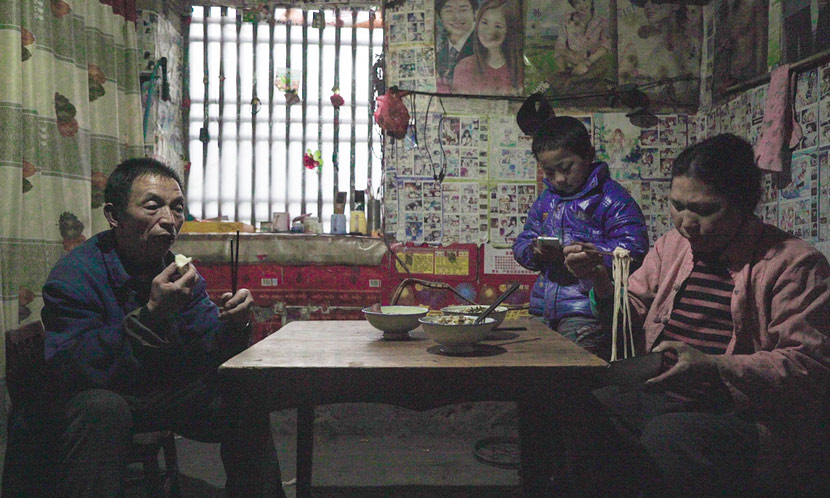 Huai Shengtang eats lunch with his wife and grandson at their old house in Qiyan Village, Ankang, Shaanxi province, March 11, 2017. Chen Xi/Sixth Tone
Strolling through the relocated Qiyan, it's rare to pass another soul in the streets. While life in the old Qiyan was traditional and sustainable — villagers raised sheep, cultivated crops, and picked their own tea — all daily necessities in the new Qiyan must be purchased.
What's more, the new village's population is crowded onto a small patch of land, making farming impossible. Many residents have locked their doors and left town to find work elsewhere.
"If we relocate to the new village, we won't have any source of income. My sons won't have jobs there, so how are we supposed to live?" asks Huai. His three sons have found work in one of southern China's bustling metropolises. Meanwhile, he and his wife remain at their home in the old Qiyan, caring for their eldest son's children. Their sons occasionally send them money, but more often than not, they must rely on the little they make from farming, raising sheep, and harvesting tea in the old village.
Money has been a concern from the beginning. Under the relocation policy, the government distributed a one-time resettlement subsidy to each affected family. However, most Qiyan residents say they struggled to scrape together the remaining funds to purchase a home in the new village.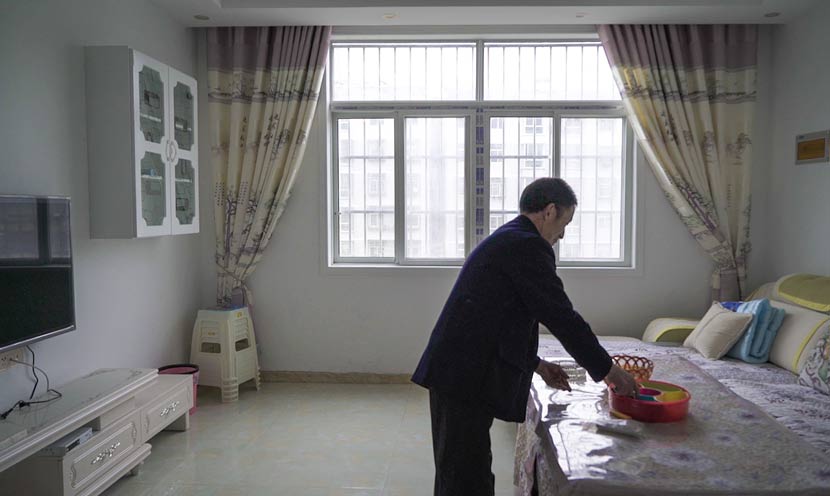 Huai Shengtang tidies his apartment in Qiyan New Village, Ankang, Shaanxi province, March 11, 2017. Chen Xi/Sixth Tone
The Huai family received a resettlement compensation of 40,000 yuan (around $5,900). Huai's sons spent three years saving up the remaining 170,000 yuan, and in 2014, they were finally able to buy a 102-square-meter apartment. It took another year to pay for the necessary furnishings to make it livable.
Even now, many homes in Qiyan New Village contain just a few pieces of shoddy furniture, while others consist of empty rooms. To keep costs low, the villagers typically only turn on the lights when it's pitch-black outside and avoid using heaters in the winter.
Yet Qiyan residents' opinions on the resettlement tend to split along age lines: While the elderly cling to their old home, the majority of the young people refuse to remain in the mountains. They have no attachment to working the land, since their parents — hoping for a better future for their offspring — didn't pass down the agricultural tradition. In addition, the threat of flooding and property loss from torrential rains continues to haunt the village throughout the summer months.
Huang Kai, 26, is one of Qiyan's few homeward-bound youths. He originally left to work in several major cities but returned to the relocated village to marry and has remained there ever since. He's an exception to the rule, as the village's young people have been migrating to find jobs in more developed areas for decades.
To Huang, the new Qiyan boasts all the conveniences and luxuries he needs: The village is only a few kilometers from a major highway. A supermarket, restaurants, and a karaoke bar are all within walking distance. He found work as an electrician at one of the many construction sites in the area, and when his contract finishes, he plans to go into business for himself. "If I have enough money, I'll just open a small restaurant somewhere nearby," he says.
From time to time, village officials visit the original Qiyan site, exhorting the remaining residents to leave. But local leaders are now looking ahead to the next challenge: "With regard to the southern Shaanxi migrants, it is no longer a question of whether they should be relocated but rather an issue concerning the follow-up development of the community," says Li Xiayin, deputy director of Shaanxi's relocation and poverty reduction office. "Urbanization is inevitable; we are merely quickening its course."
According to the resettlement plan, the rebuilt Qiyan area will one day boast over 4,000 residents. In addition to filling the new villages with rural migrants from across the region, the government plans to sell commercial real estate to put the new Qiyan on the map.
Like in many towns across the Chinese countryside, tourism could be the key to developing the local economy. Shaanxi's migration plan proposes locating the new villages near industrial and tourism zones in the hope of attracting businesses, creating jobs, and injecting wealth into the community.
Ecotourism in particular is a viable industry in mountainous regions like southern Shaanxi, according to Wu Feng, an associate professor at Xi'an University of Architecture and Technology. But tourism in the Qinling Mountains still has a long way to go. "While comparable in some respects to the Alps of Europe or the Rocky Mountains in North America," says Wu, "in terms of name recognition and tourism industry growth, the Qinling Mountains are no match for their Western counterparts."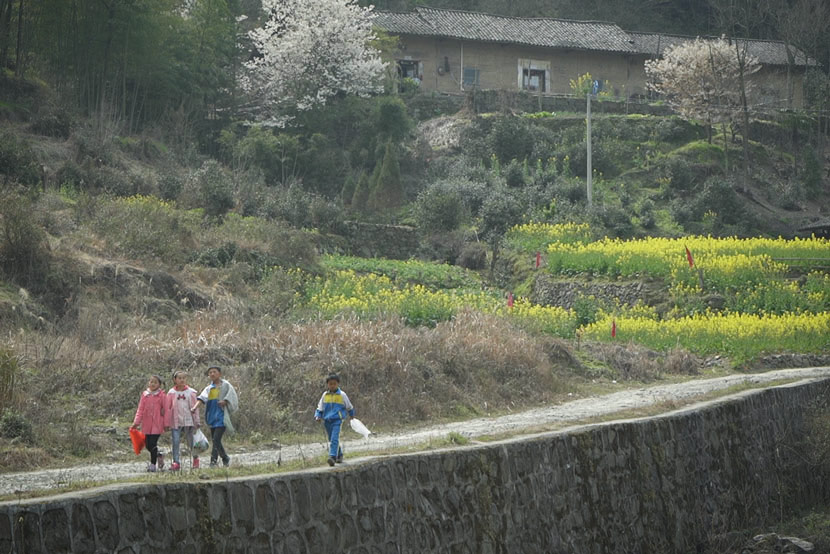 Children walk along a countryside road in Ankang, Shaanxi province, March 11, 2017. Chen Xi/Sixth Tone
In the past, scholars have suggested building a Qinling national park. Among a diverse range of animal species, the giant panda and golden monkey both call this region home. However, most people travel to southwestern China to see these magnificent creatures in the wild, as they are typically associated with Sichuan and Yunnan provinces.
Qiyan's village committee head, Huang Feng — no relation to Huang Kai — has attempted to develop the local tea industry as a means of creating jobs and luring young people back home, but with little success. Alongside several villagers who used to make a living gathering tea leaves to trade in provincial capital Xi'an, the official contracted land to build a tea plantation and encouraged remaining residents to enter the industry. But villagers complained that the tea season was too short and employment opportunities therefore intermittent.
No matter what form future development takes, Huang Feng is committed to ensuring that the area's tragic history doesn't get lost in the wave of urbanization. He has lobbied to build a memorial museum documenting life in the old village and commemorating victims of the landslide, and he vows to keep fighting for his hometown. "While these beautiful mountains and bountiful land resources turned out to be a force of destruction," he says, "we should still make from them what we can."
Translator: Christine Liu; editor: Jessica Levine.
Over the coming weeks, Sixth Tone will publish stories, videos, photo galleries, and social media posts that chronicle our road trip across China along the Hu Line, as well as an interactive multimedia platform in the fall.
(Header image: A view of newly built apartments and villas for relocated migrants in Ankang, Shaanxi province, March 12, 2017. Chen Xi/Sixth Tone)