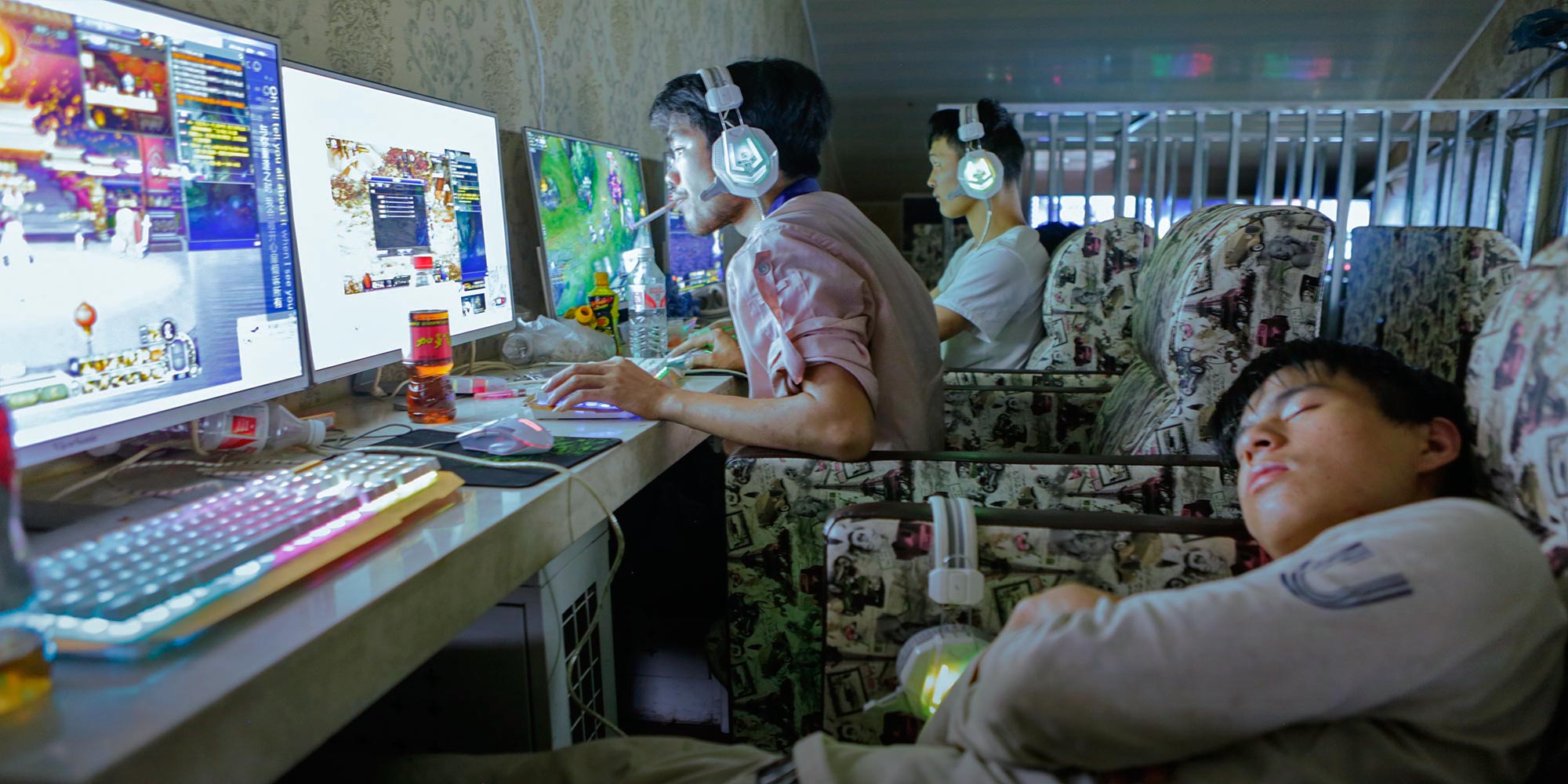 FEATURES
In Internet Cafés, iPhone Workers Become Legendary Warriors
Neighborhood gaming centers give apathetic and aimless factory workers a portal to another life.
SHANGHAI — At 8 p.m. on a stifling June night on the outskirts of Shanghai, a pink-uniformed legion pours out of the Pegatron factory gates. Suddenly, the street is wide awake with the scent of fried noodles and the plumes of smoke from barbecue stalls. While other workers grab dinner, 18-year-old Xu Chunyu makes a beeline for his favorite internet café.
Rather than return to the cramped, bleak factory dormitories, Xu spends almost every night at Hackers Internet Café, one of more than 30 similar establishments that have sprung up in 1.3-square-kilometer Huojian Village to cater to the young migrant workers in between both shifts and jobs at nearby factories.
In the run-up to the peak hiring season that begins in mid-June, migrants from all over China flock to this Shanghai suburb, which serves as Apple supplier Pegatron's base in the city. Many live in internet cafés or the adjacent hotels, leaving their luggage while they interview for jobs at Pegatron's seven factory branches, where a total of 60,000 workers are employed. Some cafés have even started moonlighting as employment agencies, posting job ads by their entrances and connecting customers with open positions.
For factory workers like Xu, Hackers is a necessary escape from the monotony of the production line. A typical day sees Xu fixing defects in more than 50 iPhone motherboards that failed to pass quality inspection. After a 10-hour shift, he and a colleague head to the familiar three-story converted cottage, whose 44 seats are occupied primarily by fellow factory workers.
Xu pays 10 yuan ($1.45) to stay overnight — an after-hours discount on the usual rate of 3 yuan an hour — and settles into a seat among other gamers, eyes glued to their screens and fingers twitching. Most are lost in the online battle arena video game "League of Legends." Shouts of "Kill Xayah!" and "Deadly plumage!" punctuate the stale air along with the cracking of keys.
"Fixing motherboards is boring," Xu says. "It's hard to kill time." He once dreamed of becoming a baker or photographer so he could share his creations with the community; now, he helps make smartphones for customers he will likely never meet. But in the gaming world, he has adopted a powerful new identity: the assassin Tryndamere, who cuts down hero avatars with ease.
Other internet café patrons like Ji Yinyin are between contracts. After dropping out of middle school in neighboring Anhui province some 500 kilometers away, Ji enrolled in a culinary vocational school and has been in and out of restaurant kitchens and factories ever since. Salaries in his hometown of Bengbu were low, so he moved to Shanghai several months ago.
Ji secured a job at a Pegatron factory but found the work tedious. One day in June, he grabbed his few belongings and walked out of the company dorm; he hasn't been back since and assumes his contract has been terminated on account of his monthlong absence.
Rather than finding an apartment in Shanghai — where the average rent last year was the highest of any city in China, at around 5,134 yuan a month — Ji pays a discounted rate of roughly 2 yuan an hour to spend his days and nights in the corner seat on the top floor of the café, tapping away at online dance game "Jing Wu Tuan" or watching historical TV series "Heroes in Sui and Tang Dynasties" in the dark. He hasn't showered for a month, and the stubble on his chin has grown bushy. He has around 500 yuan in his bank account.
It's not that he can't find work: Ji belongs to an array of hiring groups on social media portal QQ, and when his savings run low, he plans to take on odd jobs. But he'd rather spend his time imagining himself as a prince in a bright white suit, dancing to Chinese love songs in the virtual world.

Around 4 a.m., Xu and his friend leave the smoky refuge of the café for the empty street outside. Xu rolls up the front of his white T-shirt to stay cool in the suffocating humidity. Reluctantly, they head back to the factory dorm for a few hours of rest. Their morning shift starts promptly at 8.
Editor: Jessica Levine.
(Header image: Young factory workers play games at an internet café in Kangqiao Town, Shanghai, June 25, 2017. Zhong Changqian/Sixth Tone)