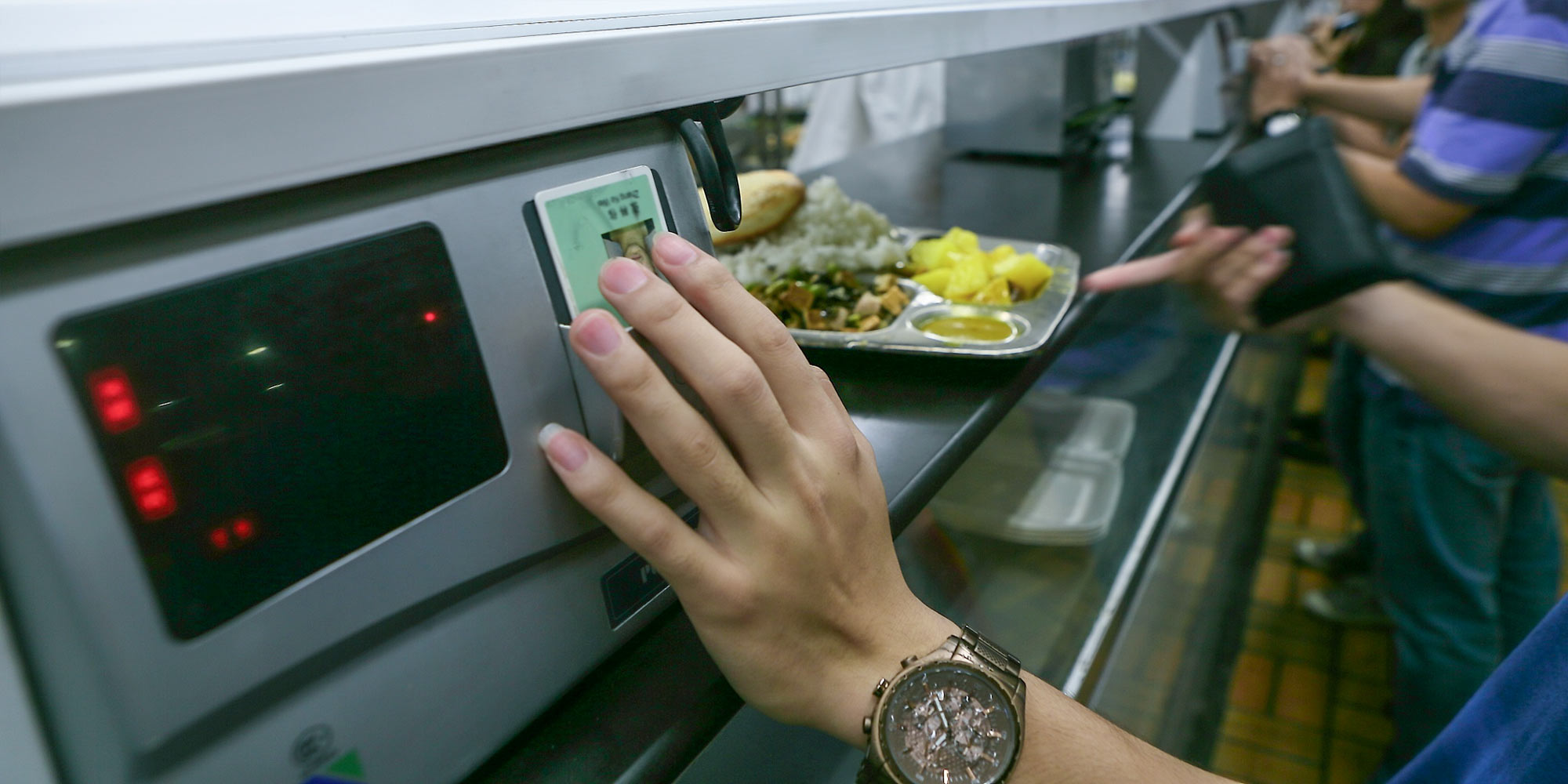 NEWS
Universities Monitor Eating Habits to Subsidize Poor Students
Viral account of frugal freshmen receiving stipends highlights practice now common in Chinese schools.
Chinese universities are monitoring students' eating habits to see if they might be in need of financial assistance, a public WeChat account affiliated with state news agency Xinhua reported Wednesday.
The University of Science and Technology of China (USTC), in the eastern province of Anhui, collects data from the charge cards of students who frequently eat in the school cafeteria — usually the cheapest option, thanks to government subsidies — but spend very little on each meal. The school's student affairs department uses the information for "invisible subsidies," or allowances delivered without drawing attention — what it calls "a more dignified way for poor students to receive stipends."
The university's welfare program is long-running but only recently received widespread attention when a former student, known only by the username "Shannon," posted an account of being selected for additional support on the Chinese Q&A site Zhihu. Shannon described his experience as a first-year student at the university in 2005: "Because my family's circumstances were not good, I was extremely frugal back then. I would eat in the school cafeteria every day, never spending more than 6 yuan [$0.74 at the time]."
A few months into his first year, Shannon received an email from USTC's campus charge card center urging him to "collect his December stipend" as quickly as possible. He assumed there had been a mistake, as he had not applied for financial assistance from the school. However, according to Shannon, an employee informed him that the school monitors every student's charge card spending in the cafeteria, and if it falls below 200 yuan a month, then they are automatically awarded a stipend. Shannon could not immediately be reached for comment on Monday.
Wang Wei from USTC's publicity department told Sixth Tone that the program is still running, and that the school's poorest students now receive a stipend of 160 yuan ($24) per month. Wang said that back in 2004, USTC was the first university to implement such a program. "There are now many schools doing the same," Xiong Bingqi, vice president of Beijing-based think tank 21st Century Education Research Institute, told Sixth Tone.
"I know that there were people in my class who received this stipend, but I have no idea who — I think that is the strength of the program," Zhang Bolei, a 23-year-old USTC graduate, told Sixth Tone. Zhang added that as a member of the student welfare committee, he didn't know of anyone who had to scrimp on food.
Shannon's post received over 42,000 likes, and netizens have overwhelmingly reacted positively to the program. One comment that received over 3,000 likes read: "The University of Science and Technology of China has really got the human touch — they are pretty awesome." Another netizen, meanwhile, described the innovative scheme as "the right way to use big data."
"When using big data, a balance needs to be achieved between the public good and protecting people's privacy," Ding Jinkun, a lawyer at DeBund Law Offices in Shanghai, told Sixth Tone. He emphasized that there seemed to be nothing amiss with the USTC program, adding: "When we take into consideration that this data is used for poverty alleviation, then it is permissible."
Editor: Kevin Schoenmakers.
(Header image: A student pays for a meal with an ID card at a university cafeteria in Shanghai, Sept. 23, 2014. VCG)