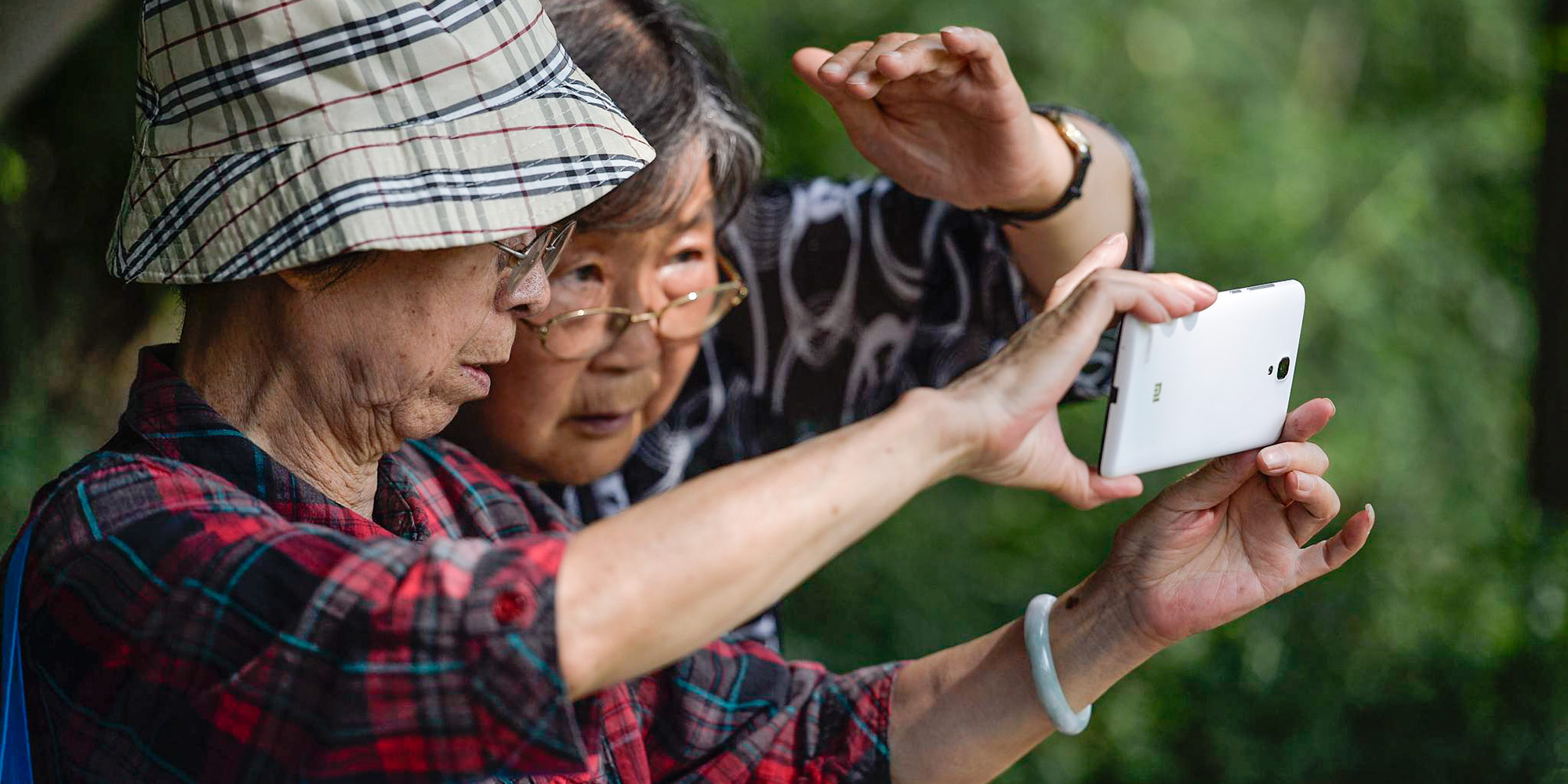 VOICES & OPINION
How Technology Has Left Chinese Seniors Behind
Elderly people reliant on the guidance of computer-literate family members should instead demand help from tech companies themselves.
In today's era of mobile internet, the sheer variety of apps installed on our smartphones gives us sweeping control over daily conveniences at the touch of a fingertip.
Mobile apps are generally separated into three categories. Social apps like microblogging site Weibo and messaging platforms WeChat and QQ allow us to interact and share information in real time. Mobile payment apps, like Alipay and WeChat Wallet, are used for settling bills or wiring money. And thanks to service apps, we can read news from The Paper, watch a video on hosting sites Tencent or iQIYI, hail a ride with Didi Chuxing, find a shared bike via Mobike or Ofo, and much more. Each of these apps takes all those previously irksome tasks and simplifies them into a few taps on our screens.
To most young and middle-aged adults, the benefits of new technology far outweigh the disadvantages. These apps make life more convenient, comfortable, and efficient. Yet this attitude is not shared by many elderly Chinese. Instead, information technology has become a barrier, blocking them off from a fast-changing world.
My father, who is 74 years old, has always approached life with curiosity about new things. Whenever he comes across something new, he simply has to try it out. He started shopping online and using Alipay long before I did, and he has since become a whiz at online apps. In a nutshell, he embraced the development of technology and is now reaping its benefits.
My mother, on the other hand, is the polar opposite. At 64, she is a strong woman from a solid academic and professional background. But she often feels anxious in her day-to-day life, an attitude that is closely tied with the pervasiveness of technology.
Mom's familiarity with her phone extends only as far as calling, messaging, and playing music. She knows about various popular apps but cannot use them independently. She has no idea how Alipay works and doesn't understand how a simple QR code scan manages to deduct money from her bank account. My family taught her how to order a taxi on Didi Chuxing, but her own attempts at it always end in failure.
My parents have had several heated arguments recently over my mother's technophobia. Dad, for example, will help her register to see a doctor online or call her a taxi, but Mom won't understand what to do next. If nobody goes with her, chances are she'll miss her appointments.
On one hand, I am happy to see the immense convenience that technological progress has brought into our lives. The information revolution now sits firmly in our hands, thanks to the spread of cheap smartphones. We can access information, make purchases, socialize, and consume entertainment without stepping outside our doors.
On the other hand, the spread of information technology primarily serves young people. Surveys have shown that the Chinese internet users born between 1990 and 2000 have spent, on average, 7.5 years online since they were born, or nearly 12 hours per day. In 2014, 19- to 35-year-old users accounted for 72 percent of all monthly activity on Weibo. The average age of WeChat users is 26, and 86 percent of all users are between 18 and 36 years old.
The online behavior of these so-called '90s kids has taken a leading role in shaping the evolution of the Chinese internet. At the same time, however, the elderly are excluded by advancing technology. To them, apps are alien and abstruse, causing countless complications in their everyday life.
How do we resolve this issue? Beyond merely a technological disconnect, the elderly feel culturally excluded as well. Our digital future places emphasis on valuing and investing in the young. Older people unable to integrate into this digital culture are simply left behind. Many, like my mom, lose self-confidence.
Mom complains that society has abandoned her. She suffers from an inferiority complex articulated against the younger generation. Gerontologists refer to this as "role exit theory": Having left the work force, Mom struggles to find and accept a different social role. Role exit theory is thrown into sharp relief by current developments in information technology that completely disregard seniors' essential psychological readjustment and social integration in a changing world. Instead, technology only accelerates their marginalization.
Furthermore, we frequently see articles on media platforms imploring young people to teach their parents how to use digital devices and technologies. These articles tend to pop up in larger numbers around Lunar New Year, Father's Day, Mother's Day, and other major holidays. While we should support and advocate any position that favors closing the generational gap, we should also note that much of this technology is closely tied to the provision of public services, like calling taxis, buying train tickets, or booking a doctor's appointment.
In offering public service functions, apps should also consider the elderly and cater more directly to their needs, rather than forcing young people to take on the role of teaching their parents and grandparents. Such companies might, for example, refrain from fully digitizing their services until every generation is similarly computer-literate.
We should address the issue from three additional angles. First, from a public policy viewpoint, we should aim to better understand the lifestyles and needs of the elderly. Second, we should adapt our corporate social responsibility guidelines to ensure that companies use technology to empower the elderly and the young simultaneously.
Third, as China's population continues to age, simply teaching the elderly how to use the latest technology does not in itself provide safe, comfortable lives for them. Instead, it's more important to diminish their fear of role-exiting, and empower them as masters of their own lives, by encouraging productive new outlets for their energies and remembering that the best interactions still happen face-to-face, not in front of a computer screen.
Translator: Katherine Tse; editors: Wu Haiyun and Matthew Walsh.
(Header image: Two elderly women take photos on a smartphone at a park in Xi'an, Shaanxi province, July 1, 2015. Heng Guoliang/VCG)