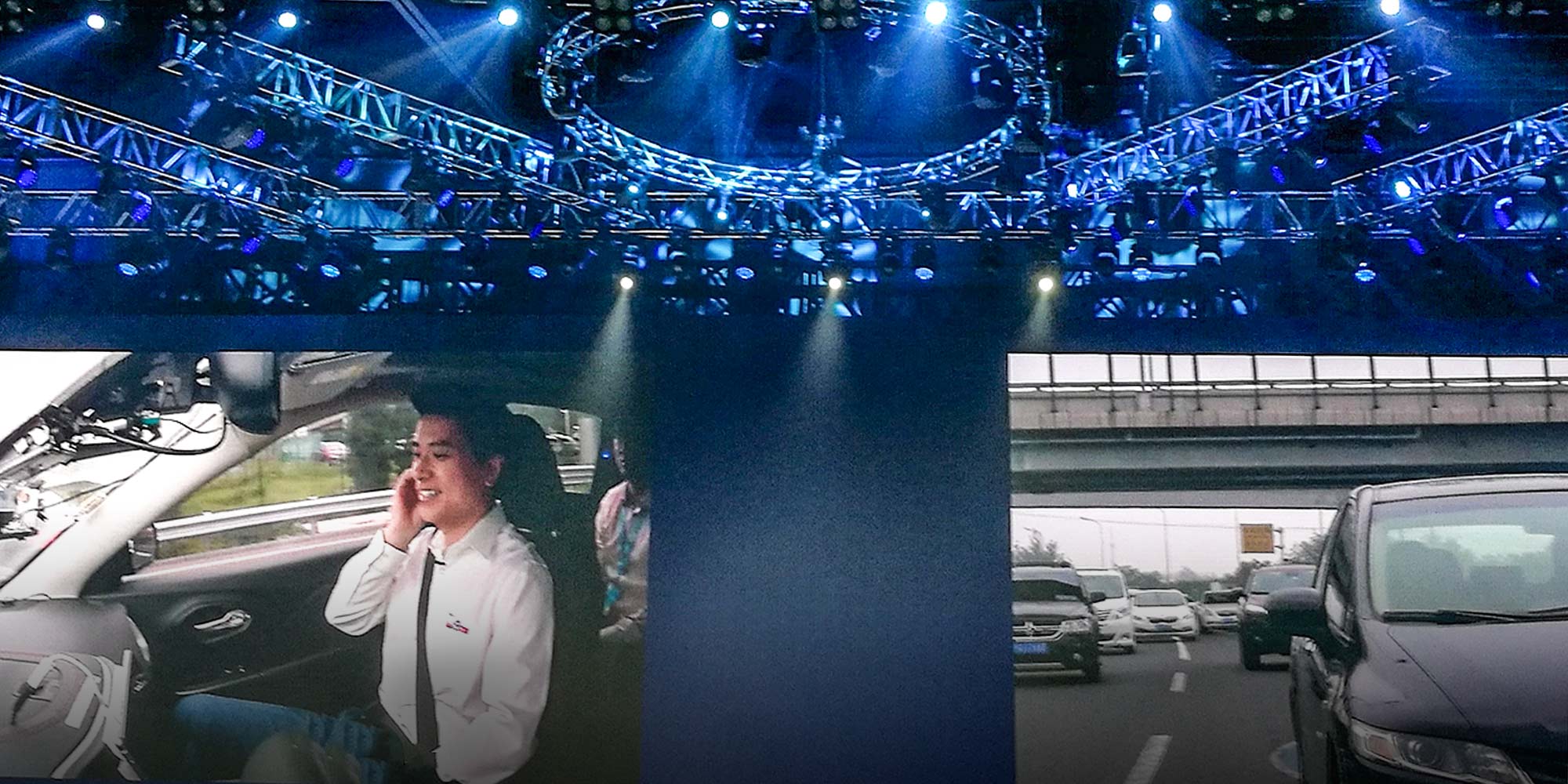 NEWS
Baidu CEO Reprimanded for Riding in Autonomous Vehicle
Authorities are on the case after Robin Li live-streamed himself traveling in a driverless car in Beijing.
One of China's top CEOs may have landed himself in hot water after riding in a driverless car without proper clearance on Wednesday.
The Beijing Traffic Management Bureau said it is investigating after a live-streamed video of Robin Li, CEO of Chinese internet giant Baidu, riding in a car with no one driving surfaced on the internet, Beijing Youth Daily reported Wednesday.
In the 44-second video, Li is seen sitting in the passenger seat of a car with another man behind — but not touching — the wheel. As he moves along the highway in Beijing, Li comments on the smooth ride and remarks that "the car is on autopilot." The video was being streamed in real time at Baidu's first AI developer conference, which is currently being held in the capital.
During the video of the test drive, Li acknowledges that there is someone in the driver's seat next to him. A spokesperson for Baidu declined to comment when contacted by Sixth Tone. Beijing police could not be reached for comment.
While a handful of well-known tech companies are pushing to accelerate the commercial use of driverless vehicles, China has banned them from being tested on public roads until related legislation can be implemented. Ding Jinkun, a lawyer at DeBund Law Offices in Shanghai, said the company may only face a 200-yuan ($30) fine for "driving without a license," and that the car would likely be confiscated.

"But the punishment will be too light because there aren't any laws to deal with this issue," Ding told Sixth Tone. "The company should have asked for permission from the traffic authorities or tested the car in a closed-off area instead of on the highway. Even though there's no law yet, they shouldn't risk public safety, given that the technology is still immature."
On Wednesday, Baidu formed an alliance with 50 partners, including domestic automakers and international companies, such as Microsoft and German engineering firm Robert Bosch, to accelerate its Apollo project for driverless vehicles. During its announcement in April, the internet behemoth said Apollo would provide an open-source technology to other developers in the autonomous driving industry to promote "development and popularization" of the technology. Baidu faces stiff competition from international automakers like Tesla and rival tech giants like Google, both of which are also developing driverless vehicles.
This article has been updated to clarify that while there is someone seated behind the wheel in the video, he is not driving the car.
Additional reporting: Zhang Liping; editor: David Paulk.
(Header image: A computer projection shows Baidu CEO Robin Li in a driverless vehicle on his way to the company's first AI development conference in Beijing, July 5, 2017. VCG)