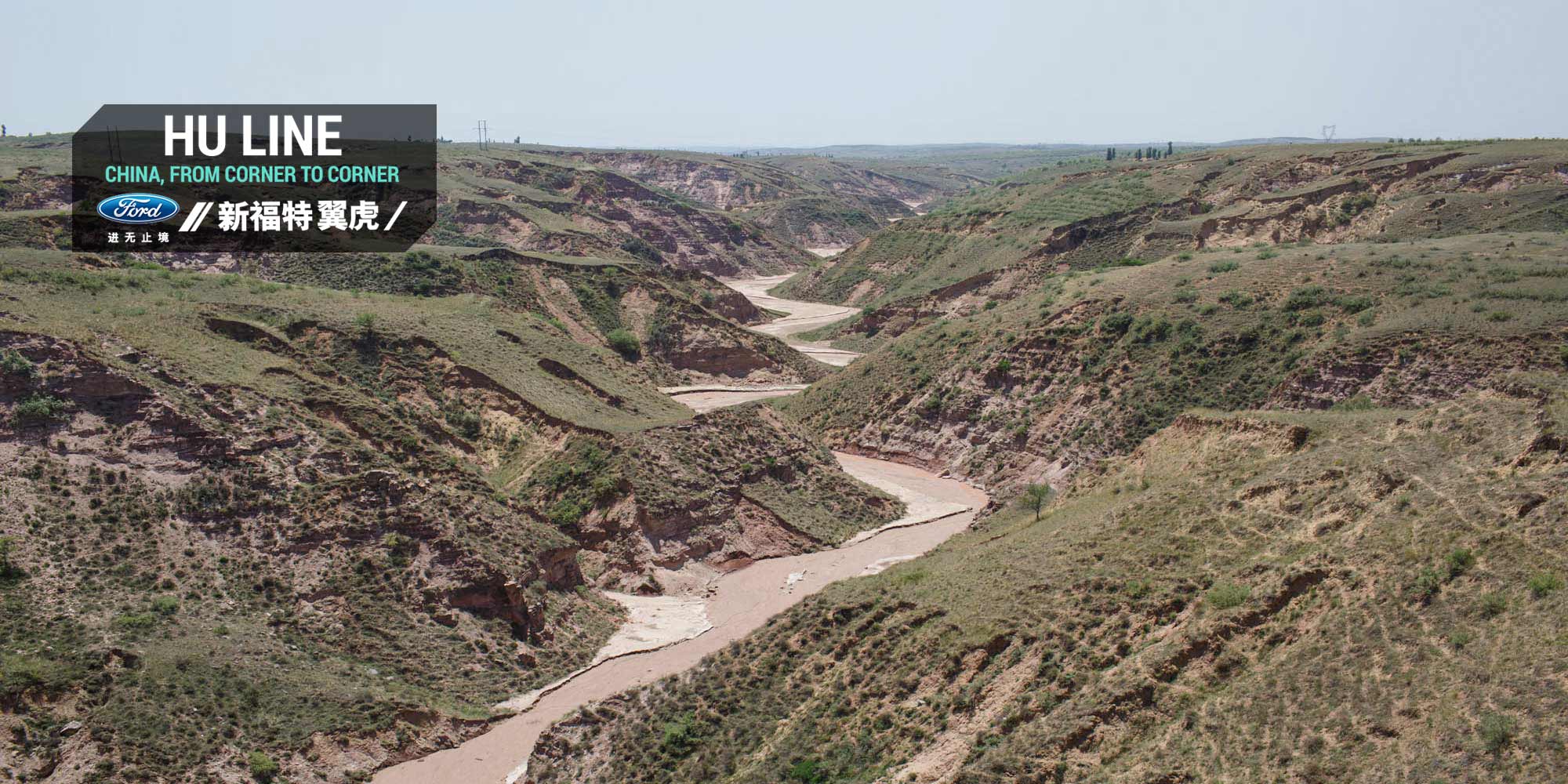 FEATURES
Hu Line: China's Forgotten Frontier
Sixth Tone takes a five-week, more than 5,000-kilometer road trip through the nation's heartland.
This is the first article in a series that explores life along the Hu Line, an imaginary diagonal line across China that has vast demographic, environmental, and political significance.

Find a ruler and a big map of China. Draw a line beginning in Tengchong City, in the tropical southwestern province of Yunnan, near Myanmar. Continue northeast at an angle of around 45 degrees until you reach the city of Heihe, tucked at the very top of Heilongjiang province on the Russian border.
You have just successfully traced the Hu Line.
Named after Hu Huanyong, a Chinese demographer who first identified the demarcation in a research paper in the mid-1930s, the imaginary line divides China into two parts. To the east, just over one-third of the nation's land houses almost 94 percent of the country's population — more than 1.2 billion people. To the west, around 6 percent of citizens — but most of the country's ethnic minority groups — share the vast and varied terrain that some still think of as the "wild west."
If you gazed at China from outer space at night, you would see dazzling proof of the Hu Line: the east densely sequined with bright lights, and just the odd shy flicker to the west.
China's natural landscape, too, splits along the Hu Line. Areas to the west are semiarid, colder, and more mountainous. Grazing is more widespread in the west, while growing crops is more common in the east, which is flatter and more humid. The Hu Line also represents the frontier of China's economic development: The average GDP per capita in provinces west of the line is around 15 percent lower than in those to the east, according to Sixth Tone's analysis of official data from 2015. The east has more highways, universities, hospitals, and even convenience stores. Meanwhile, many areas to the west of the line suffer from grinding poverty — partly because industrialization hasn't taken hold to the same extent, but also because residents have more barriers to accessing public health and education. Many face additional challenges as ethnic minorities.
While China has transformed dramatically in the 80 or so years since the Hu Line — also known as the Heihe-Tengchong Line — was identified, the population distribution across the line has hardly changed. The east is still more heavily populated, affluent, and ethnically homogenous — the area where Han Chinese are prevalent. This raises important questions as the nation contemplates how to remedy its uneven growth. In several speeches since 2012, Chinese Premier Li Keqiang has said that the nation needs to "break through" the Hu Line to achieve modernization in China's central and western regions. Yet an aggressive push for development and urbanization could also threaten the natural environment and cultural makeup of areas west of the line, leading some experts to instead frame the Hu Line challenge as one of bringing greater balance to both sides, in terms of better access to public services, improved living conditions, and expanded economic opportunities.
Traversing China's Frontier
Sixth Tone and its Chinese-language sister publication, The Paper, dispatched a team of journalists to travel along the more than 5,000-kilometer Hu Line, mainly by road. The journey took more than a month to complete. Traveling in two sport utility vehicles, the groups set off from Tengchong in early May, stopping frequently along the route. Often, we simply turned up in a town or pulled into a village for lunch, striking up conversations with men and women, young and old, with the goal of listening to their stories and, sometimes, sharing a few of our own.
We crisscrossed through China's provinces and regions from the border with Myanmar, traveling along the winding lanes that clung to the mountainsides for much of Yunnan and Sichuan, through both Shaanxi and Shanxi, before hitting the largely empty roads of Inner Mongolia, visiting Jilin province, and ending up just across the river from Russia in Heilongjiang.
Our aim was to stick as close to the Hu Line as possible. This meant we didn't go to Tibet, Xinjiang, or Ningxia autonomous regions, nor did we visit a host of other provinces such as Gansu. Our journey did, however, take us to the Tibetan grasslands of western Sichuan province. Sometimes we crossed into the more developed eastern side: The modern city of Chengdu in Sichuan province, for example, with its Starbucks branches and sprawling subway system, was a welcome pit stop. But for the most part, we traveled along the line itself or to places immediately west, shunning the highways in favor of secondary roads.
As we traversed China, we passed some of the most impressive feats of engineering: suspension bridges that spanned deep valleys, dark tunnels that seemed to never end. On the occasions when we crossed the line to the east, we glimpsed bullet trains whizzing by. We documented our journey using good old-fashioned pens and notebooks, with our iPhones serving as recorders and, occasionally, as cameras to supplement the state-of-the-art equipment our photo and video journalists carried.
Life on the Line
We spoke with hundreds of people, many of whom told us stories of reinvention in the face of change or adversity. An impoverished garlic farmer in Dali, Yunnan province, claimed new antipollution measures have made life worse for her and her family. A Tibetan nomad mother in western Sichuan province pined for the wilderness but felt compelled to settle down for the sake of her children. Young gay men and women in a small Sichuanese city spoke of the pressure to remain in the closet and longed for the day when they could move away and live their truths. A group of Christians in Inner Mongolia prayed for permission to build a new church, gaining the necessary approval just a few days after we left town.
To travel along the Hu Line is to encounter many of China's 56 official ethnic groups — and even the occasional unofficial one, such as the Mosuo, who live on the shores of Lugu Lake that straddles Yunnan and Sichuan provinces. In Kangding, western Sichuan, we chanced upon a melodic ballad echoing from a massage parlor; inside, we met Liu Weiwei, a blind schoolboy of Tibetan heritage who's pinning his hopes on his musical talent to help him escape a dead-end future as a masseur. In Chifeng, Inner Mongolia, we spent a delightful afternoon with a leading designer of ethnic Mongolian clothes and her daughter. As the mother relayed in Mongolian how she acquired her tailoring skills, her daughter chatted in Mandarin on her smartphone.
Central and provincial government policy profoundly affects life for many ethnic minorities, even in counties or prefectures that promise autonomy. In one of our stories, we look at how the Oroqen, an ethnic group in Heilongjiang province, are witnessing the erosion of their culture as stricter gun control and anti-poaching laws threaten their hunting traditions.
Local economies showed obvious signs of change, glimmers of hope, and tinges of despair. High in the Tibetan grasslands of Sichuan province, two entrepreneurs with a taste for craft beer offered a glimpse of the innovation that is bubbling up in some remote parts of China. In Datong, Shanxi province — long considered the coal capital of China — we discovered how locals are trying to redefine their future through tourism and renewable energy against the declining fortunes of the coal industry. Other places are still struggling to cope: In Fularji, a once-thriving town near Qiqihar in Heilongjiang province, a disabled innkeeper recounted the challenges of trying to keep his hotel afloat amid an economic downturn.
We met many communities that are turning to tourism in search of a secure future. As China's GDP per capita increases, the nation's thirst for travel has grown. But tourism can be a double-edged sword, and attracting visitor dollars in a way that's sustainable and respectful of local heritage and the environment remains a challenge in many places.
Changes affecting human life have also had a devastating impact on flora and fauna. In Sudian, Yunnan province, only 200 Skywalker hoolock gibbons remain, their numbers dwindling at the hands of poachers and increased habitat fragmentation due to encroaching urbanization. In Inner Mongolia, the famous grasslands of Horqin District are disappearing with the advent of desertification. Along the line and to the west of it, fragile environments appear to be on the cusp of irreparable change.
Breaching the Divide
Few Chinese today, including many who live along the Hu Line, have ever heard of the diagonal demarcation, let alone what it signifies — and that's even after Premier Li's plug.
Demographic divisions like the Hu Line are not unique to China. In the United States, the population is concentrated in the country's eastern half and West Coast, partly due to climate and terrain considerations, leaving sparsely populated states in between that are sometimes derided as "flyover country" or conversely celebrated as "the heartland." There, too, dotted lines map out geographic regions with political and cultural significance: the Mason-Dixon Line that separated states where slavery was legal from those where it had been abolished; the Rust Belt, where industrial manufacturing flourished and faded.
It would be unwise to draw sweeping conclusions from a single five-week journey through China. Instead, by sharing the stories we encountered along the way, we hope to highlight some of the threads that get lost in the China narrative, focusing on places that are rarely covered by Chinese or international media.
Still, it seems natural to identify some trends — after all, it's not every day that journalists get the chance to travel the length of the world's most populous nation.
The odds are stacked against many who live along the Hu Line and to its west. Opportunities are fewer and harder to come by, whether it be access to the latest teaching methods in schools, timely medical attention, or even the means to brew a top-notch beer. Sometimes it's simply due to geography — the tyranny of distance and isolation. Sometimes the factors are economic and political — an asymmetrical allocation of resources that in many cases pushes people away from their place of birth in search of work. Yet again there are the administrative barriers, particularly in regard to China's system of household registration, or hukou, whose impact can be felt across generations. But barriers are often harder to identify, tangled up in less tangible concepts of privilege, ethnicity, or social class.
Across the country, we met people who were seeking a better future. For many, that meant migration — whether it was the nomad settling down in the nearest village, or a villager moving to a town, or an urbanite from a provincial capital relocating to a coastal metropolis.
For others, change gave them little choice but to rebuild — sometimes literally, in the case of areas devastated by earthquakes. Meanwhile, some had to contend with the lack of change, living in pockets of stillness within a country that, at times, seems to be moving on without them.
Contributions: Huang Wan; editor: Qian Jinghua.
Over the coming weeks, Sixth Tone will publish stories, videos, photo galleries, and social media posts that chronicle our road trip across China along the Hu Line, as well as an interactive multimedia platform in the fall.
(Header image: A view of the Ordos Plateau along National Highway 109 in Ordos, Inner Mongolia Autonomous Region, May 26, 2017. Zhou Pinglang/Sixth Tone)