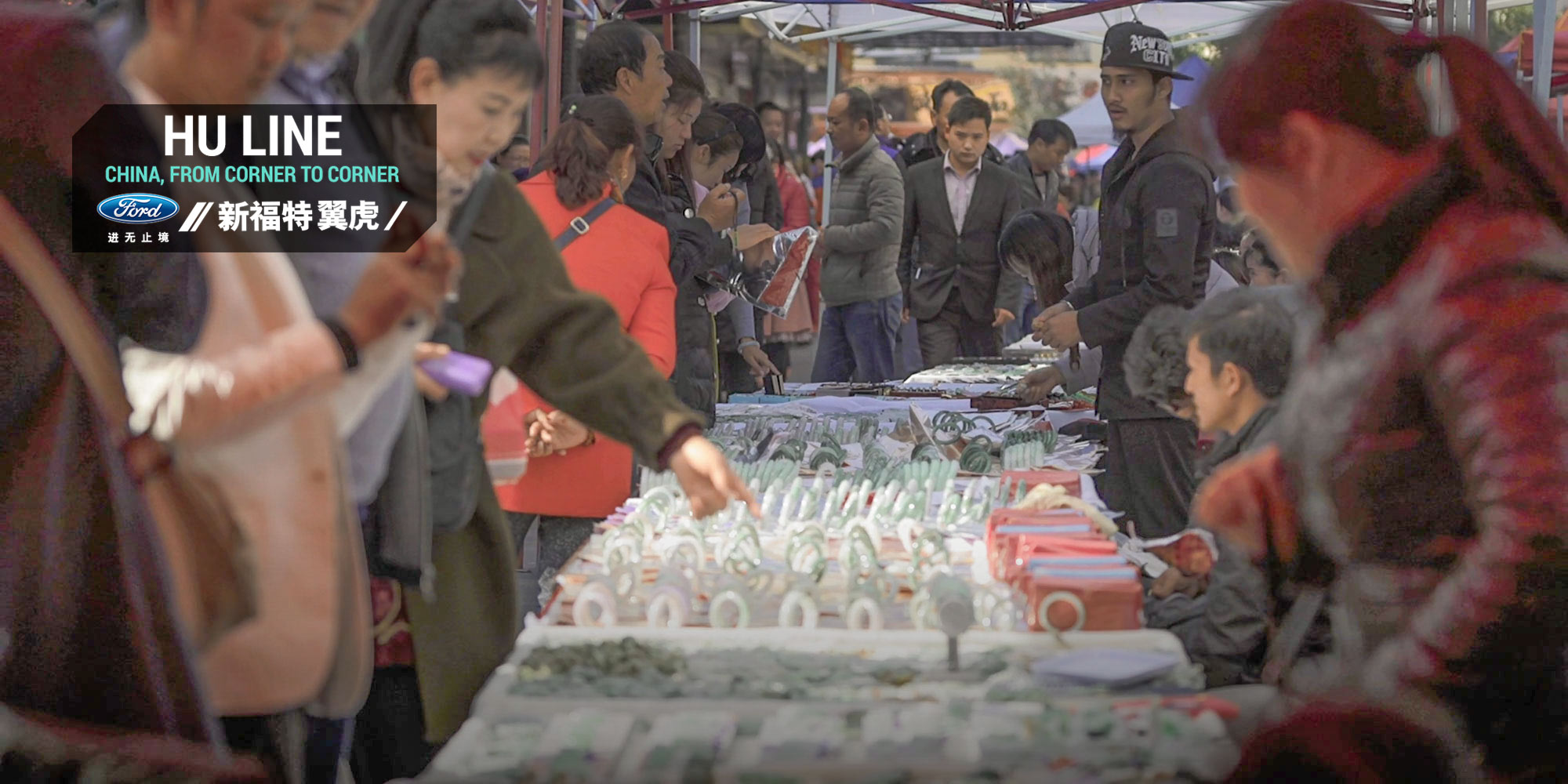 FEATURES
360: The Shifting Allure of Border Town Gemstones
Tengchong's historic jade market adapts to changing consumer trends.
This article is part of a series that explores life along the Hu Line, an imaginary diagonal line across China that has vast demographic, environmental, and political significance.

YUNNAN, Southwest China — A builder surnamed Zhang squats as he rummages through a pile of rocks, examining them intently with a pocket-size flashlight. Each one has been sliced in half to expose the jade within.
Zhang traveled more than 600 kilometers from the provincial capital, Kunming, to the bustling jade market in Tengchong in the hope of finding the perfect rock to make into jewelry.
"I don't wear them myself," he tells Sixth Tone, referring to the jade accessories. "I buy them to give to [local government] leaders."
Located less than 200 kilometers fromChina's border with Myanmar— the source of much of the world's most valuable jade — Tengchong has been at the heart of the jade trade for more than six centuries. The city's jade market attracts buyers from far and wide.
Click here to see the 360° video.
Traditionally, jade has been wildly popular among the Chinese. Many women wear jade because they believe that it brings good health, tranquility, and security. For others, it's purely a status symbol. While trinkets made from jade can cost as little as 10 yuan (around $1.45), bangles can fetch tens of thousands of dollars, and larger sculpted pieces can cost much more.
But shifting consumer preferences regarding what to buy and where and how to buy it are bringing changes to the historic market. So, too, are recent political developments in neighboring Myanmar, which have both liberalized the jade trade and ushered in closer scrutiny from authorities on issues of smuggling and tax evasion.
Held once every five days, the jade market is a raucous affair where hundreds of traders, often sitting elbow to elbow with their neighbors, vie for the attention of passersby. A man from Myanmar wearing a traditional sarong hawks his pile of bracelets over the clamor of the market: "Fifty yuan for one!" Elsewhere, a row of Hui ethnic minority women in headscarves sit patiently waiting for customers. From time to time, a policeman — accompanied by chengguan, or city management officials — walks through the market, a baton at his side.
The bellowing Myanmar vendor, 28-year-old San Win, says he's been traveling to the market from his country's former capital, Yangon, for around 10 years now. At first, the market was less crowded and competitive, he says. But these days, he and his fellow vendors must up the showmanship of their sales pitches to distinguish themselves amid the influx of new traders.
A Chinese jade vendor surnamed Yang agrees that business has declined, but she says it's all part of a broader economic downturn in China.
Yang herself doesn't see the rise in vendor numbers as a threat: She has a solid base of regular customers, she says, because her husband's family has been in the trade for years. "It's an open market," Yang says, "but buyers' needs are very specific. They won't be swayed by price alone."
Meanwhile, other Tengchong traders have varied their product ranges or modified their target markets in a bid to stay in business. Just meters away from the jade market, in a mall dedicated to precious stone trading, Yang Shengmao — no relation to jade vendor Yang — and his family are pinning their hopes on amber.
In 2012, Yang Shengmao came to Tengchong to begin trading in amber after a nephew identified the growing commercial potential of the fossilized resin, of which Myanmar is also an important source. "At that time, not many people knew about amber," says the bespectacled vendor, sitting behind a glass counter that displays his merchandise. "The market was just starting up."
But now, amber prices are softening, too, as more traders enter the market. Picking up a bracelet, Yang Shengmao explains that it would have fetched thousands of yuan in the past. "Now, you can find this type of amber everywhere in Tengchong, and it only costs in the hundreds of yuan per gram," he says.
To showcase his goods to a wider audience, Yang Shengmao has recently taken to popular messaging app WeChat. But good old person-to-person negotiation still holds sway when it comes to his suppliers.
As Yang Shengmao speaks to Sixth Tone reporters, two Myanmar men approach with a backpack containing marble-sized amber samples. The salesman examines one piece briefly with his flashlight, but quickly returns it to the men and gestures toward his own collection. "Next time," he says, "bring some good-quality amber like this."
Contributions: Huang Yimin; editor: Qian Jinghua.
Over the coming weeks, Sixth Tone will publish stories, videos, photo galleries, and social media posts that chronicle our road trip across China along the Hu Line, as well as an interactive multimedia platform in the fall.
(Header image: A view of the jade market in Tengchong, Yunnan province, Feb. 10, 2017. Chen Xi/Sixth Tone)