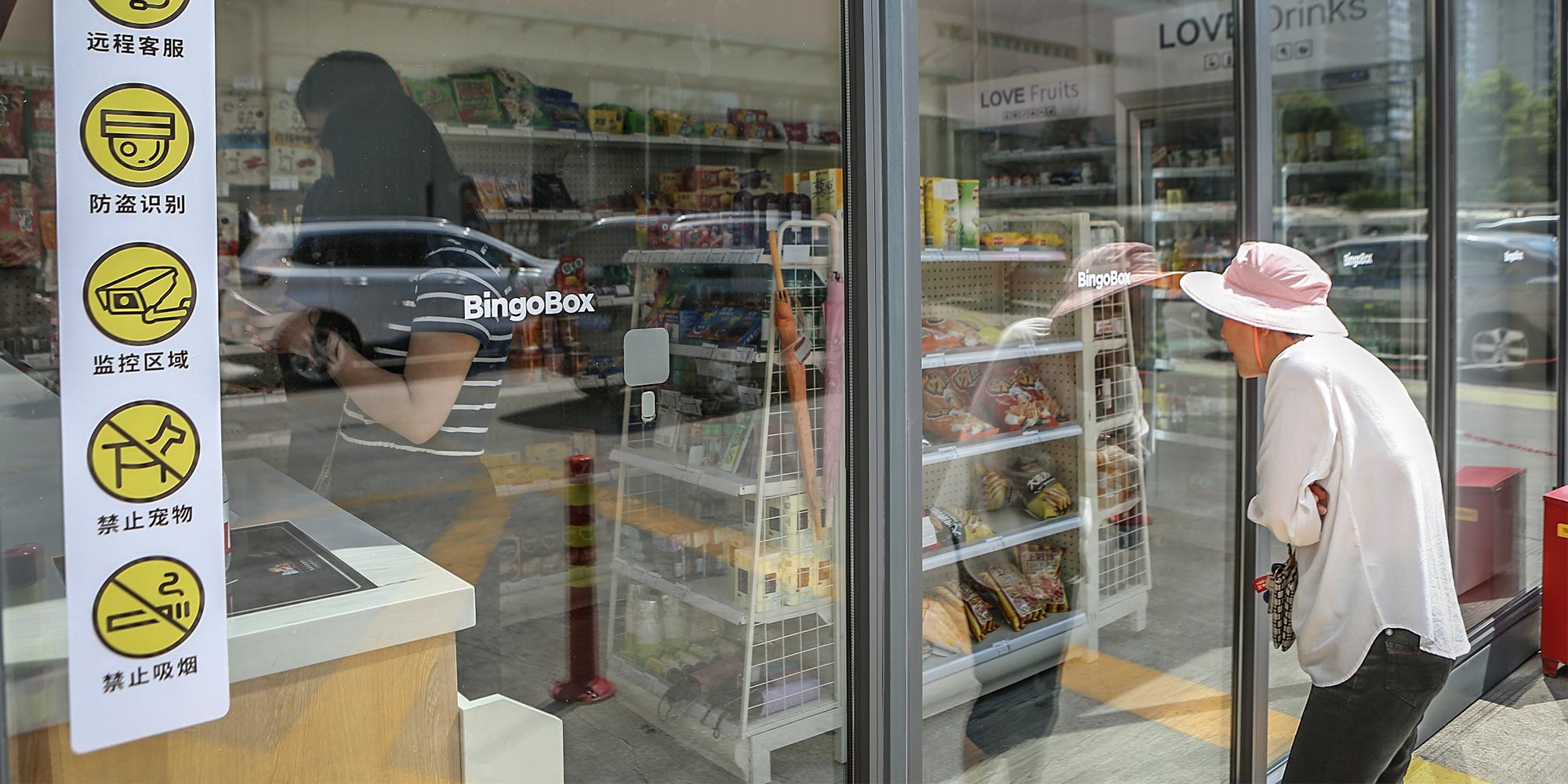 NEWS
Unmanned Convenience Stores Court Chinese Investors
Chains like BingoBox receive millions of yuan in capital from those who believe shops without shopkeepers will be the future of retail.
As Amazon.com continues to iron out the logistics of its unmanned supermarkets, the company's Chinese counterparts have already raised hundreds of millions of yuan from investors, with the self-service shopping industry fast becoming a new battlefield for the country's eager venture capitalists.
BingoBox, a chain of unmanned convenience stores headquartered in Guangdong in the south of China, told Sixth Tone in a statement on Monday that it raised over 100 million yuan ($14.7 million) in its first round of fundraising, led by technology investment firm GGV Capital.
Although the self-service shopping industry is still in its infancy, new players are already crowding the market. One of BingoBox's top competitors, F5 Future Store, received 30 million yuan from venture capitalist Kai-Fu Lee's Sinovation Ventures on June 28, and Swedish startup Wheelys opened a 24-hour unmanned convenience store in Shanghai in March.
"We are optimistic about opportunities in the retail industry, and especially about the BingoBox team," said Eric Xu, a managing partner at GGV Capital, according to the statement. "As the technology gradually matures, we believe that businesses in the new retail industry, led by BingoBox, will have great potential."
Unmanned convenience stores aiming to cut costs on staff by harnessing artificial intelligence and internet innovations are springing up in big cities across China, catching the eyes of both customers and investors in the process.
In collaboration with French retail company Auchan, BingoBox commenced trial operations in Zhongshan, Guangdong province in August of last year and opened its first store in Shanghai in June. Unglamorously located on the edge of a parking lot next to an Auchan supermarket in the northeastern part of the city, curious customers are nonetheless drawn to the innovative new shop.
"I just wanted to get a drink really quickly," said 65-year-old BingoBox customer Zhou Xiaopeng, who had originally planned to go next door to Auchan but was deterred by the long lines. "Getting in and out of the supermarket is so inconvenient. Also, the prices here are relatively cheap."
To enter the store, shoppers scan a QR code to open the door. Once inside the 15.6-square-meter shop, they can select products ranging from umbrellas to sushi lunchboxes. Then when they're ready to check out, they bring their purchases to an automated checkout counter and pay using digital wallets accessible on their smartphones. To prevent theft, customers must pass a full-body scan before the exit doors will let them leave.
"We've created a deep-learning team to study item recognition technologies and algorithms," Chen Zilin, BingoBox's 38-year-old co-founder, said in the statement. "By optimizing the algorithms and holding numerous trainings, we've [got the scanner to] recognize more than 200 products."
However, the convenience store did not seem so convenient to some. Zhou, the thirsty elderly customer, was confused by a note on the door saying the store uses facial recognition to ensure security — so he entered without scanning the QR code, tagging along behind another customer. When he tried to leave a few minutes later, the doors would not open for him.
"I don't think I'll use this store again," Zhou told Sixth Tone.
The concept of fully automated shopping is still very much in the early stages of development and will take some getting used to, said Matthew Crabbe, a research director at Mintel, a market research firm based in London. "It will take some time yet for any technical glitches to be ironed out," he told Sixth Tone. "However, I think this technology is likely to be part of the future of retailing."
Despite its potential pitfalls, the business model has intrigued investors. "We came here to learn from this new type of store, by actually experiencing how it operates," Wu, a retail industry businessman who visited BingoBox with his colleague, told Sixth Tone. Being a potential competitor, Wu refused to give his full name.
With its 100 million yuan investment fund, BingoBox plans to open 5,000 stores this year all over China, according to their statement.
"Unmanned stores will likely find a place somewhere in between the conventional convenience store and a more elaborate vending machine," said Crabbe of Mintel. "I expect to see more of these developments, and applications of technology in the coming months as more retailers and shoppers experiment with these new concepts, and work out which they like and which work best."
Editor: David Paulk.
(Header image: An elderly customer peers through the glass at a BingoBox unmanned convenience store in Shanghai, June 7, 2017. Wang Yadong/VCG)