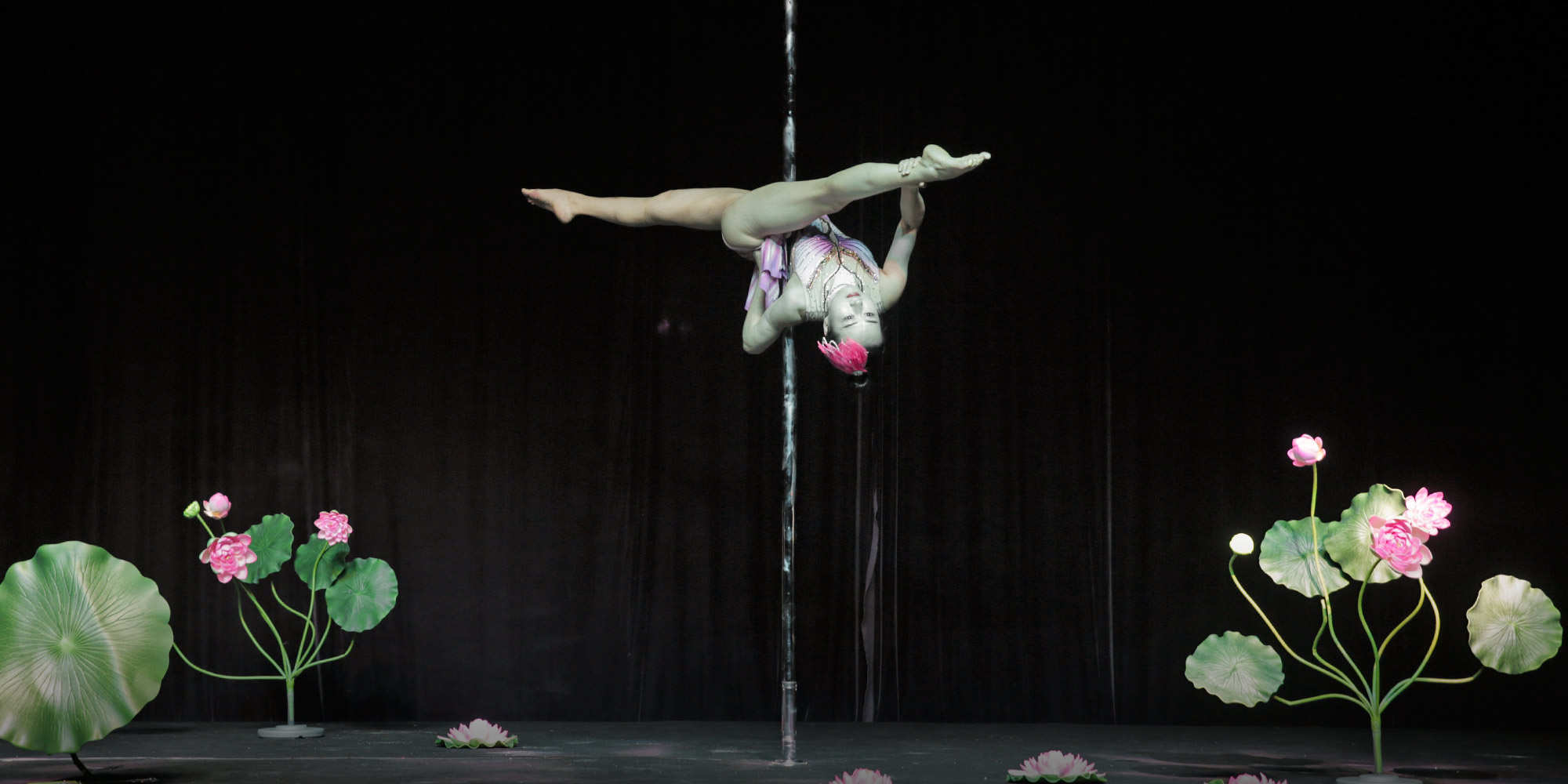 FEATURES
Can Pole Dancing Spin Itself Into a National Sport?
Chinese pole dancers seek to climb above social stigma and lack of government recognition.
TIANJIN, North China — As other contestants stretch and rehearse their routines, pole dancer Chen Dandan is the picture of calm. A previous gold medalist here at China's national pole dance championships, the 25-year-old from the eastern province of Jiangxi carries the weight of expectation on her shoulders, a burden compounded by a ruptured tendon in her foot.
"All I want is to compete," Chen tells Sixth Tone as she adjusts her terracotta warrior-style costume. "If I don't, I'm bound to lose my strength in a few years' time."
It's the first week of June, and like every summer for the past six years, dozens of dedicated pole dancers from around the country have traveled to the northern harbor city of Tianjin, which hosts the annual games. But competitors like Chen aren't just up against one another. As it has the world over, the highly athletic discipline has struggled in China to rid itself of associations with erotic entertainment. To complicate matters further, the development of any sport in China is highly reliant on official state recognition — which pole dancing does not have.
In December, the sport was thrust into the public spotlight when five Chinese athletes boycotted the Pole Sport World Championship in Italy after organizers neglected to raise the Chinese flag. The dancers gave a face to a relatively unknown sport, their prominence drummed up by state media outrage at the perceived slight.
But despite a period of patriotism-fueled interest following the incident, the sport continues to exist in a state of limbo, increasingly popular among a generation of ambitious athletes yet absent from the State General Administration of Sport's list of 99 officially recognized athletic activities.
Fighting to change that is Yuan Xiaobiao, a legal professional-turned-pole sport advocate, who also happens to be the man behind China's national championships. State recognition may be a long way off, but the 37-year-old, who generally goes by the name Yuan Biao, hopes at the very least to formulate nationwide competition rules and develop teaching and training modules — ridding the sport of its associations with erotic nightlife performances along the way.
"Eleven years ago, nine out of 10 people misunderstood it to be erotic," says Yuan, who saw his first live pole dance at a bar 11 years ago in Amsterdam. "But I found there was a great deal of artistry behind it," he adds.
That live performance came at a crucial juncture in Yuan's life. Not long before, he had decided to leave his job at a Tianjin law firm; inspired by the artistry of the dance form, and much to the shock of friends and family, he pledged to devote himself full time to building the sport in China. With 1 million yuan ($147,500) he raised by selling his apartment and his car, Yuan set out to establish the country's first national pole dance championships in 2011.
Advocating alongside Yuan for the development of Chinese pole sports is his wife Meng Yifan, an accomplished pole dancer who taught herself the sport after watching a video online 10 years ago. Meng, 33, believes there has been a shift in the way people view pole dancing, a trend she says has been fueled by competitions like Yuan's national finals. "Competition is key to promoting its development as a sport," she says of pole dancing. "To push a cause forward is a painful process, but we've done it for so long that we can't give up so easily."
One particularly painful moment occurred during the national competition's second year, when the theater hosting the event withdrew its support after an anonymous member of the public reported the championships for, according to Yuan, being "morally destructive."
But this year's event — the seventh annual competition — has proceeded without any such hiccups. Whittled down from around 300 entrants who submitted performance videos, some 100 competitors — both women and men — seek to impress the panel of judges with their displays of flexibility, strength, and grace.
For Chinese pole dancers, the sport's physical demands are rivaled only by the toll it takes on their finances. Since the sport is not government-recognized, contestants cannot expect any state funding or stipends for competing in the championships. Most entrants whom Sixth Tone spoke to at this year's competition said they had covered the cost of accommodation and registration fees — not to mention the tens of thousands of yuan that training courses can cost — with their personal savings.
One competitor who has footed the bill for professional training is Yang Xi, who made the 24-hour, 2,400-kilometer train journey from the southern city of Shenzhen to compete at this year's national championships. "One of my ultimate goals of enrolling in a professional school is in order to be here and dance," says the 26-year-old. Having paid over 10,000 yuan in tuition fees to develop her pole dancing skills, she now gets by on savings and the money she makes singing on live-streaming platforms. "I'm here mainly to learn and see how much I need to invest to become an excellent pole sport dancer," Yang says.
In addition to pursuing competitive prowess, pole dance champion Chen is proud to be competing again this year despite pressure from her family to stick with a more conventional career.
"They think a woman is better off sitting in an office working with papers and documents," Chen says of her family members, who could not comprehend her decision to quit her accounting job at the age of 21 to focus on her training, relying on occasional pole dance coaching for income. But having proved herself with a national championship under her belt, she says she now has her sights set on the international stage: "Now, my goal is to become No. 1 in the world."
More than 8,000 kilometers away at the headquarters of the International Pole Sports Federation (IPSF) in London, president Katie Coates says she has witnessed an increase in participation from Chinese dancers at international events. To Coates, it's a sign that pole dancing — which has struggled globally to attain professional sport status, with the IPSF pushing to have it included in the Olympics in the next decade — has spread from its popular base in Europe into Asia. "China is a massive market and huge opportunity," she says. "We are currently in talks with the Chinese counterparts and looking forward to working with them." 
This year's World Pole Sports Championships, held between June 30 and July 3 in the Netherlands, is one of the federation's legacies. A total of five athletes from the Chinese mainland and Hong Kong were among the 229 vying for the title. Despite falling toward the bottom of the IPSF's world rankings in the past, the Chinese athletes training to compete in the global arena are hopeful that they will someday outshine their international rivals. Without state recognition, however, these pole dancers will never be able to officially represent China in competition, nor will their organizations and associations receive public funding.
But such obstacles were not talking points at this year's national pole dance championships, where die-hard pole enthusiasts like Chen focused only on the challenge at hand.
"I'll be on that stage for the final," Chen said during preparations three days before the competition, in which she came in 10th place. "I might get an injection of painkillers if I have to. But no matter what, I must go on that stage — I don't want to have any regrets."
Editor: Owen Churchill.
(Header image: A pole dancer shows her moves on the pole at the national championships in Tianjin, June 4, 2017. Chen Ronghui/Sixth Tone)