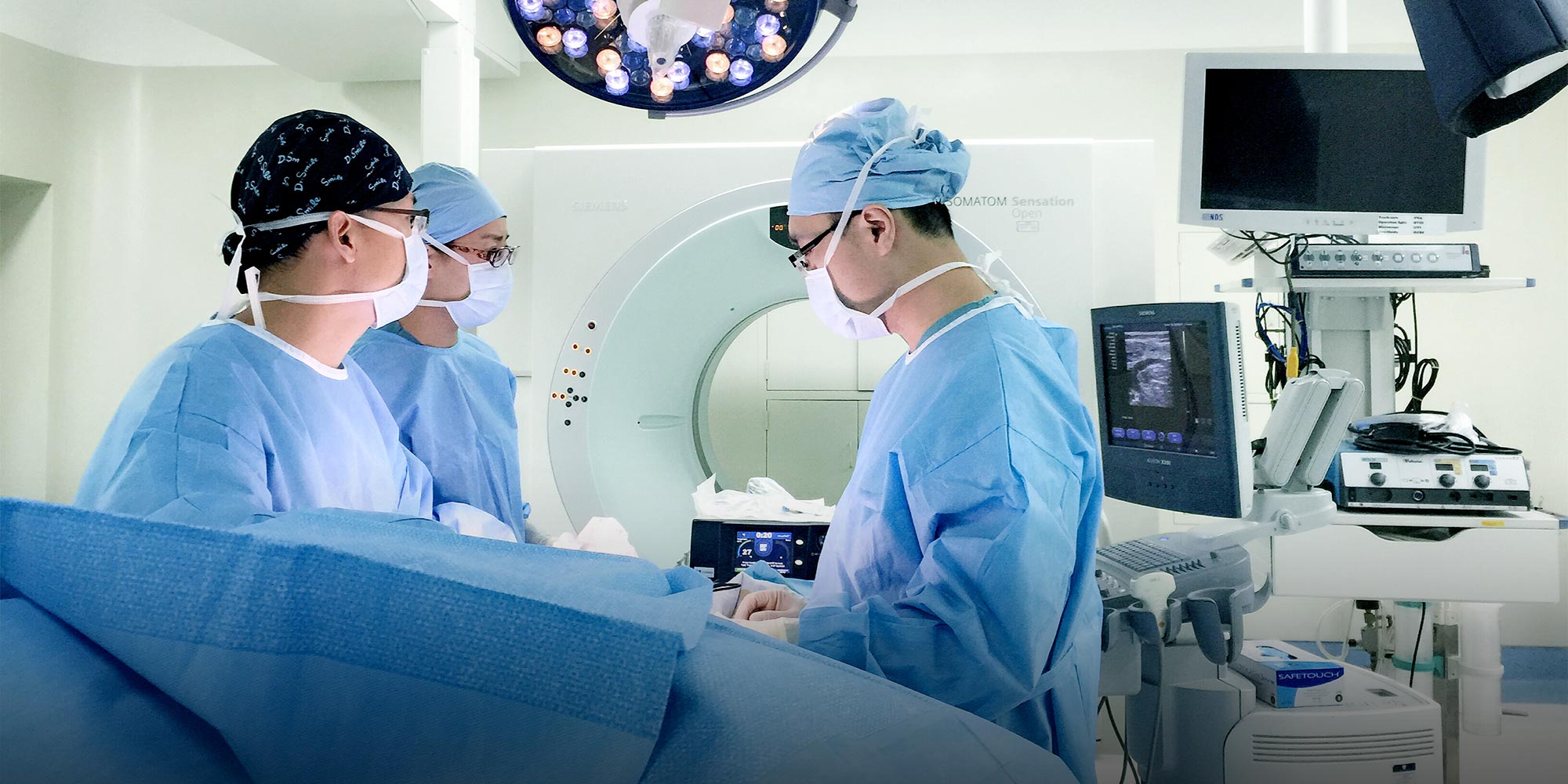 FEATURES
Medical Groups Offer Top Treatment to Those With Deep Pockets
Doctors sick of working at China's public hospitals are turning to the private sector to provide quality services at premium prices.
This article is part of a series about health care reform in China.

SHANGHAI — Four years ago, doctor Zhang Qiang stood at a crossroads. After working for top-tier public hospitals for 20 years, he was fed up. The stifling work environment, the crowded waiting rooms, and the time pressure that gave him an average of three minutes with each patient had taken their toll.
In a health care system dominated by public hospitals, Zhang decided to walk a different path. He quit his job as director of the vascular surgery department at Shanghai East Hospital to become an independent practitioner.
Colleagues, friends, and family were shocked by his decision, thinking he was throwing his career away. But Zhang had a plan. He wanted to start one of China's first private medical groups: networks of doctors who seek to provide better services — at a premium price — by dedicating more time and attention to each individual patient than public hospitals do.
"Back then, few people understood the concept of independent medical practices or medical groups," Zhang told Sixth Tone. At the time, medical groups operated without any legal protection, as there was no way for them to register as professional medical businesses.
A number of recent reforms, however, have opened the door to the legal operation of public hospital alternatives, allowing Zhang's practice — Dr. Smile Medical Group — to run a legitimate clinic in Beijing. Another branch is scheduled to open next month in Hangzhou, a city of 9 million in eastern China's Zhejiang province, just an hour from Shanghai.
Most public hospitals are crowded and chaotic, and are seen as valuing pharmaceutical interests over patients' well-being. Almost half of all patients believe that public hospitals are not patient-centric in their care, according to a survey by Deloitte. Every fifth patient also said that they would opt for alternatives if they were available and affordable.
That's where medical groups come in. Zhang's group provides personalized care aimed at making patients feel that their doctors take their ailments seriously, and that they'll be allocated the time needed to provide the best treatment. The clinics, as well as the international hospitals they partner with, are calm and clean, with staff readily available to answer questions. Art adorning the walls is meant to create a soothing environment, and there is a comfortable waiting area in which patients can relax and their kids can play.
The concept has been growing on middle- and upper-class Chinese in recent years, and more than 160 medical groups are now registered nationwide. Some pay their doctors a salary, while others operate on a commission basis.
"You can't expect too much at public hospitals," said 34-year-old Cui Shan, who recently underwent varicosity surgery at Dr. Smile. She has friends who work at public hospitals and said she understands that doctors there are under a lot of pressure, but she was happy to pay 28,000 yuan ($4,100) — almost double what most public hospitals would charge — for Dr. Smile's services. "They care about patients' feelings and answer all my questions with patience to put my mind at ease," she said, likening the treatment to that of hospitals in the U.S., where she lived and worked for several years.
Medical groups provide a better environment not just for patients, but for doctors as well, Zhang said. For years, he lamented the time pressure he and other doctors worked under, but it wasn't until his wife became pregnant that he truly saw public hospitals' shortcomings from the patient's point of view.
"The medical staff seem indifferent, and they don't even look you in the eye," Zhang said, recalling hospital visits during his wife's pregnancy. "How can patients believe that they really care?" He remembered how, even at Shanghai's top public gynecology hospital, they were once handed another patient's test results. The year his wife gave birth to their second son, Zhang decided to find a better way to provide care for his patients.
Lin Feng, a gastrointestinal surgeon in southern China's Guangdong province, decided to take a similar route when he founded Best uniMed Medical Group, which became the first such group to obtain an official license in China more than a year ago.
At public hospitals, many doctors supplement their income by overprescribing drugs, for which they receive kickbacks from pharmaceutical companies — some as high as 40 percent of the sale price.
Misdiagnosis is also an issue, and doctor-patient relations have deteriorated so much that more than 60 medical staff were injured or died in conflicts at hospitals in 2016. Armed security guards are a common sight at medical institutions.
Doctors' unbearable workloads contribute to the issue, Lin believes. "We often praise doctors who work so hard that they faint during work. We should not brag about that — that's abnormal," he said. The poor quality of care in public hospitals isn't the doctors' fault, said Lin, but that of the system: "If doctors are living under so much pressure and gain so little satisfaction from their work, how can they provide quality service to their patients?"
Meanwhile, doctors working for medical groups can choose how many patients they see. Patients pay top dollar for medical groups' services, but the pricing is standardized and transparent. And as they are legally registered, the groups are still subject to oversight from public health authorities.
Private hospitals are another option, but although they've grown in number, most are small, and some have been accused of exaggerating their services and providing comparatively poor care.
Starting in 2009, China's health ministry and other government bodies have introduced a series of new laws and regulations to reform the health care system. As of April, doctors are allowed to practice at multiple locations rather than being registered with only one hospital, as they were in the past. This is expected to further increase the number of medical groups and has made it easier for them to attract talent, as doctors can split their time among multiple institutions.
Recruiting doctors is still one of the main hurdles, as most prefer to stick with public hospitals, Zhang acknowledged. "But now, things are slowly changing," he said. "More doctors have realized that medical care and their careers can be more than what they have experienced in the public system."
Following increased government support, investors have also started to take notice of medical groups. Best uniMed received a 1 billion-yuan cash injection from investment group New Frontier, which has offices in Hong Kong and Shanghai. Part of the money, Lin said, is being used to build the group's first hospital in the southern city of Shenzhen. The 500-bed facility will be used not only by Best uniMed's 300 registered doctors, but will be open to other medical groups as well.
"We hope that we can pave the way for those who want to seek more opportunities outside the system," Lin said, adding that he dreams of creating a network of medical groups similar to Mayo Clinic, which ranks among the top hospitals in the U.S.
For now, public hospitals continue to dominate the health care system, said Cai Jiangnan, the director of the Center for Healthcare Management and Policy at China Europe International Business School. They still account for 80 percent of hospital beds and patients, and they offer employee benefits that private hospitals and medical groups struggle to compete with, including training opportunities and higher social status.
While public hospitals remain the first choice for most doctors, Cai believes that medical groups could play an increasingly important role. Under the new law, doctors can now bolster their income by working for private groups, he said, while continuing to serve at public hospitals. Ultimately, this could allow doctors to "receive reasonable payment for their medical services and thus have a stronger motivation to provide better service," said Cai.
Both Dr. Smile and Best uniMed declined to disclose financial details, saying only that doctors make more than they would working at public hospitals. Salaries vary widely in the health care industry, but Zhang, for example, said he used to make 400,000 yuan a year as a department head at Shanghai East Hospital, in addition to receiving a sizeable pension and other financial benefits. Factoring in monetary "gifts" from patients and kickbacks from pharmaceutical companies, some doctors can make as much as 2 million yuan a year, he said.
Most medical groups tread carefully to avoid antagonizing public hospitals and won't compete with them directly or poach their staff. So far, however, private practices aren't seen as a threat. Guo Yue, president of public health care provider Shanghai Renji Group, told Deloitte that private hospitals initially only complement the public sector, then become competitors, before eventually being able to outperform public hospitals in some fields. But that's not the case yet. "At present, we are still working on step one," Guo said.
While the government is attempting to diversify the Chinese health care system, experts have noted the risk of increasing the disparity between the rich and the poor. Studies from other countries, including Ireland and the U.K., have shown that the commodification of health care can negatively affect patient treatment.
"We can't sacrifice our medical service quality to provide cheap services," Zhang said when asked whether he found it problematic that only the wealthy would be able to afford his services. "But in the future, we hope to spend less while keeping our medical service quality at the same level," he said, adding that this might allow the group to serve lower-income patients down the road.
Dr. Smile started with only five patients but has since grown rapidly. In 2015, Zhang said, his group performed more than 1,000 surgeries ranging in price from 7,800 yuan to just under 100,000 yuan. While he used to shun private hospitals, he now hopes to expand his own private clinics in first- and second-tier cities. Promoting his own brand — as well as being able to negotiate with investors and international hospitals — has become a crucial component of his work.
Every morning, Zhang now posts work-related updates on Dr. Smile's microblog. Sometimes he even posts photos of his son, and he takes time to interact with patients and answer questions online.
"In China's public hospital system, medical treatment is reduced to medical skills," Zhang said. "People in this system often forget that it is also about care and service."
Contributions: Denise Hruby; editor: Denise Hruby.
(Header image: Staff at Dr. Smile Medical Group operate on a patient in Beijing, Aug. 17, 2016. Courtesy of Zhang Qiang)