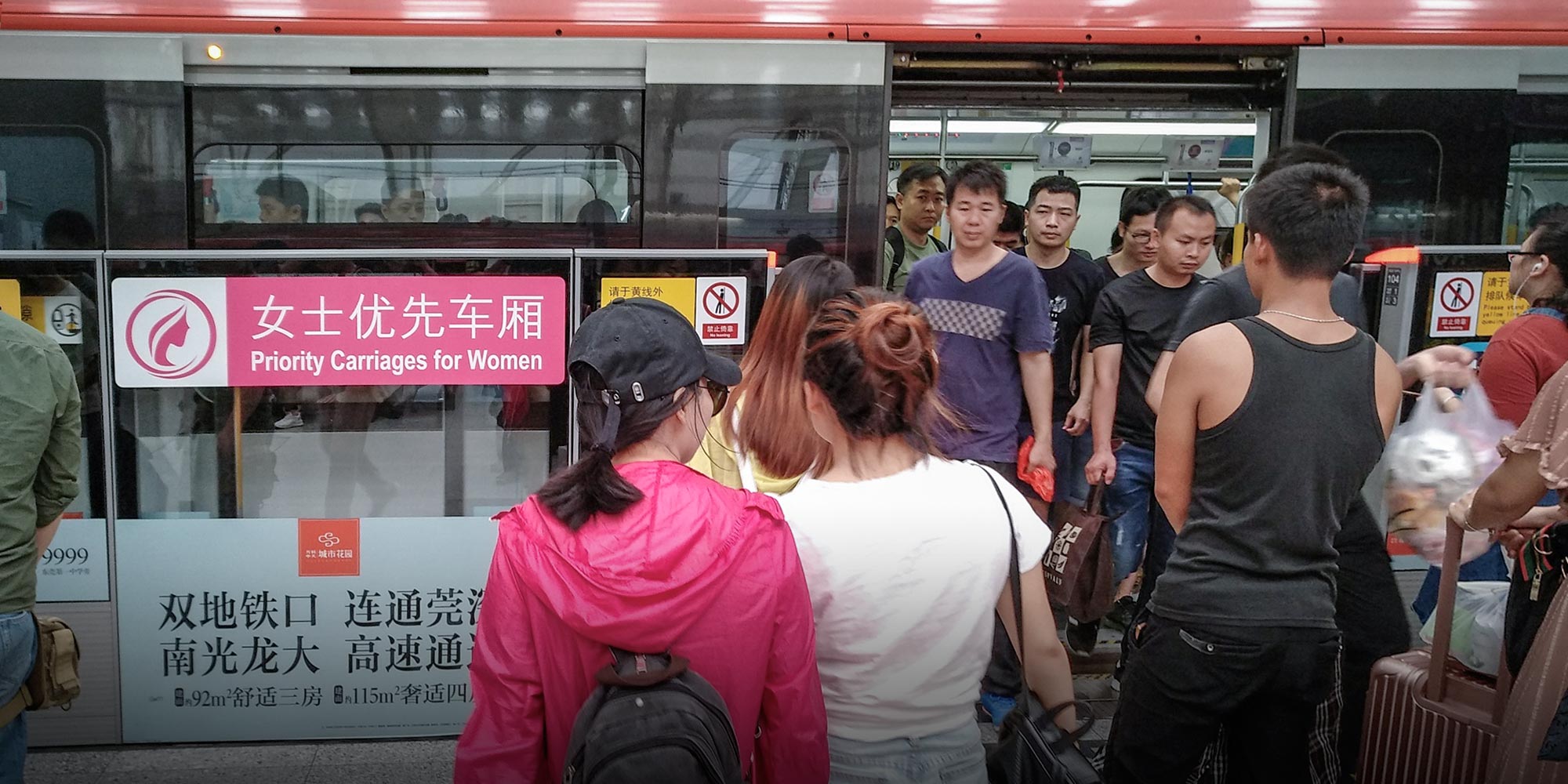 NEWS
Guangdong's Subway Cars for Women Confuse Many, Convince Few
Public transport experiments in Guangzhou and Shenzhen are off to shaky starts.
Subway cars for women in the southern Chinese cities of Shenzhen and Guangzhou have managed to rile passengers after just a few days of service.
On Tuesday, Guangzhou began trial runs of its "female cars," two days after its southern neighbor Shenzhen began running "women priority cars." But some residents of Guangzhou, with its 7 million daily subway commuters, worry that the initiative will lead to overcrowding, while others say it perpetuates discrimination and ignores other groups who might also deserve preferential treatment.
"You take care of women but not old people — how could you?" an elderly man in Guangzhou yelled at volunteers who were trying to prevent him from entering the women's car, Sixth Tone's sister publication The Paper reported Wednesday.
While attendants at Guangzhou's metro stations held pink placards to guide female commuters on the first day, some male passengers were disinclined to follow the rule, boarding the priority cars along with the women, local media reported.
A female passenger told Southern Metropolis Daily the rule won't be effective unless it is strictly implemented and monitored, and a male passenger said he was "not against" setting up a women-only car, though he didn't think such a measure would be practical during rush hour.
Earlier this week, experts weighed in on the topic after Shenzhen introduced the measure on Monday. Li Yinhe of the Chinese Academy of Social Sciences told China News Service that the special cars would "narrow the gender gap," while Pei Yuxin, a professor at Sun Yat-sen University in Guangzhou, countered by saying that a separate car would allow metro authorities to "shirk their responsibility to keep habitual harassers at bay."
Harassment in all its myriad forms is a common feature of public transport in China: More than half of 1,899 respondents to a 2015 China Youth Daily survey said they had experienced harassment on the bus or subway — but growing awareness means more women are taking a stand against inappropriate behavior. In Guangzhou, a group of activists have been working to raise awareness of harassment through an ad campaign on the city's metro, though they were eventually deterred by bureaucratic roadblocks.
"It is never going to be the case that all women can take the women-only car," one of the campaigners, Zhang Leilei, told Sixth Tone in a previous interview. "So if someone is going to harass a woman, they can just do it in another car."
Li Hongtao, a professor at China Women's University in Beijing, told Sixth Tone it is too soon to jump to conclusions about what she calls a "temporary isolation practice."
 
"If the social environment and families are still unfriendly toward women," Li said, "and if there are no strong punishments for sexual assault, trafficking, and violence against women, then the women's car will just be useless."
Following the initiatives in Guangzhou and Shenzhen, net users have expressed their opinions on microblog platform Weibo with comments touching on everything from discrimination against and unequal treatment of men to pervasive public indifference toward issues such as sexual harassment.
"I feel it's okay to have cars for women," commented a male Weibo user from Shanxi, in northern China. "But to be fair, there should also be a men's car."
"The women-only compartments are useful," wrote another user. "Men can hardly understand the fear and helplessness of women when they encounter these perverts."
This article has been updated to include comments from Li Hongtao.
Contributions: Lin Qiqing; editor: David Paulk.
(Header image: Passengers wait to board a 'women priority car' in Shenzhen, Guangdong province, June 25, 2017. VCG)