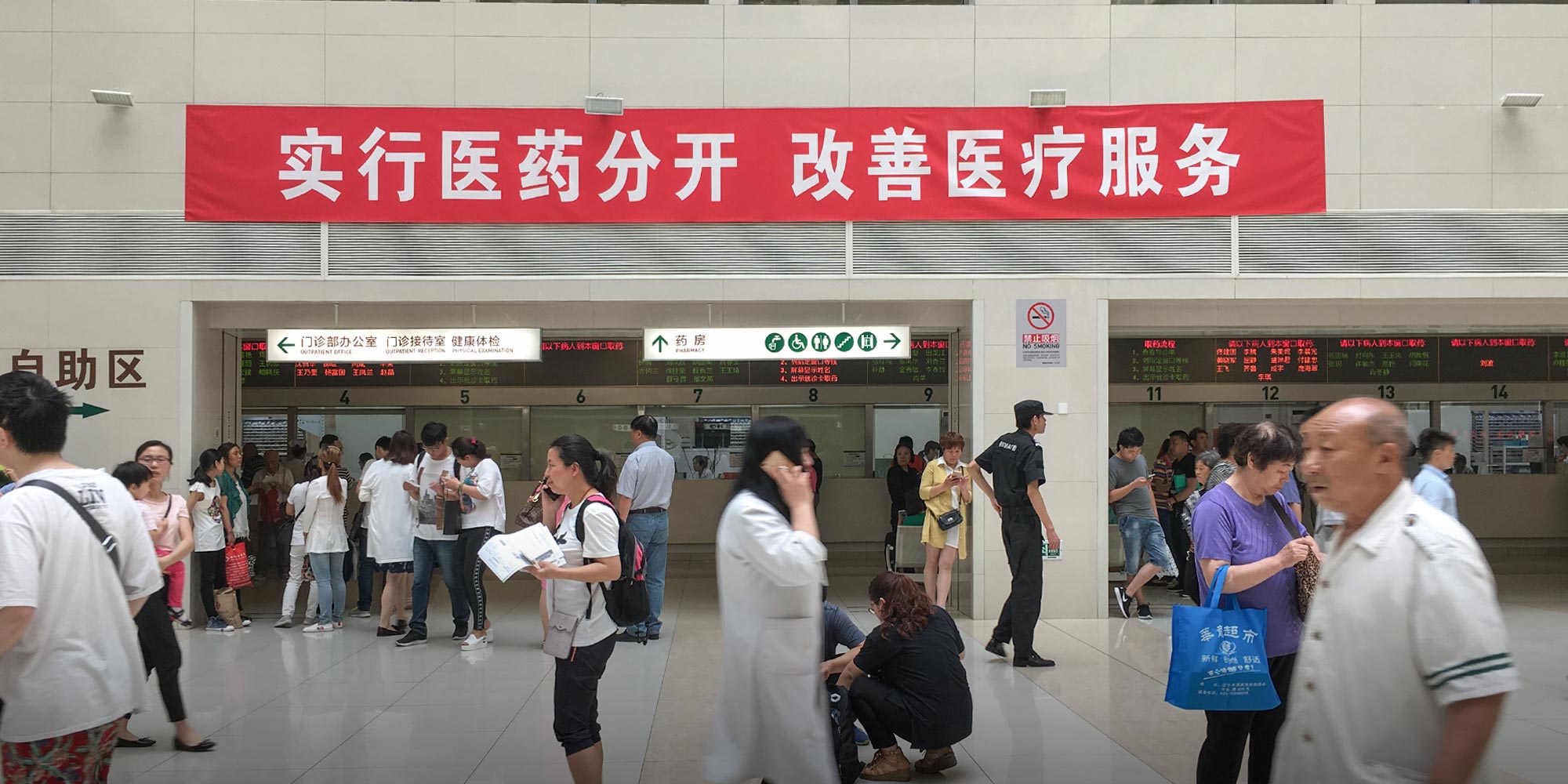 FEATURES
Beijing Residents Panic as Price of Hospital Visits Rises
New medical service fee aims to divert simple cases from top hospitals, but uninsured patients could lose out.
This article is part of a series about health care reform in China.
BEIJING — When the news spread that health care reform would quintuple the cost of seeing a doctor, many Beijing residents rushed to local hospitals to stock up on prescriptions. Doctors worked without lunch breaks to attend to long lines of patients waiting only for drug scripts.
"Panic spread among elderly patients," said Chen Xinhua, a 66-year-old retiree in the capital's Dongcheng District. She told Sixth Tone that some of her friends had almost a whole year of medications prescribed before the new medical service charge kicked in on April 8.
The new doctor's appointment fee in Beijing coincides with reform that abolishes the 15 percent markup on drugs sold in public hospitals. Together, the policies aim to nudge public hospitals away from relying on revenue from drug sales, which is linked to overprescription and even bribery. The service charge, which varies across the three hospital tiers, is also intended to address overcrowding at top hospitals.
However, most of the public simply see that the consultation fee for a doctor at a top-tier hospital has been hiked from 7 yuan ($1) to 50 yuan. Civil society groups also warn that the change could further exclude already marginalized groups — like migrant workers — from quality health care.
Although five Beijing hospitals began piloting similar reforms in July 2012, most residents only became aware of the policy just before it took effect in April. Chen, who has high blood pressure and other chronic conditions, was in for quite a surprise during her first visit to Beijing No. 6 Hospital after the reform.
Although the appointment fee for her May visit to the second-tier facility had increased from 3 yuan to 30 yuan, Chen found the overall bill cheaper than before. She has been on regular medication for more than 10 years, but this time, her monthly prescriptions that cost her 280 yuan in the past had gone down to 193 yuan.
"It was quite surprising to me because all I heard about was the price hike," Chen told Sixth Tone.
Between April 8 and May 5, the elimination of the 15 percent markup on drugs saved patients around 420 million yuan, according to the Beijing Municipal Commission of Health and Family Planning.
The reform has also helped to divert patients from top-tier hospitals. People in China typically place more trust in big hospitals, but this mentality means that expert doctors at top-tier facilities are often booked up with patients who have simple, common conditions. For many years, the maximum cost of seeing any doctor in a public hospital — even a department director — was just 14 yuan.
Now, the government hopes differential pricing will push people to seek more appropriate services. According to state news agency Xinhua, the service fee has resulted in a 15.1 percent drop in the number of outpatients at top-tier hospitals in the capital from the same period in 2016. Second-tier hospitals also saw a 7.2 percent year-on-year decline in outpatient numbers, while community-level hospitals experienced a 3.4 percent increase. If the Beijing pilot program proves successful, the service charge could be extended to the whole country.
One morning in May, the outpatient department of the Chinese PLA General Hospital, a top-tier Beijing facility, was quieter than usual. Doctors were still busy, but some remarked that the number of patients had significantly dropped following the reform.
Min Ying, a cardiologist at the hospital, told Sixth Tone that the price hike has driven away some of his patients and will likely impact his income a little. In Chinese public hospitals, doctors' incomes include allowances and bonuses based on how much revenue they generate for the institution. According to a report from Beijing-based newspaper Guangming Daily, such allowances can account for up to 70 percent of a doctor's income.
In Min's opinion, the price reform should have been implemented years ago. For insured patients, he said, a consultation with a top doctor could have cost as little as 2 yuan out-of-pocket before the reform. "How much do you pay a barber?" Min asked. "The government had to proceed with this reform. But it is still fundamental to guarantee that medical services are affordable for the majority."
Although the reform doesn't benefit his income, Min believes it's a good sign that the conditions he treats have grown in complexity. While in the past, he said, more than half his patients would visit for minor or chronic issues, now most of his consultations are for complicated problems that second-tier hospitals may not be able to solve.
Beijing resident Chen agreed that the reform could stop people from blindly walking into top hospitals simply for repeat prescriptions or minor conditions. "Sometimes it's just because of geographical convenience, but more often, people feel more secure hearing a diagnosis from a doctor at a big hospital," she said. "It's a real waste of medical resources." She herself has decided to visit a community hospital when she needs her prescriptions renewed in order to save on the appointment fee at her previous second-tier hospital, though she is concerned that the smaller facility may not have the same range of medications.
"If the medicines we need are in stock, I think most ordinary residents who have chronic diseases and are sensitive to pricing would be willing to move to community hospitals," she told Sixth Tone.
However, according to Liu Jitong, a professor at Peking University's School of Public Health, the reduced flow of patients can be attributed primarily to out-of-towners rather than Beijing residents. "The price lever is simple and direct, but it does not fundamentally change people's hospital visiting habits," he said.
To ensure that people everywhere have equal access to quality, affordable health care, Liu believes top hospitals in Beijing, Shanghai, and the southern city of Guangzhou should build partnerships with lower-tier hospitals in less developed cities, whether by offering online guidance or by sending expert doctors to help with specific cases. "Most patients are reasonable," the professor explained. "They calculate the cost of seeing a doctor."
Bao Yaoyao, who hails from the northeastern city of Dalian 800 kilometers away from Beijing, was willing to pay any price for the peace of mind she knew she would get from a top-tier hospital in the capital. She brought her 6-year-old daughter to Beijing Tongren Hospital, known for its ophthalmology department, for an urgent surgery to correct her daughter's eye condition.
"Hospitals in Dalian don't have enough patients for doctors to perfect their skills," Bao told Sixth Tone. Though the reform means the family are paying more, especially as their medical insurance does not cover services outside Dalian, Bao says her child's health comes first.
Many Chinese citizens have medical insurance that only covers treatment in the locale of their hukou, or household registration. China has started to enable its citizens to use their medical insurance across the country, but so far, the reforms do not extend to outpatient procedures. According to China's Ministry of Human Resources and Social Security, as of June 19, a total of 1,870 hospitals in 327 Chinese cities allowed patients to receive reimbursement for hospital stays outside their place of household registration.
While most Chinese have insurance through their employer or state pension — over 95 percent of the population, according to a February report from Xinhua — some migrant laborers who work without a contract don't have insurance coverage at all. The fee reforms could further exclude migrant workers, who are already reluctant to visit public hospitals due to cost.
Wang Dezhi, founder of nongovernmental organization Beijing Migrant Workers' Home, told Sixth Tone that even before the reform, most migrant workers preferred to visit village clinics. "After the reform, even fewer will choose public hospitals. They won't bother to compare if the cost has actually gone up or down because either way, it will probably be unaffordable for most of them," Wang told Sixth Tone.
Overall funding for public health this year amounts to 1.4 trillion yuan — according to a National Health and Family Planning Commission press conference in May — accounting for 7.2 percent of the entire national budget and signifying a 1.9 percent increase from 2016.
China's health spending per capita has grown substantially since the turn of the millennium, and the state has footed a sizeable share of the bill. Whereas in 2004, out-of-pocket spending made up the majority, it was down to 32 percent a decade later, compared to 62.4 percent in India in the same year, according to the Hindustan Times.
The spending reflects public anxiety over health care and the safety of medicine, both of which came up as major concerns in the Pew Research Center's 2016 survey of public attitudes in China. Yet finding a fair funding model remains a critical issue for policymakers — especially as 77 percent of respondents in the Pew survey identified the gap between rich and poor as a big problem.
"In essence, [the funding model] presents the division of the government's role, the market's role, and the responsibilities that an individual has to shoulder," professor Liu said. "We must remember that health services are of the same nature as compulsory education: Both are matters of public welfare for which the country should shoulder the primary responsibility."
Contributions: Qian Jinghua; editor: Qian Jinghua.
(Header image: A view of the entrance hall at Peking Union Medical College Hospital in Beijing, May 19, 2017. Ni Dandan/Sixth Tone)