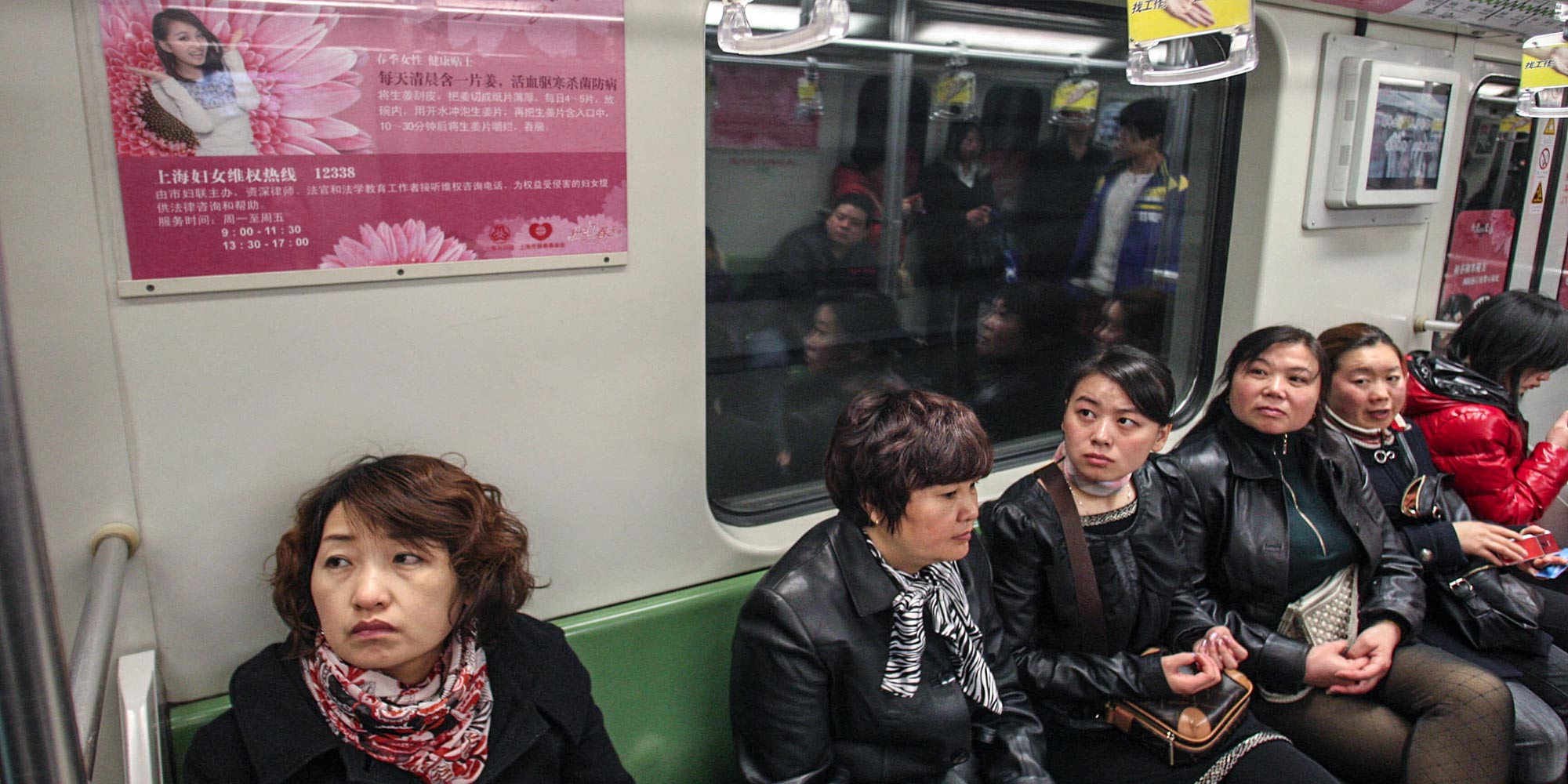 NEWS
Women-Only Trains for City That Blocked Anti-Harassment Ads
Feminists question Guangzhou subway's plan to provide female-only cars during peak hours.
The Guangzhou subway announced Friday that it will begin trials for female-only cars. The move comes after the city earlier this year rebuffed a feminist advocacy group that wanted to display anti-sexual harassment posters in the subway.
Female-only cars will appear in Guangzhou, the capital of southern China's Guangdong province, at the end of June. One women-only car per train will be available on Line 1 during rush-hour periods on weekday mornings and early evenings. Though intended for women, men will not be prevented from using the cars.
"The women-only car is a form of advocacy," a spokesperson for the Guangzhou subway told a local news outlet New Express. "We hope to promote the civilized value of 'Care for women, respect women.'" Similar initiatives around the world — some 10 countries have introduced female-only subway cars — are commonly meant to protect women from sexual harassment.
The announcement comes just a few months after a yearlong campaign by Guangzhou-based advocacy group F Feminist to put anti-sexual harassment posters in one of the city's subway stations. The activists had raised more than 40,000 yuan ($5,800) in donations to rent billboard space, but months of negotiations and changes to the ad's design ultimately did not convince the city's authorities.
One of the group's members, Zhang Leilei, then launched a nationwide campaign, dubbed "I Am a Billboard." She called on people to don placards bearing printed and homemade versions of the anti-harassment billboard and post pictures of themselves at bus and train stations. The aim was to use social media to pressure Guangzhou's transport authorities into action. However, on May 17, Guangzhou police ordered Zhang to halt the campaign and even told her to clear out of the city for a year.
Zhang told Sixth Tone that she thinks the pilot project announced Friday is unlikely to be effective. "It is never going to be the case that all women can take the women-only car," she said. "So if someone is going to harass a woman, they can just do it in another car."
Last April, a women-only bus service started in Henan's provincial capital, Zhengzhou, in central China. That initiative was met with mixed responses: Though some applauded the option of separate transport, feminist media platform Women Awakening warned that segregated transport does not address the root causes of sexual harassment.
Zhang said that there are fundamental problems with the assumptions behind Guangzhou's project, too. "The starting point for this policy is a pretty rigid understanding of gender — that women are weak and need protecting," she said, "and men are all molesters and their sexuality is aggressive in nature. This is an affront to many men."
Clarification: Women and any male companions traveling with them will be permitted to use the new cars.
Editor: Kevin Schoenmakers.
(Header image: Women sit in a subway car on International Women's Day in Shanghai, March 8, 2011. VCG)