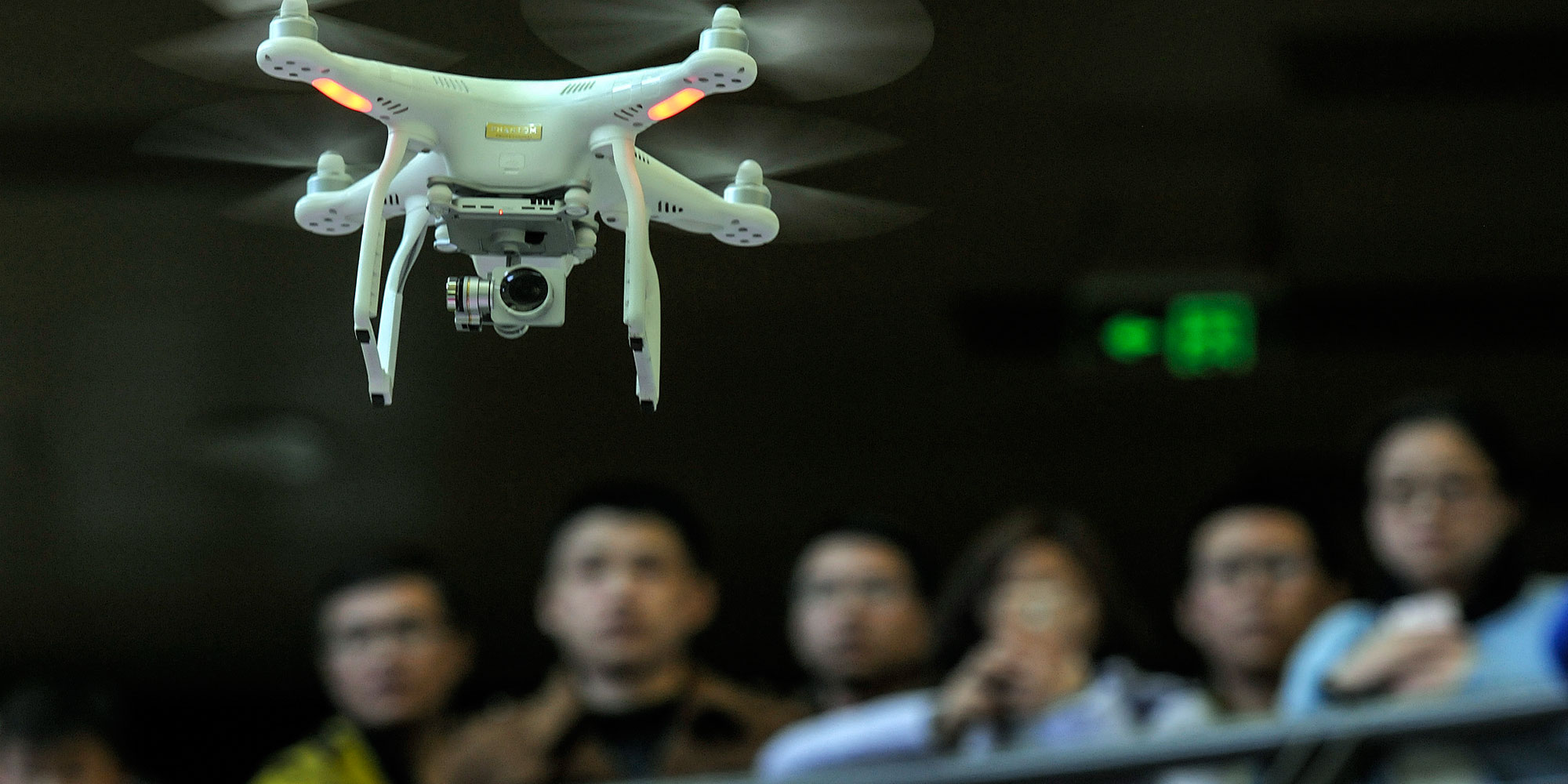 VOICES & OPINION
Here's What China's New Drone Regulations Should Look Like
Recent near-misses at the country's airports have convinced policymakers of the need to control airborne consumer gadgets.
This article is the second part in a series on drone regulation in China. The first part can be found here.
In December 2013, three employees of UAV Sci-Tech, a Beijing-based company, launched an unmanned aircraft from a site in one of the city's suburbs, using it to take aerial photography for surveying and mapping purposes. On this occasion, however, their aircraft resulted in multiple civilian airliners being forced to take evasive action, causing numerous delays. The drone, which had a wingspan of about 2.6 meters and a length of about 2.3 meters, was picked up on military radar, and the Beijing Military Region dispatched two helicopters to force it down.
The three individuals responsible were tried for the "negligent use of dangerous means to endanger public safety" and received suspended prison sentences. Prior to that incident, no case of "black," or illicit, drone or model aircraft flights in China had ever resulted in more than a fine or administrative detention. It was also the first time such a case had been tried in China under the law forbidding the "endangerment of public safety."
Unlike the model aircraft used in the Beijing incident, current consumer drones tend to be defined by three words: low, slow, and small. They operate at low altitudes, fly at low speeds, and have a small surface area, which reduces their radar signature. Additionally, they are mostly constructed from nonmetallic substances. All of these factors combine to make them difficult to monitor on radar, hard to spot, hard to track, and hard to regulate.
As a result, they can easily intrude into restricted airspace over airports, causing all kinds of security problems. The current flight reporting system is ill-equipped to deal with these kinds of drones. By requiring drones to meet impossibly high standards for approval, it encourages operators to fly under the proverbial radar, and gives law enforcement bodies too much leeway in interpreting and enforcing the law. All of these factors compound a problem that can no longer be ignored.
The most important tasks ahead involve simplifying the procedures for registering drone flights, establishing a single department in charge of hearing all drone flight applications, and lowering the barriers to application. As for enforcement, we must expand legal control, clarify which behaviors merit serious punishment, define the overall standards for said punishment, and increase public understanding of the issue.
We can find cause for optimism, though, in several new laws and regulations designed to provide a more nuanced, standardized approach to drone activity. In January of this year, the Ministry of Public Security issued draft revisions to the Public Security Administrative Punishments Law. According to Article 46, those violating national provisions by flying drones, powered paragliders, gliders, or other commonly used aircraft and aerial sports equipment, or those who illicitly operate unmanned free-floating balloons, tethered balloons, or other objects that ascend vertically into the sky, will be subject to a period of administrative detention of up to 15 days. While the official revised version has yet to be released, it is hoped that the revisions will be enacted in the near future.
After several recent serious incidents involving black flights in the city of Chengdu, capital of southwestern China's Sichuan province, a handful of civil and military aviation agencies reinforced their commitment to a public notice released last year that aimed to strengthen safeguards for restricted airspace.
The notice declared that no work unit, group, or individual could operate a drone or model aircraft in restricted airspace over any civil or military airfield in Sichuan province without first receiving permission from the relevant authorities. The cities of Beijing, Fujian, Kunming, Wuhan, and Chongqing have all released their own temporary and regional regulations pertaining to this issue, further clarifying the boundaries of restricted airspaces over civil and military airfields and providing rewards for reports of illegal activities.
The fact that so many provinces and municipalities are releasing their own rules for regulating drone use, and that these rules have such strikingly similar content, underlines an emerging consensus between the various government and military bodies involved. First, these regulations seek to solve problems related to the "low, slow, and small" model. Second, they clearly delineate restricted airspaces — both permanent ones over airfields and temporary ones — and other off-limits areas. Third, they all call for a drone registration system. Finally, they provide for increased punishments for illegal flights, in accordance with existing laws.
Given the clear consensus, the Civil Aviation Administration of China's May 16 "great summons," which came in the form of a real name registration system to manage civilian-owned drones, is hardly a surprising development. The new regulations, in force since June 1, require all drones weighing over 250g to be registered under their owner's real name. The current CAAC effort to reform drone regulations is apparently being carried out under the auspices of the State Air Traffic Control Commission. The real name registration push is not the only "great summons" coming, either, as stricter new policies are expected before the end of the campaign in August. This is likely to have a significant impact on the drone industry moving forward.
Translator: Kilian O'Donnell; editors: Lu Hongyong and Matthew Walsh. 
(Header image: A drone is flown during a demonstration as passersby look on in Nanjing, Jiangsu province, Jan. 3, 2016. An Xin/VCG)