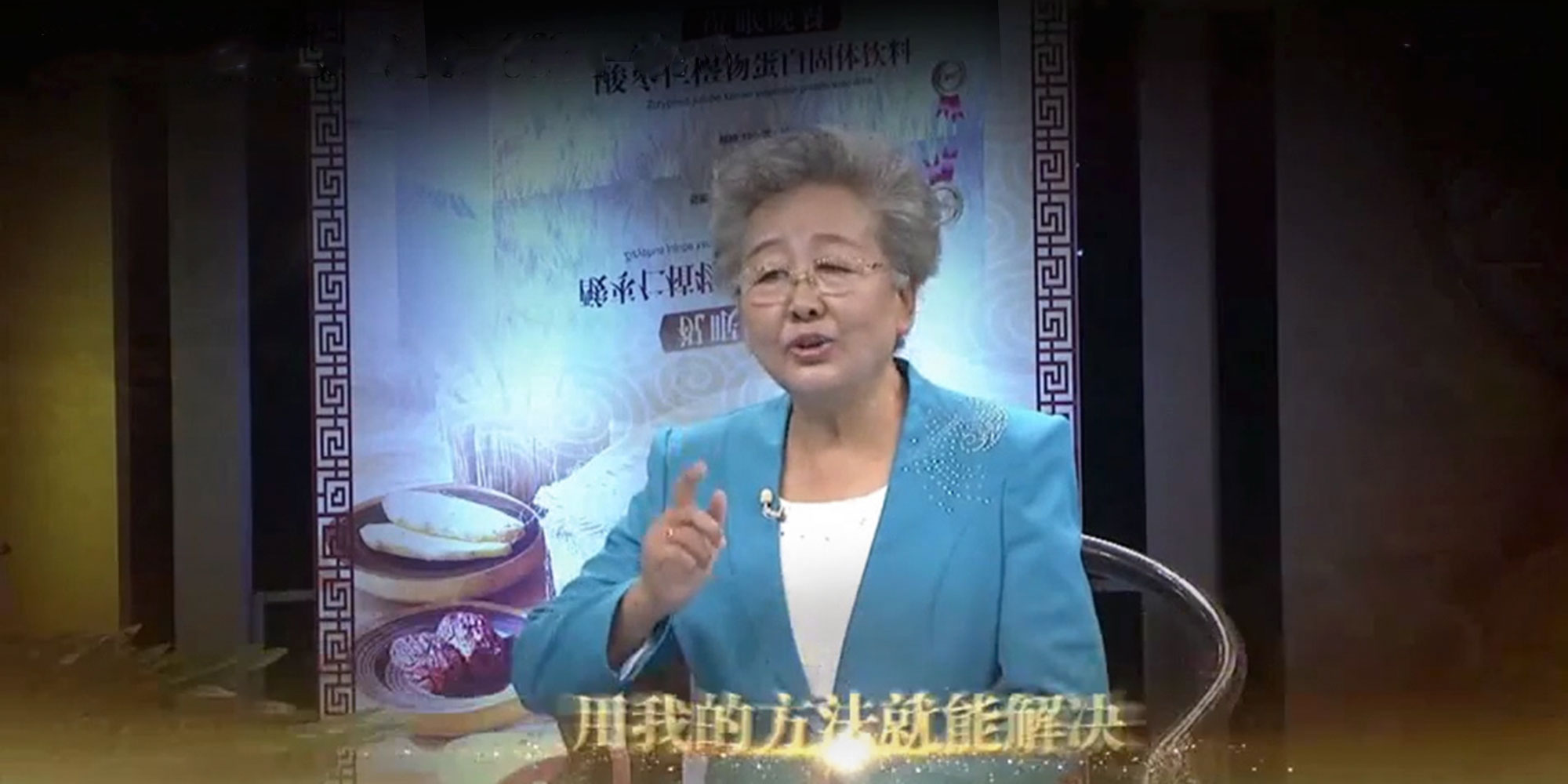 NEWS
Drug-Peddling TV Persona Found to Have 9 Different Identities
Netizens suggest Liu Hongbin's acting prowess worthy of an Oscar.
A self-professed health expert who advertises medicinal products on Chinese television has been changing her identity — from her professional credentials to her ethnic background to the spelling of her name — with each new product she peddles, Sixth Tone's sister publication The Paper reported Wednesday.
With her wire-rim glasses, wavy gray hair, and confident tone, Liu Hongbin projected an air of authority when she appeared on television to extol the virtues of whatever health-enhancing product she happened to be selling. Appearing on various provincial stations over a period of about three years, Liu routinely switched her field of medical expertise to match the abnormality her product purported to cure. Coughing, diabetes, gout, heart disease, insomnia — at one point or another, she was an expert on each.
In many cases, the products Liu endorsed were as misleading as Liu herself, with the companies behind them repeatedly being reprimanded and punished by officials. According to a court document, Liu helped sell nearly 6.7 million yuan ($980,000) in gout medicine alone in about three months. That medicine, the Paper reported, was later found to be unlicensed.
On Wednesday, Beijing's traditional Chinese medicine (TCM) bureau announced that they do not know of any registered expert called "Liu Hongbin," nor is she a licensed pharmacist according to the city's registration system. Other institutions with which Liu has claimed affiliation in the past, including Peking University, Jilin Provincial People's Hospital, and Beijing Ditan Hospital, also said that they have no records of anyone by that name.
Liu reportedly appeared on television stations in the regions of Tibet, Qinghai, Gansu, Fujian, Jilin, and Heilongjiang. In Tibet, for example, she claimed to be a TCM expert from a Miao ethnic minority community who specialized in treating asthma. In Gansu, however, she identified herself as a general nutritionist, and in Fujian, she professed to have a dermatological background in eliminating freckles.
With a rising public interest in health care, infomercials and product placement are becoming more common on Chinese television, often targeting elderly viewers — and as long as this kind of programming keeps eyeballs on screens, provincial and municipal TV stations have continued to run them.
According to a 2016 report from the industry and commerce bureau of Jinan, capital of eastern Shandong province, the provincial television network had broadcast shows and segments spotlighting 25 fake medical products since August 2014, and as a result had been fined nearly 450,000, about half of which came from disingenuous commercials. One of these ads featured Liu masquerading as a Miao medicine woman with a can't-miss cure for coughing and other asthma symptoms.
The company behind the product, the report said, did not have a license to sell medicine, so the station was fined 14,000 yuan for violating the law and had another 14,000 in advertising revenue confiscated.
A staff member at the Guizhou Miao Yi Pharmaceutical Company told The Paper that Liu had advertised one of their products in 2014. The employee, who was not named in the report, said he knew then that Liu was exaggerating the effects of the medicine.
"Advertising these 'miracle cures' continues, despite being prohibited, mainly because there is the potential for a quick buck and production is simple," Zhang Xinnian, a lawyer at Jingshi Law Firm in Beijing, told Sixth Tone. "Individual consumers are cheated out of small sums of money, so often because the cost of defending their legal rights is high, they just let it go. In a way, this is what condones these actions."
"Even though China's laws and regulations clearly state that any involved party should bear responsibility for false advertising, the key is that implementation is not sufficient," Zhang added. "I believe that law enforcement should focus on regulating the television stations. If they broadcast illegal or criminal content, the law must be strictly enforced."
In China, as elsewhere, the elderly are a particularly impressionable demographic. In April, crowds of seniors, some accompanied by their incredulous offspring, descended on Beijing's iconic Bird's Nest stadium after hearing rumors of riches online. And in January, it was revealed that the country's ailing elderly were being targeted by snake oil salesmen on messaging app WeChat.
Contributions: Qian Jinghua; editor: David Paulk.
(Header image: A screenshot from a television commercial shows Liu Hongbin endorsing a food product purported to cure insomnia.)