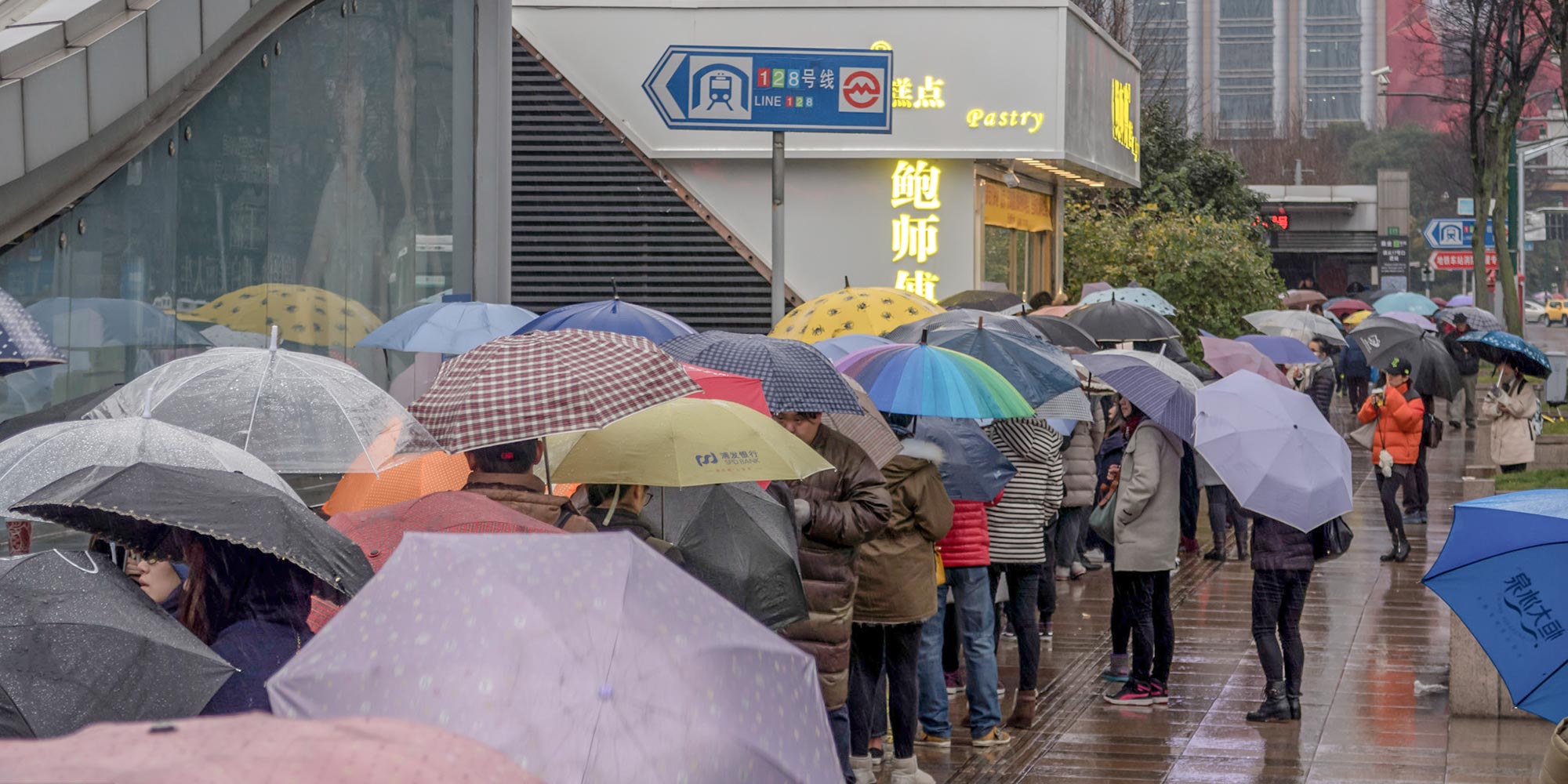 FEATURES
Millennials' Ferocious but Fragile Appetite for Viral Stores
China's social media savvy food and drink establishments are enjoying hourslong queues, but experts warn their business model is vulnerable.
SHANGHAI — If you're planning a short trip to the world's most populous city, you'll likely include attractions like the Pearl Tower, the Bund, and Jing'an Temple in your itinerary. If you happen to be young and tuned into social media, you'll have one more thing to check off your list: waiting for hours outside a store for some so-called viral food.
As China's social media-minded, 415 million-strong generation of millennials born in the 1980s and 1990s exercise their spending power, businesses are adjusting their strategies to better target this tech-savvy group. In the food and beverage market, this strategy has given rise to wanghong meishi, or "viral cuisine." The purveyors of such cuisine are typically small stores selling run-of-the-mill offerings: milk tea, pastries, savory pancakes. But through meme-laden ad campaigns on social media and endorsements from internet personalities, these establishments attract hordes of pilgrims from around the country who have been known to spend up to seven hours waiting in line outside their doors.
Unlike traditional companies that buy television airtime or newspaper ad space to promote their products, viral businesses opt for what marketing analysts call "soft selling," such as paying food bloggers who have a large fan base to praise their offerings.
"Changes in customer behavior have forced companies to change their business strategies," independent food and beverage industry analyst Zhu Danpeng told Sixth Tone, adding that viral cuisine has emerged to target the very people whose views on consumption and aesthetics are shaped by the web.
But in the internet age, trends can wither as quickly as they blossom, and the vulnerability of such viral stories is compounded by China's saturated food and beverage market.
One "viral store" weathering the storm is Heytea, a beverage shop specializing in colorful fruit tea topped with creamy milk foam that cost around 30 yuan ($4.40). Although the brand's first branch opened five years ago in Jiangmen — a small city in the southern province of Guangdong, where the company is headquartered — Heytea didn't make waves until it started expanding into Guangdong's big cities. A deluge of promotion by food bloggers, coupled with social media posts of the brightly hued drink, quickly caught millennials' attention; even today, months after the brand first arrived in Shanghai, customers still have to brave hourlong lines to get in.
One social media personality approached by Heytea to "soft sell" the product is Chen Xiaoxi, the pen name of a travel blogger whose Weibo microblog has more than 106,000 followers. In April, Heytea asked Chen — her real surname — to shoot a video featuring a Guangzhou branch that had just started selling baked goods. With around 30,000 views, the resulting two-minute video is now the most-watched clip on her blog. "This kind of marketing doesn't immediately influence sales," Chen told Sixth Tone, "but it's effective in promoting the brand. At least, it can attract some customers who are on the fence."
But recently, social media went from the company's best friend to its worst enemy, as accusations that Heytea was hiring people to line up outside its stores to fuel the hype began flooding the internet. Heytea promptly denied the claims, saying on its official account on messaging platform WeChat that the allegations "lacked strong evidence."
One customer at a Shanghai branch who was certainly not being paid money to bolster Heytea's image was Tong Linglei, who was vocally disappointed by the tea he had waited an hour to get his hands on. The 22-year-old student from Wuxi in neighboring Jiangsu province had come to the store during a trip to the city with classmates. "We heard about it on Weibo," Tong told Sixth Tone between sips. "It tastes fine — definitely better than most of the fruit tea I've had — but nothing special."
Another customer — a woman who had skipped work to get a taste of the drink — shared Tong's ambivalence. The flavor was "just okay," said Gao, who was only willing to provide her surname for fear of ramifications from her employer. The 27-year-old told Sixth Tone it was unlikely she would visit the shop again.
Compared to the chic, minimalist décor of Heytea, with its marble floors and servers smartly dressed in crisp white shirts and black aprons, fellow viral store Master Bao has adopted a more down-to-earth style to win over customers. Chefs slave over sponge cakes topped with mayonnaise and dried pork flakes — not an uncommon delicacy in China — but the shop puts little effort into spicing up its appearance. Its dull facade is so understated that a passerby could very easily miss it if it weren't for the line of people stretching down the sidewalk, waiting for a bite of the savory delicacy.
Regardless of the approach, the ultimate objective of such viral stores is simple, according to Shanghai-based marketing company Youera Media's vice president, Li Hui. "All in all, what these stores are doing is sending out a message through social media: We're cool," Li told Sixth Tone. "They manage to make consumers feel that eating the food and even waiting in line for hours is a cool thing. And when customers finally get the food after hours of waiting, they'll feel compelled to post photos of meals on social media."
The viral food phenomenon has caught the attention of venture capitalists. In August 2016, Heytea received a combined 100 million yuan in investment from IDG Capital and angel investor He Boquan, an amount that has been heralded by analysts as unprecedented for the food industry. Master Bao's founder, Bao Caisheng, is also in the process of seeking investors, according to business and finance media outlet Utalk.
Heytea founder Nie Yunchen declined Sixth Tone's request for an interview, but a spokesperson for IDG Capital was eager to sing his praises in justification of the company's investment, telling Sixth Tone that 26-year-old Nie holds the brand's products to exceptionally high standards. "Ever since they opened their first store, he has insisted on sourcing from top-rate suppliers, studying new products with them very closely," the spokesperson said. "This is what eventually won us over."
But questions remain as to how long these viral chains can keep consumers hooked in China's cutthroat food and beverage industry. In each month of last year, one-tenth of all restaurants in Beijing, Guangzhou, Shenzhen, and Shanghai went under, according to a white paper published by food delivery and group deals app Meituan-Dianping.
Viral stores appear to suffer from the same vulnerability. Despite backing by multiple investors, Huangtaiji — a viral chain selling the savory crepe-like breakfast food jianbing — closed about half of its 44 branches in Beijing in just one week last year, shortly after a period of aggressive spending that prioritized expansion.
What makes viral stores particularly vulnerable is the easily replicable business model on which they thrive, say industry analysts. "If I just find a random tea shop on the street, change its packaging to Heytea's, and ask customers to blindly taste it, they'll probably think it is Heytea," said Li.
Indeed, across the street from Heytea at Yidiandian — a Taiwan-headquartered milk tea chain that has enjoyed stable market dominance in Shanghai since 2011, with nearly 200 stores in the city — customers spend less money and much less time waiting to get their hands on a cup. Most of the brand's stores are located in shopping malls or near schools to ensure that they maintain a steady flow of customers.
Meanwhile, Master Bao is grappling with competitors of a far more aggressive nature, its popularity having inspired a plethora of copycats. Peng Yong, store manager of Beijing's Zhongguancun branch, told Sixth Tone that there were 19 legitimate Master Bao stores around the country — but a quick map search on China's premier search engine, Baidu, returned 124 stores using the Master Bao name in Beijing alone. As to whether founder Bao intends to take the copycats to court, he told Utalk that "the cost of breaking the law is low, but the cost of protecting your rights is high."
"In an industry with such a low entry barrier, the question for viral cuisine is how to build customer loyalty," said analyst Zhu. He told Sixth Tone that Heytea could look to Starbucks' "cookie-cutter" success in providing its customers a "third place," a sociological concept referring to spaces outside home and work that hold a sense of community.
"It seems like Heytea is trying to emulate Starbucks' success," Zhu said, "but it still has a long way to go."
Editor: Owen Churchill.
(Header image: People wait in line on a rainy day to buy pastries at the first Master Bao branch in Shanghai, Feb. 8, 2017. Wang Gang/IC)