JILIN, Northeast China — For almost 40 years, Qi Shucheng has been growing corn. Like most of his neighbors in a village outside Gongzhuling City, the 66-year-old farmer has always planted field corn, which is mainly used in animal feed and ethanol production. This spring, however, Qi decided to sow sweet corn on his land for the first time.
Qi hoped that the new ready-to-eat crop would help him and his wife weather the market as the price of field corn fluctuates. His problem is relatively recent: For decades, agriculture was carefully steered by the government, but as the sector transitions toward a market economy, farmers are now facing tough decisions.
From the 1950s to 1992, Chinese farmers sold grain to the government directly, and then consumers bought — or were rationed — grain from the state. Although a national market opened in 1992, the government continued to set the prices of wheat, rice, and corn. In 2004, the government abandoned the set-price model but continued to regulate the sector with minimum purchasing prices, temporary policies on government reserve purchasing, and agricultural subsidies. Together, these policies sheltered farmers from market forces, protected their income, and guaranteed food security in the world's most populous country, where the last great famine hit nearly 60 years ago.
But recently, government reserve purchasing resulted in a glut of field corn. Beginning in 2010, purchase prices for government reserves rose for four consecutive years, creating an oversupply that filled granaries across northeastern China. Meanwhile, the country was failing to meet demand for other produce.
In early 2016, China ended government reserve purchasing for field corn under "supply-side reform," an assortment of policies that aim to cut excess capacity in some industries while subsidizing and stimulating others. Though the reforms mainly target heavy industry — particularly steel and coal production — they also push the agricultural sector to become more responsive to demand. Left to the whims of the market, the price of field corn fell 40 percent from the previous year.
"At first, we were unhappy about the policy change," Qi said. "Then, we were angry about the fall in our income." Though Qi and his wife's 2016 winter harvest yielded more corn than in 2015, their annual income dropped by roughly 30,000 yuan ($4,400) to around 50,000 yuan.
Other farmers in Gongzhuling fared no better. When they realized that field corn would no longer offer a stable income, ready-to-eat corn emerged as the closest alternative. According to industry insiders, farmers planting sweet and waxy corn varieties could earn between 4,000 and 6,000 yuan more per hectare in 2016 than those planting field corn.
Gongzhuling is situated in the heartland of China's corn country, on the boundless black soil plains of the northeast. The rural population of Gongzhuling is close to 490,000, and 87 percent of farmland here is devoted to growing corn. In 2011, the city was named the "Hometown of Corn" by the grain industry's national association. Qi is one of several farmers in the area who have turned to planting ready-to-eat corn for human consumption, including both sweet and waxy varieties.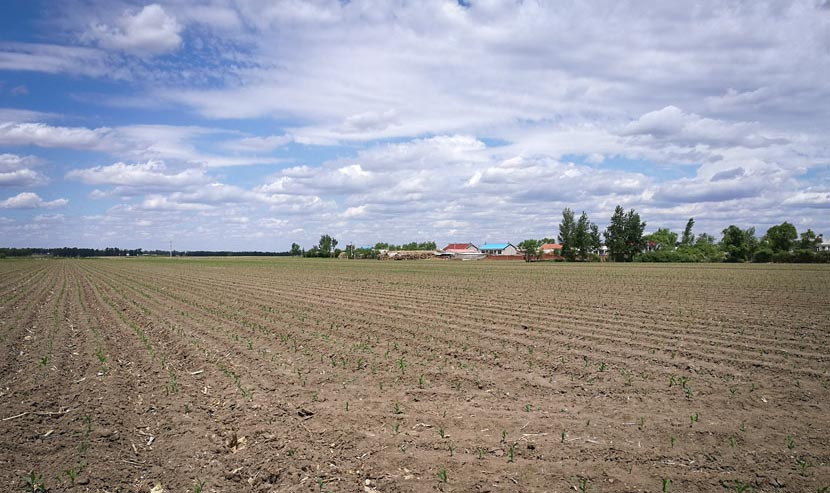 A view of sweet corn fields in Shaotiaopo Village, Gongzhuling, Jilin province, June 1, 2017. Yan Jie/Sixth Tone
The shift is a boon for Jilin Province Agricultural Sister-in-Law Food Co. Ltd., one of the largest manufacturers of ready-to-eat corn products in Gongzhuling. General manager Qi Xinjiang told Sixth Tone that farmers were previously reluctant to make the switch, but since the government launched its supply-side reform, interest has grown.
"Sweet corn seeds were sold out in the local seed market for this year's planting season," Qi Xinjiang said, adding that in the past, seed suppliers had surplus stock. He predicted that the increase in supply will allow his company's processing facilities to operate at near full capacity for the first time this year.
Qi Xinjiang is a native of Shaotiaopo, a village administered by the municipality of Gongzhuling. He started the ready-to-eat corn company with business partners in 2012, and they currently export half their stock overseas while also pushing to expand the domestic market.
Earlier this year, Qi Xinjiang received a request from Shaotiaopo's village chief and Party secretary, Qi Shuyan, saying some villagers wanted to become suppliers for his company.
Qi Shuyan, who often ventured out of the village to learn about the latest market trends, had tried planting sweet corn himself in 2016 to show villagers that the crop could be competitive. By early 2017, the company had successfully contracted 31 hectares of the village's 230 hectares of farmland to grow sweet corn.
But most farmers have remained cautious in the face of change. "Some villagers are still concerned about whether the shift to sweet corn would result in them losing money, even though they know the price of field corn is unlikely to recover," Qi Shuyan said. Others are unable to make the transition due to unsuitable terrain.
Although to the untrained eye, the corn fields look no different, sweet corn and field corn require distinct planting, processing, and selling methods. Sweet corn can only be planted on flat, continuous patches of land and must be picked within 90 days — while still immature — to be sold by the ear. The planting period for field corn, in contrast, is a month longer, and this type of corn is sold in dried kernels. Sweet corn's shorter time to market means that farmers can plant other crops in the offseason, but the differences between the varieties have made it difficult for farmers to calculate whether they would profit from the change.
Had field corn prices not plummeted, said village chief Qi, many farmers may have been too concerned about the risks to make the transition to sweet corn.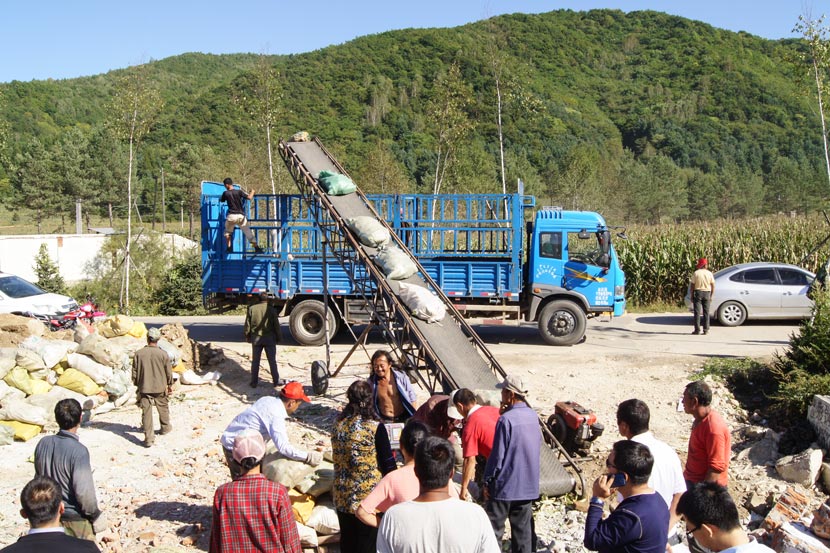 Bags of corn are loaded onto a truck during harvest time in Gongzhuling, Jilin province, Sept. 10, 2014. Courtesy of Jilin Province Agricultural Sister-in-Law Food Co. Ltd.
Now, ready-to-eat corn has become a favorite of the Gongzhuling municipal government, given that profits from field corn look likely to remain low. According to the city's agriculture bureau, the land allocated for ready-to-eat corn in Gongzhuling has grown from 120 hectares to 453 hectares since last year.
The city hopes that sweet corn will help pave the way for farmers' incomes to grow, and it plans to hold a forum in August to promote locally produced ready-to-eat corn. As raising local incomes is one of the municipal government's core objectives, much is riding on the crop's success.
Yet all those who have pinned their hopes on sweet corn will have to wait until fall to see what they reap. Farmer Qi Shucheng has hedged his bets, planting 1 hectare of sweet corn and 0.7 of a hectare of field corn, but he's open to going all in next year. "If the sweet corn proves more profitable, I'll plant it on all my land," he said.
Contributions: Qian Jinghua; editor: Qian Jinghua.
(Header image: A villager harvests corn in Shulan, Jilin province, Oct. 7, 2005. VCG)