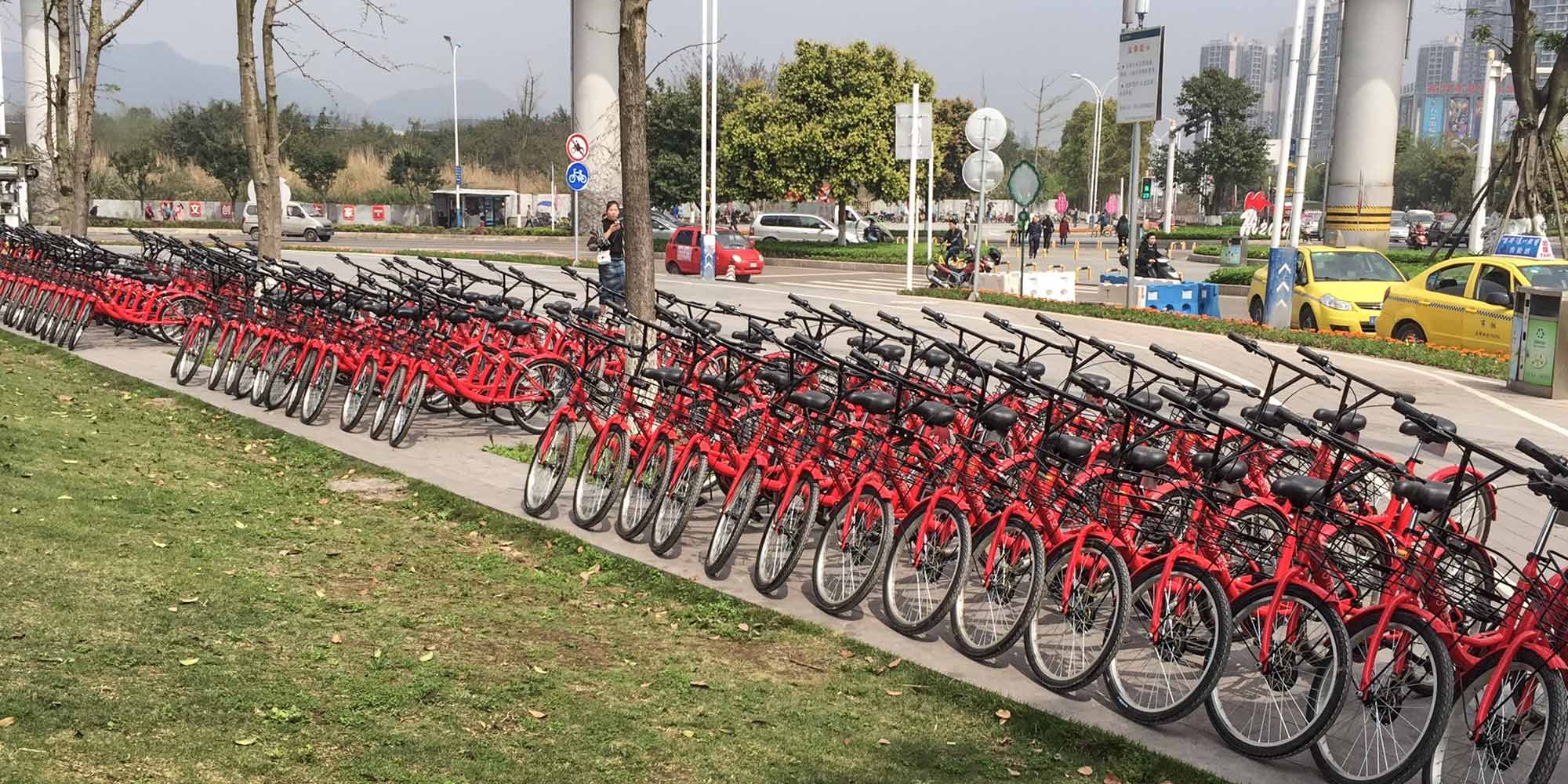 VOICES & OPINION
Are China's Bike-Sharing Companies About to Go Bust?
With market leaders Mobike and Ofo enjoying so many competitive advantages, smaller fish may soon follow Wukong to bankruptcy.
Over the past couple of years, the intense competition in China's emerging shared bike industry has left onlookers flabbergasted. Recently, news surfaced that one such company has gone under — the first case of a Chinese shared bike bankruptcy.
Despite formally opening for business a mere five months ago, Wukong, a shared bike operator based in the southwestern Chinese city of Chongqing, has now announced its withdrawal from the market. Meanwhile, Mobike announced that it had secured a new round of investment valued at $600 million, a record single sum for the shared bike industry.
Interestingly, at the same time that Wukong announced its bankruptcy, a new entrant into the market appeared: Qicai Bike, which has just completed a 10 million-yuan ($1.5 million) round of angel investment and is now in the process of obtaining 170 million yuan in A-round funding. But to be honest, apart from the rainbow-colored bike frames referenced in Qicai's public announcement, their product is hardly unique.
It comes as no surprise that Wukong is the first shared bike company to go bankrupt because its operational model is very different from those of its competitors. Instead of courting venture capitalists, the company relies on crowdfunding. This leads to problems on two fronts: First, venture capital investment is a faster, more mature model. Crowdfunding, however, requires a comparatively long and complicated fundraising process, making it easier to miss the window of opportunity.
Second, crowdfunded projects are usually backed by small- and mid-sized investors, most of which have less money to play with in the first place and naturally seek quick returns on their investments. Venture capital, however, can be burned through more easily, as most investors take a longer-term view on profit-making. In an industry like shared bikes, which from the outset has always had high barriers for entry, crowdfunding is therefore bound to be a short-lived model.
Of course, following Wukong's withdrawal from the market, public opinion will focus on whether this will lead to a reshuffle in the shared bike industry. Will we see a wave of bankruptcies emerge in Wukong's wake? At present, many newcomers to the industry feel that shared bikes are still in their infancy. Even though Mobike and Ofo are backed by huge levels of funding that sustain their market advantage, there is still room for development in vertical and segmented markets — by targeting a single city, for example, or by rolling out products in China's second- and third-tier cities.
But the shared bike industry is accelerating at an ever more rapid pace. First, Mobike and Ofo are wasting no time consolidating their positions as industry leaders. These two companies' operational models differed substantially in the past, with Mobike focusing on providing well-equipped smart products at high unit costs, and Ofo concentrating on slashing unit costs in order to broaden access to cheap bikes. Now, though, there is little separating how they run. Both sides are sinking resources into improving product function, safety, and scale, while also taking their business models out to smaller cities.
This also implies that, at present, shared bikes are entering a middle stage whereby newcomers are being squeezed out of the market almost immediately. The shared bike industry is, in essence, a process of homogeneous competition, as customers know that there are no significant technical differences between brands. For this reason, the real competition lies in how quickly you can get your products and operations onto the market, and the scale at which you can achieve these aims. This, in turn, has made shared bikes a funding-intensive industry that best serves the interests of Mobike, Ofo, and other big hitters.
The supply side of the shared bike industry has recently started to display signs of saturation. Bike production that frequently runs into the tens of millions allows industry leaders to greatly cut down their marginal costs. At the same time, Mobike and Ofo should learn from the likes of Alibaba and Tencent, two internet behemoths whose vast amounts of users and site traffic help them increase their value in a way that their competitors simply cannot match. In strengthening their market coverage by means of price wars, operations wars, or product wars, these two companies ensure that future competitors have only the slimmest chance of success.
All of these developments in conjunction mean that Wukong's bankruptcy may just be the start. Within a few months, those unable to rise to the top of the industry will surely be eliminated, and the all-encompassing oligopoly of the ride-hailing business will be witnessed once again.
Translator and editor: Matthew Walsh.
A Chinese version of this article first appeared on the website of Sixth Tone's sister publication, The Paper.
(Header image: Wukong shared bikes are displayed in Chongqing, March 31, 2017. From Wukong'sofficial Weibo account)