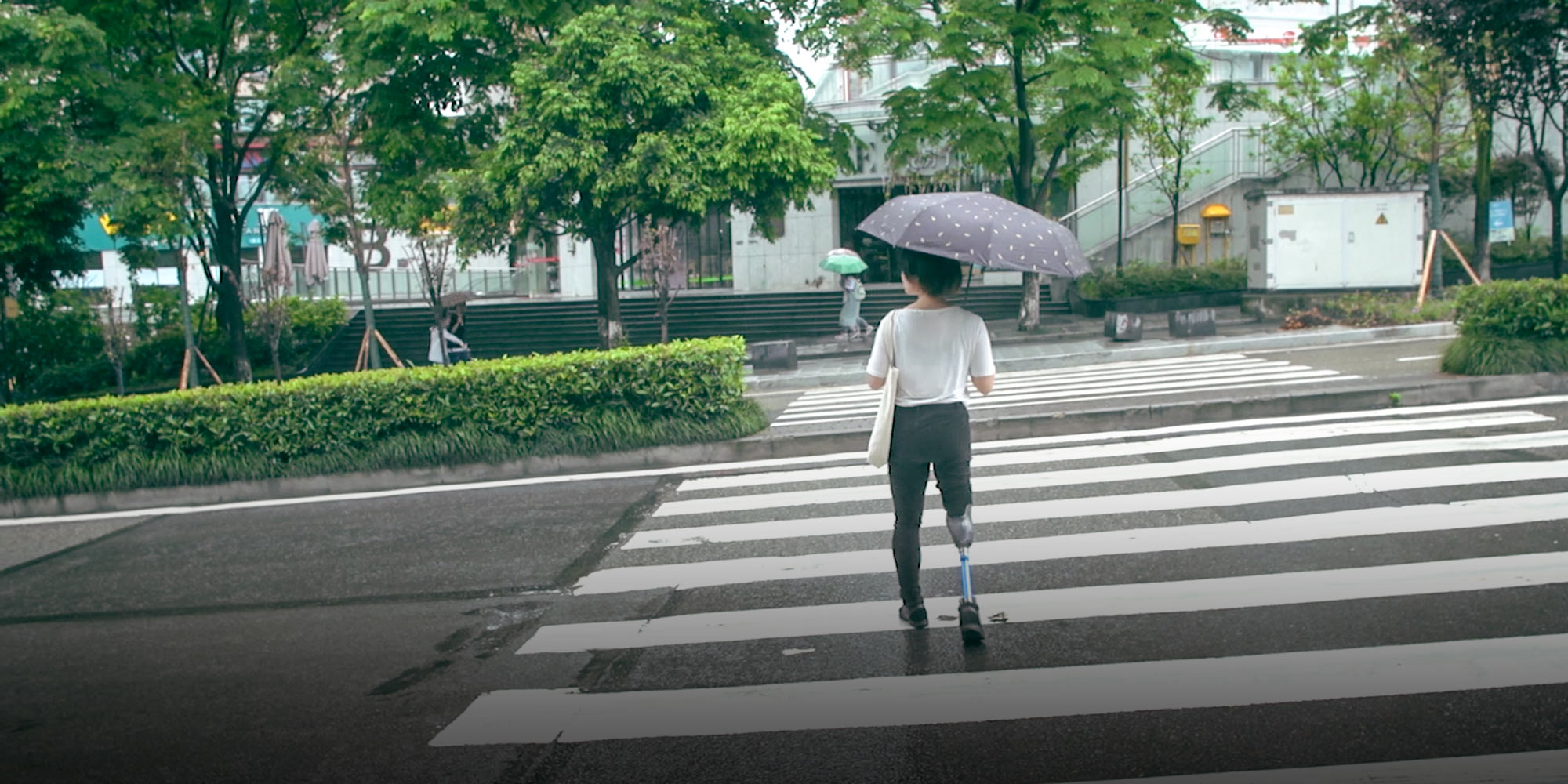 FEATURES
Prosthetic Aesthetic Makes a Splash on Chinese Internet
Law student and amputee Xie Renci shows netizens that disability is nothing to hide.
When Xie Renci was shopping for sunglasses with her boyfriend in Beijing, a shopkeeper volunteered his unsolicited advice. "You should hide your prosthesis. You're such a pretty girl, so you have to hide it," Xie remembers him telling her, even as he complimented her boyfriend, whose prosthetic hand was also visible.
Her boyfriend was incensed, but Xie says she has grown accustomed to such comments ever since she tore the "skin" off her prosthetic leg to expose its metal underpinnings. The 20-year-old college junior majoring in law challenges the widespread notion that disability or difference should be concealed — especially for women.
"It's not that I've broken free of my identity," Xie tells Sixth Tone. "I just accept the fragile and fragmentary self."
Xie lost her right leg below the knee in a traffic accident when she was 4 years old. In May, she found herself in the spotlight after answering the question "What would happen if you walked down the street in a short skirt, with your prosthesis showing?" on Zhihu, a Quora-like question-and-answer forum. Her answer, with plenty of photos of herself living life to the fullest, received more than 5,000 likes overnight and has now accumulated over 30,000 likes. Many netizens said they appreciated her positive outlook and felt encouraged to embrace their own physical differences or imperfections.
For Xie herself, the turning point came in September 2016. She remembers a shop assistant sneaking glances at her prosthetic leg, and she decided then that she would pull the covering off the limb. "I couldn't hide my desire to put on a skirt anymore," she remembers. Her friends were supportive and helped her decorate the steel prosthesis with colorful paint. Now, Xie wears dresses or skirts almost every day and accepts the stares of strangers, whether curious or contemptuous.
Though Xie is now thriving, it took her a while to get used to her prosthesis, which she first started to use regularly when she began studying at Southwest University of Political Science and Law in Chongqing, southwestern China. Known as "the city of mountains," the hilly landscape and lack of attention paid to accessibility were challenging. Xie remembers missing class one day because she was too exhausted to climb all the steps. She had to endure joint pain in her knee, uncomfortable friction between her flesh and the prosthesis, and the risk of slipping during Chongqing's torrential rains.
According to the last national census, there are more than 85 million people with physical, intellectual, or psychological disabilities in China. Xie feels her resilience is one of her greatest assets, and she hopes to raise awareness of the lives of people with disabilities through her posts on social media. She says she isn't trying to be a self-help guru, or to change anyone's worldview or values. "I just want to tell my story — that's enough," she says.
This is Xie's story, as told to Sixth Tone and edited for brevity and clarity.
I'm open-hearted. I love to be beautiful. I am full of curiosity and optimism. Life itself is cruel — I am not a flower being raised carefully in a greenhouse. I have suffered some unfairness, but I have a better understanding of the cruel side of life. I just want to live cheerfully.
When I posted my photos online, some people questioned me: "Why do you always try to prove something? Why can't you just have a steady, peaceful life?" I find that it is a paradox, because I can't prove that I have nothing to prove.
If we lived in a society full of inclusion, tolerance, and accessibility, people with disabilities would receive the support they need without having to speak out. But that's not the case now. So, we should stand up and say who we are and what we need. If we don't make ourselves heard, if we hide ourselves away, no one will offer us the option of a "steady, peaceful life" — for us, that's a luxury. It's typical for those with no idea about people with disabilities to speak carelessly, but I think it's the greatest evil.
I don't get angry about curiosity. Some little kids will stare and ask their mothers, "What happened to the auntie's leg?" I will tell the child that it is a prosthetic limb, and that they should be careful when crossing the road. Really, the only part that annoys me is when these kids call me "aunt" instead of "elder sister"!
I'm concerned about the education of students with disabilities. I used to be the chair of the student union at my [mainstream] high school, and I organized several volunteer activities. When we went to some of the special education schools, I found that students there had few choices for their futures. Students with visual impairments could only learn massage therapy or other specific skills. However, if they could take the college entrance exams, maybe they would be able to choose a major they liked.
The Regulation on Special Education for People with Disabilities just came into effect, and it mentions that "integrated education" should be promoted, which means more disabled students will be able to study at normal schools like I did, which will offer them more options.
Sixth Tone: Though China has several laws and policies supporting access to education and employment for people with disabilities, inequality and discrimination persist. Students with disabilities can be refused admittance to public schools and consigned to whichever private institutions their parents can find and afford. Though a braille version of the national college entrance exam was introduced in 2015, regulations stipulating that national exams should provide reasonable accommodation for people with disabilities have not been implemented across the board. Experts say anti-discrimination law needs to be strengthened.

After university, I would like to work at an NGO for the protection of the rights of people with disabilities. University is an ivory tower where my teachers and classmates all respect me and treat me as an equal because they're all in the field of law. But when I leave to look for work, I know I will meet frustration, discrimination, and other problems.
I am looking forward to working on the front line of disability rights protection. I don't want to work for an overseas NGO, though they are more influential. That doesn't seem meaningful to me. After all, I am Chinese, so I want to know what my compatriots and my community really encounter as people with disabilities. For example, in the U.S., integrated education has already been promoted through bills and litigation, but it's just starting out in China. Even if one day I go abroad to study or something, I first want to know what the situation really is here. Maybe it is cruel, but it is real.
Contributions: Yang Yi; editor: Qian Jinghua.
(Header image: Xie Renci crosses the street in Chongqing, May 21, 2017. Lü Xiao/Sixth Tone)