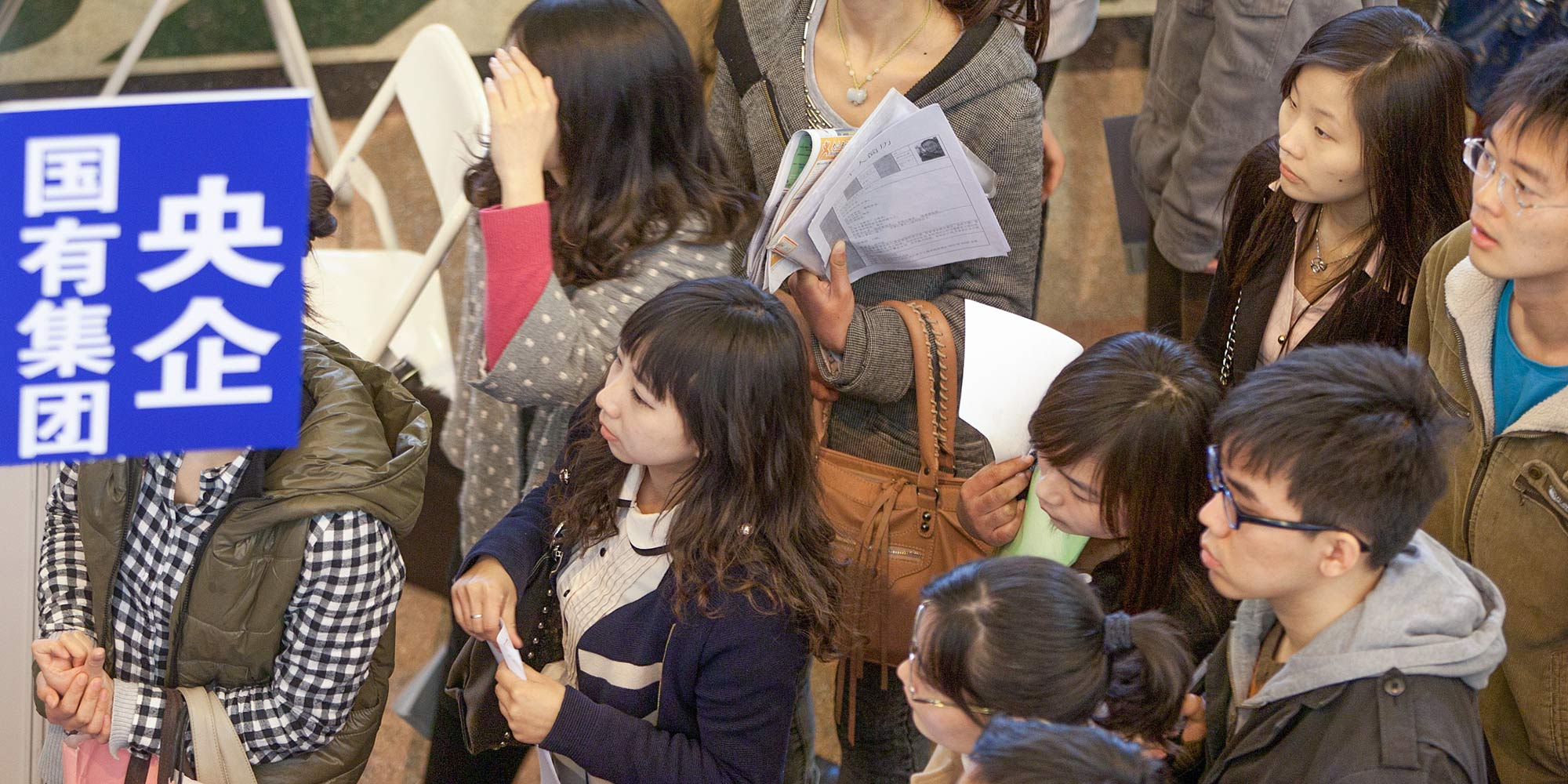 NEWS
Nouveau Riche: French Majors Among China's Top-Earning Graduates
Increased presence in Africa padding wallets of country's ambitious young Francophiles.
Chinese students who hope to make it big after college should consider studying French, a recent survey of university graduates has found.
The Chinese College Graduates' Employment Annual Report 2017, released Monday, placed French among more obvious top-earning majors, such as computer science, software engineering, and microelectronics. The report, issued by educational assessment firm MyCOS, is based on a survey of 290,000 graduates from all over China and gives an indication of what the nearly 8 million college students graduating this June can expect from their new careers.
According to the report, about 77.3 percent of last year's graduates secured full-time jobs at an average starting salary of 3,988 yuan ($590) a month. Those who studied French can expect to earn significantly more, however, at 5,426 yuan per month on average.
Hu Yuting, a French major who graduated from the University of International Business and Economics in Beijing, told Sixth Tone she found a marketing job that makes little use of her foreign language skills. "But most of my former classmates who [studied French and] have entered the workforce have been dispatched to African countries," Hu said.
"This higher average salary is more a result of the difference in currencies, as more Chinese companies are investing in Africa," Zhang Jingjing, who studied French at Anhui University in eastern China, told Sixth Tone, referring to the fact that Chinese working in Africa are often paid in U.S. dollars. "In China, there is a lot of pressure on French majors to find employment."
China has been ramping up its presence in Africa in recent years, with Chinese companies financing and building infrastructure projects across the continent. In 2014, for example, China signed a $12 billion contract to build a railway in Nigeria. According to the Chinese Ministry of Commerce, trade between China and Africa has increased by 16.8 percent year-on-year to $38.8 billion in the first quarter of 2017, and nonfinancial outbound direct investment from China to Africa has increased by 64 percent. However, this growing engagement can sometimes lead to cross-cultural conflicts.
The report said that nursing, another high-earning major, can credit its profitability to a growing demand for health care services. Meanwhile, graduates who studied arts, music, and history have among the lowest starting salaries and employment rates.
Of China's recent college graduates who have found jobs, around 60 percent work at private enterprises. Decades ago, securing a post at a state-owned enterprise was regarded as the pinnacle of success and was often referred to as an "iron rice bowl" due to job security, a steady salary, and wide range of benefits. Today, however, state enterprises employ just 19 percent of college graduates — far lower than in decades past, when private enterprises were an exclusively foreign concept.
Gao Yefei, a 2017 graduate of Zhejiang University in eastern China who majored in mechanics and electronic engineering, chose to work at a private enterprise because of the greater transparency and room for growth there. "I have the impression that private companies are fairer and have a higher ceiling compared to state-owned companies," Gao said.
However, Liu Lei, a 2016 graduate of Sichuan University in southwestern China who majored in water supply and wastewater engineering and now works at the China State Construction Engineering Corporation, expressed a different view.
"Most of my classmates ended up at private enterprises because of better salary packages, but when it comes to big infrastructure and other construction projects, state-owned companies generally do better," Liu told Sixth Tone. "After accumulating a few years of experience, who knows? Maybe they'll consider switching."
Editor: Kevin Schoenmakers.
(Header image: Recent university graduates attend a job fair in Shanghai, March 31, 2012. Xu Xiaolin/Sixth Tone)