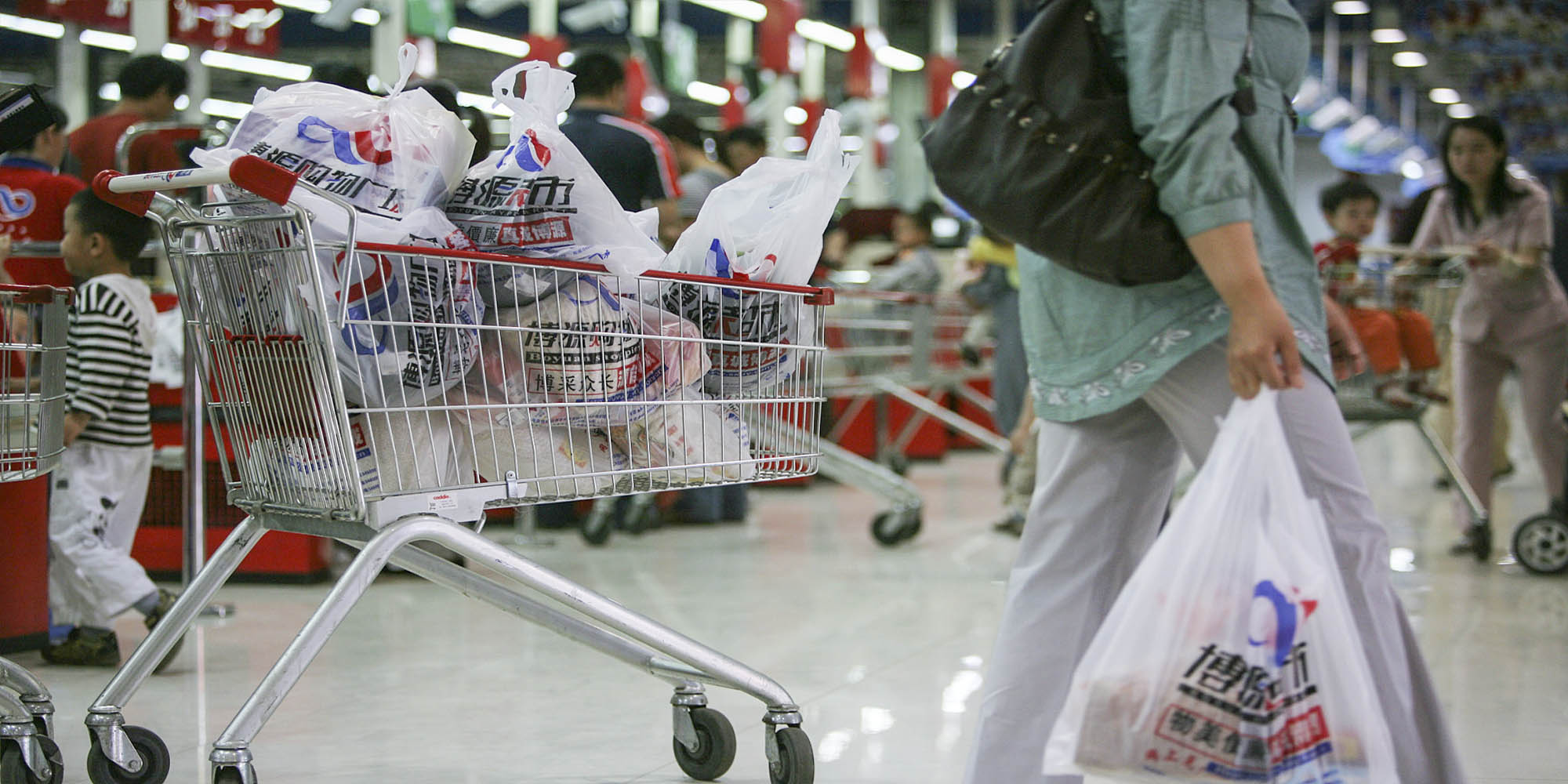 NEWS
Experts Question China's Ban on 'Free' Plastic Bags
With large stores still offering disposable bags for a fee and small shops skirting the ban altogether, many would prefer an outright prohibition.
As China's ban on free plastic bags enters its ninth year, environmentalists, congressional delegates, and even state media are calling its effectiveness and continued relevance into question.
In a bid to limit the impact of nonrecyclable plastic bags on the environment, China in June 2008 implemented a nationwide ban on retailers distributing bags free of charge. Moreover, China declared it would no longer produce, sell, or use nonbiodegradable bags thinner than 0.025 millimeters. At the time, these measures were considered a major environmental breakthrough for a country that generates 1.6 million tons of plastic bags for commercial use every year.
Seven years later, the volume of plastic bags used by supermarkets and shopping malls had decreased by two-thirds, according to data released in 2016 by the Department of Resource Conservation and Environmental Protection — a division of the National Development and Reform Commission, China's economic planning agency. The same data show that 1.4 million tons of plastic bags were saved over this period — the equivalent of 8.4 million tons of oil, 12 million tons of standard coal, and 30 million tons of carbon dioxide.
Today, however, some experts express concerns that the ban on free bags has turned into a business with little interest in curbing consumers' wasteful habits. Rather than motivating consumers to bring their own reusable bags when they go shopping, critics argue that the ban instead means most just pay a small fee for plastic bags, usually around 0.3 yuan (4 cents) each, depending on size.
"In some areas, the 'free bag ban' exists in name only and has effectively become a 'free bag sale,'" media commentator Wang Shichuan wrote Monday in Party publication People's Daily. Wang argued that a policy aiming to reduce the public use of a product by raising its cost fails to achieve its original purpose, as large chains selling bags to customers has become common practice, as has small shops flouting the ban by providing bags for free.
Wang called for stricter supervision of the production, sale, and use of plastic bags, and he's not alone. "Plastic is the main cause of pollution in the world," Mao Da, founder of Zero Waste Beijing, a nonprofit group devoted to reuse and recycling, told Sixth Tone.
While Mao believes making people pay for bags does help reduce waste, he acknowledged that the national policy "needs adjustment after so many years, as the public may have become desensitized to it." Part of Mao's work as an environmentalist involves serving as an advisor to Break Free From Plastic, a project that monitors implementation of the free plastic bag ban. To mitigate environmental impact, Mao suggests banning disposable bags altogether or raising their price — or the tax on them — as an added deterrent.
In January of this year, Li Xiaoling, a kindergarten head and delegate of the Zhejiang Provincial People's Congress in eastern China, also called for an all-out ban, arguing that the current cost of plastic bags is too low to effectively dissuade consumers.
While a nationwide ban on disposable plastic bags may not yet be in the cards, Jilin province in northeastern China has had its own ban — on both bags and eating utensils made of nonbiodegradable plastic — in force since January 2015. The year the ban came into effect, 484 merchants were punished in a crackdown.
However, the Jilin campaign has encountered its share of obstacles. Nonbiodegradable plastic products are still being imported from other regions, and bags falsely claiming to be environmentally friendly have found their way to the marketplace, suggesting that lapses in oversight remain.
Even with mounting interest in banning bags in stores, China's booming delivery industry presents potentially greater cause for concern. According to state media outlet Economic Daily, in 2016, this industry used 12 billion plastic bags, 14.4 billion packing boxes, and 24.7 billion meters of adhesive tape.
Editor: David Paulk.
(Header image: Groceries in plastic bags sit in a shopping cart before the countrywide ban on free disposable bags went into effect, Changzhi, Shanxi province, May 31, 2008. Yan Fei/VCG)