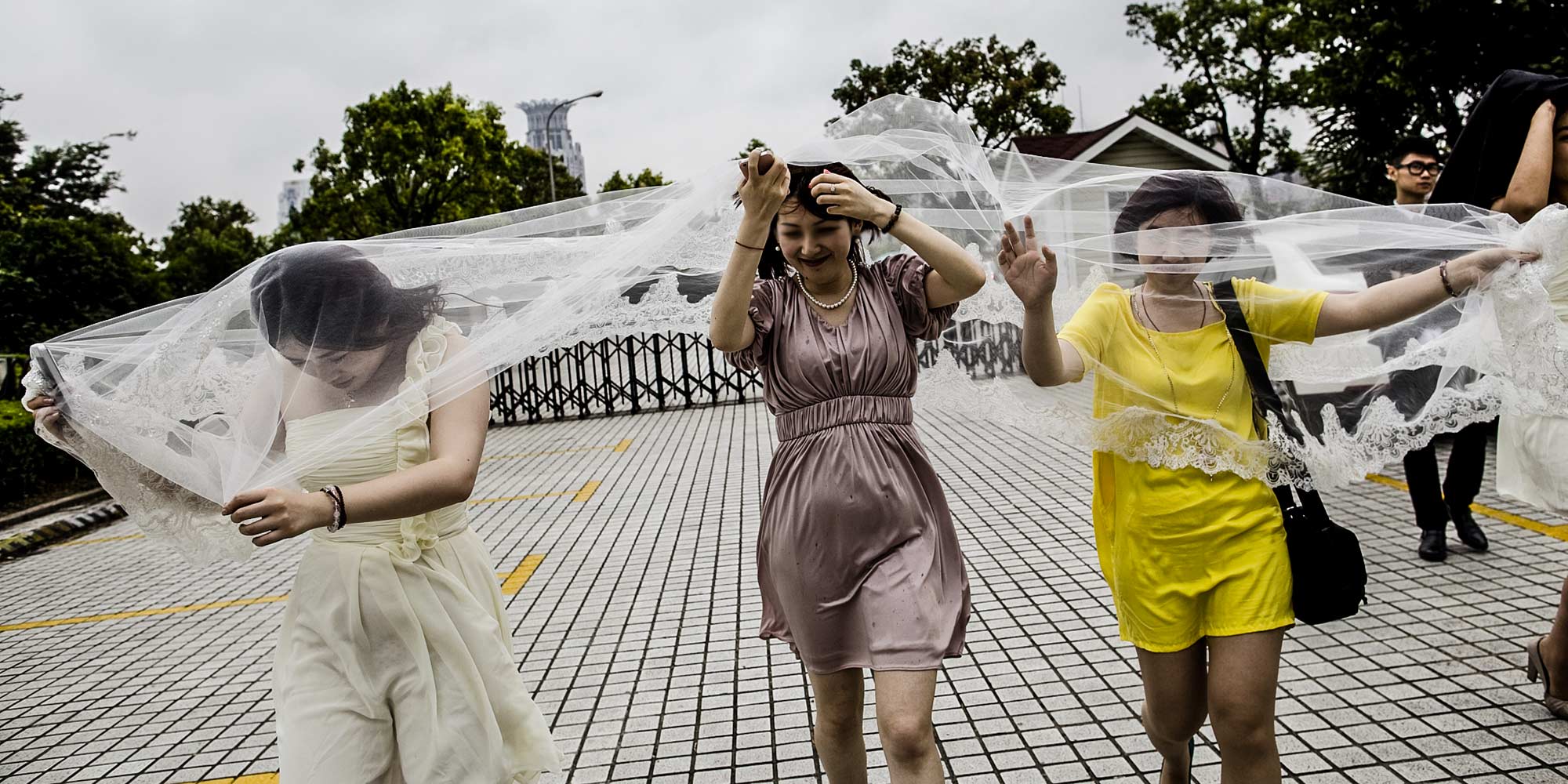 NEWS
Bridal Hazing Spotlights Wedding Harassment, Again
Video of groomsmen groping a bridesmaid has led to renewed scrutiny of China's nuptial traditions.
Traditional Chinese weddings have long been associated with ceremonial vows and opulent receptions, but more recently they have also come to be linked to alcohol-fueled hazing incidents involving unsolicited sexual contact.
A video of a visibly uncomfortable bridesmaid being groped by groomsmen in a vehicle in northwestern China's Shaanxi province has prompted questions about the pre-wedding activities — often lighthearted and playful in appearance — that can lead to physical and sexual abuse.
In a nearly one-minute video that surfaced on China's Twitter-like Weibo microblog platform last week, the two men are seen laughing and pawing at the woman's breasts as she implores them to stop. The men were arrested Saturday, but the victim has declined to press charges, baffling many following the story. The reason, according to the woman: The two men are her friends.
However, police in Xi'an, the provincial capital, have said they will handle the case according to the law, local media reported Sunday. Chinese law prohibits sexual harassment of women, and offenders can face up to five years in prison.
Lai Weinan, a criminal lawyer from Guangdong Haihan Law Firm in southern China, told Sixth Tone that even if the victim does not press charges, police can use the unedited footage as evidence in prosecuting the offenders. "However, considering there is not adequate evidence at hand, police may not be able to make them stand trial," he added.
It is unclear who posted the video of the June 3 incident, but it has been viewed thousands of times since Thursday and sparked conversations about certain nuptial rituals and moral issues that are often ignored, putting women at risk of being exploited.
While some have defended the bridesmaid on Weibo, saying traditions shouldn't be a pretext for abuse of any kind, others were quick to blame her for not doing enough to protect herself, and — to a greater extent — for forgiving her friends for their boorish behavior.
The Shaanxi hazing incident is the latest in series of events underscoring the conversation around what constitutes sexual harassment and abuse. It's also a reminder of how women are relegated to objects of sexual desire, said Yi Heng, a prominent blogger on women's issues.
"The whole concept of bridesmaids was appropriated from Western-style weddings, but it's difficult to define who Chinese bridesmaids are — they're not treated in the same way that they see themselves," Yi told Sixth Tone. "China's gender inequality can be seen from many aspects, of course — and this is certainly one of them."
Last year, a celebrity wedding triggered a discussion on the frivolity of using hazing rituals to inject a tone of revelry into the festivities. Other celebrities and net users slammed the groom and groomsmen for threatening to throw a fully dressed bridesmaid — the famous actress Liu Yan — into a pool against her will.
Hazing rituals also came under attack after a 28-year-old bridesmaid in southern China's Hainan province died after being forced to consume so much alcohol that she choked on her vomit. In some places, Chinese weddings have such notoriety that people are now hiring stand-in bridesmaids — though this of course does not rule out the possibility of them, too, becoming victims of harassment.
Sexual harassment is a prickly issue in China, where many victims shy away from confronting their tormentors or otherwise holding them accountable. Yet activists are using creative platforms to raise awareness even in the face of bureaucratic obstructions, and some victims are taking to social media to expose the culprits, prompting netizens to come together to demand justice. However, while every exposé tends to spark heated discussions online, these are often short-lived and quickly fade from memory until a similar, future incident brings the topic to the public consciousness again.
This ephemeral quality, said Yi, reflects the fact that there is little understanding among the Chinese public, who so often appear to be indifferent toward social issues. In many cases, she explained, they believe their individual contributions toward a cause would not necessarily translate into any visible change.
"Most people have very limited understanding of sexual harassment," Yi said. "They especially cannot put themselves in a woman's position to understand what it is like to be physically violated. [If we don't act], we will pay a higher price for stepping backward as a society, and this day may not be far away."
Additional reporting: Qian Zhecheng; contributions: Liu Jingwen; editor: David Paulk.
(Header image: Wedding guests hold the bride's veil over their heads in Shanghai, May 26, 2013. Sun Zhan/Sixth Tone)