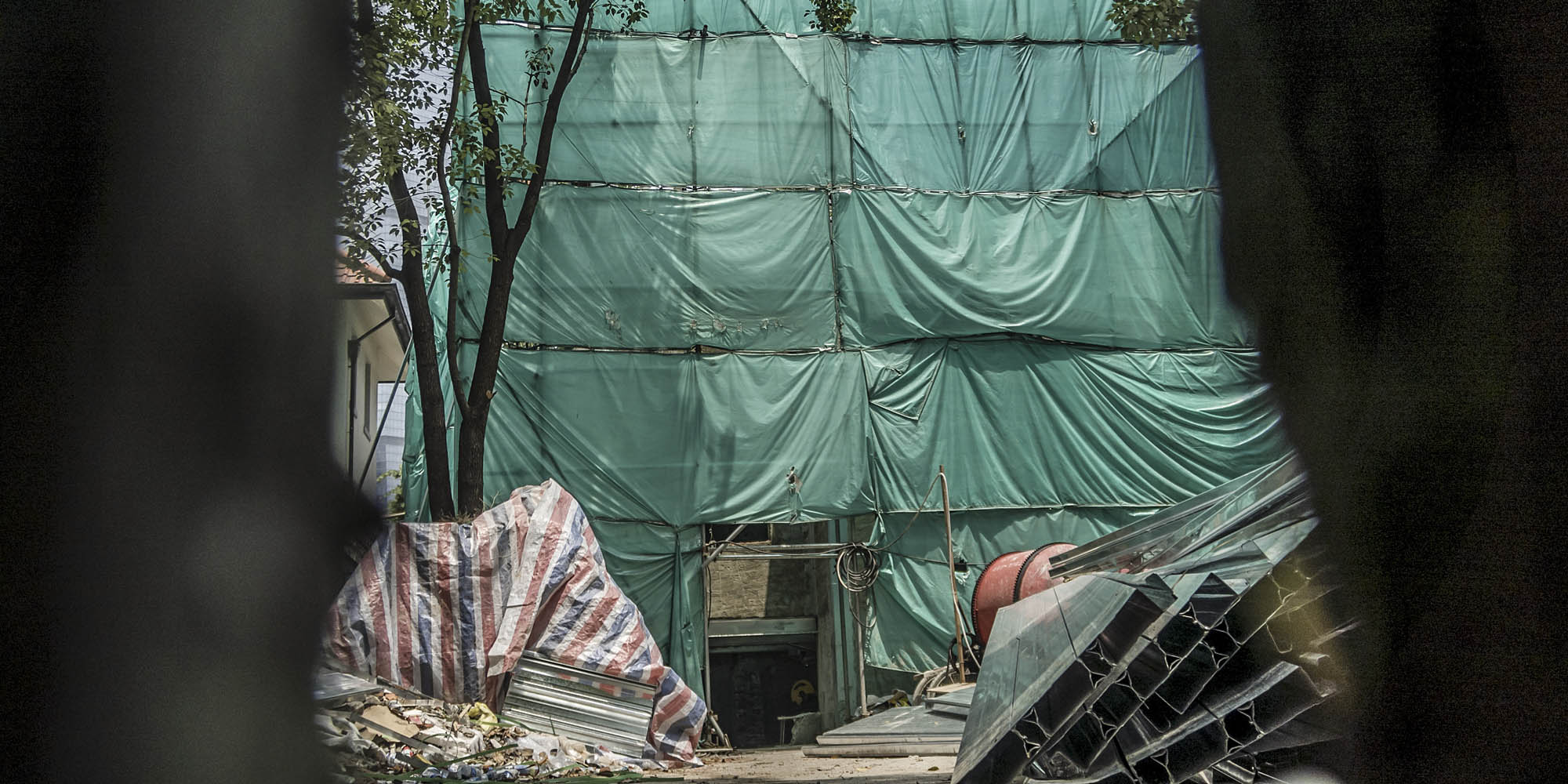 NEWS
Shanghai Investigates Historical Villa's Demolition
Party secretary says government will not tolerate destruction of historical buildings.
Construction work on a villa in Shanghai's iconic French Concession has been halted after it was discovered that an 87-year-old historical building was demolished to make way for the project.
A steel frame covered by green construction netting now stands where there was once a three-story wooden villa, part of a complex of a dozen houses designed and built between 1918 and 1947. The residences were designated "heritage architecture" by the Shanghai government in 1999.
According to a Wednesday report by the Paper, Sixth Tone's sister publication, the owner of the building is a woman in her 20s who returned from her studies overseas and in 2015 bought the house for 80 million yuan ($11.8 million).
On Thursday night, the government of Jing'an District, where the house is located, announced on its Weibo microblog that an investigating was ongoing and that the it had ordered the owner to suspend construction. On the same day, Shanghai Party secretary Han Zheng said the government would "never tolerate" the destruction of historical buildings and will "investigate thoroughly."
A preliminary inspection by the government found that when the villa's owner bought the house, she signed a "commitment letter" with the district government requiring her to preserve the building and prohibiting her from carrying out any interior or exterior renovation.
But in late March, the district started to receive complaints from local residents that illegal construction was taking place. The city's housing bureau on June 6 issued a notice to the owner's representative — whom reports identify as the owner's mother — to stop the construction.
A statement from the district government said that the owner admitted the violation of rules and was willing to cooperate with authorities to restore the building's original appearance. It also said that the government will organize experts to determine the feasibility of rebuilding the structure.
On Friday afternoon, the owner's mother, surnamed Wang, told the Paper that she had intended to redo the interior of the house, only to find that the underlying wooden structure had been "seriously damaged," and that the wall was sloped. She added she was not aware that government permission was required for any renovations.
Many old buildings in Shanghai were illegally renovated or destroyed during the city's rapid development in recent decades. Since 2002, the municipal government has started categorizing historical sites as "heritage architecture." Any violators who physically alter these buildings can be fined up to 20 percent of the value of the building, while those who demolish protected buildings can be fined for three to five times its value. In 2003, for example, a real estate company was fined 2.1 million yuan and ordered to restore a historical building it had destroyed in Shanghai's Xuhui District.
Preserving historical architecture is a problem in many Chinese cities. Last September, a nongovernmental organization filed a lawsuit against the government of Dalian, in northeast China's Liaoning province, to save an old street that had been earmarked for commercial redevelopment. In the same month, 11 officials from Harbin, capital of northeastern China's Heilongjiang province, were punished after seven historical military buildings were destroyed to make way for a residential project.
Liu Gang, a professor of architecture and urban planning at Tongji University in Shanghai, told Sixth Tone that the responsibility for preserving historical buildings is spread out over several government departments, which means it's sometimes unclear who should take charge.
"Since this is a common phenomenon and not just a single case," Lui said, "the government should not only strengthen the supervision of historical sites, but also provide better services and consultation to owners about how to protect these buildings."
Editor: Kevin Schoenmakers.
(Header image: An ongoing renovation project at No. 888 Julu Road is seen through a barrier, Shanghai, June 8, 2017. Wang Gang/VCG)