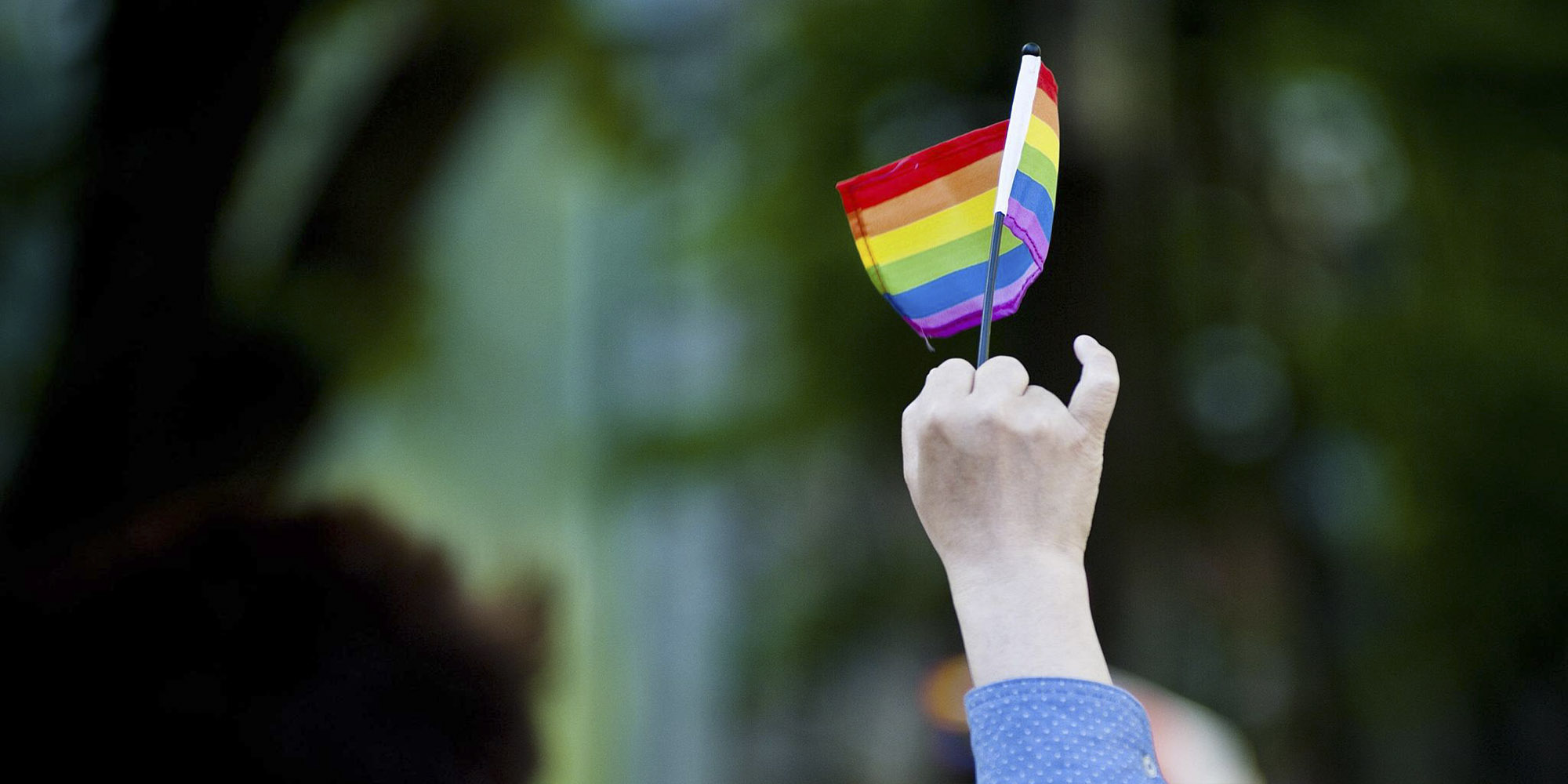 VOICES & OPINION
Why Young Activists Were Key to Taiwan's Marriage Equality Ruling
Civic forces, particularly students, are playing critical roles in advocating for same-sex unions.
On May 24, Taiwan's Supreme Court ruled that the Civil Code's definition of marriage was unconstitutional. The court stipulated that the "Legislative Yuan", the island's lawmaking body, must amend laws to accommodate same-sex marriage within two years. The decision was the first of its kind in Asia, and the island has been widely applauded for its progressive move toward greater protection of LGBT rights.
This result did not come as a surprise to many people. With a strong reputation for its generally LGBT-friendly environment, Taiwan hosts a vibrant queer scene, from its inclusive nightlife to its annual gay pride parade, from queer grassroots groups to supportive civic organizations.
As they have become more publicly visible, LGBT people in Taiwan have fought to advance legal marriage rights beginning as early as 2003. Several legislators from the Democratic Progressive Party, the island's ruling party, attempted again in 2013 to push for same-sex marriage. The campaign stalled, however, when legislators failed to reach the required consensus to move the bill forward.
While media attention has largely focused on the legalization of same-sex marriage, marriage equality is as much a civic battle. During last October's LGBT Pride parade, several legislators announced marriage equality bill proposals. This renewed effort set off a great deal of social action, with both proponents and opponents organizing mass rallies.
Attendance at the anti-marriage equality rally, spearheaded by a conservative religious group called the Coalition for the Happiness of Our Next Generation, reached 80,000 at its peak on Dec. 3 last year. With an estimated turnout of 250,000 one week later, however, the proponents' rally was much bigger, echoing the prevailing public approval of same-sex marriage previously demonstrated in a 2015 poll sponsored by Taiwan's Ministry of Justice.
Among the civic pushes for same-sex marriage, grassroots groups stand out as important agents. Marriage Equality Little Bees, for example, is a self-organized group of young professionals and university students working to educate the public about different versions of the various same-sex marriage bills. Created shortly after October's parade, the group has grown quickly and become a significant force in the movement.
"Volunteers don't need to wait for anyone to call for collective action," said Lan, one of the co-founders of Little Bees. "Whenever they are free, they can go out to the streets and talk to interested passersby [about the bills]. Even if they are shy, they can still distribute fliers." The flexibility of Little Bees' organizational structure allows for participation on a massive scale. The majority of its activists are young adults of university age.
Young people have indeed risen to the forefront of the marriage equality movement. In Taiwan's universities, students have been galvanizing momentum to support the legislation. After same-sex marriage bills were submitted to the "Legislative Yuan" in November, the Taiwan Student Marriage Equality Association — a network of more than 70 student associations — was founded to call for the passage of the legislation. Within three weeks, the network collected more than 45,000 signatures in an effort to pressure legislators.
Speaking about the motivations for creating the network, Watermelon — the nickname of one of the association's co-founding student activists who currently studies at Chinese Culture University in Taipei — commented: "For a long time, only a handful of civic organizations were behind pro-gay marriage actions, and students seldom raised their own voices. The Family Protection Alliance [a conservative group opposed to gay marriage] kept saying that they wanted to protect the next generation. But we are the next generation, and we support marriage equality."
Taiwanese students' rising political participation in the fight for marriage equality was preceded by the Sunflower Movement. From March to April 2014, a group of university students blockaded the "Legislative Yuan" for 23 days to protest the then-incumbent Kuomintang's Cross-Strait Service Trade Agreement with the Chinese mainland. The occupation mobilized many young people across the island into politics.
Taiwan's robust legal framework also provides a fertile ground for university students to rally around LGBT issues. In 2004, the "Legislative Yuan" passed the Gender Equity Education Act, which stipulates that educational institutions must establish reform committees to create "gender-friendly campuses." These committees are also held accountable for dealing with sexual harassment and assault cases on campus.
The act was passed following a tragic incident in 2000, when 15-year-old student Yeh Yung-chih, long bullied for his perceived effeminate behavior, was found dead in his school's bathroom. Created to protect sexual and gender minorities in schools, the Gender Equity Education Act has served as the legal cornerstone for students to bargain for institutional support of LGBT-related programs.
With such legal backing, it is unsurprising that LGBT student associations began mushrooming in Taiwan's universities. In the 1990s, only a handful of such groups existed, and many of them operated under the pretense of being academic or feminist societies. Since the act took effect, new groups have emerged, engaging more directly with LGBT-related advocacy work. Many have also become increasingly politicized since the Sunflower Movement, building coalitions with autonomous student unions and dissenting underground groups to challenge school policy and rally around larger social issues such as same-sex marriage.
The increasing vibrancy of student involvement in LGBT activism signals a tectonic shift not only in Taiwan's public opinion toward homosexuality, but also in the island's political landscape. Taiwan's move to become the first place in Asia to legalize same-sex marriage is imminent, but the question of whether to amend the existing Civil Code or to enact separate laws remains contentious. The latter approach, some argue, is separatist and thus inherently discriminatory. Civic activists, and university students in particular, are likely to continue playing instrumental roles in this prolonged debate as they become more and more politically engaged.
Editor: Matthew Walsh.
(Header image: Keith Tsuji/Getty Images/VCG)