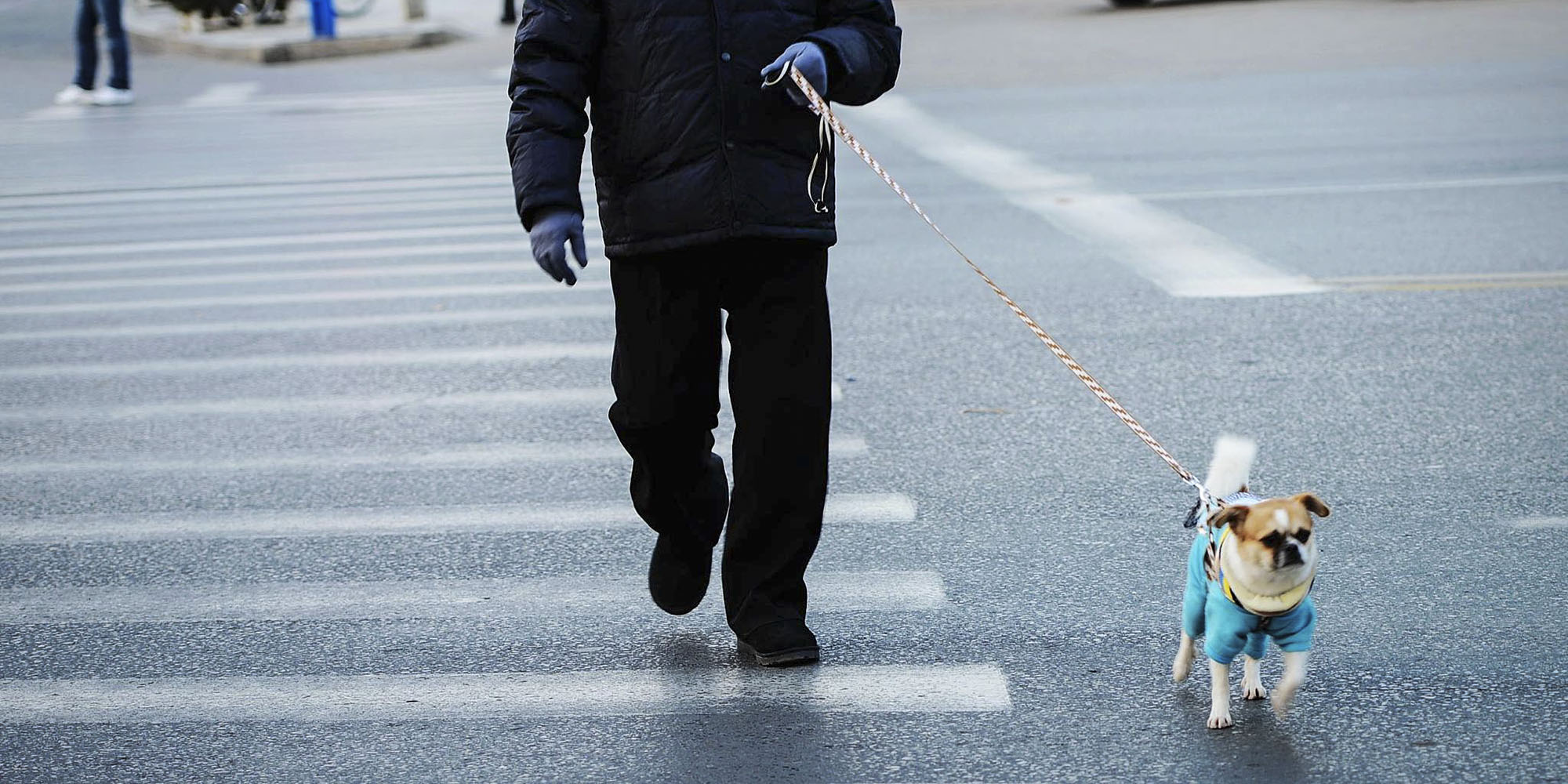 NEWS
Qingdao Introduces One-Dog Policy
Some breeds will be banned outright in several of the city's districts.
Dog owners in the eastern Chinese city of Qingdao, in Shandong province, will face new regulations beginning June 8 that restrict households to just one dog and ban all dogs of certain breeds, The Beijing News reported Wednesday.
An official at the police department told the newspaper that an increasing number of people in the city are owning dogs, which has led to incidences of the pets "disturbing and even injuring people." The city's management of dogs was "not comprehensive enough," a situation the new regulations seek to rectify, the official said.
In four districts of the city, households will be limited to just one dog each. People who already own more animals than allowed will be in the clear as long as they can provide evidence that their dogs were previously registered with the city and have been immunized.
For "extra" dogs that don't have vaccination records, the official suggested dog owners bring them to the city's pet adoption centers orrehome them with people who live in districts where the restrictions don't apply.
Estimates say there were about 100 million registered pets in China in 2015, with dogs accounting for 62 percent. Qingdao is not the first city in China to promote a one-dog policy. The official told The Beijing News that they decided on the "one dog, one household" rule after learning that it had already been implemented other cities.
In 2009, Chengdu, capital of southwestern China's Sichuan province, instituted a one-dog policy in the downtown area and environs. Moreover, the city banned residents from keeping certain "ferocious" dogs and large breeds.
Fang Xiaolin, who owns two dogs in Chengdu, told Sixth Tone on Wednesday that the city's one-dog policy was so strict that she had to ask a friend to register one of her dogs for her. "It's kind of like the one-child policy that everyone had to follow," she said, adding that later, the government appeared to gradually turn a blind eye. "They don't have the energy to manage the dogs on a daily basis unless incidents have happened," Fang said.
Like Chengdu, Qingdao has also included in its new regulations a list of 40 "ferocious" dog breeds — such as pit bulls, Doberman pinschers, and Tibetan mastiffs — that may no longer be kept as pets in the designated districts.
The new regulations also say that dog owners must register their pets with the authorities and pay a 400 yuan ($60) one-time management fee. Furthermore, dogs should be kept on a leash at all times, as well as muzzled or kept in a bag in crowded places such as elevators, and owners should immediately clean up any feces.
The regulations also ban the abandonment, mistreatment, and slaughter of dogs, and stipulate that those who don't obey the rules can be fined up to 2,000 yuan, while repeat offenders are at risk of having their dogs confiscated.
Similar attempts to regulate dog ownership have met with opposition in recent years. In 2011, the southern city of Jiangmen, in Guangdong province, banned residents in its downtown areas from keeping dogs altogether, and even went a step further by announcing that any dogs found in the restricted area would be captured and killed. The regulation sparked heated debate, to the extent that the local government "accepted public opinion" and canceled the ban nine days later.
And in 2015, two months after a one-dog policy was issued in Changzhou, in eastern Jiangsu province, the local government changed its restriction into a recommendation after citizens voiced their objections.
Qingdao's one-dog policy has only reignited the discussion, as many on social media question whether the restrictive measures are necessary. "Does this mean spouses will need to get a fake divorce in order to have two dogs in the family?" asked one Weibo user.
Chengdu dog owner Fang doesn't believe one-dog policies should be forced on pet owners capable of training their animals. "If the owner doesn't know how to raise a pet, then even one dog can be annoying," she said.
Editor: Kevin Schoenmakers.
(Header image: A man walks his dog in Qingdao, Shandong province, Dec. 4, 2012. Yu Fangping/VCG)