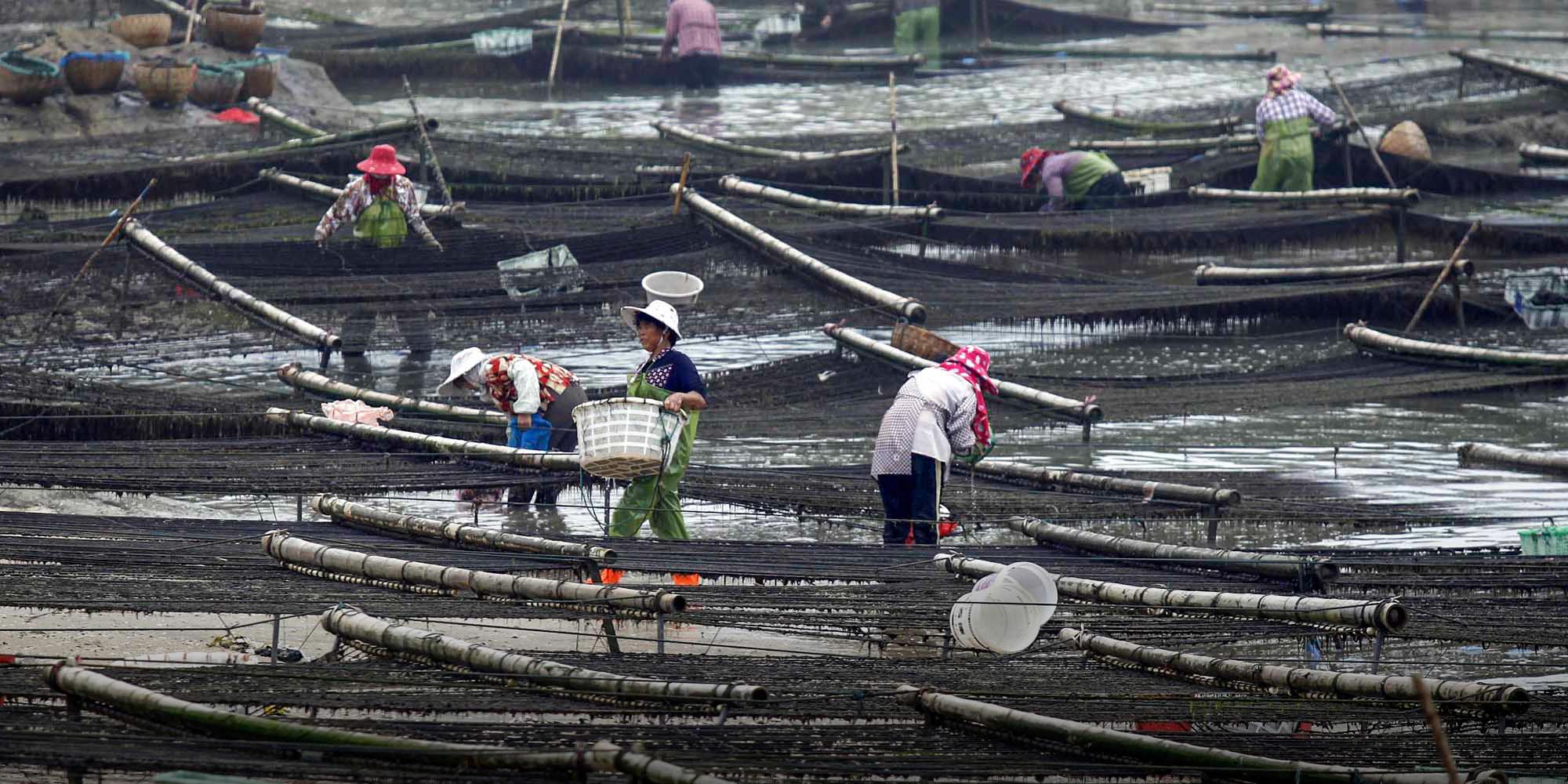 NEWS
Plastic Seaweed Rumors Lead to 18 Arrests
Viral videos about common soup ingredient ended up costing producers $14.7 million.
Eighteen people have been detained under suspicion of slandering or extorting companies whose edible seaweed products, they claimed, contained plastic, Sixth Tone's sister publication The Paper reported Tuesday.
The rumor, spread through online videos, went viral in February and reportedly caused nearly 100 million yuan ($14.7 million) in losses to seaweed producers in eastern China's Fujian province.
"It's rare for rumormongers to be arrested in the end," Xu Lai, editor-in-chief of Guokr.com, a leading Chinese science and technology website, told Sixth Tone. For seven years, the website has run an influential column, "The Rumor Shredder," dedicated to dispelling popular rumors.
"However, this case is obvious, and it is easy to track down the live-streaming and video websites where the clips first appeared," Xu said. "Besides, the seaweed industry association may have been behind it as well."
Many of the videos showed people trying to tear or stretch pieces of thick, green seaweed commonly used in soups. When the algae don't rip, this is presented as proof that they are in fact made of plastic. Some viewers carried out their own experiments on different brands of seaweed, often with the same results. One company later said in a statement that the people who were unable to tear their seaweed may not have first soaked it in water that was sufficiently hot.
In February, after the rumor had already been widely shared, the local government of Jinjiang — the coastal city in Fujian province that produces 70 percent of China's edible seaweed — said that it had sampled seaweed from 55 companies and found no plastic.
The Paper interviewed some of the arrested people at a detention center in Jinjiang. One suspect, a 42-year-old woman from southern China surnamed Zeng, decided to conduct the experiment together with her son out of curiosity after watching other "plastic seaweed" videos. The video she made ended up costing the seaweed company 4.68 million yuan in orders, they claimed.
Zeng used a clip to hold one end of a piece seaweed and stretched it with her hand. "It's made of plastic," she said to the camera. "These ruthless businesses, this is going to kill people when they eat it." Zeng sent the video to a group of people on WeChat, China's most popular messaging app. "I didn't think about whether it was true or not," she told The Paper. "There's too much fake stuff nowadays — I don't feel safe."
Another detained videographer tried to extort a seaweed producer from whom he had bought products he claimed were plastic. The 32-year-old man from eastern China, surnamed Wang, threatened to continue spreading the video unless the company paid him more than 100,000 yuan. "All I have now is regret," said Wang, who said he owns five hairdressing salons and has a happy family.
"This case is an example of how to intimidate would-be rumormongers," Xu said. "All the influential rumors must have been pushed intentionally, either by individuals trying to gain followers, or by organizations aiming to discredit their competitors."
China has a history of actual food safety concerns, such as the contaminated milk powder scandal that killed four children in 2008, and also plenty of food safety hoaxes, such as seedless grapes made from contraceptives or steamed buns made from toilet paper.
Xu said that social media platforms have taken action to curb rumors. Microblog platform Weibo, for example, flags posts that have been proven to be untrue. WeChat, meanwhile, deletes posts containing rumors once they have been reported and confirmed false by partner organizations such as Guokr.
But the internet still swarms with rumors, especially about food safety. Figures show that 45 percent of online rumors center around foodstuffs, Party newspaper People's Daily reported.
"Many of the current rumors are old and have already been dispelled," Xu said. "The plastic seaweed rumor may sound ridiculous now, but it may come back again five years later. It shows that we're insecure."
Editor: Kevin Schoenmakers.
(Header image: Women harvest seaweed in Jiangshan Village, Fujian province, Oct. 27, 2016. VCG)