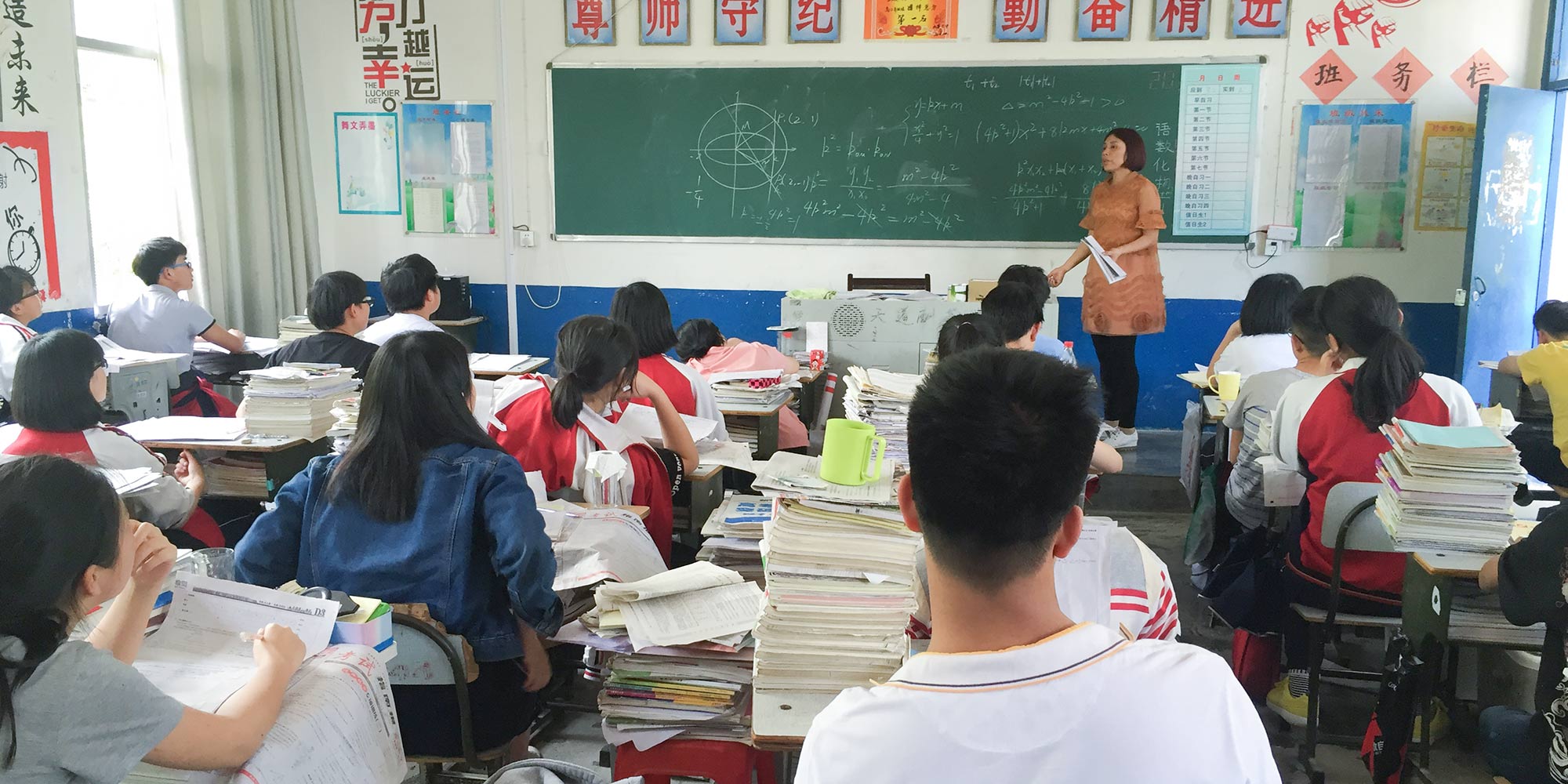 FEATURES
Rural Schools Set Up to Fail Under China's 'Gaokao' System
Under-resourced high schools hope stratified classes will help boost their scores, enrollments, and funding.
HUNAN, Central China — With just a few days to go until the gaokao, China's highly competitive college entrance exam, most students across the country are feeling the pressure. But in rural Guanzhuang Township, many students remain unfazed. To them, it's simply the last exam they must take before entering the job market, as they have little hope of gaining acceptance to universities.
For decades, Chinese high schools whose students score well on the gaokao have attracted more high-achieving students and better teachers, setting in motion a downward spiral for students from lower socio-economic backgrounds and the rural schools they attend. Since the government allocates funding based on student enrollment numbers and university acceptance rates, underperforming rural schools have over the years encountered a shortage of resources alongside the dearth of talented, motivated pupils.
The students at Guanzhuang's Yuanling No. 6 High School all hail from the surrounding rural area, dominated by rolling hills and farmland. More than half are left-behind children. Rural township schools like Yuanling are often a last resort for students whose families can't afford the tuition at better institutions — generally located in county seats or cities — or those who don't perform well enough on the secondary school entrance exam to secure a spot in the first place.
To improve their gaokao scores and thereby attract more students, some rural schools have implemented systems to stratify their student bodies based on academic performance. For the past six years, Yuanling No. 6 High School has selected its brightest, most motivated students for advanced-track classes taught by the school's best teachers. These roughly 60 high school seniors study from 6 a.m. to 11 p.m. in a boarding school-like setting, with only half a day off each month.
Students like 18-year-old Zhou Jia, who is excited to take the gaokao and hopes to score well, are key to this strategy. Zhou, whose mother is a migrant worker, was raised by her grandparents and believes that the gaokao is her best shot at a life beyond her small village. Unlike many of her peers, she has found a family role model in the form of her older sister, who is now a teacher in the provincial capital.
"Many of my friends envy me for having a sister who has been my mentor," Zhou told Sixth Tone. "Their parents are far away, and they do not have anyone by their side to guide and take care of them."
Despite outliers like Zhou, most rural schools continue to suffer from poor reputations and are hemorrhaging students as a result. Between 2001 and 2009, more than 278,000 schools were shut down nationwide, reducing the number of rural schools by more than half.
"Sending children to county- or higher-level schools has become a competition among relatively well-off rural families, while poor families have no choice but to send their kids to the closest rural schools," Li Tao, a postdoctoral researcher at the Chinese Academy of Social Sciences' Institute of Sociology, told Sixth Tone. Nor are talented teachers eager to stay, as county-level or urban schools can typically offer better salaries than their rural counterparts.
Ji Jianping, the head teacher of a senior-year advanced class at Yuanling No. 6 High School, used to teach at a nearby rural high school that has since shut down. "I felt that it was a place without hope," he told Sixth Tone, recalling that in 2008, fewer than 20 students made it to their third year of high school, and none went on to university.
While the gap in government funding between rural and urban schools is largely based on discrepancies in school size, rewards are also given for academic achievement. Better gaokao scores help rural schools secure annual funding bonuses, which most counties award to schools with a certain number of university acceptances among their graduating classes.
Last year, Yuanling No. 6 High School met the university acceptance quota and received a bonus of 200,000 yuan ($29,000) that went toward improving facilities, teaching materials, and teacher salaries — all of which could help attract better students in the future. "Our school has developed quickly in recent years because our gaokao scores have been increasing year by year," Ji said.
Academic tracking policies have been criticized internationally for widening the gap between higher-achieving students and their peers, and China has taken steps in the past to eliminate tracking in primary schools.
Yet Ji believes that focusing resources on high-achieving students through the tracking system is necessary to sustain the school's growth. "We have very few good students. If they don't make it into university, others can't either," he said.
At Yuanling No. 6 High School, students consigned to the school's non-advanced classes receive little gaokao preparation. High school senior Yang Xiao, 18, ranks among the top five students in her non-advanced class and hopes to become a teacher — a stable job that would allow her to help her family financially — but she's not sure she'll make it to university.
Yang decided to focus on her studies after her father was injured in a traffic accident several years ago, and she saw how much her family struggled to make ends meet. Yang declined a spot in her school's advanced track due to the academic pressure; she now regrets her decision but still holds out hope for her pursuit of higher education. "Many people say that high school is hell and university is paradise," Yang said.
While about half of the 60 advanced-track students at Yuanling No. 6 High School are expected to get into university, few people have high hopes for Yang. Of the 160 students in non-advanced classes, a handful might make it into college, teachers estimate.
According to Ji, most of these students have few reasons to apply themselves in school, as their families don't expect them to continue their studies. "Some parents ask their children to stay in high school only because they are still too young to work, but they do not have high hopes for their children and are ready to put them in the job market once they graduate from high school," Ji said. "Many students only want to get a high school degree."
In addition to implementing academic tracking, Yuanling No. 6 High School has introduced research and exchange programs in an effort to draw more students. The initiatives have seen results, increasing the student body from about 200 pupils in 2009 to 900 today, providing a wider pool of talent to fill advanced classes.
Meanwhile, as they near the end of their high school education, senior-year students in non-advanced classes have all but given up. A third of Yang's classmates have already left the school: They have found jobs or been accepted at vocational schools and won't be taking the gaokao. The remaining students barely pay attention to the teachers and are often seen sleeping at their desks.
"You can feel a clear difference between an advanced class and a regular class when you walk into the classroom," Yang said.
Even the facilities speak to the disparity between the two academic tracks. The walls of Yang's classroom are blank, while Zhou's classroom is decorated with red banners and motivational slogans encouraging students to succeed on the gaokao.
"The harder you work," claims one, "the luckier you will be."
Editors: Denise Hruby and Jessica Levine.
(Header image: Students take a math class at Yuanling No. 6 High School in Guanzhuang Township, Hunan province, May 17, 2017. Cai Yiwen/Sixth Tone)