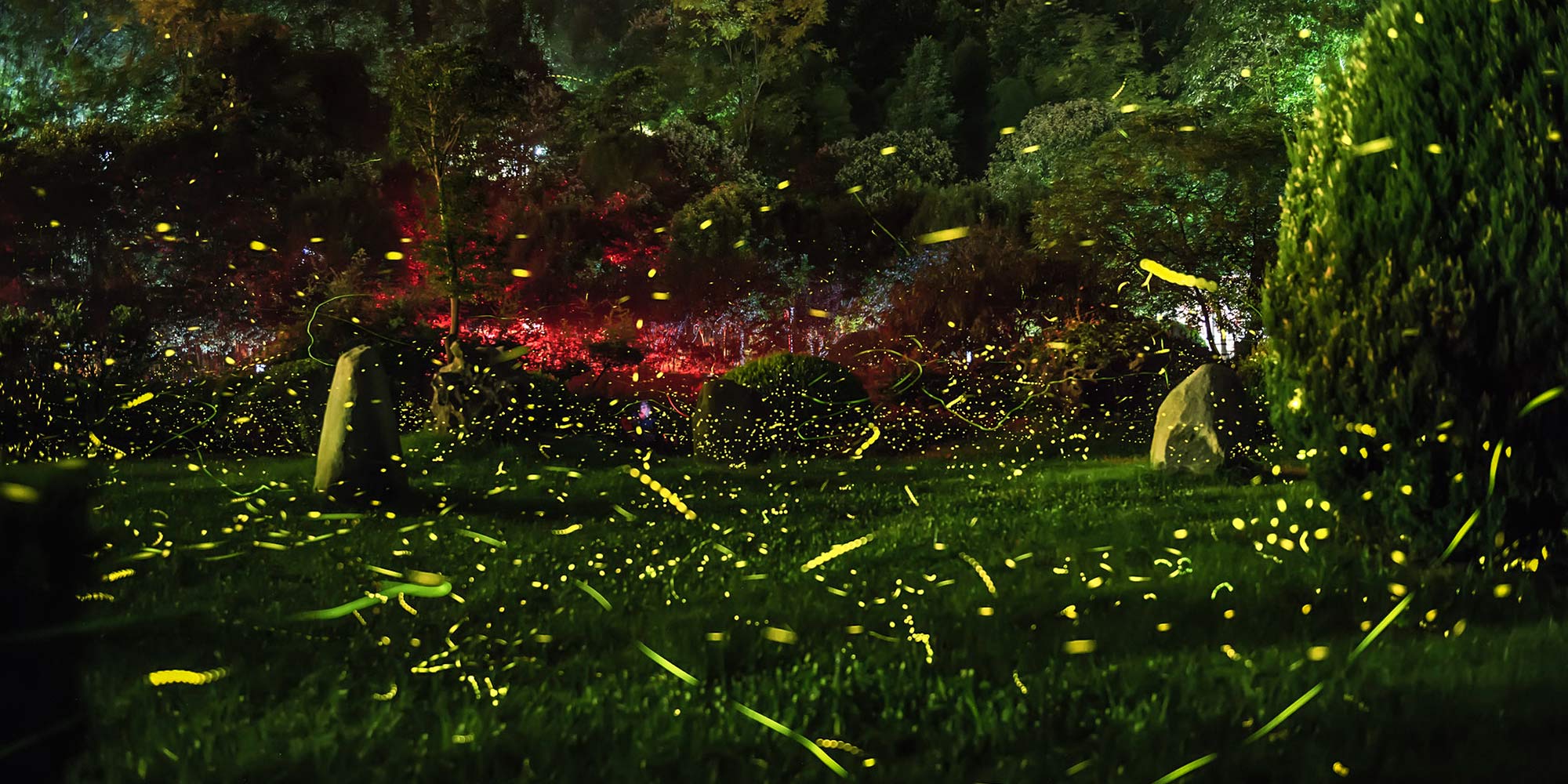 NEWS
Wuhan Park Switches to Lasers to Keep Fireflies Flickering
After mounting criticism from environmentalists, firefly events are cancelled and vendors shut down.
A park in central China announced Wednesday that it will continue its annual firefly-themed festival, but with one change: the glowing summer bugs will be replaced by lasers.
The East Lake Peony Garden in Wuhan, capital of Hubei province, is one of many places in China that organize firefly-watching events. But environmentalists say these festivals often involve thousands of bugs being released into places that are not their natural habitat, meaning they tend to die quickly.
Ning Nailin, an organizer for this year's event at the park, told Sixth Tone that planners are adopting a "fictional" approach to educate visitors on the importance of maintaining a healthy ecosystem and protecting the fireflies. "We are creating a scene with thousands of [artificial] fireflies through laser lights instead of using real fireflies," she told Sixth Tone. "No harm will come to the fireflies, or to the forest."
The East Lake Peony Garden was hailed as China's first firefly theme park in 2015. The government of Hubei even promoted it as a space for the "observation, breeding, and scientific popularization" of the luminescent insects. But although the park had indigenous fireflies, most were brought from Jiangxi province in eastern China.
Recent years have seen a rise in firefly-related events: Twenty-three cities in China organized such events in 2016, up from 17 in 2014. The little bugs draw big crowds, and releasing them has become a romantic trend among Chinese millennials.
The change of plans for this year's festival in Wuhan, which runs from the end of May until October, comes at a time when the popularity of such events has been eclipsed by concerns over environmental and ecological threats — although Ning did not elaborate on whether the new approach had been adopted because of such concerns.
In a 2016 study, Fu Xinhua, a firefly specialist and associate professor at Huazhong Agricultural University in Wuhan, said capturing fireflies and setting them free in different locations poses a threat to the species, as they do not adapt well to new habitats. Increasingly, criticisms like Fu's are being heard and acted upon.
On Wednesday, China's largest e-commerce platform, Taobao, said in a statement that it would ban the sale of fireflies and close the accounts of existing vendors. And a commentary on state news agency Xinhua earlier this month criticized those who buy fireflies to express their love, and also called on authorities to strengthen the bugs' legal protections before they become endangered.
Earlier this month, a firefly event scheduled from May 12 to 14 in Haikou, in southern China's Hainan province, was called off after pressure from environmentalists, though officials say it was canceled due to permit issues. Meanwhile, some organizers of firefly events are still going ahead with their plans. In Shenzhen, one such event is set to release 20,000 insects this weekend.
Firefly specialist Fu told Sixth Tone that Wuhan had previously hosted multiple firefly shows, threatening the environment and the existence of the species, and that he considered using an alternative way to attract crowds a welcome sign. "This helps not only to protect the local fireflies, but also to educate the public," he said.
Additional reporting: Qian Zhecheng; editor: Kevin Schoenmakers.
(A night view of a firefly theme park in Wuhan, Hubei province, July 18, 2015. IC)