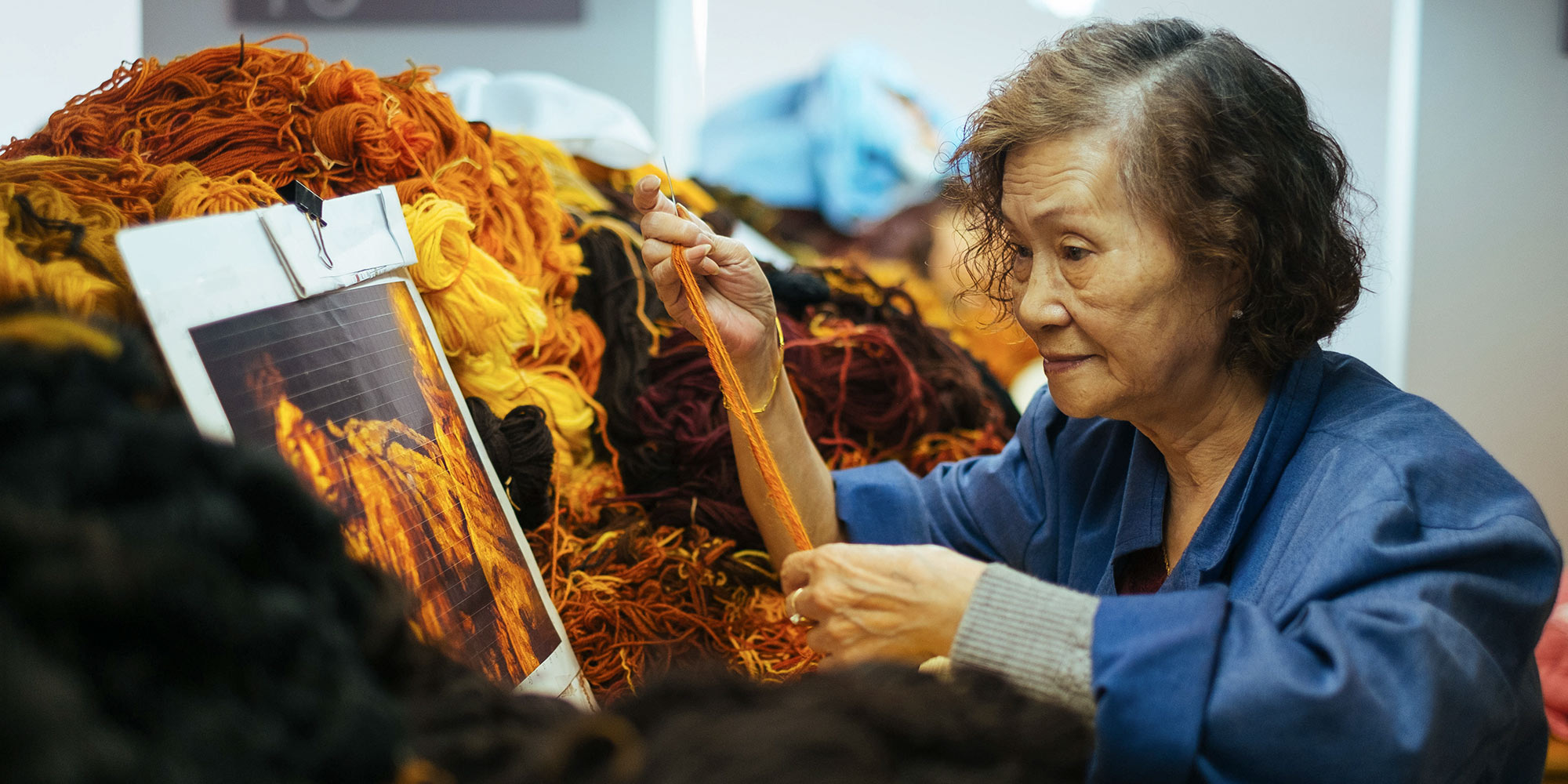 FEATURES
Without Young Embroiderers, Artisanal Craft's Future Remains Frayed
With dwindling government contracts and little interest from potential apprentices, Shanghai's once-thriving embroidery workshops are struggling to keep their doors open.
SHANGHAI — From its ecclesiastical beginnings as a 19th-century craft taught by nuns at Shanghai's Xujiahui Catholic Church, woolen needlepoint embroidery in China has come on a long, turbulent journey. In the 1940s in Shanghai, the pastime was reconceived by innovative local artists as a refined art form. But today, amid spotty government support, it is fast approaching irrelevance.
While not native to China, the craft — in which colored wool is woven through a lattice frame to produce likenesses found in paintings or photographs — has adopted the same model of apprenticeship that characterizes many of the country's artistic and cultural traditions.
But apprenticeship is a long, drawn-out process that today, few are willing to pursue. While municipal governments can be generous patrons of the arts, state support for needlepoint embroidery has become inconsistent, gracing some and hanging others out to dry, a reality that the founder of Shanghai's longest-surviving woolen embroidery studio knows all too well.
Bao Yanhui and the staff of embroiderers at the Shanghai Yangjing Woolen Embroidery workshop all once worked at a state-owned embroidery factory that closed in 1998. In 2000, he and a handful of talented and ambitious embroiderers opened their own cottage industry. They were the vanguard of a reputable craft that had long before begun to shed its foreign origins — in 1943 an embroiderer named Liu Peizhen devised a new means of grading colors. She weaved, by hand, individual colors into customized strands of wool, bringing greater definition to the gradient between colors. The innovation promoted her work from commodity to art form, and prices rose accordingly.
Today, the youngest of Bao's cohort is in their 60s, and 70-year-old Bao can't find anyone willing to take on an apprenticeship at his workshop, based in the east of the city. Even if he could, he wouldn't be able to afford them.
"We started with 27 or 28 embroiderers; now there are eight," Bao, surrounded by unsold works, told Sixth Tone from the workshop. His business used to run like a factory, and at one point he employed almost 300 people, all responsible for different parts of the process. Now, the small team must do everything themselves. "It works out OK to make a living, but it's hard," Bao said. "We'd be in trouble if we didn't have our retirement pensions."
In the past, much of Bao's business came from government commissions. His embroiderers have stitched innumerable pandas and Great Walls, works frequently gifted to foreign embassies in Beijing from China's Ministry of Foreign Affairs.
But such business has presented pitfalls. At the handover of Hong Kong in 1997, the Chinese Communist Party commissioned traditional artisans across the country to produce a fanfare of cultural works for the event. Bao was among them. Nine workers slaved away at the 2-by-3-meter piece for three months, often sleeping at the factory. But when he sent off the invoice, Bao was asked to lower the price and told that other artists had given their works as gifts to the state. Eventually, he was paid a figure much less than what he had expected — though he won't say exactly how much.
Eager to stimulate new interest in the traditional art form is Bao's son, 34-year-old Bao Li. Bao Li supports the family with his work as a freelance graphic designer, but he also works from time to time in the workshop, where he experiments with infusing needlepoint embroidery with new and unusual elements.
A new generation of his creations sit against a wall, out of place. Purses and handbags recreate popular designs with knitted panels. Two pairs of high-top boots, covered in woolen embroidery with strange, polygonal soles, rest unworn in display cases. A 60-centimeter-tall ornamental camel, covered in stitched cartoon motifs, looks on.
But despite his propensity for experimentation, Bao Li is not optimistic about the workshop's future, or about the prospect of his new ventures finding a substantive market. In fact, he estimates that the workshop will close its doors within 10 years. "In an ideal world, we would innovate and begin to promote that as a brand," he said. "If that doesn't happen, there's nothing to really do about it."
About 15 kilometers north of the Bao-owned studio lies a newer woolen embroidery workshop that may have secured its survival through institutional support. Sitting in Gaoqiao, an area famed for its ancient Chinese architecture heavily invested in by the Shanghai municipal government, Shanghai East Coast Woolen Embroidery Research Center is a nonprofit organization founded in 2015 that has harnessed its distinctive location to bring in support for the craft not found elsewhere.
Walk past the works in the research center's government-funded woolen embroidery museum, and you'll notice a theme emerging. The Gaoqiao embroiderers have carved out a niche by producing works of political gravitas: heads of state, including Chinese president Xi Jinping; figures from Chinese history; "feature towns"; and a portrait of Beethoven.
As a state-backed nonprofit, the Shanghai East Coast Woolen Embroidery Research Center removes itself from the perils of competing in an open market, where some of the center's staff worry that their art form no longer has a fighting chance. "The market is drying up," said Yu Qi, who works in the intangible cultural heritage division of the Gaoqiao Wenguang Service Center, a government body that oversees cultural activity in the area.
But government protection does not mean a steady stream of talent, something that Yu himself acknowledged. "There's no one qualified to carry on the work," he said. "The trade is facing extinction." Indeed, while the Gaoqiao embroiderers are younger than their counterparts at Bao Yanhui's workshop — two of the six are still in their 40s — the fact that there are no qualified apprentices who can continue the trade poses a serious threat. The center holds educational events to expose the younger generation to the craft, but these are just fleeting introductions. What Bao and his workshop need are long-term commitments from passionate artisans.
Jin Wen, one of the younger embroiderers at Gaoqiao, said she has seen more young people at such events than at any previous time. But whether this will translate into fresh blood for the research center still remains to be seen. "It's hard to say if they will persevere — this job requires a lot of time to develop experience," she said.
Government funding may have provided tentative hope for the Gaoqiao research center, but back in Bao Yanhui's workshop, it appears to have had little trickle-down effect. "Large, woolen embroidered works only come out of Shanghai, and special things need special policies to address them," Bao said. "You can't address them all lumped together, or they will die together."
Additional reporting: Yin Yijun; editor: Owen Churchill.
(Header image: Xu Longdi, 75, sorts through woolen thread at Shanghai Yangjing Woolen Embroidery workshop, Shanghai, May 19, 2017. Wu Huiyuan/Sixth Tone)