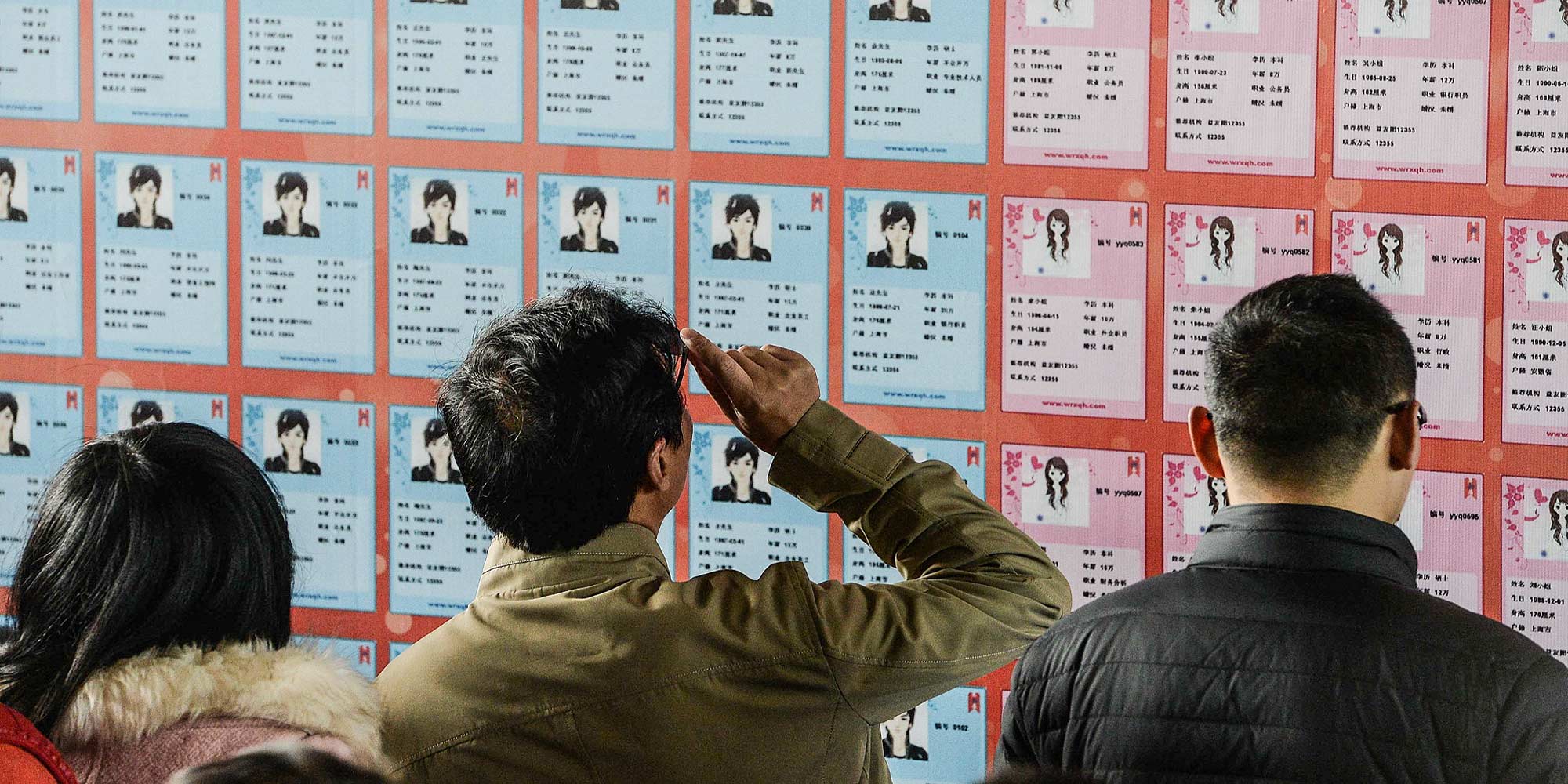 NEWS
China's Youth League Wants Singles to Find the One
The government wants more babies, but Chinese people are marrying later and less.
The youth arm of the Communist Party of China has vowed to help the country's singles find that special someone.
He Junke, one of the top officials in Communist Youth League (CYL), said in a press conference on Wednesday that he wants to solve "the marriage problem of young people." Though He did not elaborate, more Chinese people are staying single, and those who marry are doing so at a later age.
The CYL plans to help young people develop a "correct" attitude toward marriage, He said, arguing that both the utilitarian views on marriage in recent years as well as the "outdated marriage customs" of rural China have had a bad influence on young couples.
He said marriage agencies and similar services need to be regulated, and vowed to crack down on their "deceptive tactics" — media reports have shown that the matchmaking industry in China is largely unregulated, leading to fake accounts on dating apps, for example. Perhaps as an alternative, He said the league intends to work together with various youth organizations to create more opportunities for young people to expand their social networks and make new friends.
Chinese government policies once advocated for delaying marriage, in part to slow population growth, but the tides have turned in Beijing. The one-child policy is history, and at the most recent annual political meetings in March, policy advisors proposed reducing the legal age of marriage to 18, from 20 and 22 for women and men, respectively.
On the local level, family planning has in some places changed from restricting births to encouraging procreation. Following the two-child policy's implementation last year, family planners in Yichang, a city in central China's Hubei province with an especially low birth rate, urged Party and youth league members to lead by example and have a second child.
Having children in China when you're single is discouraged, but Chinese people are marrying at an increasingly later age. A survey conducted by the All-China Women's Federation in 2015 showed that the average age at which Chinese people marry was 26, up from 23 for women and 25 for men in 2000. The average urbanite, meanwhile, wasn't tying the knot until they hit 30.
In 2015 the number of singles in China had reached nearly 200 million, while the percentage of solitary residents had increased from 6 percent in 1990 to 14.6 percent in 2013.
Youth league official He pointed out during the press conference that the CYL considers marriage a big issue for China's youth. How to help youth solve the problems of love and marriage in a correct way requires efforts from youth organizations including the CYL, he said.
However, He also said his organization's efforts can only go so far. To find a suitable partner, you also need to make an effort yourself, he said.
Editor: Kevin Schoenmakers.
(Header image: Young singles read fliers bearing the personal information of potential romantic matches, Shanghai, Dec. 20, 2014. Lai Ruining/VCG)