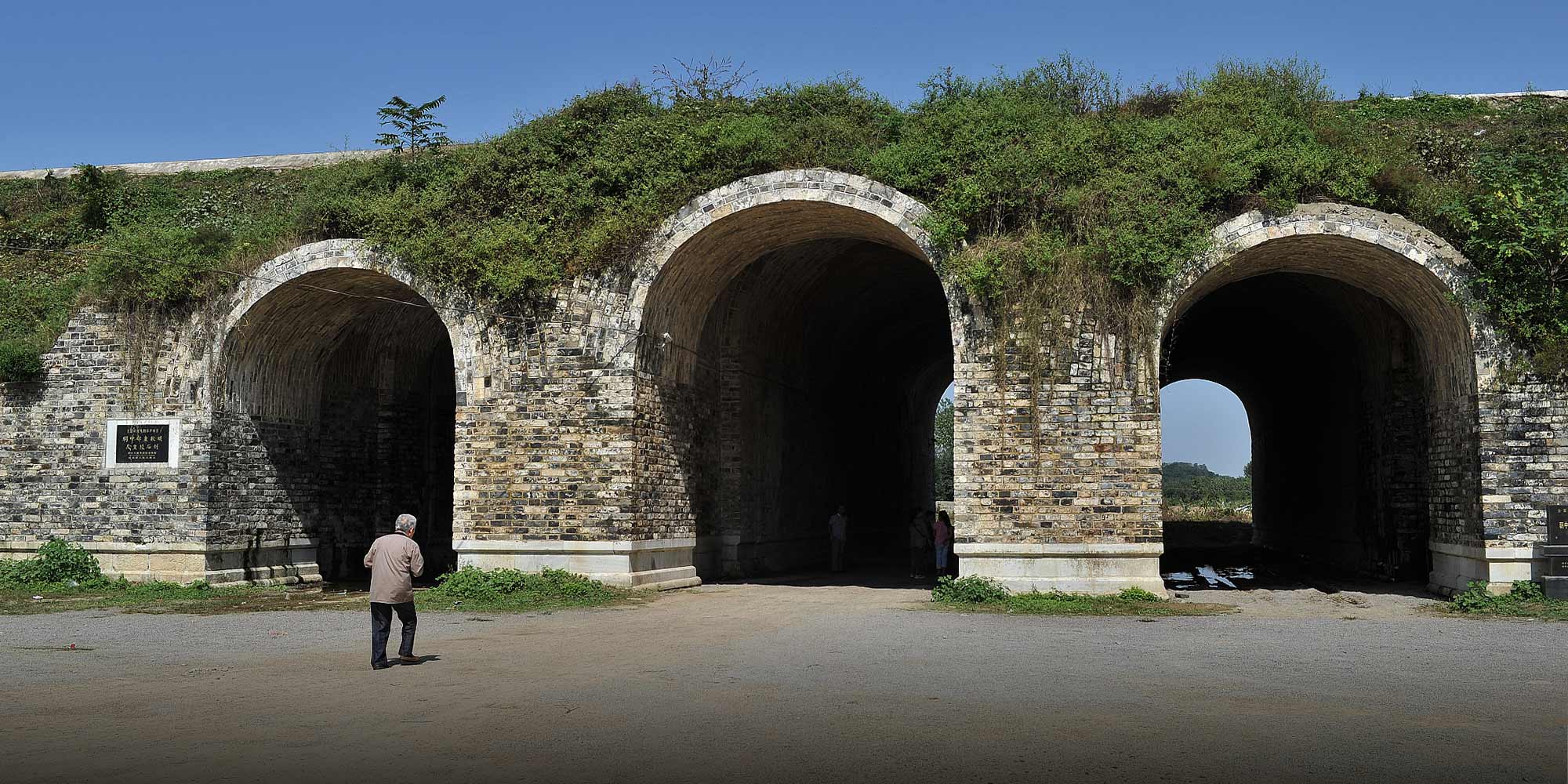 NEWS
Historian Accuses Repairmen of Damaging Ancient Gate
Ming Dynasty expert says one worker offered to sell him centuries-old bricks.
Repairs at a historic site in eastern China have been suspended following a historian's accusations that workers were replacing centuries-old bricks with replicas, and had even offered to sell him the originals.
"They are not repairing the cultural relics, but destroying them!" Ming Dynasty expert Zhang Hongjie wrote on his Weibo microblog on Monday, echoing widespread concerns that China's wealth of historical buildings is not always properly cared for. "I'm not sure how many of our relics have been lost after repairs like this!"
Zhang published the post after visiting the Donghua Gate, a structure dating from the 14th century, when the first Ming emperor wanted to make his hometown of Fengyang County, Anhui province, into an imperial capital. The ancient city, which was never finished, was officially listed as a historic site in 1982 and is currently being restored to be opened as a "relic park," a project for which 1.27 billion yuan ($184 million) was earmarked.
To Zhang's shock, he saw workers using electric drills to carve out the gate's stones, which he documented in a short video that he attached with his post. He also said workers offered to sell him the bricks. "Taking me for a buyer, the workers even asked me which year I preferred, saying that [bricks] inscribed with words cost several thousand yuan per piece," he wrote. "It is obvious that they understand how valuable these relics are!"
Just four hours after Zhang's post, Fengyang County said via Weibo that they had opened an investigation into Zhang's allegations, and China's State Administration of Cultural Heritage also announced that the repair work had been suspended.
Zhang's post was shared and commented on thousands of times, with many Weibo users expressing similar views. "My heart feels pained," one user wrote. "Is there anybody who can really take care of this? It is the treasure left by our ancestors and history, but it seems likely that future generations will only ever see these relics in photos."
"In many cities, historic and cultural heritage sites have been redeveloped to accompany the travel industry boom," wrote another user. "Today, we are just seeing more and more artificial sites."
In recent years there have been many cases of historical buildings being renovated without much regard for history or authenticity — or simply being demolished outright. Last September, a section of the Great Wall in northern China's Liaoning province was paved over with cement, resulting in a social media outcry. Two months later, in the same province, a nongovernmental organization filed a lawsuit against the government of Dalian to save a historic street that had been selected for commercial redevelopment.
Shan Jixiang, director of Beijing's Palace Museum, also known as the Forbidden City, said at an architecture summit in Shanghai last December that there were still several problems when it comes to restoring China's cultural relics, such as a lack of professional workers and governments cutting costs by using purchasing cheap, shoddy materials.
Ma Bingjian, retired head of the Beijing Ancient Architectural Design Research Institute, told Sixth Tone that even if some construction companies are licensed, it is hard to ensure that all workers on a site are well-trained and aware of the importance of the relics. "Also, the ultimate goal in restoring cultural heritage is to preserve the original appearance and avoid it being further destroyed — or, in one word, to make them more sustainable," Ma added.
On Tuesday morning, Fengyang County said in another statement that it had found nothing wrong with the repair work. It explained that workers used drills because damaged bricks needed to be removed and repaired. A worker had bragged about the value of the bricks when talking with Zhang, but, the statement said, "no cases of bricks being sold were discovered."
"Regardless of what ultimately the circumstances are, we should no doubt strengthen supervision," commented one weibo user who praised the Fengyang government for its quick and detailed explanation. "We should revere in our hearts the cultural relics left behind by our ancestors, use them well, and most of all protect them well."
Editor: Kevin Schoenmakers.
(Header image: A view of a Ming Dynasty-era city gate in Fengyang County, Anhui province, Oct. 4, 2014. Wu Fang/VCG)