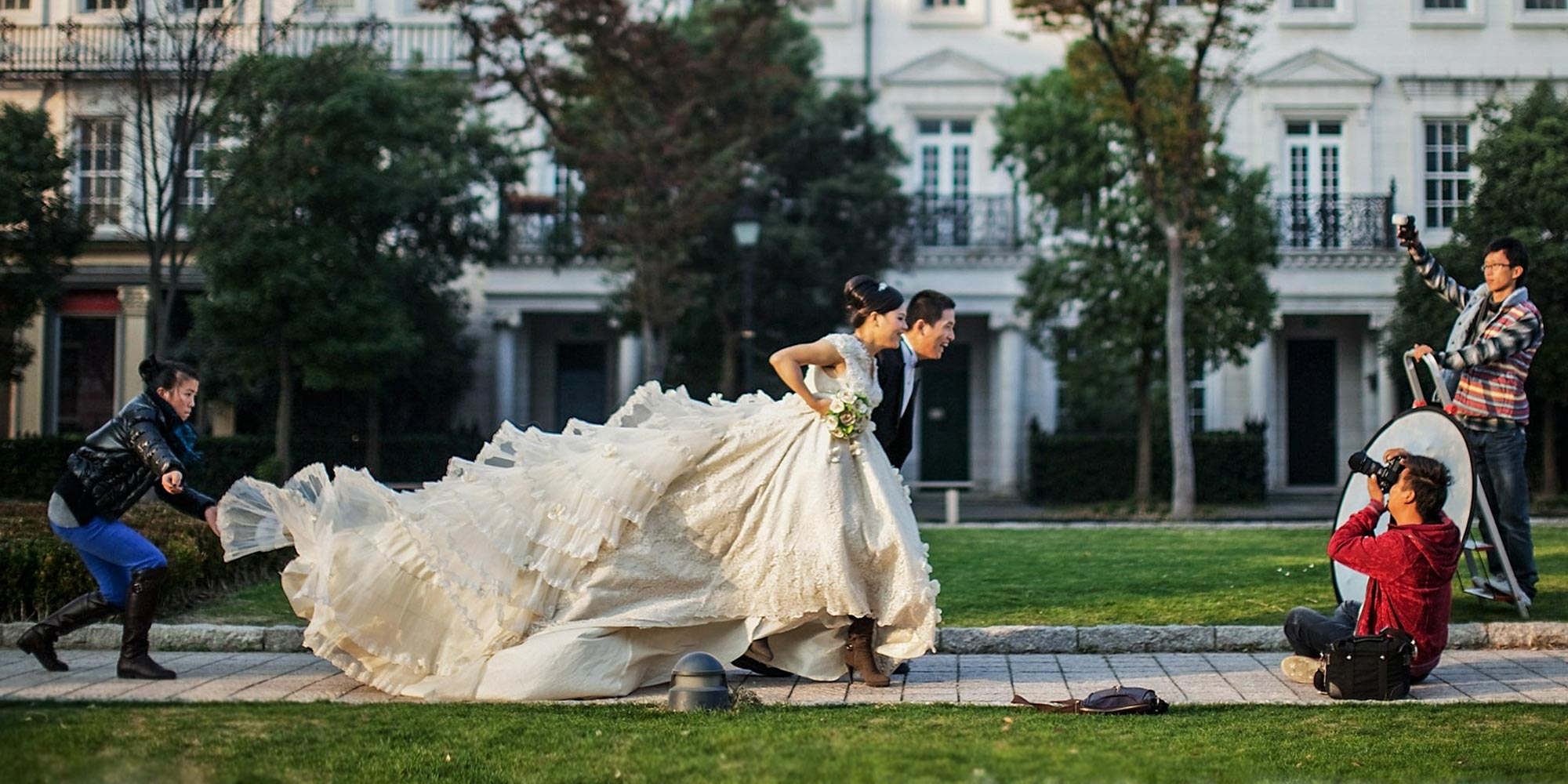 FEATURES
How Chinese Couples Became Wedded to the Perfect Picture
The billion-dollar wedding photography industry is growing ever more lavish and outlandish.
Jetting off to sub-Saharan Africa to track down wild animals may sound like the territory of rifle-wielding Western men, but for animal-loving civil servant Qian Jieyan, it was exactly what she wanted to mark the beginning of her marriage.
For 26-year-old Qian — who hails from southern China's Guangdong province and married her husband, Pan Han, in October last year — staging the perfect wedding photos was worth any amount of money, given the significance of the milestone. "It happens only once in your life," she told Sixth Tone, "so I wanted to choose whatever style I liked." For her, that meant giraffes.
After failing to find any major studios offering such a service, Qian and her then-fiancé happened upon a willing photographer: Ling He, who runs a small studio in Shanghai with his wife, Fang Minhui. With nine suitcases and six wedding dresses in tow, the two couples set off for Kenya in April 2016. The trip cost the engaged pair 200,000 yuan (around $29,000), accounting for 40 percent of their total wedding expenses.
Qian and Pan's experience represents a growing trend among young, wealthy couples in China who are increasingly willing to shell out vast sums of money for unusual wedding photography. Known in Chinese as hunsha zhao, which literally translates as "bridal dress photographs," this style of wedding photography in China generally does not take place at the wedding itself, where there is usually a cheaper run-of-the-mill photographer arranged by the venue or the wedding planner. In the case of Qian and Pan, the real wedding photos were taken a whole six months before the ceremony.
Ling has been taking elaborate wedding photos like these since 2004, establishing I Do Photography Studio with his wife in 2009. Today, he shoots for around 50 couples each year, regularly traveling abroad for his more exotically inclined clients.
Over the years, Ling has witnessed a shift in his clientele, with couples becoming increasingly diversified in their demands. "Unlike their more conservative parents," he said, "those born in the 1990s are much more accepting of a relaxed and personalized style of wedding photography."
According to 2014 figures from Shenzhen-based market research institute Forward Intelligence, around 12 million couples get married in China every year, each couple spending anywhere between 80,000 and 200,000 yuan on the wedding. Of those expenses, wedding photography accounts for 15 percent on average.
Qian and Pan may represent an extreme, having spent around 40 percent of their total wedding expenditure on the Kenya trip. Nevertheless, business is booming for the industry, which took off in the late '90s when the trend was introduced to the Chinese mainland by a number of Taiwanese firms, the most notable being Dragon Photography and Vivi Bride.
But after a decade of a Taiwanese near-monopoly, mainland photographers began to enter the fray, and studios — many of them small, husband-and-wife ventures like Ling and Fang's — sprouted up around the country.
Among that wave of homegrown photographers was Guo Kun, a Shanghai-based professional who got his start in wedding photography by simply turning up at wedding ceremonies in his spare time and seeing what business he could attract. Charging around 1,000 yuan for a day's work, he was soon inundated with requests, at one point being invited to 100 ceremonies in a single year.
Guo quit his administrative job in a Japanese company and, in 2009, set up his own studio in Shanghai, managing a team of 10 people. The 39,800 yuan that the 33-year-old now charges for a day of shooting is almost 40 times what he was making a decade ago.
But it isn't just spending power that is changing the sector, believes Guo. Like Ling, he has witnessed a noticeable shift in the tastes of young engaged couples. Whereas previous generations might have opted for simply standing before plain backdrops, Guo has found that many people now prefer scenic outdoor backdrops in places like Hainan island in the country's south, known as "China's Hawaii."
Islands also dominate international destination preferences, said Guo, with popular choices including Phuket, Thailand; Bali, Indonesia; the Maldives in the Indian Ocean; and even the Greek island of Santorini.
Yet one need not venture beyond the suburbs of Shanghai to witness people's penchant for the exotic. Couples flock to Thames Town — a neighborhood in Songjiang District modeled entirely on quaint British architecture — year-round to pose before the replica of Bristol's Christ Church or hang out of the iconic red phone booths.
But Ling believes there is also a place for the mundane, for photos that portray couples' hobbies, memories, or stories of how they met. One memorable client of his had moved from Shanghai to New Zealand and desperately missed the flavor of youtiao, the deep-fried dough sticks she ate for breakfast as a child. Ling designed a creative shoot that featured youtiao as a motif, with the client using the food as a play sword in one photo for a doughy duel with her fiancé.
Ling and Guo may have mastered the art of catering to — and capitalizing on — the eccentric tastes of their clients, but they are up against fierce competition. The number of players in the industry is ballooning, while the number of couples getting married is experiencing the opposite trend. In 2013, 13.5 million couples tied the knot. In 2015, that number fell to 12.2 million, according to figures released by the Ministry of Civil Affairs.
China's wedding photography industry can be characterized as huge but dispersed among many small establishments, explained Wang Chong, founder of Taopaipai, an online platform that pairs photographers with couples. "Fierce competition in recent years has led to price wars between studios," said Wang, adding that financial pressure has been compounded by skyrocketing rent, a reality for business owners in any industry around the country.
To attract business, some companies now offer cheap packages that appear too good to be true — because they generally are. Beijing office worker Tong Yemeng said she was tempted by a wedding photo package priced at 3,999 yuan, but after she signed up, she was offered dirty wedding dresses, shoddy makeup, and poor-quality photo albums.
"I had to pay extra if I wanted to upgrade the quality of the items," Tong recalled. "Eventually, I still ended up spending around 10,000 yuan. People then told me that it was a 'hidden rule' in the industry."
Wang set up Taopaipai in 2014 in part as a response to this phenomenon. He aimed to provide dependable services with transparent pricing to the website's young user base, but he soon found that there were still profiteering freelancers using the platform to conduct dubious business dealings. Now, the company, which is headquartered in eastern China's Jiangsu province, is building up a fleet of its own vetted photographers and has opened brick-and-mortar photography bases in Jiangsu, Beijing, and even further afield in wedding photography hot spot Sanya, on Hainan's southern coast.
It hasn't been easy for the company to find its feet in the competitive, diverse market, Wang said. "But beginning this year," he said, "we've seen some significant growth in customer orders, and I'm optimistic that the situation will improve markedly over the next three years."
Editors: Owen Churchill and Sarah O'Meara.
(Header image: A Chinese couple poses for wedding photographs near the church in Thames Town, Songjiang District, Shanghai, Nov. 19, 2010. Daniel Berehulak/Getty Images/VCG)