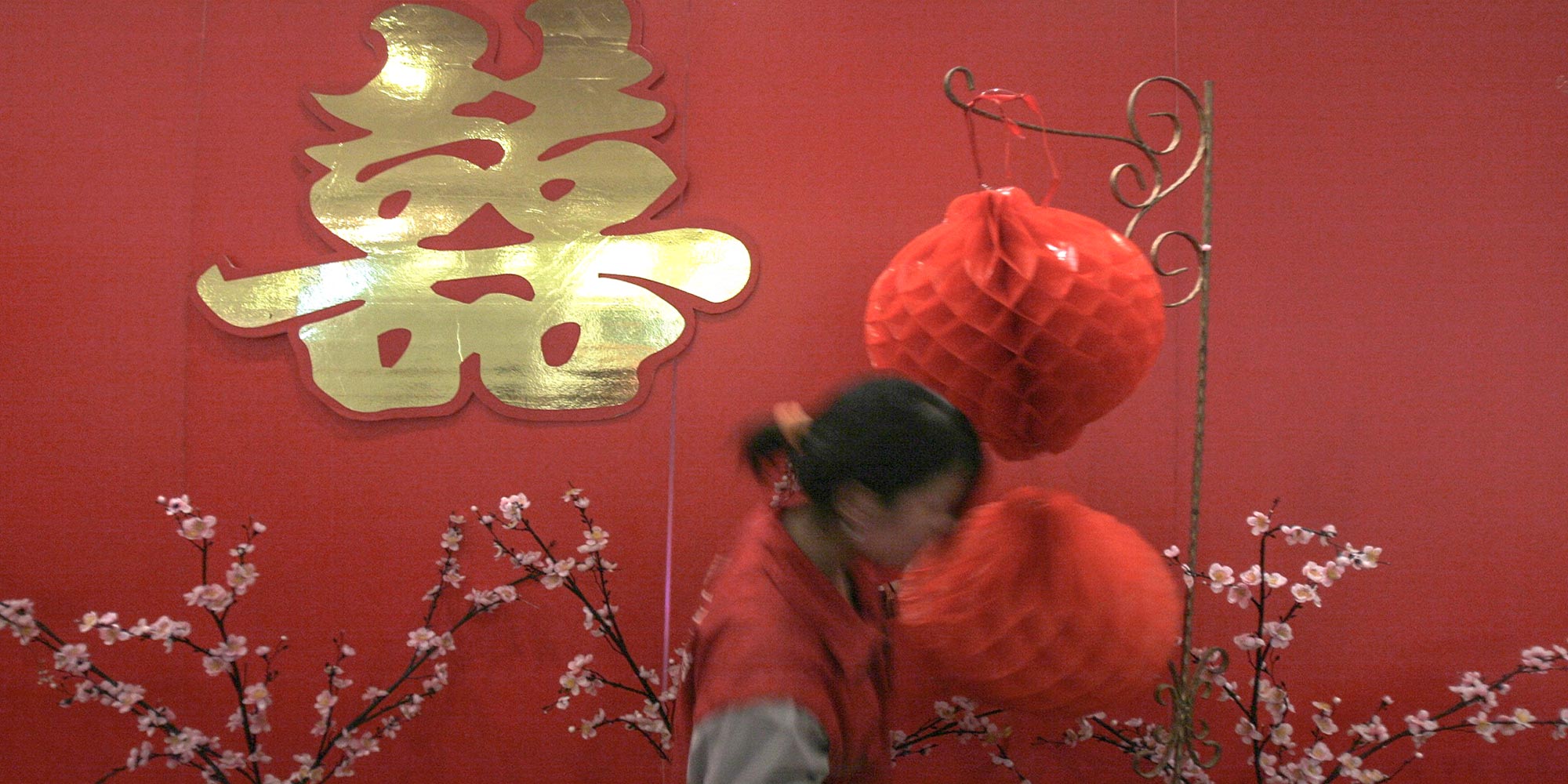 NEWS
Online Market for Sham Marriages Flourishes in China
Citizens seeking the bureaucratic benefits of being married can pay to be coupled with a stranger.
Chinese citizens eager to unlock a wide variety of bureaucratic perks have spawned an online market for sham marriages, newspaper Southern Metropolis Daily reported last week.
For fees ranging from 15,000 to 100,000 yuan ($2,200 to $14,500), the marriage certificates can help customers circumvent restrictions for nonurban citizens — such as a tougher road to buying a house in the city — and enjoy other legal benefits.
Posing as someone trying to obtain a birth certificate for an unborn baby, a Southern Metropolis Daily reporter found an agent through instant messaging service QQ and was quoted a price of 45,000 yuan for a marriage certificate. The reporter was told they would be registered for a marriage with a stranger, allowing the hypothetical child to be born without violating China's family planning policies.
The report also revealed that the range of such services covers preparations of prenuptial and divorce agreements to ensure that potential customers do not bear any risk of property loss through their marriage with total strangers. The industry reportedly attracts a large number of unskilled urbanites looking to profit from being unmarried and having a coveted urban household registration, or hukou, by making themselves available to be paired with customers.
In China, where the rights of citizens are often stratified by their hukou status, sham marriage arrangements can be beneficial in a variety of ways. They can make it easier or cheaper to buy a house, they can improve the hukou status of one's child, and they can even help people tap the authorities for extra compensation money during forced demolitions. In addition to offering domestic marriages, some agencies offer fake foreign marriages for emigration purposes. According to the Southern Metropolis Daily report, obtaining a U.S. green card this way carries a $50,000 price tag.
State newspaper Legal Daily reported in March on the case of Zhang Bin, a migrant who has lived in Beijing for years, and who paid 60,000 yuan for a sham marriage so he could buy a home and enroll his child in a local kindergarten — an otherwise cumbersome process for out-of-towners.
Under Beijing's current regulations, residents without Beijing hukou, like Zhang Bin, are allowed to purchase only one property per household, and only if they can prove to have made 60 consecutive months of income tax or social security payments — which Zhang couldn't. Such regulations are less stringent for residents with Beijing hukou, who are permitted to purchase two commercial properties per household, and with less exhaustive red tape.
Similar regulations have also inspired some couples to apply for sham divorces. To lower housing prices in the capital, Beijing has over the years made buying a second home more expensive. These policies could be avoided if the couple filed for divorce, whether sincerely or not — a loophole the city closed in March.
China's current marriage and family law contains no clause for preventing marriage fraud or for nullifying sham marriages that have already been approved.
"From a legal perspective, a marriage should be considered valid as long as it is legally registered, and regardless of whether it is genuine or a sham," Li Mingshun, vice director of the Marriage and Family Law Studies Association, told Southern Metropolis Daily. Li added that the solution to this problem is policy that cannot be exploited through marriage or divorce. "This is key," he said.
Editor: Kevin Schoenmakers.
(Header image: An employee of a wedding planning agency walks past a pair of hanging red lanterns in Shanghai, May 2, 2006. VCG)