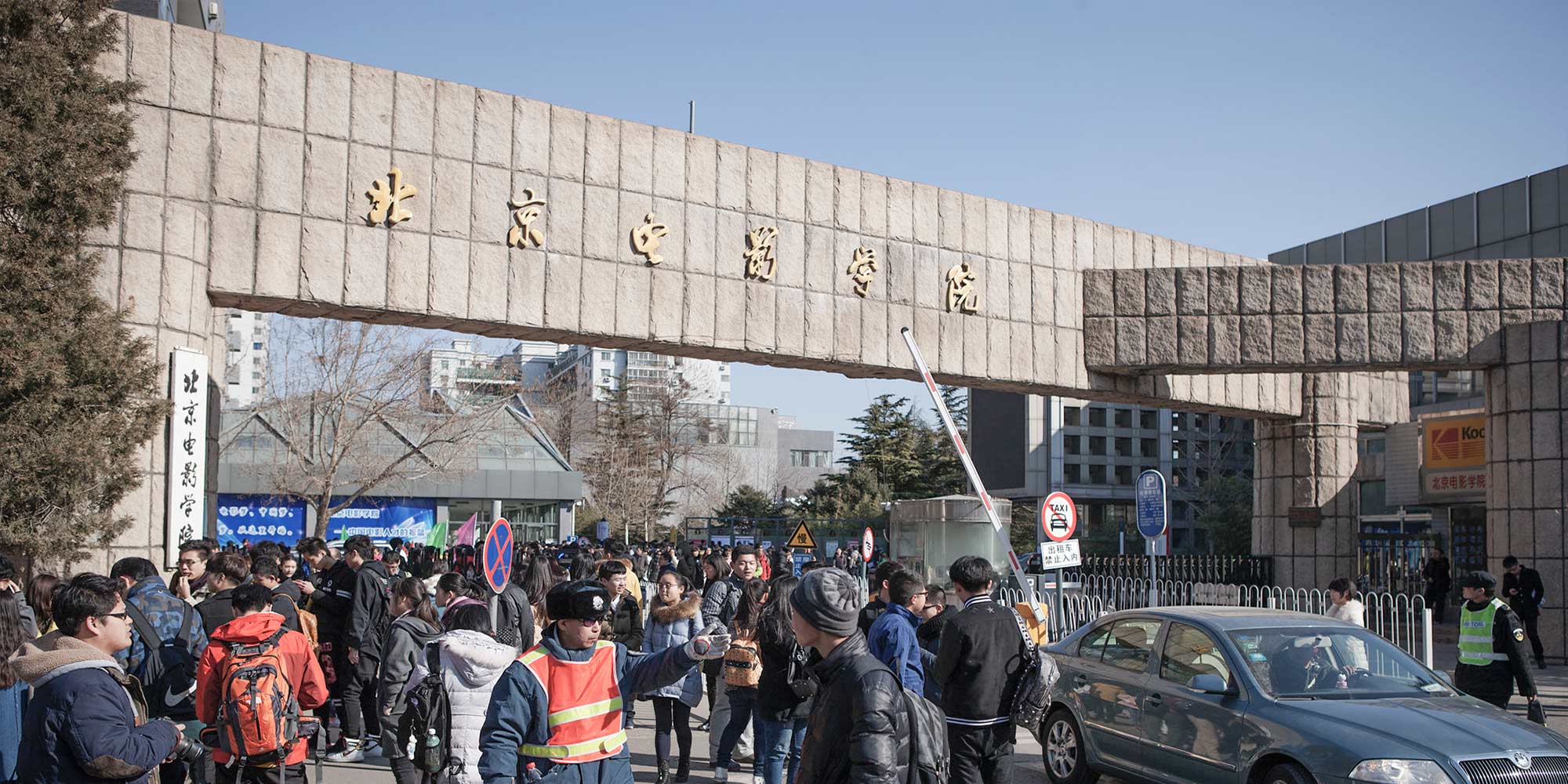 NEWS
Netizen Outrage Sparks Sexual Harassment Investigation
Chinese social media users react to former student's claims that her allegations were ignored by teachers.
A school in Beijing has opened an investigation into allegations of sexual misconduct amid an outcry from Chinese netizens.
On Wednesday, a female student who formerly studied at the Beijing Film Academy spoke out on social media via her friend's account, claiming she was harassed by the father of her class's head teacher in 2011.
After initially denying the claim on its official Weibo microblog account, the academy soon deleted that post and replaced it with a statement indicating the matter would be investigated.
Sexual harassment is a major problem on China's college campuses, as it is internationally. More than one-third of university students have experienced sexual harassment, according to a September 2016 study that surveyed almost 18,000 students, both female and male. Students have also pushed for awareness and action on the issue over the last few years by conducting their own studies, holding small-scale demonstrations, and collecting petitions.
By Wednesday afternoon, the allegations by the former student, "Alyosha," which were originally published at 3 a.m. on the Weibo account of her former classmate and close friend, Song Zechen, had received more than 28,000 reposts and 8,000 comments as of Wednesday afternoon. Also on Weibo, a trending discussion of the case had garnered nearly 10 million views.
The majority of these responses have expressed outrage on behalf of Alyosha. "Those people who play the jackal have no right to be teachers," wrote one Weibo user.
After a day of social media outrage, the academy told netizens it would look more closely at the accusations against Zhu Zhengming, a photographer and the father of Zhu Jiong, the head teacher of Alyosha's class.
In her post, Alyosha describes what happened when she reported the incident to her teachers and fellow classmates six years ago. "One boy told me, 'You only have negative power,' and deleted my WeChat," she wrote. "And the head teacher's niece, who is also a student at the school, said mockingly: 'It's not the first time Zhu's father did this — why is she the only one complaining?'"
"I'm not surprised by the fact that it happened at the school," wrote a more sympathetic reader. "I'm just surprised by people's reactions, which abet the suspect and blame the victim."
The former student also accuses the academy of punishing her for speaking out by withholding her degree certificate. "In my head teacher's classes, I always got a score of 59," she wrote. (At Chinese universities, a score of 60 is required to pass.) "My department head, Song Jing, even brainwashed the other students into not talking to me," she added.
According to the academy's official website, the department head, Song, has been employed at the school since 1996, and Zhu Jiong, the head teacher, has been working in higher education for more than 20 years.
Eight hours after Alyosha's post, the Beijing Film Academy responded by saying it had investigated the matter and found the accusations to be false. The notice further claimed that the student in question had been dealing with depression since high school and had tried to kill herself during her time at the academy.
However, that response was soon deleted, and at around 3 p.m. the same day, the academy posted another statement saying it would investigate the case and publish its findings on social media and on its official website.
A Weibo user who claims to attend the academy wrote that most of the students there know about Alyosha's story but feel pressured by teachers not to speak out.
Alyosha studied in the academy's photography department, which refused Sixth Tone's interview request. A spokesperson for the school could not be reached by phone for comment.
Earlier today, Alyosha's friend, Song, weighed in on social media, saying her classmate had called the police, although no one was charged due to a lack of physical evidence. Song could not immediately be reached for comment via Weibo.
Alyosha's revelations come two weeks after a girl in Taiwan killed herself after a similar experience. Alyosha wrote about how public sympathy for the girl had inspired her to come forward. "I hope that [case] will draw some attention to what I have been through as well," she wrote.
Lin Yihan, the girl in Taiwan, had been raped multiple times since she was 13 by an after-school teacher, exhibiting severe mental problems ever since. She wrote a novel based on her experiences called "First Love Paradise of Fang Siqi," which was republished several times in Taiwan and calls on the public to speak out on the issue of sexual harassment.
Contributions: Qian Jinghua; editor: Sarah O'Meara.

(Header image: Prospective students crowd the gate of the Beijing Film Academy, Feb. 26, 2015. Li Yuan/IC)