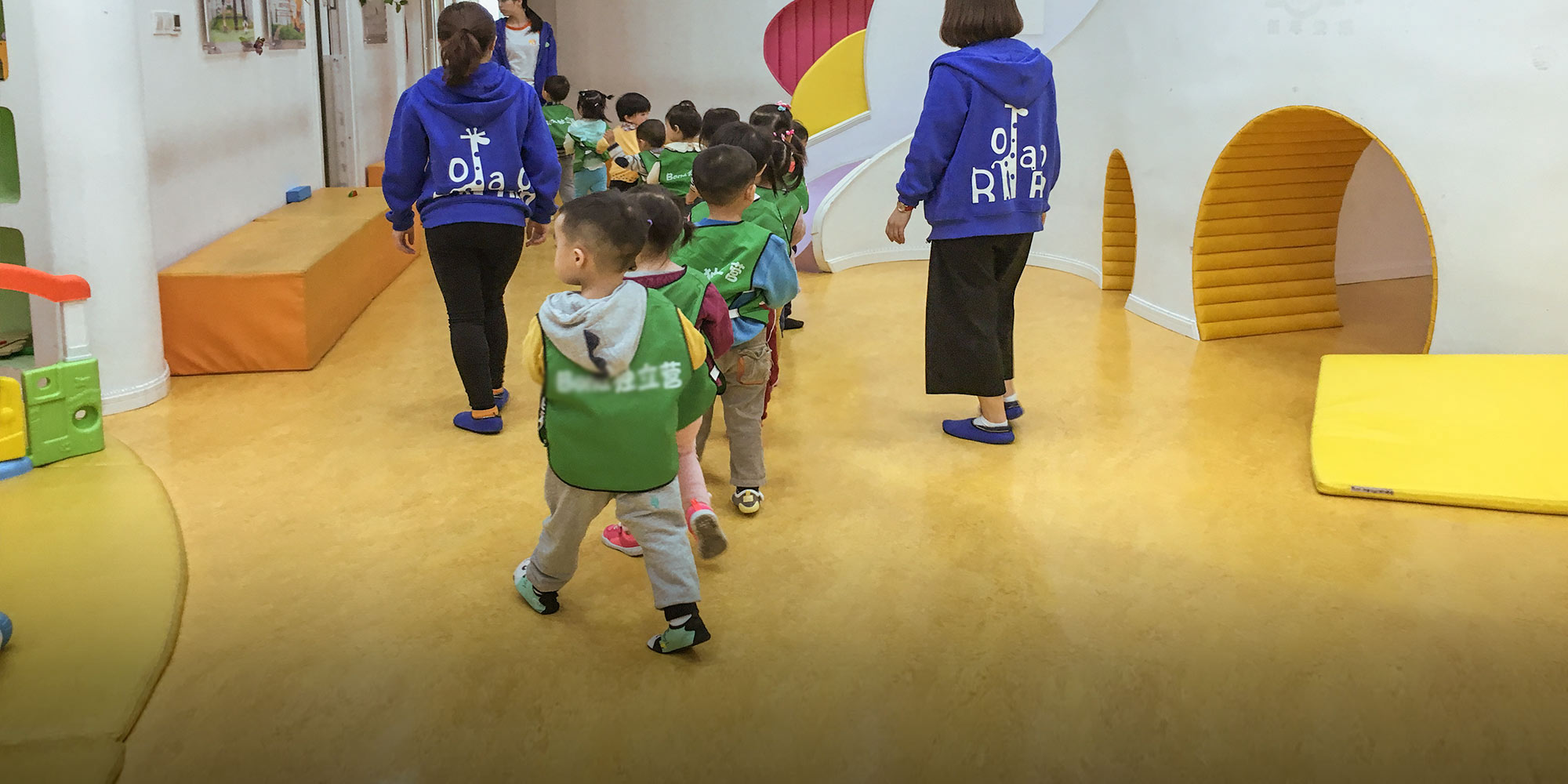 FEATURES
Shanghai's Underground Child Care Market
Flexible and available, unlicensed private day cares fill demand from desperate parents.
SHANGHAI — The day care center that Jiang Wei's 2-year-old daughter attends boasts colorful, freshly refurbished classrooms; lessons from native-speaking English teachers twice a week; and daily lunch menus customized by a nutritionist. It's everything parents could want from their toddler's nursery school, except one: a license to provide child care services.
"We don't have any other options," Jiang tells Sixth Tone, insisting that the name of her daughter's facility not be revealed. With no public day care services available near her home in the northeastern corner of Shanghai, she signed her daughter up with the private center — located in an office building in Yangpu District — last August.
Given the city's extreme shortage of day care facilities for 2- and 3-year-olds, education companies that lack the appropriate licenses are profiting from parents in urgent need of helping hands. According to Party newspaper Jiefang Daily, Shanghai has more than 100,000 children aged between 2 and 3. Yet the licensed public and private facilities currently available can handle, at most, 10,000 kids.
Chinese families' interest in early childhood education has increased substantially over the past two decades. In 2015, there were a total of 13,000 institutes offering education for the all-important early years, according to Beijing-based newspaper Workers' Daily, and the market was estimated to be worth 50 billion yuan ($7.2 billion).
In February this year, the Shanghai government announced plans to build 20 community-based day care centers by the end of November, each able to accommodate at least 20 toddlers. Some could be ready to enroll students by May or June, but given the huge gap between supply and demand, the efforts will do little to help families in the short term. What's more, the city's health authority estimated in 2016 that under the two-child policy, there could be up to 50,000 second children born annually until 2020.
Jiang previously relied on her elderly parents for child care, but her 70-year-old mother had her hands full when Jiang's second child was born, and her father began complaining about the physical demands of looking after his older granddaughter. "I felt that the old couple might go on a strike at any moment. And I know that placing the entire burden of child-rearing on the grandparents is not right — it's not fair to them," Jiang says. "I consulted an online group of nearly 400 young mothers in the community where I live. This facility enjoys the best reputation."
But the company behind the Yangpu center is only licensed to provide technological development services in the education and technology fields, as well as catering services. When Sixth Tone visited last month, staff at the center didn't try to deny that the facility lacks a day care license. "We've been in operation for more than a year," a teacher who asked to be identified by her English name, Sandy, tells Sixth Tone. "There is no chance that we'll get shut down overnight because our company also has an international kindergarten licensed in Putuo District."
To obtain a license for private day care services, a facility must have both indoor classrooms and outdoor playgrounds — almost impossible for most unlicensed centers that rent space in shopping malls or offices. In addition, districts sometimes limit the number of day care licenses they issue. Instead, it's much easier to register an early childhood education center with the industrial and commercial authority, which qualifies a company to offer classes but not daily child care.
Pan Nanyi, whose 2-and-a-half-year-old son attends an unlicensed day care in Pudong, says that when she was a child herself, her mother's employer provided a day care service that was "very convenient for families back then." Office-based child care may be on the rise in cities like Shanghai, but many parents will continue to be pressed for choices in the meantime.
Pan enrolled her son at the unlicensed facility — located in a mall at the former site of the Shanghai World Expo — in a pinch after her nanny quit unexpectedly. "We have no grandparents in Shanghai to help out, and more importantly, our family can't afford it if I quit my job to become a housewife," she says. "In addition to having a child to support, we have a bigger burden: the home loans to pay back."
The Pudong center is only registered to offer children's workshops in subjects like painting or reading, according to an inspections officer surnamed Zhou with the Pudong New Area Market Supervision and Management Bureau. "They're definitely not qualified to offer day care services, with no kitchen area or beds for these young children to sleep on," Zhou tells Sixth Tone. When Zhou visited the facility last month, he said that he observed no day care services in operation.
But when Sixth Tone visited on a Tuesday in April, teachers were leading two classes of around 15 kids each to the restrooms for a bathroom break. Tao Zi, a teacher and marketing representative at the center, told Sixth Tone that they've been offering day care services for around two years and currently accommodate 45 toddlers in three classes. Though the mall doesn't open until 10 a.m., parents can bring their kids in through the back doors as early as 8:30 a.m., and the school has contracted catering services to provide food during the day.
The accessibility of unlicensed private facilities means that desperate parents are willing to overlook the legal gray area and other issues, like the lack of teachers with appropriate early childhood education credentials. "I think most parents understand the nature of these facilities, but as long as our children are properly taken care of and enjoy their time there, it's not a core issue to us," Pan says.
Another advantage of unofficial private institutions is their flexible hours, which can be a saving grace for families like Pan's. "I pick up my son at around 6 p.m. these days; I pay the center some extra fees for keeping an eye on him for the extended hours," Pan says. In contrast, public schools normally finish around 4 p.m. "I don't think there is room for such negotiation at public centers," Pan adds.
Yet parents pay the price of choosing unlicensed child care centers in the form of financial risk. In the public system, education is free from grade one through grade nine, while preschools collect subsidized fees from parents on a monthly basis — usually only a few hundred yuan a month. Private centers, on the other hand, usually require parents to pay a whole year's tuition in advance, with most unlicensed facilities charging between 30,000 and 50,000 yuan in annual fees.
Unofficial centers can be subject to sudden closure: In January, school chain Kids Vision shut down overnight, causing more than 700 parents losses of nearly 10 million yuan in total. Some had paid three years of tuition fees right before the facility closed.
Pudong day care teacher Tao admits that her facility charges families the full tuition fee of around 43,000 yuan on an annual basis, with no refunds available for children's absences. Yet she claims that the center has implemented a special policy to secure parents' payments: "We deposit 20 percent of the money paid by parents [for safekeeping] at the Pudong Education Bureau," Tao says. "This is to free parents from the worry that any operational issues could cause them financial losses."
But inspections officer Zhou warns parents to remain cautious in trusting unlicensed centers. Upon further investigation, Zhou says he found no sign of a financial arrangement between Tao's Pudong facility and the local education bureau. The company behind the center did sign a contract with the Industrial and Commercial Bank of China to guarantee a minimum account balance of 100,000 yuan, according to Zhou, "but it's definitely not 20 percent of what all parents pay," he says.
Pan hopes to see licensed day cares rise to meet parental demand, particularly in light of the nation's new family planning policy, which puts particular pressure on working mothers. "If the legal day care services are not made accessible and affordable," Pan says, "I'm not sure how people will be encouraged to have a second child."
Editor: Jessica Levine.
(Header image: Children line up at a day care center in Shanghai, April 24, 2017. Ni Dandan/Sixth Tone)