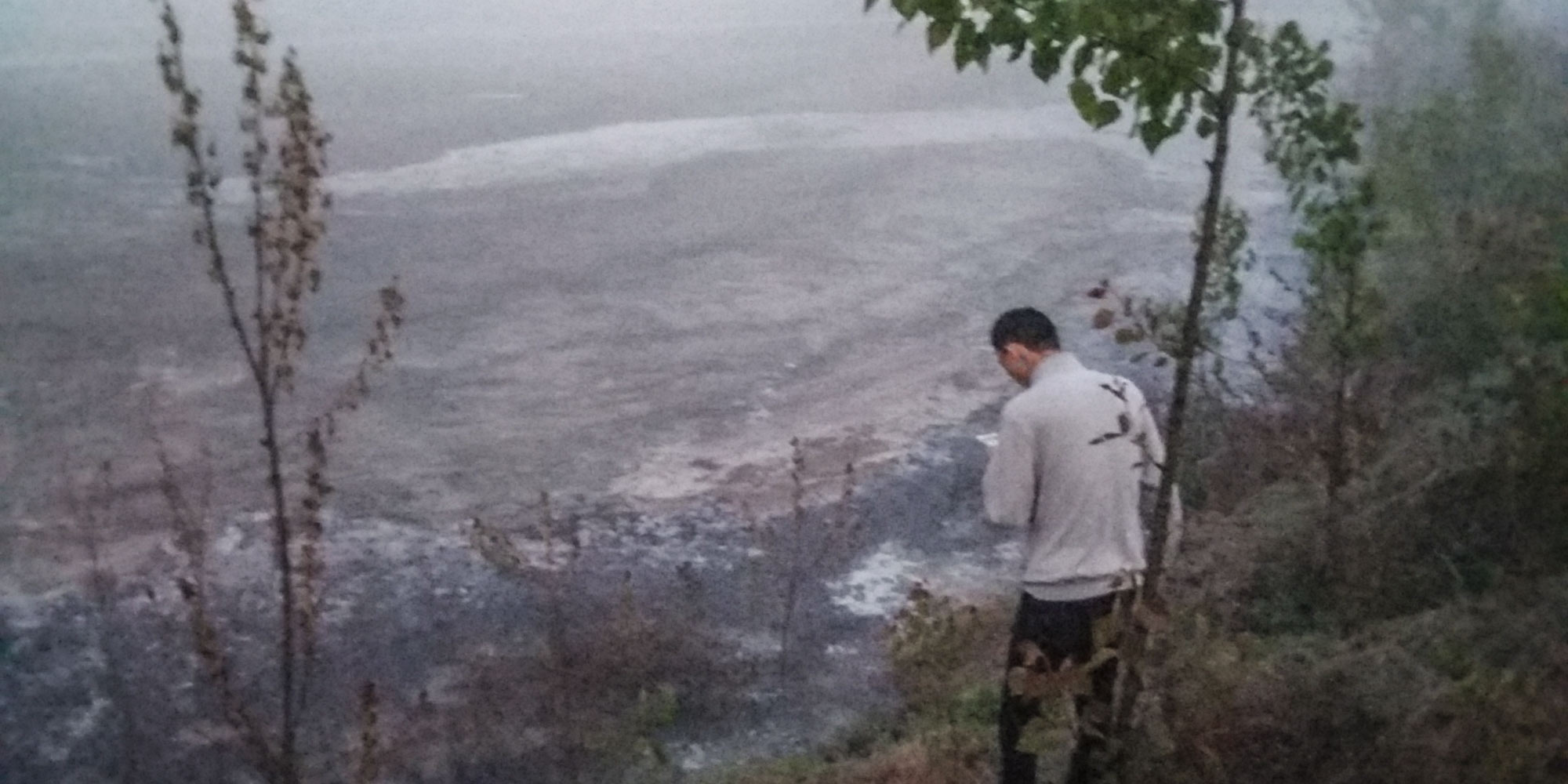 NEWS
Green Activists Beaten While Investigating Pollution in Shandong
China's environmentalists frequently encounter violence while attempting to expose misconduct.
Two environmental volunteers were attacked on Wednesday while attempting to investigate a possible case of industrial pollution in eastern China.
Xiao Jiang and Zhang Wenbin, volunteers at the China Biodiversity Conservation and Green Development Foundation, a national environmental protection nonprofit, were followed, surrounded, and beaten by more than a dozen men. The volunteers had received a tip from a villager that a factory in Sishui County, near Jining City in Shandong province, was responsible for two large pits of waste water that had contaminated the environment.
Xiao told Sixth Tone that when they were driving in the area, they suspected they were being followed. When they tried to turn their car around, several men on electric bikes blocked the road and attacked them when they got out of their vehicle.
After the scuffle, a doctor diagnosed Xiao with bruises and a concussion. Xiao said Zhang passed out at the scene and may have injured his neck. "They ripped my clothes and caused several bruises," said Xiao. Both men had their injuries documented at a hospital on Friday morning, potentially to be used as evidence.
The men suspect their attackers were connected to Shandong Sishui Lifeng Food Co. Ltd., a local producer of processed sweet potato-based foods. "A group of people arrived later wearing the company's uniforms," said Xiao.
Before they were intercepted, the two volunteers had seen the two pits, which they described as roughly the size of four soccer fields and filled with a cream-colored liquid that gave off a strange odor. The men suspect that a nearby river is also polluted.
Zhang told Sixth Tone that the police are investigating the incident and have taken three people whom the volunteers identified as their attackers into custody. A police document seen by Sixth Tone indicates that the three suspects were charged with assaulting Xiao and Zhang; each was punished with 10 days' detention and a fine of 500 yuan. When contacted by Sixth Tone, the local police said they could not comment on the case.
The county's environmental protection bureau posted a notice on its Weibo microblog on Thursday evening saying that the quality of water samples from Sishui Lifeng's sewage drain met environmental standards, and that the company's pits were built in such a way that their contents would not be able to seep into the soil.
However, Zhang said that the pits could not be completely "anti-seepage," as there are grasses and trees on the partition between them, and because in one place, the polluted water was visibly flowing into a nearby river. The environmental protection bureau could not be reached for comment on Friday.
Sishui Lifeng has been reported for environmental violations many times since 2015. In a response to an earlier complaint seen by Sixth Tone, the Jining Environmental Protection Bureau said that the company never underwent an environmental impact assessment, although a company it merged with in 2002 had previously passed an environmental inspection.
According to a 2010 government notice, the company reuses 90 percent of is water and has worked with the government to monitor its waste water quality 24 hours a day.
When contacted on Friday, an employee of Sishui Lifeng told Sixth Tone that there are no pollution problems, and that the local authorities had "refuted the rumors." The employee said she hadn't heard about a physical altercation.
The polluted pits are similar to those discovered late last month in neighboring Hebei province and Tianjin municipality, which were also uncovered by environmentalists. The respective governments later said the pits had been around for several years, and that they had tried to treat the water several times, albeit without success.
Environmental protection volunteers and even officials are frequently victims of violence or threats of violence when they try to investigate potential cases of pollution. In October 2016, a volunteer was beaten by the owner of a sand-processing factory while trying to assess whether the plant had polluted a nearby river. And last month also in Shandong, employees of the Ministry of Environmental Protection were locked inside a factory after they discovered violations during a surprise inspection.
Editor: Kevin Schoenmakers.
(Header image: A volunteer checks the pits of polluted water in Shouguang, Shandong province, May 5, 2017. Courtesy of Blue Sky Environmental Protection Public Service Center)