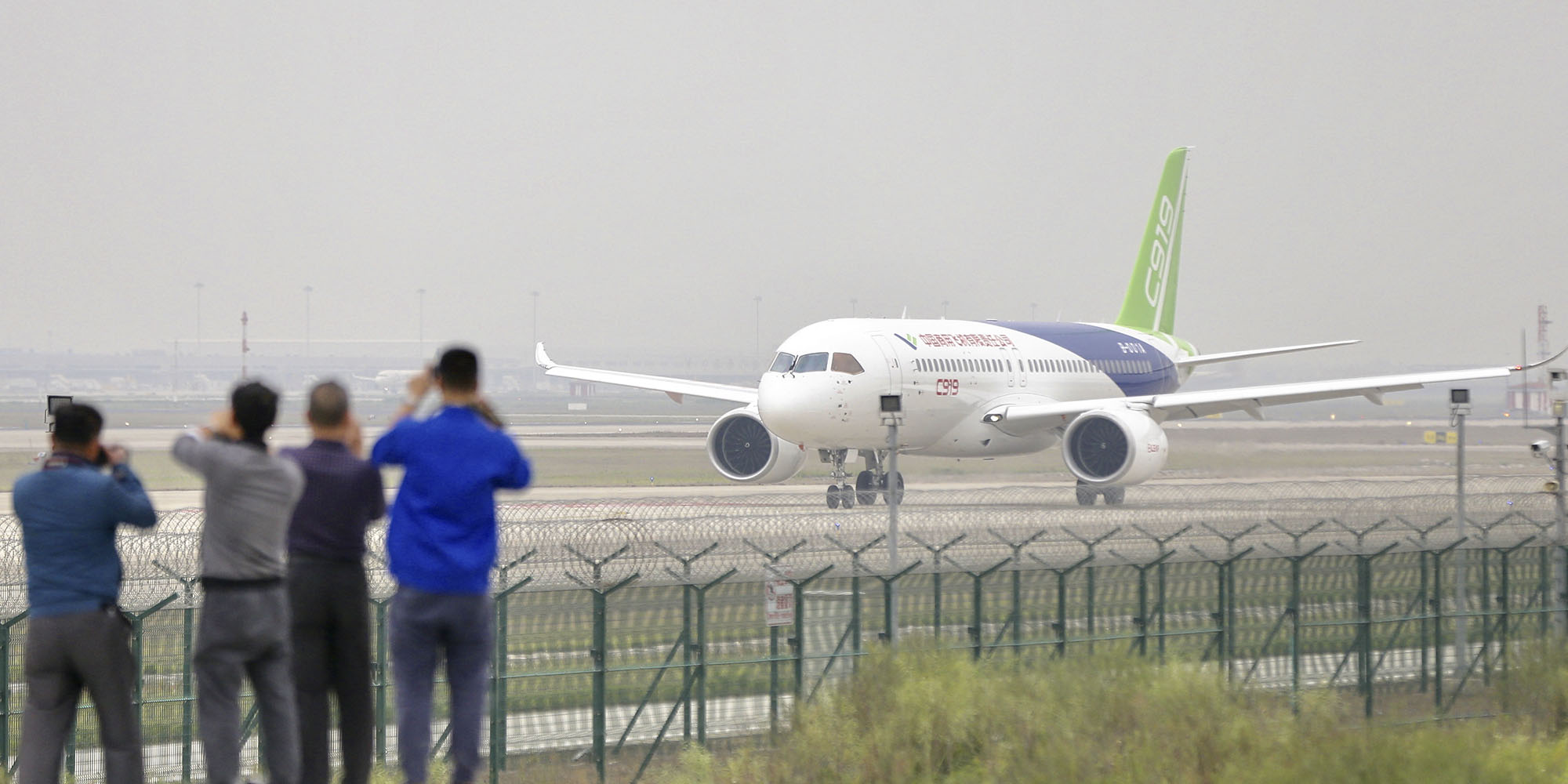 NEWS
Patriots and Plane Geeks Flock to Shanghai for Maiden Flight
Despite its foreign parts, C919 is huge step in the right direction for Chinese aviation, say plane spotters.
SHANGHAI — Hundreds of aviation enthusiasts gathered along the perimeter fences of Shanghai's Pudong International Airport on Friday to witness the maiden test flight of China's first homegrown large airliner in decades, the Comac C919.
Cheers, applause, and the splutter of camera shutters cut through the cloudy day as the plane's wheels left the tarmac shortly after 2 p.m. The moment marked a milestone in the development of the aircraft, which, while housing a whole host of U.S. and European-built parts, has been hailed by the government as a triumph of Chinese engineering and a direct challenge to the duopoly of Boeing and Airbus.
Sixth Tone joined the crowds along the airport's eastern perimeter fence who had begun claiming their vantage points — a raised forklift, the roof of a lorry — since the early morning. Some had even camped out the night before. "Get down, get down, there are too many people!" shouted the concerned owner of one of the metal platforms laden with plane spotters and their oversized cameras. His pleas fell on deaf ears.
For one Comac employee who had been working at the Shanghai-based aircraft manufacturer for three years, it was a nervous wait. "I'm so excited and so hopeful for the maiden flight," said the 28-year-old, who asked to be identified only as "a regular worker surnamed Wang." "My work is in that plane."
Others had come from sightly further afield. Plane enthusiast Hu Jia had traveled from southern China's Guangdong province to witness all three minutes of the plane's takeoff and landing. "We've waited so long for this — the technology was always just Airbus and Boeing's," said the 35-year-old professional photographer. "Now, finally, we can serve ourselves."
Whether that is true, however, is still a matter of perspective. Among its foreign parts, the C919's engines come from CMF International, a U.S.-French joint venture. Its avionics are produced by America's General Electric, and its landing gear is made by German company Liebherr-Aerospace.
Regardless, it's a step in the right direction, believes plane lover and photographer Bai Long, who had been commissioned by Comac to take photos of the event from outside the perimeter fence. "We shouldn't pursue 'made-in-China' for the sake of 'made-in-China' — if another country has better engines, then why shouldn't we use them?" he posited.
For others, it wasn't a time to overthink things. "China's civil aviation is very developed," said migrant laborer Ye Yinggen, who is working on building Pudong Airport's fifth runway. The 63-year-old came to Shanghai from eastern China's Jiangxi province in 2014, and plans to return home when construction is completed in June. "I'm just proud and happy that we have our own China-built aircraft," Ye said.
But the twin-engine, 168-seater C919 is not actually China's first homegrown passenger aircraft. The four-engine Shanghai Y-10, developed in the 1970s, flew successfully in the early 1980s but was aborted due to a lack of interest from carriers. The C919's maiden flight also comes almost a decade after that of Comac's other aircraft, the ARJ21, a much smaller regional jet that entered service in 2014.
But for those in attendance on Friday, such trivialities didn't detract from the gravitas of the occasion. Plane spotter Sun Shengdi, who only became interested in planes three years ago when he learned that China was to have its own large passenger aircraft, said the moment the C919 took off left him feeling stunned. "I feel so proud to have been able to photograph an airplane made in my own country," said the 24-year-old, whose lens cap sported a potentially divisive sticker: "If it's not Boeing, I'm not going." "I hope one day that I'll be able to photograph it flying in another country," Sun said. Before scuttling off to find a new spot to view the plane's landing, he added that he would buy a new lens cap tomorrow.
After around 1 hour and 20 minutes in the skies above Shanghai and neighboring Jiangsu province, the C919 began its approach to Pudong. Two young men, both first-year aerospace and aeronautics majors at Shanghai Jiaotong University, scrambled frantically to high ground to watch the plane's touchdown. Yuan Yu, 18, and Zhu Songyi, 19, had taken the day off school to watch the flight — something that Zhu's mother had no qualms about.
"It's a historic moment that they should see," she said. "Plus, the teacher agreed."
Editor: Kevin Schoenmakers.
(Header image: The first Chinese-built large commercial jetliner in decades, the C919, taxis after landing at Pudong International Airport in Shanghai, May 5, 2017. Zhang Xinyan/Sixth Tone)