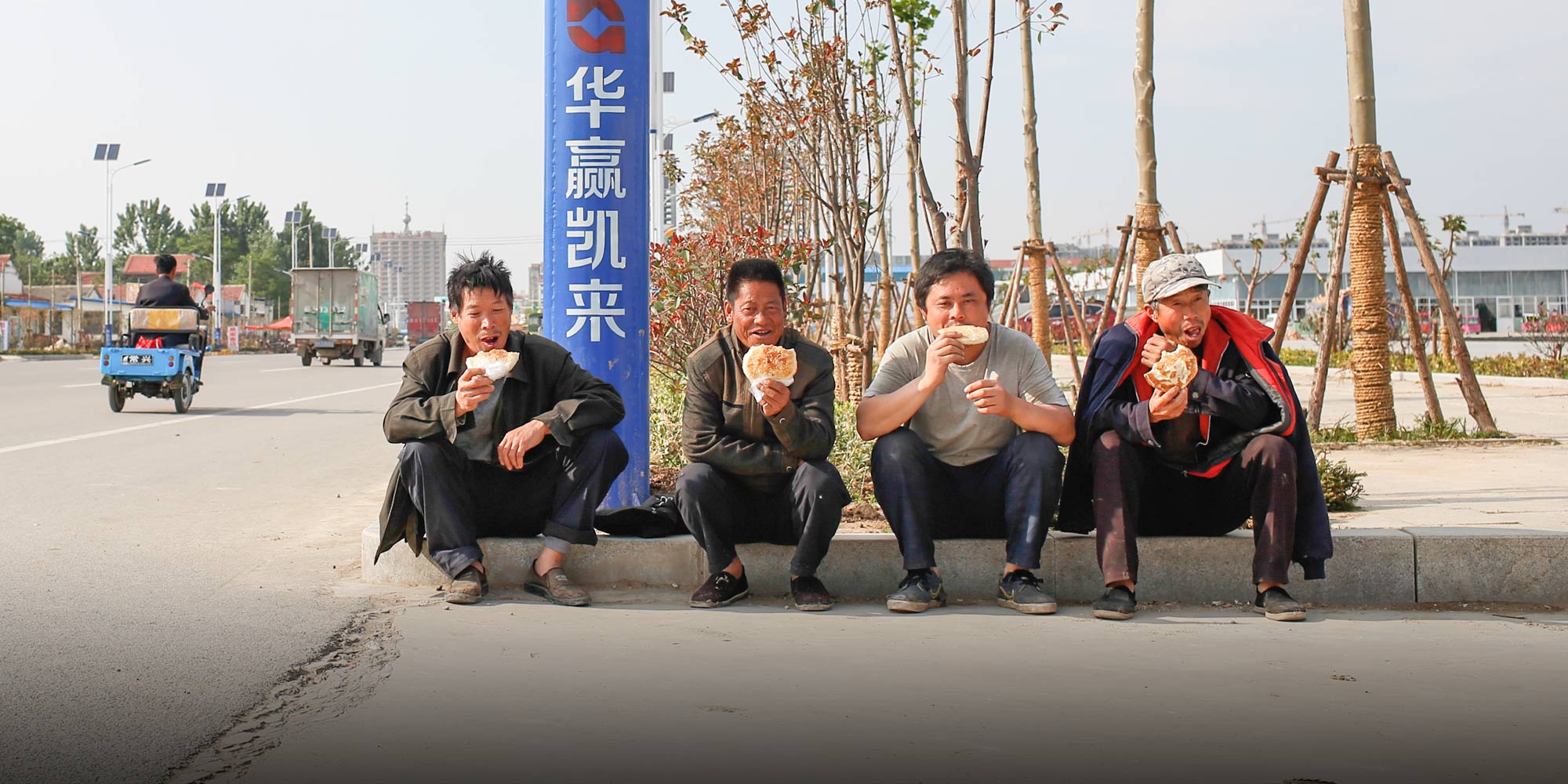 NEWS
Fewer of China's Migrant Workers Have Labor Contracts
Contractors cut costs by hiring migrants, but verbal agreements leave this already-marginalized group vulnerable when injuries or wage disputes arise.
With the rising cost of labor in China, industries looking to cut corners often rely on one increasingly vulnerable group: migrant workers.
China has 281 million migrant workers, but according to a recent report, only 35.1 percent of them signed labor contracts with their employers in 2016. In its annual report on the status of the country's migrant workers released at the end of April, China's National Bureau of Statistics noted that this figure is a year-on-year decrease of 1.1 percent.
Li Chang'an, a researcher with the Institute of Economics at the Chinese Academy of Social Sciences, called this an alarming trend. "The absence of contracts has led to a lot of labor conflicts," Li told state broadcaster China National Radio. "A labor contract provides migrant workers with basic protections," which often include medical insurance, unemployment benefits, insurance against work-related injuries, maternity insurance, pensions, and housing funds.
For the general drop of 1.1 percent in the labor contract signing rate, Quan Guirong, who spent a decade as a migrant worker and is now director of the Suzhou Migrant Workers Home Social Work Service Center, told Sixth Tone that in order to deal with increasing labor costs, companies bring down their operational costs by hiring uncontracted migrant workers, thereby reducing expenditures on taxes and allowing them to flexibly cut numbers during periods of slow business.
Having worked as a plumber and an electrician on construction sites for eight years, Zhou Taichao said he has never seen a labor contract. "It's not because I have no legal awareness, but if I insist on having a labor contract, I wouldn't be able to find a job in this country," the 32-year-old told Sixth Tone.
Hailing from Neijiang in southwestern China's Sichuan province, Zhou has also worked in Guangdong and Zhejiang. But he has never observed any migrant worker on a construction site signing any form of contract.
"That's common practice in the construction industry across the country," Zhou said. "We only have verbal agreements with contractors, who pay us on an annual basis." When his contractors owed him money, Zhou had no legal documents to rely on and could only keep asking them to pay. "It's quite disturbing, but it happened to me a couple of times," he said. "You just have to deal with it."
Quan said the near-zero proportion of construction workers who sign labor contracts has a lot to do with multiple-level contracting and subcontracting in the industry. "Eventually, small-time contractors who directly employ migrant workers won't sign contracts with them because the social insurance payments are a huge burden," Quan said. Party newspaper Beijing Youth Daily reported in 2015 that in most Chinese provinces, more than 40 percent of each employee's salary goes toward such social insurance payments and related benefits.
Quan said the national average contract signing rate of 35.1 percent does not accurately reflect serious problems in certain industries, as contracts are relatively common in some industries but almost nonexistent in others. "As depressing as the construction industry is, in the service industry, too, there are very few migrant workers with labor contracts," Quan said. "Even in four- or five-star hotels in Suzhou, almost no entry-level migrant workers have labor contracts."
Not having a contract often leads to disputes between employer and employee, and migrant workers are an especially at-risk group. When they have trouble getting paid the wages they're owed, the resulting conflicts can turn violent.
The contract-signing rate, however, can differ hugely from industry to industry. Based on his nongovernmental organization's 2016 project focusing on Suzhou's migrant workers who suffered work-related injuries while working in manufacturing, Quan said they found that up to 80 percent had labor contracts. "That has a lot to do with the fact that many manufacturing companies in Suzhou are among the world's top 500 companies, and are thus very standardized in their operations."
At the moment, Zhou doesn't imagine his hypothetical work-related benefits could be protected by a formal labor contract. Given the nature of his industry, he only hopes that his employers will provide him with insurance against work-related injuries so he at least won't have to worry about expensive medical bills if he's involved in an accident.
Editor: David Paulk.
(Header image: Migrant workers sit on a curb eating pancakes while waiting for work in Jinxiang County, Shandong province, May 15, 2016. Quan Yi/Sixth Tone)