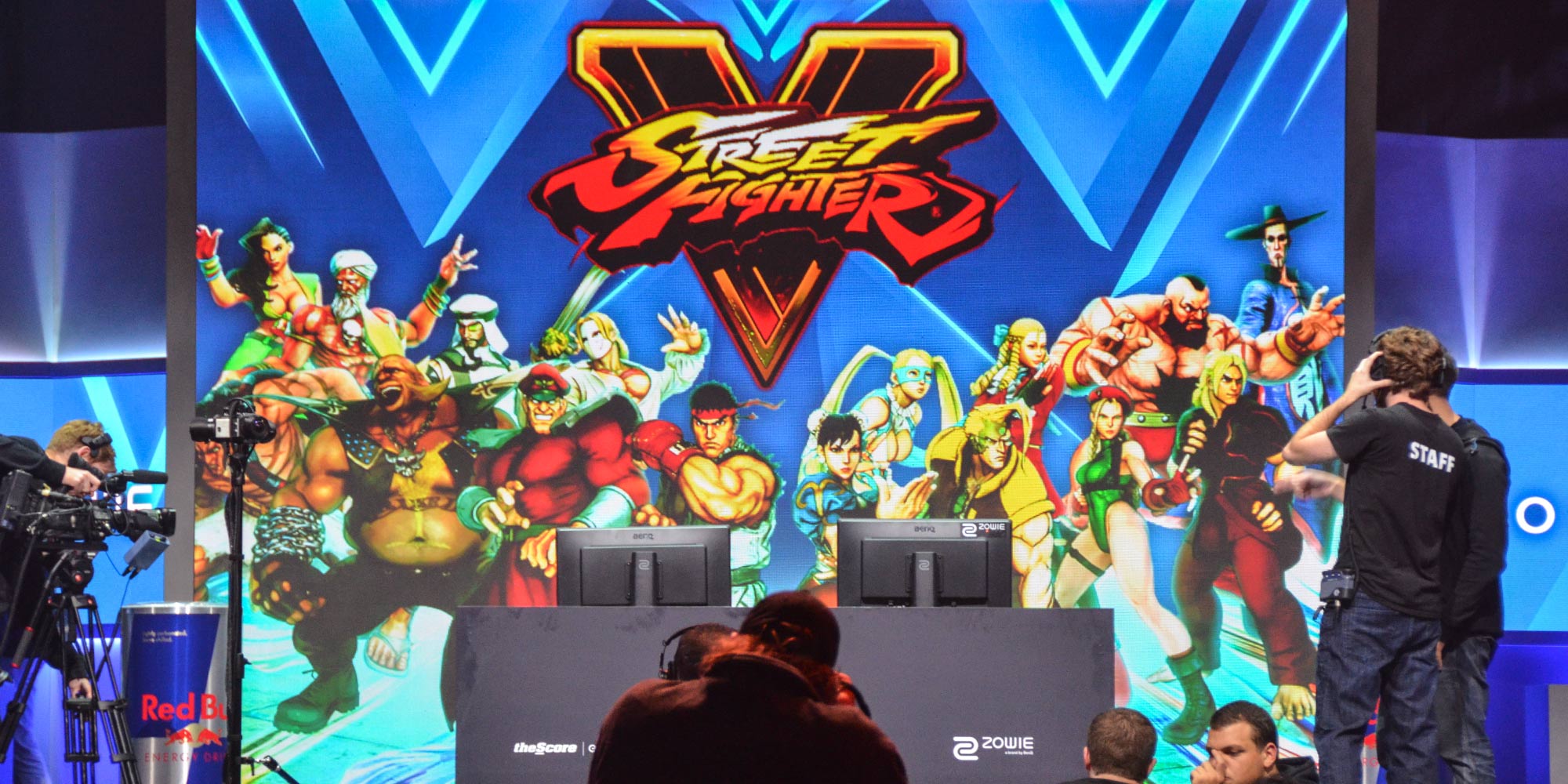 FEATURES
China's Own 'King of Fighters' Takes on the World
A 28-year-old Guangzhou restaurant owner is taking the global gaming scene by storm.
NEW YORK — There was only one Chinese flag on the list of gamers competing in last year's Brooklyn Beatdown tournament. It sat beside the name "Zeng Zhuojun," belonging to a 28-year-old restaurant owner from southern China's Guangdong province whose two-decade journey out of arcade halls to international fighting game championships has coincided with the genre's modest but growing popularity in China.
The explosion of China's e-sports — computer or video game console-based competitions — has been widely documented. But before "e-sports" was even a word, and well before tournaments lavished hefty winnings on nimble-fingered teens, China's arcades teemed with competition. Players didn't sit in front of flat-panel monitors mashing away at PC keyboards; they eyeballed blocky arcade cabinets, battering buttons and twisting joysticks.
It was this environment that a 6-year-old Zeng, known today in the gaming world as "Xiaohai" — literally meaning "child" — encountered upon entering his first arcade. Brought there by his father, he was instantly bewitched by the space's digital din. "I didn't want to leave," Zeng tells Sixth Tone. "After that, I just started to fall in love with games."
Zeng started playing competitively at the tender age of 14, buoyed up by the support of his parents, whom he appeased by not letting gaming detract from his performance at school. In the 14 years since, Zeng has become the world's highest-ranking player of "The King of Fighters" (often abbreviated "KOF") and a fierce challenger in "Street Fighter," both Japanese-made arcade games in which players battle to knock out opponents with deft combos and special attacks unique to one's character: In Zeng's case, that's generally a thong-clad assassin called Cammy.
Zeng demolished his opposition at October's Brooklyn Beatdown, triumphing over Japanese player Yusuke Momochi in the grand finals, which were contested in front of a massive crowd at New York's Barclays Center, a venue most will associate with pro basketball. After a polite handshake with his defeated opponent and 30 seconds of awkward fist-pumping, Zeng, wearing a black hoodie over a black T-shirt, spoke to the crowd about his pride at being the competition's sole representative from China. "Having played 'Street Fighter' for so long, it really feels as if I've done myself justice," he said through a translator, before claiming his spoils: $30,000 in hard cash.
Zeng now has his sights set on this summer's Las Vegas-based Evolution Championship Series, the world's most prestigious and longest-running fighting game tournament, at which Zeng has taken the "KOF" title for the past three years. He isn't modest about his prowess — that would be fake, he says: "No one would believe me if I said I wasn't any good." Yet despite Zeng's dominance, and the sizeable financial returns that come with it, he shuns the professional label. "I never say I make my living by playing games," Zeng says. "I don't like saying that." He has additional forms of income in his restaurant and a gaming studio he runs with two friends, where players can perfect their technique, study new playing styles, and stream matches online.
Zeng's well-honed skill in the "Street Fighter" franchise may have won him the Brooklyn Beatdown title, but his talents are most closely associated with "KOF," which has historically enjoyed greater popularity in China and developing countries, despite it essentially being a descendant of the more illustrious "Street Fighter."
Zeng attributes the popularity of "KOF" in China to several factors: It gets updated with new versions regularly, has an extensive and unorthodox roster of characters, and moves at a faster pace when compared to "Street Fighter." Many fellow gamers in China appear to share Zeng's affinity for the franchise: In 2015, Chinese company Ledo Millenium acquired the game's publisher, SNK Playmore — an indication of the game's pull in the domestic market.
"It was one of the only arcade games that made it all throughout the country," says Daniel Ahmad of Niko Partners, an Asian gaming analytics firm. In its early days, Ahmad tells Sixth Tone, "Street Fighter" was mostly available on counterfeit arcade machines, making it something of a curio and restricting its player base.
A ban on game consoles like Sony's PlayStation — enforced by the authorities out of fear that console games could have a negative impact on young people — left Chinese players at a disadvantage for 14 years. The restriction was lifted in 2015, but Chinese gamers had a lot of catching up to do: While they were dropping coins into arcade machines, global competitors were honing their craft on home consoles.
For gamers in China who did manage to get their hands on a black market console, gameplay was still hampered by fragile internet connections. In 2008, "Street Fighter" was equipped with an online mode with the launch of its fourth mainline iteration, but Zeng says that even today, players in China continue to experience connectivity issues.
But the franchise has adapted to fit its market, and today it's not uncommon to see people in China playing "KOF" on their smartphones, passing time as they drift through their morning and evening commutes. Older 2-D renderings have given way to 3-D models, and physical arcade buttons and joysticks have been replaced by on-screen digital approximations that put thumbs on top of the action.
Along with the proliferation of these handy mobile versions of "KOF," Ahmad believes that Zeng's success is encouraging new challengers to approach the games. "The more successful someone is, especially if they're a citizen of the country — that alone counts," Ahmad explains.
Rivals describe Zeng's playing style as carefully considered. Arman Hanjani of Norway says Zeng avoids flashy attacks and sticks to the basics, but that he's "really, really good at it." This assessment resonates with Jesse Espinoza, an American player who lost to Zeng in the finals of a December tournament in Anaheim, California. "I see how he's really quick to see people's mistakes and then fast to punish them for them," Espinoza tells Sixth Tone.
In recent years, Zeng has invested more time into "Street Fighter," the progenitor of modern fighting games that offers earnings generally larger than those of games like "KOF." But cash isn't necessarily Zeng's most compelling motivator. "I have proven myself by playing 'KOF' in China," he says. "I want a different breakthrough." For Zeng, that goal is defeating opponents in every fighting game series.
Zeng rests on wisdom to keep him grounded, not his laurels. "When you lose, you must learn to accept it; when you win, you must learn to put down your pride," he says. "Maintaining that attitude should be a long-term plan, because there will always be more challenges and games ahead."
Additional reporting: Feng Jiayun; contributions: Yin Yijun; editor: Owen Churchill.
(Header image: A view of the main stage at arcade gaming competition The Brooklyn Beatdown, New York, Oct. 2, 2016. Feng Jiayun for Sixth Tone)