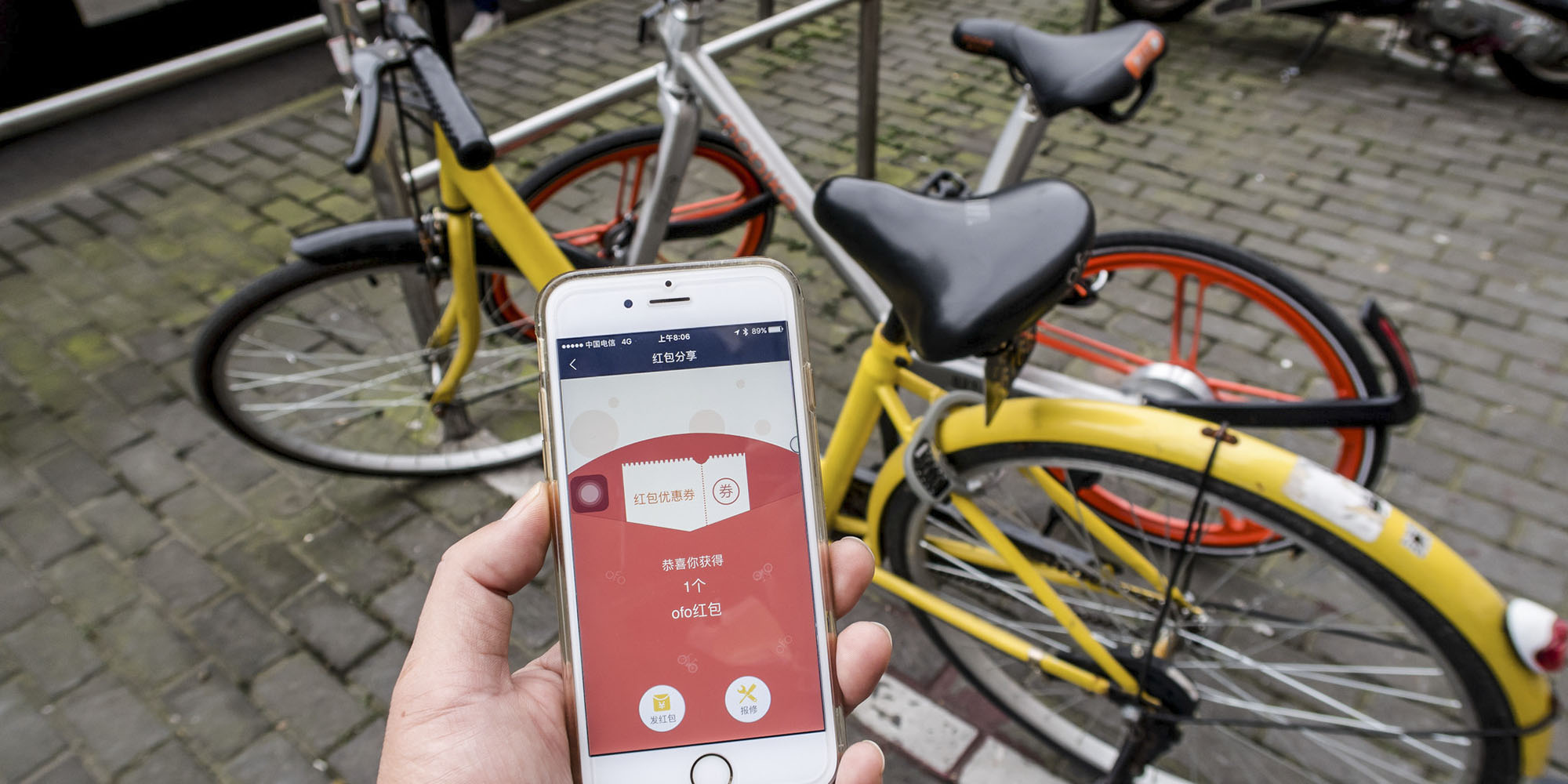 NEWS
Bike-Sharing Company Ofo Targeted by 'Hongbao' Hackers
China's market leader is scrambling to deal with opportunistic users who collect money from virtual red envelopes without actually riding.
China's bike-sharing craze has ballooned into a 1.15 billion-yuan ($166 million) industry, and it turns out there's big money to be had by more than just major players Ofo and Mobike.
With the two bike-sharing competitors now offering virtual red envelopes filled with random amounts of cash on specially marked bikes, some unscrupulous Ofo users have figured out how to rack up thousands of yuan per day without actually doing any riding, The Beijing News reported Thursday.
In recent years, the use of virtual red envelopes, or hongbao, as a promotional technique has been popularized by messaging app WeChat, mobile payment platform Alipay, and even a university in eastern China hoping to incentivize students to visit their parents over Chinese New Year. Most notably, the Alipay mobile app introduced camera integration to create an augmented reality hongbao-hunting experience reminiscent of "Pokémon Go."
Mobike and Ofo began offering red envelopes in late March and mid-April, respectively, to entice on-the-fence customers to sign up, thereby increasing their market share and locking up more money in deposits. Riders have responded enthusiastically to the chance to win up to 5,000 yuan for trips longer than 10 minutes on bikes marked with a red envelope icon on the companies' in-app GPS maps.
However, some tech-savvy, opportunistic whiz kids are using software that allows them to give false GPS data from their phones, meaning Ofo — which, unlike Mobike, relies on location data from users' phones because most of their bikes aren't GPS-equipped — can be tricked into thinking users are going for rides when in fact they could be doing anything. The more brazen of these hackers have reportedly registered multiple Ofo accounts and posted their success stories on Chinese social media.
In China, there's a term for people who keep an eye out for ways to exploit flawed systems: the yang mao dang, or "wool-pulling party." Unlike its English approximation, the Chinese idiom comes from a well-known comedy sketch in state broadcaster CCTV's annual Spring Festival Gala. In the sketch, a 71-year-old woman from the countryside of northern China tells the story of how she pocketed wool from her work unit back in the days of people's communes to knit warm clothes for her lover. When her peers in the work unit found out about her duplicity — an unfinished sweater with both sleeves missing — they accused her of "pulling the wool over socialism," to riotous applause from the audience.
According to Liu Hao, a pseudonym for an "expert" on gaming the system cited by The Beijing News, some shared-bike yang mao dang can make up to 4,000 yuan per day. After hearing about Ofo's red envelope promotion on April 21, Liu registered four accounts and opened more than 1,000 yuan in red envelopes the very next day.
Mobike could not be reached to comment on whether it had encountered similar problems. Zhao Tianxin, a public relations manager at Ofo, told Sixth Tone on Tuesday afternoon that the company has set a limit on the number of red envelopes users can open at five per day. "Our system can detect [fraudulent] behavior based on time and location," Zhao added. "Once we find this, the user will be blacklisted."
Additional reporting: Lin Qiqing; editor: Sarah O'Meara.

(Header image: A shared-bike user opens a virtual red envelope in the Ofo app on the streets of Shanghai, Oct. 13, 2016. Wang Gang/IC)